Liquidation
Water, our most precious natural asset, offers amenity, a habitat for aquatic species and a focus for recreation. But it also turns the turbines of industry and powers New Zealand's agricultural economy. Economic development and environmental integrity are at odds in a struggle for control over this great resource. Are we mortgaging our future for a little more economic growth?
Out here in the Southern Ocean, there's only restive, sullen sea. The nearest land, Campbell Island, lies hidden beneath a heaving horizon 150 kilometers away. Sailors call this water world the Furious Fifties, because it lies squarely in the path of a circumpolar storm track. When warm air from the equator arrives here from on high, it succumbs to the sub-antarctic chill. Cold now, and dense, it plummets towards the surface of the sea, only to be snatched mid-troposphere by the eastward whirl of the Earth's spin. Polar and tropical air refuse to engage: instead, they orbit each other, whipping up legendary westerlies—the strongest, most sustained winds on the planet—which rampage across the Southern Ocean, gorging on moisture as they go. Usually, the unstable lows hit New Zealand from the west, and Kiwis instantly recognize the signature theme: north-westerlies flex and bridle; the poplars writhe. Recycling bins clatter down the road, and before long, the familiar metallic patter of raindrops on corrugated iron.
High above, sodden clouds have grounded on the Main Divide. Forced up by the rising foothills, these clouds cannot clear the jagged peaks with this burden of water. The north-westerly air has cooled. Relative humidity is now 100 per cent, pressure falls, and the moisture inside the clouds condenses. They give up their cargo: weathermen duly record 'orographic precipitation', and farmers reach for their Driza-Bones. This could go on for hours sometimes days—but everyone knows that when it stops, cold, showery south-westerlies will not long follow.
New Zealand's lonely post, standing square as it does in the marching procession of all this weather, makes it rather a soggy place—or, as former Prime Minister Sir Geoffrey Palmer once inimitably put it, "an irredeemably pluvial country". About 560 billion cubic meters of water falls on us as rain or snow every year—enough to fill Lake Taupo nine-and-a-bit times.
The Main Divide defines the highlights and shadows of our weather picture: 6.8 meters of rain falls on Milford Sound—over 182 days of it every year—making it one of the wettest inhabited places in the world. Further up the coast, along the Crop River behind Hokitika, stands the beleaguered rain gauge that recorded the country's wettest record: a biblical 18 meters over the course of a year. Average the West Coast's annual inundation over the region and you could snorkel in water 5.5 metres deep from Haast to Westport. But just kilometres over the crest, in the lee of the Southern Alps, farmers routinely feel the hot breath of drought­ parts of Otago are lucky to get 300 millime­tres of rain a year. Over the summer of 1963–64, Alexandra wilted to a New Zealand record of just 167 millimetres.
Atop Porters Pass, where traffic gets one of its few chances to cross the Main Divide, Daniel Collins looks east, out over the vast gravel fans that are the Canterbury Plains. To our right, the single-file Kowai River, and ahead, beyond the whalebacks of the Torlesse Range, the grey, gritty ribbons of the Waimakariri. A National Institute of Water and Atmospheric Research (NIWA) hydrologist, he perceives water everywhere: held fast in the snow-fields above, seeping down to the plains through the heavy brown soils. And above, drifting in ashen clouds. This water, he says, the precious little that somehow clears the jagged summits to settle in the east, is crucial to Canterbury.
Collins doesn't just see a river: he sees an Alps-fed river, or a spring-fed river, or a foot­hills-fed river. He even reserves a separate genre for Banks Peninsula rivers. That's because the way water works here, everything we do with it—and, critically, what will happen to it in a warming world— depends very much on where it comes from. The Alps-fed rivers—like the Rakaia ahead, and the Waitaki, Rangitata and Waimakariri—are nourished by those wet westerlies and the water that's held in hanging snowfields along the eastern flanks of the Main Divide. The Kowai, glinting from afar in the afternoon sun—is instead fed by fitful southerly or easterly rains and what little water is seeping through the gravelly ground beneath our feet.
Then there's the water deep under­ground: millions of cubic metres of it, flowing through vast sand and gravel beds themselves sandwiched between impervi­ous beds of tougher rock, which Collins and his colleagues call aquicludes. These plains are, in geological jargon, a bajada—a series of coalescing alluvial fans crumbled from a mountainous front. Typically, aquifers are 'recharged', topped up, by rainwater seeping through the soil. That makes Canterbury one of the biggest sponges in the country. "Often, you're closer to groundwater here than you are to a river," says Collins.
While water in the Rakaia tumbles and scurries to the sea inside 24 hours, subter­ranean water—some of the purest in the world—fairly oozes by comparison: drop­lets from a Christchurch tap might have taken a century to get there, a fine vintage, forced through the gravels by the sheer weight of water behind them.
"The fact that there are multiple layers of aquifers makes managing Canterbury's water a challenge," says Collins. "It all happens over different time scales, in dif­ferent locations, from different sources, but it all needs to be treated as a single resource. Because it's all connected."
This place, then, is by one definition a dry region. Christchurch gets just half the annual rainfall—648 millimetres—of Auckland or Wellington. But, as Collins points out, "it's a conduit for water from a high-rainfall zone". He points out that the seats of ancient civili­sations—Mesopotamia, the Indus, the Yellow River and the Nile Valleys—all received their water from outside those regions. "They were all arid environments which relied on large rivers that reliably and regularly flooded. Flooding brought water, but crucially, it also brought silt." Here in Canterbury, he says, it's much the same, "and you've also got strong north-west winds, which blow silt and loess into the region, so we have topsoil. The growing conditions, for a 40° South location, are pretty good."
Canterbury already uses more water than any other region—in fact, nearly 60 per cent of all water used in New Zealand is drawn here. Every day, Cantabrians get through 21.5 million cubic metres, or 8600 Olympic swimming pools' worth. In summer, a Christchurch gardener can use 1000 litres. But agriculture has by far the biggest thirst: fully 86 per cent of all that water is used for irrigation.
And this is the problem—the instant a raindrop hits the ground on the easterly side of the Alps, it becomes a commodity, coveted and fiercely contested. A political molecule.
New Zealand—the world's largest dairy and sheep-meat exporter—makes a living by turning water into milk, or pine trees, or wool, or meat. The agriculture, food and forestry sectors earn 70 per cent of New Zealand's export revenue and constitute some 12 per cent of GDP.
Dairy alone gen­erated 2.8 per cent of that in 2010, with earn­ings of $5 billion, employing an estimated 35,000 people. The New Zealand Institute of Economic Research claims that the past decade's dairy boom has left New Zealand households $6.4 billion better off—every additional dollar in dairy pay-out multiplies to more than $270 per year of additional spending per man, woman and child in New Zealand.
Dairy exports jumped from $2.5 billion in 1992 to $11.4 billion in 2012. The Government, which has made a crusade of eliminating the current account deficit by 2014, sees salvation in those figures—twice those of the meat sector, nine times larger than wine exports and 17 times larger than wool exports. Every dairy dollar saves the country interest payments on foreign debt, and the Government wants more of them; its Economic Growth Agenda calls for agri­cultural exports to earn 40 per cent of GDP by 2025. That means the value of production needs to treble, which, depend­ing on global returns, demands commen­surate hikes in productivity.
But primary industries and manufac­turing have an insatiate thirst: according to the New Zealand Business Council for Sustainable Development, it takes 900 litres of water to produce a litre of milk. It takes 970 litres to produce a litre of wine. A single 340-gram steak took more than 4900 litres to produce it. The Growth Agenda would demand lakes of extra water, even though many resources are already at full stretch.
In its 2013 Budget, the Government set aside $80 million of taxpayers' money to seed regional irrigation schemes, part of a $400 million package—the Irrigation Acceleration Fund—meant to sprinkle water over an extra 420,000 hectares.
Modelling by the New Zealand Institute for Economic Research on the economic impact of irrigation found that proposed schemes would add $2.1 billion to gross domestic product from 2035. According to Primary Industries Minister Nathan Guy, the schemes would also create "thousands of new jobs and boost exports by $4 billion a year".
But in a 2010 report, The Potential of Irrigation, the Treasury advised that any financial benefit from proposed irrigation schemes would come mostly from their construction. Analysis of 12 schemes­ including Ruataniwha, Waimea, Central Plains Water, Lees Valley, Hurunui and Hunter Downs—found that when all costs were considered, they would "constitute a loss-making investment" at the farm gate.
The report was buried at the time, and only came to light last November after an Official Information Act request by the Green Party.
Nevertheless, irrigated acreage is pre­dicted to double in Canterbury over the next decade, with all that water coming from either aquifers or rivers—rivers held dear by fishers, kayakers and conservationists.
[chapter break]
"It's been a war zone down here," says Rosalie Snoyink as she pours coffee in her Glentunnel cottage in Canterbury. "It's a sort of last mad grab." Not far down the road lies the Waianiwaniwa Valley, where in 2001 an irrigation consortium—Central Plains Water (CPW)—announced it would seek resource consent to flood the area behind a $409 million dam two kilometres long and 55 metres high to store 280 million cubic metres of water from the Rakaia and Waimakariri Rivers for irrigation of crops through the heat of the withering Cantabrian summer. But it would also submerge between 10 and 15 farms, some of which were being run by sixth-generation locals.
In 2005, CPW applied for, and won, authority to move farmers from their homesteads by invoking the Public Works Act. "That was a turning point," says Snoyink, "because most people in the area saw that as an injustice—even company shareholders told us that they never dreamed it would come to that."
[sidebar-1]
The hearings that followed pitted share­holding landowners against their dissent­ing neighbours. Property values plummeted. In 2009, after nearly a decade of opposition and resource consent hear­ings, commissioners rejected the dam on the grounds that the economic benefits of storage and irrigation would not justify the environmental and social costs.
The Government moved decisively to regain control. In 2010, the then Environment Minister Nick Smith—aided by Local Government Minister Rodney Hide—pushed the Environment Canterbury Act through Parliament under urgency. Not that it needed much pushing: it dodged select committee consideration,took no submissions and the public were not consulted. The act allowed the Government to sack 14 elected Canterbury regional councillors and replace them with seven commissioners, appointed by itself. It also suspended Environment Canterbury (ECan) council elections, gave the com­missioners extra powers over water, denied affected communities any right of appeal to the Environment Court and gave the Government licence to temporarily suspend the Resource Management Act.
Eugenie Sage is still angry. Now a Green MP, she was one of four Environment Canterbury councillors who'd campaigned for, and won, election on a ticket that offered Cantabrians a more environmentally weighted approach to water management. "Canterbury Regional Council had made a decision to improve the flow regimes of the Waimakariri, to leave a bit more water in the river." But, she says, the Government "didn't want any policies that were going to make water more difficult to get hold of".
"The lack of a reliable water supply for irrigation is a key factor that undermines investment certainty in Canterbury's rural economy," reads a Government briefing paper in response to the decision, reflect­ing the value of water to the economy.
Canterbury's thirst is starting to alter its very appearance. Ngai Tahu is consid­ering converting its Balmoral and Eyrewell forests to 16,000 hectares of intensive dairy lands. Along Telegraph Road, between State Highway 1 and Darfield, trees are falling as well. Smoke smudges the air at dawn as diggers drag the car­casses of 100-year-old pines into smouldering windrows. Locals say it's a common sight these days: the windbreaks are being torn down to clear enough space for pivot irrigators up to a kilometre long. The paddocks their fathers fenced cannot contain the aspirations of the sons. The cows on this farm will have to face the brunt of a nor'wester unchecked.
In 2007, Murray Rodgers stood on the banks of the Selwyn River with Nick Smith and John Key, who at the time was the Leader of the Opposition. He told them that 200 lowland Canterbury streams had tested positive for E.coli, bacteria that thrive in water contaminated with faeces from farm and other animals. Many of the streams he'd fished just three decades before had withered to mere rivulets and in some cases vanished altogether, he said. They promised to do something. Rodgers is a trustee and past president of the Water Rights Trust, a body formed out of urgency and outrage when fishers realised their streams were disappearing. "There used to be spawning runs up the Selwyn of up to 65,000 trout out of Lake Ellesmere. The last count that I'm aware of, in 2005, there were 87 trout. Incredible, the whole thing's just been totally buggered.
"I brought up two daughters," says Rodgers. "With my love of the back country, I naturally wanted to give them the same experiences I'd had. In the 1980s,when they were growing up, we'd go out for picnics on lowland rivers like the Selwyn, the Opihi, the Orari. We never thought about any risks of getting sick; we just took clean water for granted. It was part of our life. You just don't go picnicking on a Canterbury lowland stream any more."
Something intrinsic, he says, has been lost. "We're talking about what many people, of my generation anyway, see as being the rightful heritage for their off­spring. Something that I'd accepted as one of the reasons I'm a New Zealander and a Cantabrian—the freedom to go out onto a river and enjoy it for what it is. That's been taken away without even asking the ques­tion, 'Can we have it?' That's the injustice of the whole thing."
Last summer, residents of Waiau farther to the north were warned to boil all their drinking water after town supplies were found to be brimming with E.coli. There is precious little deep groundwater in the Waiau-Hurunui district: people must draw from shallow springs and bores fed by river water. But that river is itself fed by surface run-off which, as stock numbers climb, is passing through more and more manure before it reaches the river. Without a reduc­tion in stock loadings, the only solution is to upgrade water-treatment facilities, a cost borne by typically small ratepayer bases.
Next, it was Hororata. An E.coli bloom forced residents to boil—and the Selwyn District Council to chlorinate—water that was once the envy of the country. Cheviot, which draws its water almost entirely from an aquifer just 15 metres below the Waiau Gorge, was put on permanent 'boil water' notice in 2005, until an improved treat­ment system costing $46,000 was com­missioned in 2009. Ratepayers are still footing the extra costs of more intensive water management. But no system can neu­tralise the toxins produced by cyanobac­teria, which thrive in the shallower waters of depleted streams and rivers, warmed to excess after shady streamside vegetation has been cleared. Toxic algal mats are becoming a summer phenomenon as the tiny plants gorge on burgeoning levels of nitrates washed into rivers from farms. Phormidium, a blue-green alga that coats stream and riverbeds with noxious brown or black mats, can cause rashes, irritate skin and eyes and trigger allergic reactions. It can, and has, killed dogs.
"In the last 18 months, Darfield had over a hundred cases of gastroenteritis," says Eugenie Sage. "The community is paying the price in terms of water-supply contamination and increased costs of water treatment."
And while the community pays, indus­try benefits. Irrigation can add between $6000 and $10,000 of value to a farm hectare, essentially privatising a commu­nity asset. Furthermore, farmers can sell any unused portions of water consents­ what they were allocated for the cost of an application fee, they can sell at a price.
"It's intensive agriculture freeloading on the environment, because polluted rivers, streams and groundwater are not accounted for," says Sage. "The loss of natural values and character, the loss of healthy ecosystems, none of that is taken into account."
"Water is a public good, and a lot of us are quite happy to leave that water in the river," says Snoyink. "We appreciate the amenity value.
But, just as we feel we have a fundamental right to that water, farmers feel they have a right to use it too. But the users of that water are not paying for the environmental damage, nor the cost of lost social amenity. The community pays for it; it's their loss."
[chapter break]
New Zealand water, it turns out, is any­thing but 100 Per Cent Pure. Every year, the Government monitors public drinking water quality. In 2012, the report found that more than 880,000 New Zealanders—23 per cent of the surveyed population—were drinking water that did not comply in some respect with health standards. Canterbury topped the list for E.coli breaches; 19,010 people there were found to be drinking polluted water. Waikato was next with 15,314. In October 2012, the Ministry for the Environment (MfE) reported that New Zealand fresh­water quality was either "poor" or "very poor" at just over half of 210 monitored river swimming sites around the country.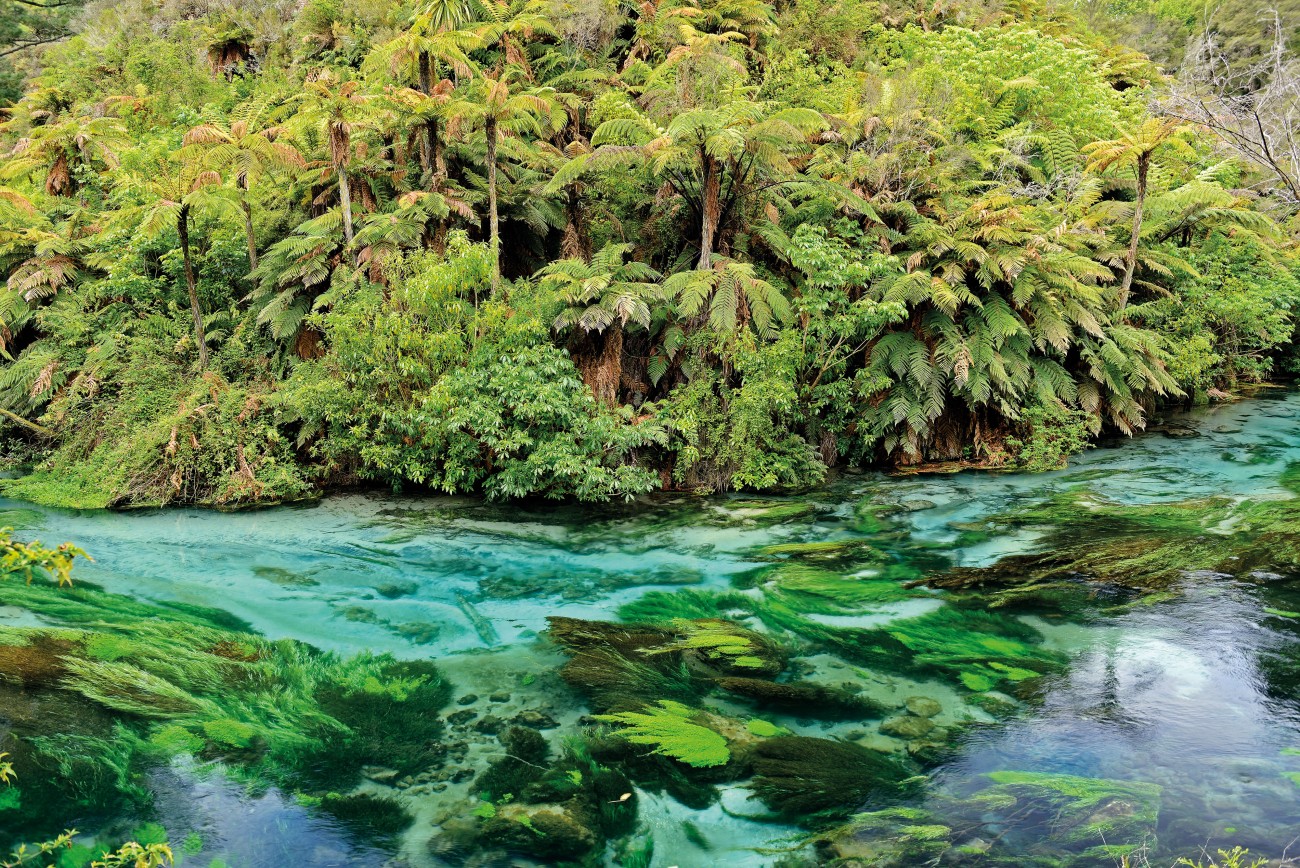 A 2010 report from MfE assessed water-quality trends in 112 New Zealand lakes between 2005 and 2009. Over the study period, 12 per cent of the lakes assessed had improved, while 28 per cent had worsened.
The report then extrapolated those find­ings across 4000 lakes smaller than a hectare, and found that 32 per cent were likely to have poor or very poor (nutrient-enriched) water quality. Those surrounded by farmland fared worst: 44 per cent were eutrophic (meaning they carried excessive nutrient loads) or worse. When extrapo­lated, the study concluded that out of 3820 New Zealand lakes, more than a third would be eutrophic or worse.
For 35 years, Levin poured its treated sewage into Lake Horowhenua. The abuses stopped in 1987, but still the lake looks jaun­diced. The town now spreads its sewage over land, but some of it has been found to leach into the lake anyway. When it reflects a blue sky, it might pass a postcard test. Catch it on the wrong day, however, and it morphs into something green and glowering. In waters opaque with slime, suspended sedi­ment and algae—"probably the result of faecal contamination from farmland run­off," according to MfE—you wouldn't see your hand at arm's length. In fact, such a test would be unwise: last summer, NIWA fresh­water scientist Max Gibbs warned Horizons Regional Council, which covers Manawatu­Wanganui, that after heavy rain, Lake Horowhenua's waters, deemed among the 10 most polluted in the country, might well kill a small child.
The problem is not just in lakes. In 2010, NIWA reported that water quality in our major rivers had declined between 1989 and 2007. Over that period, nitrogen and phosphorus loadings (see sidebar) had increased greatly at many sites. Nitrogen had increased by about 1.4 per cent each year over most of the country, and no sites recorded a drop. Climbing trends for tem­perature, nitrogen and phosphorus had accelerated, commensurate with a surge in nitrogen fertiliser use—which has doubled since the mid-1990s—and dairy-cow numbers.
Twenty years ago, Mike Joy took his niece and nephew for a swim in the Oroua River, in Manawatu. They soon succumbed to vomiting and diarrhoea, and when Joy mentioned this to locals, they looked at him in disbelief: everyone knew that river was full of Feilding's sewage, in breach of a dis­charge consent. "That started my fight with regional councils, and got me into wanting to study it more, to find out what was going on," he says.
Joy, now a senior lecturer in ecology and environmental science at Massey University, has become one of water's most pugnacious advocates. Inevitably, his tire­less campaigning—notably for long-finned eels—has taken the gloss off the clean, green narrative. When he told The New York Times in November last year that there were "two worlds in New Zealand—the picture-postcard world, and the reality"— he was pilloried by a Wellington marketing executive as "the foot and mouth disease of the tourism industry" and branded a traitor on talkback radio.
Joy and I sit in the drizzle, watching the most polluted river in the Western world shuffle past, listless and grey. Of 300 rivers and streams across North America, Europe, Australia and New Zealand assessed by the Cawthron Institute, this one—the Manawatu—was found to be the sickest: so fouled with treated sewage, industrial waste and farm run-off that it scored twice as poorly as the next-worst river, sampled downstream from a Berlin sewage outfall.
And still, there are some people dog­gedly fighting efforts to clean it up. In May 2007, Horizons Regional Council announced its One Plan, ostensibly a blue­print for environmental management in the region for the next decade. Part of the plan proposed caps on nutrient and pollu­tion discharges to fresh water in the dis­trict, effectively dictating land-use options and curbing intensification. Federated Farmers condemned it as "Farmageddon" and took the council to the Environment Court, challenging the plan on a conten­tion, among others, that there was no need to improve the region's water quality as it was no worse than that of some rivers elsewhere. Farmers were quick to invoke economic calamity. Dannevirke business­man Allan Benbow told a public meeting last year that the One Plan—by his own extrapolations—would cost the Tararua District $60 million and 300 jobs.
"Not a single person here doesn't want a better environment," said Benbow, "but people's lifestyles have to be maintained."
For lifestyle, says Joy, read profits. "That's the reason I'm angry, because I can see an injustice here. It's about private gain for public loss: that's what's really going on—one sector of society getting to pollute the river at everybody else's expense."
For all his straight talking, though, Joy doesn't blame the farmers themselves. Fully 75 per cent of farmers' income, he says, comes from the sale of the farm, not from its production. "That means you're continually maximising production, because that's what dictates your land value. So you're driving your land value up; you sell it, you make your money, the next guy buys it at that inflated price and now he has to ramp that system up still further."
According to the Reserve Bank, New Zealand farmers are among the most indebted in the world—three times higher than their Australian counterparts. The debt carried by the average New Zealand dairy farm has jumped four-fold in the past decade: the average production farmer is in hock to the tune of around $3 million. Collective debt on Kiwi dairy farms is around $30 billion, suggesting that the drive towards ever-more-intensive pro­duction is driven not by profits, but by debt.
Joy eyes the malodorous Manawatu, and I ask him if there's likely to be anything still living in it. "There are heaps of plants in there he tells me, "because the nutrient levels are so high. It's a symptom of a sick system." Nitrate levels, he says, fluctuate wildly, driving plant production—and there­fore oxygen consumption—up and down.
"When there's no oxygen left, some fish can gulp air from the surface; short-finned eels can do that." More likely, he says, they'll avoid the waterway. "They just bugger off out of it if they can, but it's a little bit like monoxide poisoning for us; we can't detect it, and we just die."
The regional council likes to point out that the Manawatu hasn't suffered any fish die-offs, so it can't be all that bad. "They've not seen any fish kills because there aren't any fish here," says Joy. "They're not stupid enough to be here."
Sixty-eight per cent of New Zealand freshwater fish languish on the threatened list. Four of the five species in your white­bait fritter are endangered, and freshwater crayfish and mussels are also at risk. The long-finned eel, argues Joy, may already be on the edge of functional extinction, despite the fact that the Ministry for Primary Industries still issues quota for it.
[chapter break]
Bio diversity has always been the first casualty of New Zealand's water wars, and with it, a cornerstone of culture has found­ered also. "When people come to visit you, you offer them kai," says Julian Williams, strategy manager for the Waikato Raupatu River Trust. "If you go to Port Waikato, it's whitebait. If you come towards Lake Waikare, you'd get freshwater mussels, kaeo." For Ngati Koroki, the Waikato was a place of eels. "You expect those things on your table when you go there because they're known for those delicacies." If you can't provide that fare, says Williams, "you would feel like your mana would not be held in high regard".
In the Waikato River, his people once had the means to sustain the thousands of visi­tors to such potent spiritual seats as Ngaruawahia, the home of the Kingitanga movement, and Taupiri, the resting place of the Maori kings and queens. But in recent times, says Williams, "we've had to buy eels to put on the table, just to maintain our mana. It's not nice as a tribe, knowing that you can't do that for yourself." And that loss has reverberated through generations: "If you lose eels, you lose the ability to teach people how to catch them, and you lose that time with your kids. That's the way infor­mation was handed down about these prac­tices, next to the river."
Williams grew up in Ngaruawahia, where the Waipa joins the Waikato, across from Turangawaewae Marae. His mother would take him and his siblings to the river to absorb its spiritual essence, or wairua, when they were ill, before beginning a long trip or after returning from a visit to the urupa (cemetery). It's a relationship that Williams observes to this day. "We're into our seventh monarch now, so we bless our­selves, and flick the water seven times. Looking towards the sun, you get your energy from flicking the water and asking the river to take care of you, your ancestors and the kings.
"It's hard to explain," he says. "It's about ahua, the way that it feels. And now, when we go down to the river, it just doesn't feel the same way that it used to."
Tainui's ancestral reach was once vast: from the southern head of the Manukau Harbour, across to Miranda and down to the Mokau River. The Waikato flowed like an artery through the heart of Tainui lands, nourishing both land and culture. But the Government had other interests in the river and the rich floodplains it fed.
In July 1863, British troops marched into the realm of the Kingitanga. Gunboats plied the awa. When the Tainui tried to turn the invasion the following year, they were defeated and forced to surrender all arms and land. Under the New Zealand Settlements Act 1863, the Government eventually seized 12,000 square kilometres of Waikato land, justifying the confiscation by saying the people had "rebelled against the Queen's authority". But Waikato-Tainui lost much more than arable acreage—they lost their cherished awa.
The river instead became a lifeline for Pakeha settlers, protected by militia posts. Under what eventually became county councils and valley authorities, Tainui had to watch as Pakeha drained the lands, built flood works and dams and discharged sewage into the river. "We had no say in those things," says Williams. "Not only were our lands confiscated from us, but also our relationship with them, our ability to manage them."
By the 1950s, the Waikato was the one of the most polluted rivers in the country. Pollution Advisory Council archives from 1956 report that "the daily flow of sewage effluent and trade wastes from Hamilton City is three million gallons… in effect, partly digested sludge and raw sewage is being dis­posed of into the Waikato River." The river suffered the sewage of many other towns, too, and effluent from the Horotiu freez­ing works, Kinleith pulp and paper mill, power stations and dairy farms. The eels capitulated to koi carp. The margins choked under thickets of willows.
As far back as the 1920s, Government agencies started to express discomfort over the injustice of the Waikato confiscations. Token annual payments were made, but by the 1990s, it was clear the lands had to be returned. In May 1995, the Crown signed a Deed of Settlement with Waikato-Tainui that included cash and land valued at $170 million. The land returned amounted to just three per cent of that taken. The $40 million in cash was a tiny fraction of the estimated value of original Waikato-Tainui assets—in 1995 money—of $12 billion.
[sidebar-2]
Nor did the people regain authority to manage the river; the Government offered ownership over the riverbed alone. It was a gesture that clearly protected the interests of hydro-electric power generators over Tainui's, even as it missed the main point. "We took our name from the river," says Williams. "She's an ancestor to us and, if you liken it to someone else owning your mum, it's something you don't do. The Waikato River is more than just a bed. You have the banks, the lakes, wetlands, the water itself, even the air above it, because of its relationship to life and transference of seeds through those strata. And so our kau­matua were quite clear; it's all or nothing.
"We said to the Crown: 'You gave us the land back and you walked away. You're to blame for the degradation of the river.' That's how we see it," says Williams. "You have a responsibility to give back to the river. Those are the discussions we wanted to have."
In 2008, a compromise was struck. The Crown and Waikato-Tainui negotiated a co-governance agreement over the river and environs, and a $210 million clean-up fund to nurse the river back to health—a long-stated objective of Tainui's settlement deal. In practical terms, that goes beyond just planting riparian strips and fencing out stock. Williams wants everyone to reduce their discharges, their nitrate loads, their effluent. The trust is working with energy companies, councils and crown agencies to find a compromise.
Farmers too, are beginning to join the chorus. Many are reducing their herds, and buying less chemical fertiliser and supple­mentary feed. Some have even subscribed to 'biological farming' regimes, under which they eschew chemical inputs alto­gether and concentrate on farming healthy soil ecosystems in a more natural way.
Since 2002, Colin and Shelley Guyton have been farming with the Waikato River in mind, running fewer cows, applying less nitrogen, to their Reporoa dairy farm than the regional average. Their 540 Friesians now produce an average 919 kg of milk solids from each of the couple's 215 hectares every year. Rather than leverage more and more debt, the Guytons have adopted a "low input and low cost farming opera­tion," as have some two dozen other dairy farms in the Upper Waikato Catchment, all of them part of the Tomorrow's Farms Today innovation study.
I'm 50, and at that age, you start thinking about your legacy," says Guyton. "Our environmental impact is extremely important to us. We know the river's being affected by what we're doing. so we have to step up and take a lead."
The idea is to fine-tune farming systems to arrive at some optimal balance point between profit and environmental foot­print. Between Huka Falls and Karapiro, nearly 700 dairy farms leach nitrogen into the light pumice or ash soils of the upper Waikato catchment.
After year one of a three-year trial, nitro­gen loads from the trial farms are already coming down: around 20 kilograms per hectare leaches from the Guytons' place­ the Central Plateau average is 39 kg. "We use very little nitrogen—less than a hundred kilograms a hectare," says Guyton.
As costs come down, margins broaden: the Guytons' return on their asset—calcu­lated on milk solid returns averaged over four years—is 11.9 per cent. The regional average is 5.5 per cent. "I'm not production-driven— I'm possibility-driven. Some farmers need to see that we can de-stock, leach less nitro­gen and still make a good profit."
And the farm is the tougher for it: the Guytons have been hit by three big droughts in the last seven years, and the Waikato—like much of the rest of the country—is tipped to get more as climate change bites down. Fewer cows mean more grass, more resilience. Furthermore, local government will almost certainly impose mandatory nutrient budgeting and caps within a decade, making the strategy look more and more like future-proofing. Guyton calls it a "green evolution".
A Motu Economic and Public Policy Research study of more than 260 farms found last November that some farmers were getting 50 kilograms of milk solids for each kilogram of nitrogen lost, while others were getting just 20 kilograms. By emulating the practices and technology of farming's top performers, found the study, many farmers could cut nitrogen leaching by 30 per cent or more, with little or no impact on production.
It wouldn't be a moment too soon. Last August, an Environment Waikato report found "serious declining trends" in nitro­gen content and water clarity, not only in the river but across the region. The trends were tipped to worsen if something was not done urgently about farm run-off and nitrogen leaching.
Nitrogen loads in Waikato's hydro lakes were found to be increasing—a trend mir­rored around the country, and driven by a single inexorable reality: nitrogen, and its accessory, phosphorus, can take a very long time to leach from soil into a water body.Much depends on the substrate, but around Lake Rotorua, for instance, nitrates typi­cally take 60 years to reach the water. In some Rotorua catchments, nitrates depos­ited in cow urine 120 years ago are only now seeping into the lake.
Climate change will only exacerbate the problem. Warming lake temperatures will keep more nutrients in circulation, pre­venting them from sinking to the bottom to be locked up. By one estimation, an extra 25 to 50 per cent nutrient burden will be imposed on our lakes by the end of this century, with some lakes—Ellesmere in Canterbury and the Rotorua lakes, in par­ticular—even more eutrophic. Many observers fear that the nitrogen load the dairy boom is placing on the country is a time-bomb that will go off in the hands of the next generation.
Last November, Parliamentary Commissioner for the Environment Jan Wright released a report Water Quality in New Zealand: Land Use and Nutrient Pollution, which warned that intensive farming and healthy waterways were mutu­ally exclusive. "Unfortunately, this inves­tigation has shown the clear link between expanding dairy farming and increasing stress on water quality," she wrote in her overview. "New Zealand does face a classic economy-versus-environment dilemma."
[chapter break]
Beyond lost biodiversity, lost aesthet­ics and lifestyle, water pollution is costing the country many millions of dollars. Around $500 million of taxpayer and rate­payer funding has been earmarked to clean up just eight lakes and rivers. The Protecting Lake Taupo Project, which by 2080 aims to cut nitrogen loads into the lake by 20 per cent, was projected in 2004 to cost $81.3 million, but has received further Government top-ups. Then there's the $210 million Waikato clean-up.
Cleaning up Lake Rotorua will cost about the same. The idea is to reduce the amount of nitrogen going into the lake by more than 300 tonnes, to what the Bay of Plenty Regional Council calls "a sustain­able level", within 10 years, though it will still be more than three times the natural levels. That would be done by imposing caps on surrounding farms, as with Horizons' One Plan, but just like the Manawatu-Wanganui initiative, the Bay of Plenty council has faced dogged opposi­tion. For more than two years, the cap pro­posal was before the Environment Court in a challenge lodged by Federated Farmers. Finally, a compromise saw the target cut by 30 per cent out to the deadline, with the remainder being pushed out to 2032.
Before very long, says utility watercare, it will need to double the draw at its Tuakau plant to slake the thirst of an extra million Aucklanders. It may well have to join a long queue. Power generators, irrigators, industry and utilities are all angling for a share of the Waikato.
Thirty-seven appeals have already been lodged against Environment Waikato's draft Regional Policy Statement—a road map meant to nurse the river back to health. That's evidence, perhaps, that Maori and Pakeha still look at water and see two very different things.
"Whether you're physically beside a river or not, it's part of you. You carry it with you. We never speak of our river as if it's not present," says Te Tiwha Brendon Puketapu, chairman of the Whanganui River Maori Trust Board. "We look after it just the same way we would look after a relative."
But as with Waikato-Tainui, Puketapu's people could not fulfil their traditional responsibilities to the awa under Pakeha rule. He's encouraged, though, by an agree­ment struck between Whanganui River iwi and the Crown in 2012, a covenant that accords the Whanganui status as a legal entity, effectively giving it constitutional rights, interests and protection. The first Treaty of Waitangi settlement of its kind, it provides for the tribes to act as the river's guardians while two representatives, one each from iwi and the Crown, will act as Te Pou Tupua—its legal voice.
The deal is among the few concessions river iwi have been able to secure since they began their quest to have their interests reinstated back in 1873. Puketapu says the agreement "reveals a shift in how we under­stand things". It's possibly the first time such rights have been explicitly granted to a river anywhere in the world.
Elsewhere in the country, however, rivers don't enjoy such protection. Meridian Energy's proposal to dam the Mokihinui River on the West Coast was a reminder that rivers still rely on public opprobrium—or slumps in market elec­tricity prices—to keep flowing, but some­times that's not enough. Central Plains Water (CPW) is back in Rosalie Snoyink's neighbourhood, this time with a consented plan to build a 56-kilometre canal between the Rakaia and Waimakariri Rivers, fed by water stored in Lake Coleridge, to irrigate 30,000 hectares of central Canterbury. CPW only obtained the necessary water thanks to a bid by generator Trustpower to have an existing Water Conservation Order on the Rakaia—enacted in 1988­ amended. Conservation orders are a Resource Management Act mechanism for protecting freshwater bodies of "outstand­ing" amenity or intrinsic values.
"The Water Conservation Order was in the way," says Snoyink, "so they had it gutted. People had the foresight to cam­paign for protection of that river and now, because we've already taken all the easy water, they're overturning these protec­tion orders. And DOC is nowhere to be seen—we don't have that voice for the natural environment any more." That's possibly because it was Nick Smith as Minister of Conservation who facilitated the amendment, then put the application before the commissioners he had appointed at Environment Canterbury.
"There is this absurd contention," says Eugenie Sage, "that you can simply re-plumb an entire region. So the rivers are reduced simply to canals to convey water from point A to point B so it can be used to grow grass." She argues that supposedly sacrosanct measures such as Water Conservation Orders can be overturned only because New Zealand rivers still have no effective legal framework to protect them. "We need more effective regulation and binding national standards, because they have the strength of rule. Christchurch was able to clean up its air because of a national environmental standard for par­ticulate matter. Where there's been central government leadership on environmental quality issues, things have improved. Where there hasn't, such as with water quality, things continue to decline."
Neil Deans, Fish & Game's Nelson-Marlborough manager, points out that the Government's 2011 National Policy Statement, which compels councils to produce water-management plans, is 30 years late. Historically, plans have not been compulsory. "We didn't get one in Canterbury until about 2010. So what hap­pened in the meantime? Tens of thousands of permits were allocated in that space, for 35 years. The problem is that this is effects-based legislation, and the effect of one more little straw on the camel's back is very hard to measure. But the effect of all those straws has well and truly broken the camel's back in many of our catchments through­out New Zealand, particularly in areas like Canterbury."
In Deans' own constituency, Tasman, some rivers were over-allocated 20 years ago. "The Waimea River has been allocated at 10 times its nominal minimum flow and, surprise, surprise, in summer, it dries up. At that point, there's no water available for anybody. The allocation process went broke, and now they're trying to work out what to do. We're belatedly saying that we should have established limits—limits which, in some cases, are less than what's already been allocated."
The public, he says, "have an expecta­tion that the people they elect will make sound decisions with their interests at heart, but manifestly, that has not hap­pened". The problem, he says, is that while the putative benefits from a water consent can be easily articulated in a hearing, the loss to that waterway of any intrinsic, eco­logical or amenity values is frequently unrepresented and unheard. "That's why Joe Public has lost access and amenity to water resources they used to have. It's a sub-optimal outcome for everybody, but that's the direction we're heading if we don't start valuing water properly. At the moment, it's not, because those who utilise it are not paying for it."
Hugh Canard has lost a lot of water from his life. For him, it is—or was—a place he went to challenge himself, a place of self-realisation. Beneath what is now Lake Dunstan, says Lincoln Agritech's environ­mental group manager and ardent advocate for river recreation, "there's a thing that was called the Cromwell Gap, where the Clutha and the Kawarau met. It used to be a tourist attraction, it was such a big wild river. Now it's a dive site under 80 metres of water.
"We used to stand and look at those rapids and think, 'One day, we'll be brave enough to paddle them'." One day, he did. "It was a life-changing experience to paddle massive flows like that. The first 100 metres had a huge breaking wave, and you could almost surf a pipeline in there. But the expe­rience is now no longer available to anybody. It was last paddled in 1990."
The next year, they filled up the Clyde Dam and the rapids were swamped. "Anybody younger than me has no memory of them, because they never experienced them." All over Otago, Canard says, rapids—which once had names, the bane of Maori and Pakeha explorers—have van­ished to the cause of electricity. "I could give you a list of them: I think something like 80 per cent of wild water is under a dam somewhere." The problem is that Canard, his kayaking fraternity and hydro engi­neers are all drawn to the same places­ high-volume water with a high gradient somewhere near a big catchment.
"Selective governments from the Muldoon Cabinet onward have created the environmental movement—we're crea­tures of their making. We would have been quite happy minding our own business if they hadn't gone and taken something pre­cious to us. Why wouldn't we get upset?"
The Think Big days of the Muldoon era may be over, but Canard says kayakers are still losing something cherished. "One of the great things we used to do to gobsmack visiting Americans and Europeans was to drink out of the river. It was the Kiwi thing; we were so proud of our water that we could paddle the river, then drink it. Now we can't do that." The Buller, he says, is no longer potable thanks to dairy development, "and in Canterbury, not only have you lost the lowland and middle streams to irrigation takes, but the quality in what's left of the lower rivers is declining day by day. It's an absolute indictment of water management if you have to have a boiled-water notice in the Hurunui."
[chapter break]
It's awkward recounciling concepts such as over-allocation and water shortages with New Zealand's annual rainwater run-off figure of 80,000 cubic metres per person, per year, putting us in the top 10 water-rich countries. What's more, we can get to it easily: we have 100 times more surface freshwater—and twice as much ground­water—than the world average. Hence the common refrain that New Zealand has plenty of water; it's just that it falls in the wrong place, or as Finance Minister Bill English's brother Conor (chief executive of Federated Farmers) once put it, "It's not that New Zealand is running out of water, it's that water is running out of New Zealand." After all, NIWA's Daniel Collins points out, of the country's average 2.2 metres of rain a year, 1.9 metres reaches the sea. "That number's important, because it tells us how much fresh water is available to the environment and us.
"Some people say any water that reaches the sea has been wasted. If so, of that 70 to 80 per cent of water that reaches the sea, how much do we allocate?" A 2010 study calculated the answer: it told MfE that we could responsibly take nearly 27 billion cubic metres of water from rivers and aqui­fers a year—almost half the volume of Lake Taupo. The Manapouri hydro scheme alone takes 16 billion cubic metres of water (41 per cent of the national weekly take) from the Waiau River and discharges it directly to the sea. That would leave 11 billion cubic metres—just two per cent of all the rain that falls—for all other uses.
[sidebar-3]
Originally, settlers simply drew water out of rivers and streams. As the nation put down foundations, and the population swelled, they were forced to start drilling into groundwater reserves. Now, even vast aquifers are starting to fail. As of 2007, New Zealanders were the second most prolific users of water in the OECD. Demand from irrigation, households and manufacturing nearly doubled between 1999 and 2010.
We draw around two-thirds of all water (excluding hydro and other non-consump­tive use) from rivers and lakes (just five per cent comes from reservoirs, which are mostly fed by rivers anyway). The remain­der comes from groundwater. There are around 20,000 consented water takes in New Zealand: just a third of them are moni­tored. NIWA surface water modelling shows that, during dry spells, large swathes of Central and South Canterbury, and practi­cally all of North and some of Central Otago, are consented at "greater than 100 per cent of mean annual low flow"—although it's estimated that users typically draw only 65 per cent of their allocation. That's because farmers, winegrowers, horticulturists and other primary producers invariably apply to draw more water than they need, to allow for expansion or drought, and councils operate a first-come, first-served allocation regime that allows it.
Bizarrely, some regional plans still leave councils powerless to enforce extraction limits, and those that can face a tough job trying to determine meaningful limits because the catchments, flows and require­ments of industry are not well understood.
Under existing arrangements, water users are actually encouraged to compete for water, and things soon get litigious. The Environment Court grinds through a per­petual imbroglio of allocation challenges and appeals: some freshwater plans have taken 10 years to finalise. (Horizons' One Plan has so far cost around $9.4 million, excluding costs to the courts, submitters and appellants.) Increasingly, New Zealand's freshwater use is being decided by lawyers and judges.
Alastair Bisley thinks there's a better way. For the past four years, he has chaired the Land and Water Forum, an assembly of water users and devotees from every conceivable quarter. His job has been, in essence, to break up the stoush, then get everyone to sit down and listen to one another.
A former Foreign Affairs official and trade negotiator, Bisley wanted to see water "become something which draws us together, not something which pushes us apart. It's absolutely clear that all of us regard water as critical to our lives, but there's a big overlap around the ways we value it. It makes sense to use water as pro­ductively as possible, and in doing so, enhance its value to us."
The forum delivered three hefty reports with 158 recommendations to the Government on better ways to manage the country's water, and in the process was held up as representing a new way of tackling our problems, through understanding, equity, barter. More importantly, perhaps, it reminded us that water was more than a commodity.
Bisley believes water can yet be democ­ratised without sidelining commercial interests, but we—all of us—have to get used to the notion and prospect of limits.
The Government duly acknowledged the four years everyone had donated to the process, and gave an assurance that the forum's "core recommendations" would be incorporated into a discussion docu­ment, Freshwater Reform 2013 and Beyond. One of the recommendations was that we urgently need to determine and enshrine a "minimum environmental state" beyond which we must not let water languish.
But the warm fuzz of congeniality soon cooled. Federated Farmers—a party to the forum—pressed on with its legal chal­lenges against limits on nutrients entering waterways. The Government announced the third phase of its Resource Management Act reforms which, in stark contrast to the environmental-bottom-line regime for water, sought to "compress" provisions in Section 32 of the act—articles concerned with environmental protection that lay at the heart of the legislation. The changes proposed to rebalance the RMA in favour of economic development, but even the Government's coalition partners, United Future and the Maori Party, expressed dis­comfort with such gerrymandering, and in September last year announced they would not support it.
Cantabrians did not get their voting rights back: in late 2012, David Carter, at the time Local Government Minister, and Environment Minister Amy Adams announced that Environment Canterbury elections would not be held until 2016, despite a Government promise to hold them in 2013. Even as the forum prescribed more heft for Water Conservation Orders (WCO), the Government's reform package proposes to allow the Environment Minister to refer a WCO application to a regional council or unitary authority or to put it on hold—in effect what happened when the ECan Act scuttled a proposed WCO for the upper Hurunui River.
Horizons' One Plan mostly survived an Environment Court challenge, and in September last year was being redrafted in line with the court findings.
Maori and water were still further estranged in 2012 when the Government announced the partial sale of water-reliant state-owned enterprises Mighty River and Meridian. The New Zealand Maori Council placed an urgent claim before the Waitangi Tribunal, contending that Maori have com­mercial proprietary interests in any water protected by the Treaty of Waitangi and that any share sale would place the Crown in breach of the treaty if it did not first address water-ownership issues. The tri­bunal agreed, but the Supreme Court found in favour of the Crown.
So while the Land and Water Forum was being touted as a vital first step towards truly democratic, enlightened water gov­ernance, fears that its recommendations would simply be cherry-picked were gaining foundation.
Finally, in November 2013, Amy Adams released draft water-quality guidelines— drawn from the recommendations of the forum—that would set environmental bottom lines for freshwater bodies throughout the country and help local authorities to set freshwater objectives.
Irrigation New Zealand applauded the measures—chief executive Andrew Curtis called them "sensible" and "well informed"—while Eugenie Sage called them "a licence to pollute", saying that policymak­ers had given councils permission to let water bodies "degrade to a condition that is unsafe for swimming". The objectives also conspicuously exempted infrastructure "of significant economic benefit"—such as irri­gation schemes, dams and storage—from compliance with the guidelines.
Freshwater scientists pointed out that the objectives made no requirement to monitor aquatic invertebrates—a funda­mental health indicator—set no limits on nitrogen and phosphorus in rivers and omitted any controls on trace toxic contaminants.
But there's another problem. In a brief that purports to outline New Zealand's strat­egy for freshwater management well into the century, the Government's discussion document Freshwater Reform 2013 and Beyond contains not one mention of the phrase "climate change"; just a single passing reference to "climate uncertainties".
And uncertainties there surely are: the Intergovernmental Panel on Climate Change warned last September that average global land and sea temperatures could be as much as 4ºC warmer by the turn of this century. In 2012, the Ministry for Primary Industries asked NIWA to try to envisage a New Zealand production envi­ronment that toasty.
Climate scientists found that stronger westerlies would help to drive a shift in precipitation: the west would get wetter and east—where the bulk of New Zealand pastoral farming is found—would get still drier, especially in Winter and Spring.
With each degree of warming, the atmosphere can hold eight per cent more moisture. That makes for more energetic weather: extreme rainfalls are projected to increase by 32 per cent around the country, with totals of between 50 millimetres and 150 millimetres expected in many locations (extra-tropical cyclones that for now normally sideswipe Northland, Auckland and the Coromandel will drift further south in future). That might sound like a bonus for thirsty farmers, but that rain is much more likely to fall in punctuated excess—it may not rain for three months, then we could get that missing average in a single destructive downpour, much like the Anzac Day, 2011, deluge that dumped three times the April average along the central Hawke's Bay coast in just 72 hours. Farmers, just recov­ering from the 2008–2009 drought, watched hundreds of hectares of topsoil and dozens of animals washed out to sea.
Daniel Collins says river flows are about to get "interesting". Alps-fed rivers such as the Waimakariri will be swelled by that extra westerly rain, but the foothills-fed ones, such as the Ashley, will diminish. "It's not a change in seasonality, it's an accen­tuation. There will be less rainfall over the plains, but more water flowing into them, which will set up an interesting dynamic. Any benefits or downsides to climate change depend critically upon who you are, where you are, when you are."
[sidebar-4]
The NIWA study found that those extreme maximum rainfall volumes will bloat into higher flood flows generally (in a 2012 study, Collins projected "more severe and extensive flooding" for Northland, Coromandel, Bay of Plenty, East Cape, the Central Plateau, Buller and Mid- and South Canterbury), but more and longer dry spells will mean lower low flows. That means less water will be available during times of highest irrigation need—and NIWA's report on the forecast 4ºC rise in temperatures also projected demand to double.
"The uncertainty will be huge," says Collins. "With warmer temperatures, there will be more evaporation, but plants and animals will need more water, and crops will demand more irrigation."
Just what rising sea levels—tipped to climb by as much as a metre by century's end—will mean for groundwater isn't certain, but coastal aquifers, such as Wellington's Lower Hutt groundwater zone, which supplies up to 40 per cent of the city's municipal water, could be contaminated by salt-water intrusion, particularly if the freshwater reserves are allowed to fall.
Apart from anthropogenic warming, scientists must also tease apart the influ­ences of the El Nin˜o Southern Oscillation, the Interdecadal Pacific Oscillation (which has been shown to affect New Zealand river flows) and other influences before even attempting to interpret our maddeningly capricious background climate. "In some variables, we may never detect the signal," says Collins, "but that doesn't mean it isn't happening."
Just the same, modelling has consist­ently shown that New Zealand will run short of water more often. Droughts will become more frequent, longer and more severe. The most likely scenario sees farmers over most of the North Island, as well as those in eastern regions of the South Island, spending between five and 10 per cent more of each year in drought by the middle of this century. Between 2070 and 2090, that overall trend will intensify to the point where most of the country—with the likely exception of the West Coast­ will parch more often.
All the models consistently single out one place where water will become increas­ingly scarce—the Canterbury Plains. Even under very mild climate change, the region is going to suffer more frequent droughts, which is why everyone is talking about storing water.
As Collins explains, water availability isn't just about where, it's about when. "Rivers move water in space, whereas res­ervoirs move water in time. The water that replenishes the Canterbury Plains aquifers in winter keeps things going until summer. Snow that falls in the winter, for instance, serves as a reservoir until it melts in the spring, so we can use reservoirs to help overcome the short-term capriciousness of the climate, to get over the humps and hollows in the hydrograph, to have a more reliable flow."
For Andrew Curtis of Irrigation New Zealand, that means engineered storage, such as the Central Plains Water, and a recent proposal to dam the Makaroro River in Central Hawke's Bay to allow the irriga­tion of the Ruataniwha Basin to get orchardists and farmers through their region's increasingly dry summers.
But critics say that water will simply enable more intensive dairying, the pollu­tion from which will surely end up in the Tukituki River and others. In any case, larger forces are at play. Climate change will severely test a food-production system already hamstrung by the country's fickle weather, and run-of-river supply won't solve the problem.
"It's all about money," says Curtis. "Water supply has become more and more unreliable, and that affects investment. You need to be able to borrow against reli­able water." Storage, he says, is the only option, be it large and centralised or small and local, but whatever the configuration, it needs to be part of an integrated network. "Water supply is not an issue in New Zealand, it's just how it's configured."
But Collins points out that storage is not a universal cure. The biggest hitch is that most rain falls where irrigation isn't needed. Large reservoirs are expensive, and the costs frequently fall on a relatively few farmers (a number of Canterbury propos­als have been declined on economic, not environmental, grounds), while smaller, local-scale dams actually cost more in dollars per cubic metre of storage. Then there are the environmental costs—loss of biodiversity, recreation, natural character and cultural assets—to the rivers that keep the reservoirs fed. If greater certainty around water availability encourages more intensification and water dependency, storage could actually make things worse.
So water storage ends up in much the same corner as irrigation: it's a boon to farmers, but a blight to other river stake­holders, and the balance point will be just as difficult for authorities and communi­ties to find.
Critics should remember farming's con­tribution, says Curtis. "We can't make farming unviable, because it's too impor­tant. The rural hinterland generates between 15 and 20 per cent of Christchurch's GDP." The problem, he says, "is that food's too cheap, it doesn't reflect the cost of inputs. We're expecting farmers, whose margins are already squeezed, to add in environmental sustainability, but no-one's prepared to pay for it." The ECan Act, he insists, put Canterbury's water manage­ment back on track.
That argument doesn't wash with Rosalie Snoyink. "The whole of the river is important to me, not just sections of it," she says. "But we've lost that big picture.We now look at them as sections; 'You can have this bit, and I'll have that bit'. In the end, what will we be left with?
"I'd like to see some rivers flow free, all the way to the sea. I want our rivers to be restored to good ecological health. I want people to be able to enjoy our rivers, without worrying about getting sick. Is that too much to ask?"
Murray Rodgers doesn't want to obstruct farming, but he wants to see it done differently, through low-intensity biological or organic principles, "because otherwise, we'll be living with contami­nated water across the whole region. Our grand-kids will probably find that their drinking water slowly becomes undrink­able across large swathes of the plains."
Blind faith in bounty, it turns out, is mis­placed. What we once thought inexhaust­ible is now spent. What we assumed would always be pure is now polluted. Having drained and drawn and dammed and dirtied, the solution we have shunned­ self-imposed limits—now confronts us as our one remaining option.
The water coursing through your body and mine will eventually move on: it will return to the atmosphere, to rain down again in some new place, to nourish a crop, bear a kayaker down a foaming rapid or lend sanctity to some ritual. We can secure all the consents for water we like; trade it, channel it, keep it prisoner, but it will not be owned. It will simply be mutable, perhaps defiled, but undiminished.
We need water, but it does not need us. Our urgent charge is to find our proper place in the water cycle, and live within its bounds.