Keas – In the Land of the Kiwi
Gypsies, tramps and thieves—in some measure, New Zealand's swaggers were all of these things. They were opportunists in a society that idolised hard work and conformity. Their vagabondage earned them few friends and little respect, but—like our cheeky alpine parrot—they added a dash of colour to rural life.
A pilot boat makes its way slowly out of Otago Harbour towards Taiaroa Head. Seagulls cry and wheel above the cranes of the container wharf. A few hopeful salmon anglers watch their lines snaking down into the brackish waters.
Port Chalmers. It was here that many of our forebears first set foot on these southern shores. A few were ship-jumpers. One was a fellow who would come to be known throughout Otago and Canterbury as "Professor Winters" or "Barney Whiterats." Some say his real name was Wasserbrunner. A short, bearded man, he had the roving blood within. In the year of 1849, he turned his back on the sea and embraced the road—his home for the next 60 years.
Barney Whiterats rambled across the southern half of the island, entertain­ing children at country schools with his performing white rodents (mice, actually, not rats) and a shadowgraph on which he projected silhouettes of birds and animals. At times he carried a magic lantern; sometimes a monkey and organ or a Punch and Judy show. In the few photographs that exist of him he looks wizened, diminutive, like one of Walt Disney's seven dwarfs. But what are we to make of this iconic swagger—and of his kind?
If you have ever missed a ride, or hitchhiked, you'll have some inkling of what a swagger must have felt. You may have walked for a few kilometres in their shoes. Put that up against half a century of wandering and you may catch a glimpse of the life a man like Barney Whiterats led. Retrospect and the passage of time romanticise the "gentlemen of the road," but they had it hard. More often than not they were hungry, cold and tired. Looking back, we don't feel their pain, their social isolation, their loneliness.
For many, being on the road was a consequence of something that had happened in their lives. Some were walking to a job, others away from one. Some walked away from a family, or from misdeeds. There was a tacit understanding among swaggers that the past was past. It was beyond the asking.
A few were remittance men. Relatives in the old country sent a regular sum by way of support. The allowance had an unwritten condition: don't return.
When a man is unwanted or unloved, the road will receive him. It asks no questions. Those without family, the unlucky, the down and out, the ne'er-do-wells—the road takes them all.
I went on the swag myself once, though it was more for a lark than from any more serious motive. My brother abandoned me at the Waianakarua Bridge, State High­way 1, North Otago. Swagger country.
I surveyed my options: the railroad, the main road or the back road. I've always liked back roads. I bundled my swag, which consisted of a blanket, some oats, tea, a little sugar and a billy. I picked up my swagger's stick and set out. For a time, the road would be my home, the earth my bed.
On that autumnal day the novelty of not knowing where I would sleep held a strong attrac­tion. I noticed how much slower the landscape unfolded as I walked; how intriguing the roadside detail. The pace seemed more natural than the haste of driving, the desire to make destination. For me there was no destination. I felt bohemian, a down-under version of Jack Kerouac.
That night I slept between some gorse clumps where the Waianakarua River meets the sea. The following morning was cool, but the high cloud had precluded a frost. I lit a driftwood fire, ate some oats, then headed up the coast, following the beach for a time, then the road. These ribbons through the land—beaches, rivers—the idea of roads are there. A road, in the end, is just a way through the land.
There is something innate within us that makes us want to wander—to be a rolling stone, gathering no moss. It is there in our nomadic origins. Through­out history, people have chosen to eschew the custom of job, house, family and the responsibilities these entail. Others have had the itinerant life thrust upon them by fate's twists.
In the days of yore, you bundled your swag, laced up your hobnail boots and saw where the road took you. Today, we jump on a plane. The motivations are in many ways the same. Novel things happen every day, new people are met, new roads walked down, new landscapes seen. Put that up against the routine of work, the expectations of a settled life, and for some the road becomes a strong magnet.
But going on the swag wasn't just about escape. In New Zealand's colonial history, swagmen were an important part of the labour force on large runs.
New immigrants sometimes swagged to get the feel of the country before choosing a place to settle down. But the swagger was not only an itinerant labourer—he was a news bearer. To isolated stations he brought not only a pair of willing hands, but also the outside world, carrying the gossip of one station to another. Swaggers broke the remoteness.
There were three main groups: the itinerant farm labourer, the unem­ployed man (whose numbers swelled during the economic depressions of the 1890s and 1930s) and the work-shy "professional swagger." It is this last group that is perhaps the most interesting, and where the folklore looms large. These men did only enough work to satisfy their immediate needs, and were accused by Edward Tregear, first head of the Labour Department, of being "criminally lazy."
As more and more Europeans settled in towns in the late 1800s, a belief that a man must work permanently and be settled took hold. Victorian conservatives feared that the decay of family ties would lead to gangs and delinquency. Talk was rife of forcing men to work. It reached a crescendo of dogmatic fervour in statements from Tregear, who put forward the motto "Without work, noth­ing."
In the 1890s the number of men on the road reached alarming proportions. In 1894, one Hawkes Bay station recorded a total of "900 men fed in six months." Another had 400 pass its way in 59 days, while a neighbour fed "30 in one night alone." Attitudes hardened, but it was rare for a farmer to refuse a swagger a meal. There was no dole queue in those days.
Climatically, the depression of the 1890s coincided with a brief period of global cooling. Many a wayfarer froze in his tracks. Some figures put the number of men on the road in those years as high as three to four thousand, or one fifth of the male population. But most were temporary itinerants. Those few who remained on the road were "principally old men," wrote D. Brosnahan of Waipawa in 1898. "Very few young men are met on the roads carrying their swags."
Not all of them died with their boots on. Increasingly, the Old Men's Home took them in. The Old Age Pension Act of 1898, on the other hand, gave little relief. You were excluded if you were under 65, had lived in the colony less than 25 years (or had left for more than two), had income worth more than £30 or land worth more than £50. Also excluded were "aliens, nomads, and Asiatics . .  criminals, drunkards, wife deserters and those living a scandalous and notoriously immoral life." The message to swaggers was clear: don't bother to apply.
Towards the turn of the century, swagger numbers declined, a trend not solely due to social attitudes. Mechanisation and refrig­eration had made small-scale farming viable and meat a commodity. The itinerant labourer belonged to the era of large estates, of which there were fewer and fewer.
There remained but one group of itinerants: the professional swagger. They continued to roam the country, working as little as possible and relying on the generosity of farmers. Canterbury swagger John the Baptist was taken aback when someone offered him a home. "Goodness me, that would never do. My customers would miss me," was his reply.
[chapter-break]
Had I been swagging in those days I might have noticed regular black circles by the road verge. John A. Lee, who immortalised the swagger in his books, received a letter from a woman recalling that "a familiar sight along the roads used to be the black patches where the billy boiled." Of course, you don't see them any more.
I did observe the shelters farmers built for their children at the bottom of driveways, a place to wait for the school bus when it was raining. Some were A-frames, others little more than dog boxes. A century ago, swaggers' huts dotted the byways and roadways, riverbeds and junctions. They were doss houses for the "knights of the road."
Failing finding a shakedown, the only option for a swagger on a clear winter's night was to stuff himself into a haystack. Harsh frosts could, and did, kill. One who was found frozen by the side of the road was the swagger poet Joe Fleming. One of his rhymes starts like this:
Farewell to you, old Geraldine, I now am on the track, I'm going by Shanks's pony With a swag upon my back.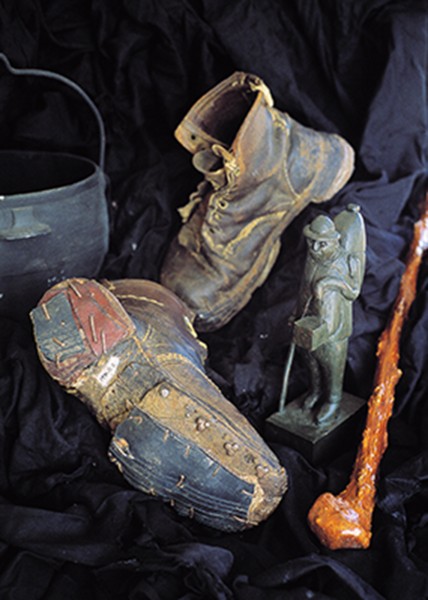 Even in their prime, swaggers were not always on the road; some built temporary shelters from time to time. In the North Otago Museum I viewed an old photograph bearing the inscrip­tion "Barney Whiterats' dwelling at Cape Wanbrow"—and a dilapidated collection of bits and pieces it was, too. But for most, home was the road—shelter and food were what farmers were for.
Twice on my swag up the coast I summoned up the courage to face the walk of shame—that long path up to the farmhouse, where I planned to ask to sleep in the shed in exchange for chop­ping some wood or doing some other menial task. My raps on the front door of the first house set off a dog barking. I tensed with anxiety—you just don't walk up to people's farms and ask them to feed and put you up.
I waited, but the inhabitants were out, so I left, stuffing my pockets with pears from a tree that overhung the drive. I crunched into the fruit as I pushed on up the road. It felt good. I liked this cadging, this living off the land. Again, the feeling soon passed.
I walked over the bridge that spans the Kakanui River. Many a swagger camped beneath this structure. On my way through Kakanui township I received some very quizzical looks. People looked almost embarrassed for me.
I walked past some road workers, and we exchanged pleasantries but they didn't ask my purpose or destination. Perhaps they thought I was beyond asking—I was obviously a bum. I began to feel what it was to be "on the outer." It wasn't pleasant.
The darkening sky hastened my need for a bed. To my left was a farmhouse, to my right a hedgerow. The lights were on in the house, but again no one answered my fervent knocks. Hedgerow it was.
On the third day I started to smell. I felt the grime working into my skin. My clothes were damp with sweat and dew. But the world can turn in an instant, and it did—I saw dolphins leaping in the surf. Along this same stretch of coast John the Baptist, a part-Indian fish-hawker, would gather frostfish. He was part of the community of misfits who made Oamaru their occasional home.
Tired and hungry from three days on the road, I plodded into Oamaru, stopping at the old Tyne Street gardens, where I sat for a while under the eucalypts. These gardens were a well known swaggers' locale. Each year, Dunedin's city fathers, with true Presbyterian zeal, would weed out the undesirables who might cause a disturbance over the festive season and send them packing north. Many gravitated towards Oamaru.
Dick Thomas remembers Barney Whiterats from his childhood. "Barney, receiving free meals from us and from others, usually slept under the northern abutment of the Otekaieke rail bridge, and many of us, I regret to say, threw stones at him."
Swaggers were used to rejection and disdain. They also played on the sympathy and curiosity of settled folk. Farmers had their reputations among swaggers—those known to be a soft touch, those best avoided. In places, swaggers marked station gates in code with bits of soft limestone, or left stones placed in certain ways.
Following a radio show in the late 1930s, many people wrote to John A. Lee with their reminiscences of swaggers. He used them as a basis for a book: Roughnecks, Rolling Stones & Rouseabouts. In the Gisborne—Wairoa area around 1930, according to correspondent W. Andrew, "a swagman told me he was travelling through with Joe Ward, but he had to leave Joe on the outskirts, because he didn't think he'd be allowed in town." The swagger told Andrew he was after food for himself and Joe. Perplexed as to why Joe couldn't do his own cadging, Andrew pressed the swagger further. "Joe turned out to be his pet pig.
[chapter-break]
While in Oamaru, I called in at the old people's home where many a swagger departed this world. Both the Shiner and Barney Whiterats spent time here. I talked to some of the older residents, to see if they could recall any knights of the road.
"They were all pretty old men in my time," Charlie Cleverley told me. "The best known was Ned the Shiner. He used to dance a jig at the New Year's sports show, but he always fell out with the judges." Cleverley's father was put in charge of a group of swaggers on a job, including the Shiner—"or else they would sit down and do nothing." His summation was that "he got more fun out of them than spuds."
Another resident, 96-year-old Molly Douglas, recalled her father giving a swagger by the name of Tom Pepper some clothes. She recollected many of the characters of old Tyne Street: "Sam Hoi Dog, Mother Keegan, Barney Whiterats."
Sam Hoi Dog made a living from selling vegetables. "The kids used to tease him. 'No peas twirly,' they used to shout, because Sam couldn't say 'too early.'"
Mother Keegan was one of only a handful of women itinerants. Most were hawkers of one sort or another. There was an old Syrian woman who roamed the Waimate area in the 1900s. Her modus operandi was to push a pram full of discarded pots and pans, which she mended and resold as she trundled the back roads and byways. The Sewing Lady perambulated in the same region, pushing a hand-operated sewing machine with which she would run up a plain frock for is 6d.
The Shiner (real name Edmond or "Ned" Slattery) was such an identity that the morning newspaper recorded his comings and goings as he passed through Oamaru. A rare favorable report has him working through the harvest without wages for a farmer near Morven, in South Canterbury. The farmer had put him up for many a night in the past, and the Shiner knew he was now struggling to balance his farm books.
But it was a rare farmer who got a day's work out of the Shiner. "Work," he announced to a man from whom he had just cadged a meal, "is for fools and horses." Or, as John A. Lee put it in his biography of Slattery, Shining with the Shiner: "when a man had the health and strength to work it required a great deal of moral courage to lie in bed and pull the blankets around his chin and listen to the skylarks."
The Shiner was born in County Clare in 1839 or thereabouts and spent half a century in New Zealand, roaming from Canterbury to Southland. His name is synonymous with the clever tricks he used to con publicans out of a drink or three. One of the most famous involved getting whisky in exchange for "stamps"—which, when the time came for payment, turned out to be stamps of the physical sort: the Shiner's boot on the floorboards.
Another classic Shiner stunt is told in Jim Henderson's book Swagger Country:
I think the first yarn I heard about The Shiner told of him taking a crockery demijohn into the pub to be filled with draught whisky, when it was cheap and plentiful. This done, he remarked airily:
"Just charge that to my account," and began to depart.
"Oh no you don't, Shiner!" exclaimed the publican, grabbing the container back and with a flourish emptying its contents into the whisky barrel. "I've been had too often by you."
"You're a hard man," grumbled The Shiner, departing crestfallen to behind the nearest hedge, to joyously break open the demijohn and squeeze a number of very satisfying drams out of a very large sponge he'd popped inside previously.
The Shiner, popularised in George Meek's poetry as the "Un­crowned King of the Knights of the Banjo," swaggered until well into his 80s. He spent his last days in a but on the Taieri River at Allanton. He would come to a nearby house with a billy containing a mixture of turnips and tea leaves, or some other concoction, and ask for it to be cooked for him, knowing full well that the housewife would prepare him a proper meal.
Eventually the police came and took him away. "I'll be back in a week," he said, but by the end of the week he was in the obituary column of the Otago Daily Times. He died on August 11, 1927, at the Benevolent Institution in Caversham, Dunedin, aged 89.
The Shiner got his nickname from a priest in Lawrence, who found him in the pub drinking when he had promised to chop firewood for a pregnant woman.
Colourful nicknames were part of the swagging tradition. There was Mincing Billy, who always carried a mincing machine in his swag, and Paddy the Pig, whose main home was a hole in a haystack. The Highland Chief could "shear, harvest, slaughter with the best in the land, [and] drink with the worst," writes John A. Lee. The Gorse Warrior, the Bone Fakir and Jimmy the Hogget were others in the pantheon of the road.
Man of War Jack tramped Hawkes Bay and the Wairarapa—an area re­ferred to by swaggers as "the fattening paddock" on account of the large stations and friendly runholders. Someone had stolen his wife, so Jack took off his coat in protest and swagged for the rest of his life coatless—an eccentricity which afforded him many a meal.
When it came to cadging a feed (or a drop of whisky), swaggers had a repertoire of tricks up their sleeves. The Honourable MacKay, who swagged for a time alongside the Shiner, had the trick of dropping his glass eye into a mate's drink. That was usually sufficient to see the drink change hands.
One swagger carried a handful of manure, and, on being turned down at the farmhouse door, would remark that he was so hungry he'd have to eat it. This ruse generally succeeded in getting the householder to relent, but it backfired when he tried it with a Scotsman. When the manure was exhibited, the pinchpenny Scot exclaimed, "Hoots mon, dinna eat that! Come doon the stable, and I'll gee-ye some fresh stuff."
For some farmers, feeding a swagger was the quickest way of getting rid of him. Many regarded swaggers as "sponging undesirables," even going so far as to demand that they be press-ganged into labour camps. Others welcomed the colour and humour they brought to conformist farming communities. What price a meal when the swagger brought news and character?
Perhaps such farmers also felt it best to suspend judgment on the unfortu­nates at their door. For who knew what fate had in store? Tomorrow, it might be you on the road.
Charlie Stuart of the Marlborough Sounds caught that essential truth in some lines he wrote, based on a Robbie Burns original:
Swagging is an Honest Trade Which wealthy Knaves Despise Yet Rich Folks may be Swaggers made And we who swag may Rise.
[chapter-break]
It was for boots that I visited the museum in Wanganui. They were size 11, by the look of them. The soles had as many as five layers in places—leather strips and two slabs of car tire, held in place with nails bent back over themselves. Inside were layers of cardboard for padding. At the back, loops of string passed through holes bored in the uppers, no doubt so they could be tied to a swag when not in use.
These boots had been owned by Barret Crumen, a.k.a. Russian Jack, and were given to farmer K. E. Reynolds in the Turakina Valley in ex­change for a new pair. How many miles did they cover? And what pain was felt by the feet that filled them?
"Russian Jack" was a name given to any swagger who had an eastern European accent. There were at least two other swaggers who had the same name. Barret Crumen was the best known, a familiar sight on the lower North Island roads for half a century.
In Swagger Country, one of Jim Henderson's correspondents, Elva Sonntag, recounts meeting Russian Jack while living on a Wairarapa dairy farm. She came round the corner of the house one day, and there was the swagger sitting on the back doorstep.
"Good-day, Missus," he said cheerily. "Your man's fillin' me billy." Sonntag describes him as a tall, well-built figure with a drooping Stalin-like moustache. He always wore a wide-brimmed felt-hat, and this was swinging on top of the walking stick propped up beside him.
"Can sleep calf-shed by gate, missus, please? M'feet very sore." A native of Latvia, Crumen had gone to sea at the age of 24. In 1912, his steamer, Star of Canada, was wrecked on the Gisborne coast. Crumen decided to save the coach fare by walking to Wellington, probably with a view to signing on to another ship. He just kept on walking.
After 30 years on the road, he could look back and say, "Man oh man I vos free! Free to have a beer, have a smoke—happy what you can call all the time, you know. They was free days."
One of Crumen's regular hosts was Sonia Mackenzie, then living in the Makuri area.
"Any spare dripping, missus?" she recalls him asking. On inquiry, he told her he used dripping to cook possums in his billy. He also rubbed it into his chest "to keep away itches." Both his ears were packed with wadding soaked in mutton fat "to keep the bugs out."
In 1965, Russian Jack was admitted to Pahiatua Hospital with frostbite on his feet. His days on the road were over, and he knew it. "My swaggering has finished now. Yes. Finished. So I'm now say good-bye."
Transferred to Greytown Hospital, he was allowed to keep his swaggering days stick under his bed, but couldn't be persuaded to stop his habit of stuffing both ears with brown paper and mutton fat. He died in 1968, aged 90. One of the hymns at his funeral contained these lines: "0 spread Thy covering wings around till all our wanderings cease, and at our Father's loved abode our souls arrive in peace."
A fitting swagger's prayer.
[chapter-break]
On my days on the road, oats and stolen pears had satiated my hunger to a degree, but, unlike a genuine swagger, when I arrived in Oamaru I was able to pick up my bankcard and head for the nearest café.
The Shiner would not have ap­proved. To make my peace, I visited his grave on my return to Dunedin. On Lawyers Head, which protrudes rather arrogantly into the southern Pacific, is Andersons Bay Cemetery. My brother and I combed the sea of headstones, looking for Shiner Slattery's name. We came to a patch of open ground, and I checked the map: "Block 25, Lot 95, free ground."
Here, sure enough, lies "the Nomad of Otago and Canterbury" in an unmarked grave. Swaggers' graves shouldn't be marked. So many died in their tracks, with their boots on. While at the cemetery, we visited another rambler's resting place: the explorer and gold prospector Arawata Bill. Years after his death, a public subscription raised funds to mark his grave. I'd like to hope the same doesn't happen to the Shiner. Bill traipsed the hills, the Shiner the country roads. I'm not much into graves, but the Shiner's unmarked plot impresses me more than Bill's cold granite.
The number of people on the move ebbs and flows with good and bad times. The road can represent a path to the future; a new start. A ticket out of some dead-end situation; a route to "anywhere but here."
Yet to stay on the road often signifies failure. I felt it in the looks I got as I swagged through Kakanui. Ironically, the swaggers were probably more alive than the settled folk on whom they relied. They had chosen poverty, but freedom, whereas most had opted for comfort and a measure of enslavement.
The swagger walks across many cultures. Often he is viewed with suspicion, as if there is something inherently wrong in spurning material possessions and embracing ever-changing horizons. We pour scorn on the misfit. Why? Is it because we don't have the strength of will to go against the grain? Is it because we know we are watching the same stretch of river, when, like a roof shingle in a windstorm, we should let loose and fly?
Such questions dog the settled mind. The clichés that favour itinerancy are many: rolling stones gather no moss; if you travel alone you travel fastest. The Spanish poet Antonio Machado was no swagger, but I think the Shiner would have liked his verse: "Traveller, there is no path, Paths are made by walking."