John Morton
In 1968 The New Zealand Sea Shore by John Morton and Michael Miller was published, and it quickly became the cornerstone of marine biology in this country. In September 2004 a successor to that volume—Seashore Ecology of New Zealand and the Pacific, by John Morton, is being released. To mark the occasion, we offer a brief sketch of Morton, a man who has made a difference in an unusual range of fields.
Autumn Frail morning sunlight shimmers on Auckland's Hauraki Gulf. I clamber across black scoria rocks with my guide, emeritus Professor John Morton, now in his late seventies. We're on Milford Reef, fossicking while the tide is out. Regarded by many as New Zealand's greatest marine biologist, Morton squats over a shell-encrusted ridge and runs his fingers lovingly across the backs of its inhabitants. His voice, low and gravelly, mixes with the waves: "Elminius modestus, Saccostrea glomerata… Lepsiella scobina… Nerita atramento‑sa…"—otherwise known as barnacle, rock oyster, oyster borer and common black nerita.
Suddenly a shadow falls across us. "Is that Professor Morton?"
A middle-aged man with bare feet is standing on the rocks above us. He's delighted to have stumbled upon Morton. Could he ask the professor a question?
"Certainly," says Morton, smiling as he straightens up.
"I want to know," says the man, "why so many horse mussels are being washed up on the beach these days."
A gleam of excitement comes into Morton's eyes. "That's a very interesting question."
We crouch on the rocks together and Morton starts to tell us about the changing ecology of the waters around Auckland—how increasing silt levels are forcing plants and animals to relocate. Shellfish once found in the upper reaches of the Waitemata are finding new homes on the edge of the Hauraki Gulf. An influx of horse mussels seems to be part of the pattern.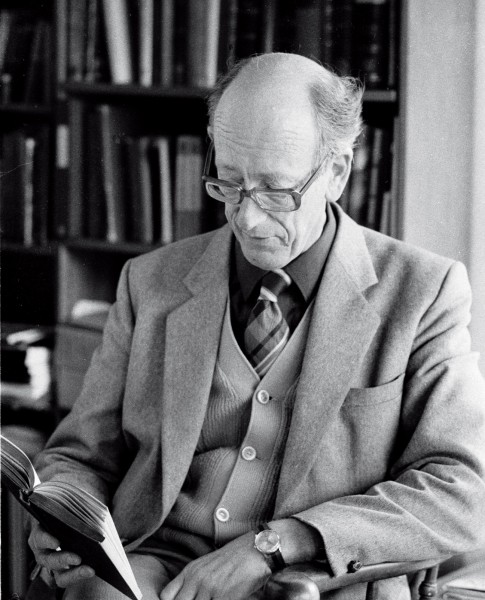 John Morton has been coming to Milford Beach for enough decades to know a thing or two about the place. His family lived in Morrinsville but used to visit Milford for summer holidays. Here, under the watchful eye of his solicitor father, Morton junior began a study of the seashore and its natural history that would eventually take him from one end of the Pacific to the other. Something else happened in those years: a profound allegiance was forged with the Chris­tian faith. In Morton's words, it became "the invisible thread that runs through it all"— his scientific, academic and public lives.
After becoming dux of Morrinsville High­ excelling not just in science but also in his­tory, classics and Eng­lish—Morton entered the somewhat primitive precincts of the zoology department at Auckland University in 1942. The head of zool­ogy, Professor W.R. McGregor—or Barney McGregor, as he was usually known—was an unusual figure: charismatic and forceful in the lecture theatre, but poorly qualified to preside over a scientific discipline that was on the threshold of rapid change.Essentially insecure, he ran the department with a rod of iron, suppressing dis­senters and, by and large, discouraging scientific debate.
McGregor quickly recognised Morton's exceptional talents, making him his demonstra­tor in his second year and teaching him the old micro-anatomical skills of wax-section cutting and staining. But McGregor's authoritarianism brought out a rebellious streak in his gifted student and the relationship soured.
Despite difficulties with McGregor, Morton thrived in all the natural sciences, particu­larly marine biology, a subject that, in the 1940s, was very much in its infancy. Molluscs became Morton's first speciality. As a teenager he had been much inspired by A.W.B. Pow­ell and his fine shell collection at the Auckland Museum. At university there was potential for a lot of innovative molluscan research, and his MSc studies made key discoveries about the ciliary feeding mechanism and reproduction of Struthiolaria—the ostrich foot, a local relative of the tropical conchs. The then doyen of British marine biology, Professor C.M. Yonge, recognised the worth of Morton's thesis and arranged to have it published in Eng­land. When Yonge visited New Zealand the following year, he insisted Morton embark on an overseas career.
So it was that in 1950, at the age of 26, John Morton enrolled for his PhD at the Univer­sity of London. His true destination, though, was Plymouth. Under the famous limestone cliffs, albeit housed within a group of unremarkable buildings, was, in Morton's words, "one of the most privileged and enlightened institutions that has ever existed"—Plymouth Marine Laboratory. It was to this hallowed place that Morton had travelled halfway round the globe to do his research alongside some of the world's finest marine biologists. Ply­mouth fitted him like a glove, and for the next 20 months, while he wrote his thesis, he vir­tually lived there. Even later, when he took up a lectureship at the University of London's Queen Mary College, he continued to spend most of his "holidays" teaching and writing there.
"His progress, at the forefront of marine biological research, was electric," remembers Dr Bill Ballantine, Morton's first PhD student and winner of the 1996 Goldman Environ­mental Prize for his promotion of marine reserves. In the space of 10 years Morton pro­duced a formidable body of research, specialising in oft-ignored oddities of the seashore, such as vermetid and pelagic gastropods and small salt-marsh molluscs with their own peculiar physiology. By the mid-1950s he was considered a world expert on molluscs, and when a London publisher wanted an up-to-date book on the subject, Morton was invited to write it.
Molluscs was first published in 1958 and stayed in print, through several editions, for over 20 years. It showed the first glimmerings of Morton's rare talent as both specialist and generalist. At just over 200 pages the book was of modest length, but it provided a compre­hensive introduction to a vast and diverse phylum.
Alongside professional success came personal fulfilment: Morton married Patricia Helen Lees, a New Zealand woman from his days at Milford. In assessing the achieve­ments of John Morton, no one should underestimate the importance of his wife Pat. The marriage also reinforced his New Zealand connection—and Morton was never a man to forget his past. As wonderful as his time in England had been, he felt an increasing desire to bring some of his newly acquired knowledge back home. With the birth of two children, Clare and Robert, that desire only strengthened.
By 1960 the wheel had come full circle. McGregor had left his post at Auckland, if somewhat unwillingly. His successor—in the face of stiff competition—was none other than Morton, now with a London DSc.
Even today Morton recalls the words of the then vice-chancellor, Kenneth Maidment. "'Morton,' he said, 'we've brought you here to build up a good zoology department—world standard. Don't worry about the money—we'll see you get what you need.'"
Those were the days when the grass was green in New Zealand and there was money in the public purse to spend. At the zoology department in Auckland new courses were developed, new equipment was purchased and new staff were recruited. Above all, research was encouraged. From Stage I upwards there was a fresh emphasis on this. Promising stu­dents were picked out early, staff assigned to them and research topics hammered out. Five small Victorian houses in what was then Havelock Street, opposite the university, became postgraduate research rooms. The arrangement of laboratory-cum-university flat proved a hit with both students and staff. "Research-wise it was the most successful set-up we ever had," says Morton wistfully.
The masterstroke, however, was in marine biology—and not just in the legendary field trips to Whangarei Heads and Piha, where Morton, with his overflowing enthusiasm and encyclopaedic knowledge, inspired students for nearly 30 years. The crowning glory of the Morton years was surely the marine laboratory which today stands proudly on the cliff top at Cape Rodney, near Leigh. A lot of people are quick to take credit for it, but from the beginning it was a Morton-driven project. Not surprisingly, it was in Plymouth that he conceived the idea and settled on Leigh for the site.
The location was perfect, although there were plenty who disagreed with him when he put up the idea in 1960. But Bill Ballantine, the laboratory's longest-serving marine biolo­gist, has no doubt that Morton was right. "If you gave someone a blank chequebook today and told them to pick the best site within 200 km of Auckland, they'd still choose Leigh. It's got a broad range of habitats close at hand—everything from open ocean to man­groves—and is only 90 minutes from Auckland."
Far enough away, however, to escape some of the destructive politics of the university. Morton wisely set up the Leigh laboratory as a facility separate from Zoology. This en­couraged other university departments, such Botany and Engineering, to get involved, and also gave Leigh a considerable degree of autonomy.
The building took shape over the autumn and winter of 1962. Professor Neil Mowbray, head of the engineering school, designed a seawater system, and his students assembled it on campus. At the weekends a motley convoy of vehicles rattled over shingle roads to the muddy cliff-top site that looked across the water to Little Barrier and beyond. Inspired by his vision, Morton and his followers dug trenches, laid pipes and poured concrete. It was a hard physical slog, but their enthusiasm never wavered, and by October that year the shell of the laboratory had been completed. A few years later the Leigh facility had become one of the finest of its kind in the Southern hemisphere.
[Chapter Break]
In the midst of shaping a new lab and a generation of zoology graduates, Morton still found time to write. The New Zealand Seashore was another lofty vision. Indeed, there had never been a book like it. It was the fruit of over a decade of research, a process greatly accelerated by Morton's knack of inspiring oth­ers to help. Students—fast learning to be passionate about their research—were encouraged to conduct experiments and gather information that could contribute to the book. It wasn't a case of plagiarism, rather a symbiotic relationship—one from which both students and Morton benefited.
The results were spectacular. Ably assisted by colleague Dr Michael Miller, Morton transcended the narrow bounds of the average science textbook to produce a classic. In breadth and depth, the 637-page The New Zealand Seashore was outstanding—not only in its concise, vigorous writing, but also in its innovative use of diagrams and deft sketches, a Morton trademark. While its approach was ecosystem-based—looking at rocky and sandy shores exposed to different levels of assault by waves—it managed to work in an astonishing amount of information on species both common and obscure. Although other books existed to help with the identification of shells, fish and seaweeds, they offered little on worms, the all-important encrusting organ­isms, or crustaceans. In stark contrast, The New Zealand Seashore illustrated and identified a great array of these creatures. Like an accomplished composer, Morton showed a rare ability to integrate theme and detail in the creation of an organic whole. More than 30 years after it was written the book remains as compelling to marine biology students as it ever was. Indeed, as Bill Ballantine says, "It is still the best single book on seashores in the world." It is a foundation on which all New Zealand's marine biology has been built.
Morton's achievements were not going unnoticed. In June 1965, at the request of Lon­don's prestigious Royal Society, he began a six-month stint in the Solomon Islands as head of a marine party. Based on the sturdy 30-metre vessel MV Maroro, Morton and his party travelled the length and breadth of the vast archipelago in an attempt to gain an overview of its complex marine ecology. Inspired by the extraordinary richness of what he saw, Morton began to conceive of another ground-breaking book, one that would attempt to intermarry tropical and temperate intertidal ecology—a Pacific book. There seemed to be no stopping him. Or was there?
The end when it came was sudden. In 1969, after leading the zoology department through a period of unprecedented growth—in courses, research output and student enrolments—Morton was asked to relinquish the headship. Many of his colleagues did not like his leadership style, commonly perceived as erratic, inconsiderate and autocratic. According to some, he was a poor communicator with staff, an unhelpful trait in a large and fractious department.
Furthermore, zoology was changing at an ever-accelerating rate. New biochemical techniques were creeping up in the wings, as were statistics, cell biology WJ and numerical approaches totaxonomy. Although Mor‑ton had indeed transformed the department, some doubted he could continue to provide leadership in these new areas, for he was considered an older-style naturalist and general­ist at heart. Narrow specialists were quickly coming to rule the scientific roost. Could a man steeped in history and the classics, who regularly sat on the Anglican synod, be truly progressive?
With students, Morton was popular, and notable for an eccentric flamboyance. One of the few academics still to don a mouldering black academic robe for lectures, he made of every presentation a theatrical performance. Whether leaping from a lecture bench, flapping his gown to demonstrate the development of wings, covering a blackboard with fabulous pastel drawings that were nigh impossible for the cleaners to erase, offering a sauce recipe containing squid ink or making eels crawl up a pegboard to demonstrate their terrestrial locomotor abilities, he provided entertainment without parallel in the local academic world.
Longtime friend and colleague John Walsby recalls: "He was always thoroughly pre­pared for his lectures. The drawing, the oratory, the arguments—they were all meticu­lously researched, so that he came to the podium like a Shakespearian actor set to deliver an hour-long soliloquy."
Dethroned, however, Morton found himself alone and floundering, "rather like a beached whale." Ten years of administrative challenges had kept him away from his be­loved research, and many of his lectures were now passed to others. Even his field courses were for a time run by someone else. He found himself asking: "Nineteen years to retire­ment. What on earth am I going to do?"
[Chapter Break]
In the reshaped landscape, it was the generalist in Morton, rather than the specialist, who responded to the crisis.
Auckland was a rapidly growing city in the early 1970s—big on motorways and subdi­visions, short on environmental planning and conservation. A champion for the environ­ment was urgently needed—someone knowledgeable and with a flair for public speaking.Morton—underutilised and looking for new directions—was the perfect candidate.
His first assignment could not have been better scripted: a proposed marina development on the mangrove flats of the North Shore's Ngataringa Bay. No one other than a few crackpot scientists had ever given mangroves a second thought. Many mangroves became rubbish dumps and were then buried under a mountain of clay in a hasty land-reclamation job. It was no sur­prise when the local council gave the Ngataringa Bay marina a quick go-ahead.
But a few locals protested, and although the council was quick to dismiss them, the issue began to gain momentum through newspapers and talkback radio. By the time Morton entered the fray the political tide was turning. With the author of The New Zealand Seashore on their side, the protesters had some intellectual steel with which to fight. Within a few months the council backed down and the mangroves were saved. It was a precursor to larger battles.
Morton was elected to the Auckland Regional Authority (ARA) and the Nature Conserva­tion Council, where he strove for a fairer, greener future. And if, in the end, he couldn't secure as many regional parks as he wanted, or establish a rapid-rail system, or implement a free bus service, he could at least put his own stamp of integrity on issues that were all too often regard­ed as "lunatic fringe." Despite his profound Anglicanism and royalist tendencies, Morton has always stood well to the left on the political spectrum.
The ability to gain a foothold for radical ideas in circles of authority was a Morton hallmark. Sometimes he obtained greater traction. For more than 20 years he sat on the General Synod of the New Zealand Anglican Church, never an assembly noted for revolutionary change. Morton remembers the instinctive resistance aroused when the idea of women priests was first mooted. Gradually, however, "tight theology and good sense prevailed." In 1978 New Zealand's Anglican Church accepted women priests, one of the first in the world to do so. To mark the occasion, Morton gave a speech in Latin, choosing as his text "There is neither Jew nor Greek, there is neither bond nor free, there is neither male nor female: for you are all one in Christ Jesus." Galatians 3:28
The battle to save New Zealand's forests was a more brutal affair. Fire, axe and saw had marched relentlessly over New Zealand for hundreds of years. In the late 1970s the loggers closed in on the scattered remnants of the great podocarp forests of the central North Island. Images of thousand-year-old rimu and totara savaged by chainsaw and bulldozer shocked New Zealanders up and down the country and galvanized an entire generation of con­servationists. As protesters took to the trees and politicians postured, the low­land rainforests soon became an issue of national importance.
Ironically, the stage was set for Morton just as it had been for Barney McGregor decades earlier when he had successfully campaigned to save Northland's Waipoua Forest. Increasingly familiar with public life and controversy, he took the challenge in his stride. Arm in arm with barefooted protesters, and luminaries such as British botanist David Bel­lamy and Native Forest Action Council director Guy Salmon, Morton spoke at countless public meetings as the pressure mounted to save the forests.
Whirinaki in particular captured the public's imagination. It contained the tallest and densest stands of trees, yet the government seemed determined to fell at least part of it. Together with John Ogden, Tony Hughes and Ian Macdonald, Morton conspired to write a book to assure its future. Whirinaki: To Save a Forest was published in 1984, shortly before the general election. With its poignant text and stunning photography, it was a compelling mixture of science, art and politics. It seemed almost inconceivable that any government could allow such a beautiful forest to be destroyed. A few months after the book's release, the new Labour government legislated to preserve the cathedral-like stands of Whirinaki forever. Morton became a very public figure. For a time he even appeared on television as the presenter of Our World wildlife documentaries.
[Chapter Break]
Morton had come a long way from researching molluscs in Plymouth. But the old calling was still there, even amidst the hurly burly of conservation work. On the shores of Fiji, Hong Kong and British Columbia he continued to run his marine biology courses, leading field trips and gathering information. Over the years a number of smaller books, such as The Seashore of Hong Kong, marked his progress towards the project conceived during his time in the Solomons. Not all his books, however, fo­cussed purely on science. Man, Science and God (1972) and Redeeming Creation (1984) grap­pled with tensions between science, Christianity and the environment.
The countless field trips he ran for marine biology students say something else impor­tant about the man. His zest and his profound knowledge of the subject, combined with an almost puckish sense of humour, have left an indelible impression on a whole generation of graduates. There was the famous manuka staff which he used to dramatise, to conduct, to seek out some hard-to-find organism or to scratch a tasty molluscan recipe in the sand. He'd summon students by hoisting it aloft and twirling a hat on the top, perhaps to wit­ness him licking a sea slug, which he might then offer around. Little would the unfor­tunates who accepted know that the creature's back was studded with tiny stinging cells which would administer a jolt to the tongue about 30 seconds later. His energy and pas­sion, always a source of wonder to those around him, seemed particularly intense on these seashore expeditions. Even in his mid-sixties Morton was known to wade out to his chest in frigid water, looking for a suitably colonised rock or sublittoral specimen with which to inspire his students.
Retirement has had no meaning for John Morton. The phone rings constantly. People know that he is interested and committed, that he will give his time freely to any cause he believes in. He and Pat are constantly seeing people, going to meetings, writing letters and submissions. The future of the Auckland Museum, the protection of urban trees, the preservation of native bush (including 28 ha near their home in Campbells Bay) and natural coastlines—the list goes on and on.
[Chapter Break]
Alongside books, forests saved, women priests and the rest, Morton's other major legacy is his students, many of them now senior scientists scattered the world over. Winston Ponder, who completed a PhD under Morton in the mid-1960s, is today considered the world's leading authority on molluscs and runs the malacology section of the Australian Museum in Sydney .
Dennis Gordon, another student and now a senior scientist at NIWA, recalls Morton with affection: "To the new and unsuspecting student, Mort, as we called him, was idiosyncratic. What we didn't appreciate was just how deliberate his teaching style was. He was out to teach us and he used a variety of techniques to achieve that. For a start, he was a very effective artist. With great flourishes he would fill the blackboard with drawings of anatomy or animals exhib­iting a range of behaviours and postures—my favourite a sleeping dog, curled around itself. In one lecture, in which he sought to illustrate scale in the solar system, he started with the sun at the far left of the blackboard and continued planet by planet rightwards across it, beyond its margin, past the door to the lecture room and on into a side room, his muffled voice issuing from the depths and gloom.
"Most marvellous of all was the creative way he used his academic gown. This was an extra body layer. The space between it and his own body became transformed into a molluscan mantle cavity, the pharynx of a sea squirt, the atrium for food particles gathered by a barnacle's feathery feet. On occasion he drew a butterfly's wing pattern in chalk on the inside, spreading it to spectacular effect as he flapped his way down from the great bench which ran across the front of the zoology lecture theatre. Or the gown was just plain handy for gathering up young eels off the floor to which they had dropped after snaking up a nail board, illustrating sinuous movement.
"Second-and third-year zoology students were exposed to a wondrous crash course of familiarisation with seashore animals and algae near Whangarei Heads. We collected samples of all creatures great and small from rocks and pools and mud and dredge samples. These were dis­played in finger bowls, with Latin names on labels, along makeshift benches on trestles. For us students who were keen natural historians, this was our grounding in knowing these creatures, and it would stick. Sadly, recognition of organisms is not taught like this any more at university. Newer generations of students do not know the myriad barnacles, limpets, slugs, anemones and seaweeds as old friends. Too bad if they encounter an alien species. They wouldn't know one if they tripped over it. So much for academic fashion. Me, I treasure what my old prof gave us. Priceless!
"Prof was truly agile in the field. But I recall one time at Piha when, tripping the light fan­tastic across rocks and boulders, he slipped into the tide. Up he came, all wet. The subsequent ritual wasn't quite the sign of the cross—spectacles, testicles, wallet and watch as he patted himself—but near enough. He grinned. The cigarettes in the packet retrieved from his left breast pocket were dry."
Bill Ballantine offers a broader perspective on Morton's place in the world, one that puts the seal on a man of rare accomplishment: "Biologists consider that evolution happens fastest among small isolated populations on the fringes. Useful adaptations—like good ideas—can spread more rapidly through a small group. Human advancement is similar. Small isolated places like New Zealand often lead the world in implementing ideas—women's suffrage, the welfare state, introducing a nuclear ban, tariff removal, unsubsidised agriculture, etc. And within places like New Zealand it is a small group of free thinkers who goad the rest of us. Morton has been one of those, and notable because of the extraordinary breadth of his interests and expertise. There are not too many shore ecologists who have saved forests, significantly ad­vanced the cause of women's equality, articulated considered positions on the centrality of God in the cosmos and on free public transport, and who can write speeches in Latin."