Into the wild
Around New Zealand's coastline by foot, raft, etc…
Brando Yelavich remembers February 1, 2013, like it was yesterday.
"I remember it better than any of the other days. Taking that very, very first step, I felt this extreme sense of accomplishment, just from even starting. And then I remem­ber looking back and seeing my dad, my uncle and my grandfather's brother waving goodbye. That was a strange feeling. It didn't really sink in until after I disappeared over the hill," he laughs. "And then I was think­ing in my head, 'What the hell am I doing?'"
One month earlier, he had been standing on the side of the road holding sale signs for Canterbury Clothing, knowing there was no promotion coming and deflated by the thought of bouncing between jobs making just enough money to get by. "I decided I wanted to change my life. I wanted to do something to inspire myself."
After three weeks' training and with limited outdoor experience, the Auckland teenager took that first step on a journey of more than 7000 kilometres. Set on being the first to walk around the coastline of New Zealand, and with little idea of what was in store, Yelavich told his friends he'd be back in six months.
The idea first occurred to him three years earlier when he saw the movie Into the Wild, based on Jon Krakauer's account of Chris McCandless, a romantic young man who gave up a comfortable middle-class exist­ence to hitchhike around the US, before walking into the Alaskan wilderness to live off the land.
Despite McCandless's tragic demise from starvation, Yelavich was inspired by the idea of wiping the slate clean, and going off to live in nature and find himself. School did nothing for him, he says—a double diagno­sis of dyslexia and attention-deficit hyper­activity disorder (ADHD) made it tough. "So why not just go and get life experience, like he did? I wanted to meet lots of people and gain lots of life experience."
The coast is in Yelavich's blood. With an ancestry stretching back to an island in the Adriatic, coupled with his upbringing in a country ranked in the top 10 by length of coastline, it is, he reflects, "to do with some­thing inside me.
"There is so much life on the coast. The smells. The birds. The fish. The seals. The sea and the waves. Camping on the beach with a fire."
By the end of that first day, he was suf­fering crippling leg cramps and being mobbed by mosquitoes. The next four days, it rained. "I walked the whole length of Ninety Mile Beach not seeing any more than 20 metres in front of me and 20 metres behind me. On the last day, the fog opened up just as the sun was setting and it shone through."
Moments like these have kept him going—sunsets, starry skies, waking up to snow on the beach in the middle of winter. As for outdoor skills, he picked these up along the way: crossing rivers, navigating currents, foraging for food.
"On a daily basis I'll probably raft across three different rivers. When I started, I would build all my rafts out of driftwood, or the flax stems. And I'd paddle across. Now I've got a [pack] raft so that's a lot easier, and not as dangerous. But I've had to teach myself how to abseil without a harness and clips, and still be able to retrieve my rope."
[Chapter Break]
Perhaps The Only other person who can claim to know our coastline as intimately as Yelavich is the kayaker Paul Caffyn, who circumnavigated both islands in the late 1970s. It is curious to think of these two journeys, one from the sea and other­ for the most part—from the land, and how in their own distinct ways they traversed this liminal space that is a coastline, loosely defined by constant interaction between the elements.
From his vantage point, Yelavich experienced a landscape of contrasts, not only in its physicality but also as a social terrain that shifted between contentedness and solitude.
"Everyone says the west coast is really rugged and wild but honestly, the east coast is so much harder. There's people and towns at the end of every day but in between there's so many bits that are just physically unwalkable. There are cliffs or massive boulders straight into the sea and you can't get around them without swimming. On the west coast, I only remember getting in the water about four times to get around bluffs. Otherwise I'd just go over the top of them or climb around them. But on the east coast, I'm in water five or six times every single day, swimming around bluffs and trying to get from rock to rock." His favourite stretch of coastline is the isolated Kahurangi. "You could feel that it hadn't been touched."
[Chapter Break]
Photographer Neil Silverwood joined Yelavich for several days walking south from Gillespies Beach on the South Island's West Coast. They would cover 20 to 30 kilome­tres a day, over rough terrain with few houses, no tracks and numerous rivers flowing off the Southern Alps and glaciers.
Silverwood says he was drawn to capture Yelavich's story because it resonated with his own life-changing trip as a young man through Fiordland.
"When you're out there on your own like that, you learn a huge amount about yourself and become really independent. You get a clarity of vision and you can plan out your future. All the stress and the com­plications in life disappear."
As a youngster from the big city, Yelavich has found the largely solo journey to be much more mentally than physically demanding.
"The ability to walk a whole day, on your own, in your own head, and not go crazy—that's quite a big challenge."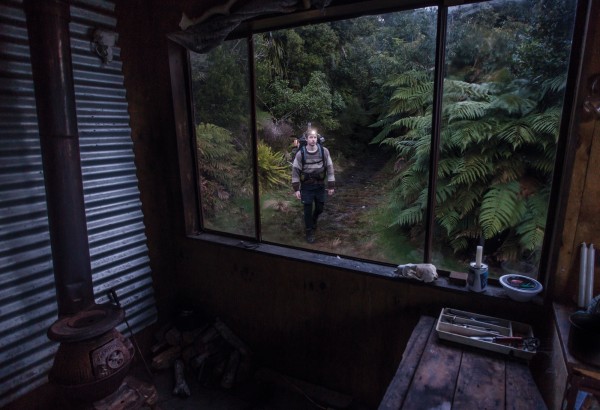 During a tough stretch on the West Coast, he spent the longest period of time alone, not speaking to a single person for 11 days. It was a shock to the system, he says.
"The first hour of every day that I spend on my own is just fighting. Fighting with over-thinking: What might happen, what could go wrong. Then I just zone out and I run out of things to think about. I've taught myself to go into this almost-med­itation state when I'm walking and the day just flies by. I'm still taking everything in and I'm living in the exact moment. I'll be looking at a stone and I'll be thinking about the stone. Not something else. It's a good way to be."
Since starting the trip, Yelavich has stopped taking Ritalin, a drug commonly used to treat ADHD, and found a sense of balance. "Occasionally I still get real lonely or sad," he says. "But I've realised that this is my life and this is what I've chosen to do. I don't really get the big ups and downs anymore."
[Chapter Break]
With his parents as his main financial sponsors, Yelavich has kept costs down by trying, as much as possible, to live off the land. This has meant carrying the extra weight of a crossbow and fishing and diving equipment, but it has added a different dimension to the journey.
It gives you a huge sense of accom­plishment. I actually enjoy diving at the end of my day for some crayfish or paua, or going out and shooting a goat or a rabbit or a possum or whatever happens to be on the menu," he laughs. "It would be pretty boring if I just ate freeze-dried meals."
When hunting and gathering were not feasible, Yelavich was often the grateful recipient of the generosity of Kiwis. Used to the cool anonymity of the big city, he was surprised by the connections he forged and the offers of food, shelter, pack ferry­ing, companionship and wisdom.
During his time with Yelavich, Silverwood found that older people in particular were inspired by the idea of a big journey and a young person doing something positive. Says Yelavich: "I've met lots of older people who have heaps of life experience and they've been able to share it with me, which has in turn made me a lot wiser. When I first started, I was a very immature, naive boy. I had no idea what I wanted to do with my life. I had no idea who I was. Things have definitely changed."
[Chapter Break]
Kitted out with a satellite phone, a GPS navigation device and tracker, a smartphone and a personal locator beacon, Yelavich has found that other forms of connectedness have shaped his journey and made it radi­cally different from his predecessors such as Caffyn. Humorous posts, numerous selfies and sound-tracked videos from online persona Wildboy—in trademark fur hat with earflaps—have attracted almost 6000 Facebook 'likes' and a steady stream of encouraging comments.
Media coverage has also gained momen­tum, with bloggers, local newspapers, radio stations and primetime TV shows report­ing his gradual, anti-clockwise progres­sion. Yelavich is harnessing this attention to reciprocate for what he has gained over the past 18 months. Speaking in schools and community venues along the way, he has a clear motivational message, backed by hard-won experience. He is also fund­raising for the Ronald McDonald House charity via his website and Facebook page. "I was a bit of a menace when I grew up so I do feel like I need to give back. Also, I don't want to be seen as someone walking around New Zealand bludging off others."
Yelavich is aiming to arrive back at Cape Reinga—where he took that first, memo­rable step—by the end of August 2014. And then what?
"I just thrive on adventure, and I didn't know that before. Now that I've discov­ered it, I'm set. If you can make yourself happy with something that you're doing, no-one can take that away from you, because you've given it to yourself."