Influenza
As a hopeful world waited for an end to hostilities late in 1918, an influenza epidemic of unparalleled ferocity swept the globe, killing tens of millions in just a few months. Inhalations of zinc sulphate were a popular public health preventative, although the practice would find little favour today.

It remains the country's worst natural disaster. Here there are no names by which to remember these people, nothing to say what part they played in their families and in our history. You can tell something was amiss—that here was a situation so urgent that the normal courtesies of death were waived.
In late 1918, right on the heels of World War I, an influenza pandemic swept around the world. The war had killed 16,500 New Zealanders in four years. Yet in just eight weeks, the flu wiped out 8600—at a time when the country's total population was only just over a million. As soldiers arrived home, many found that they had just lost a sister or brother, their mother or father, their wife or a child, to this invisible enemy.
Before me lies only one of the burial grounds of the 1100 Aucklanders who perished. In the third week of that grisly November, a team of 36 council men and volunteers dug graves almost continuously in this strip of land to accommodate the new arrivals. Twice daily, after stopping at Mt Eden to pick up caskets and mourners, a train arrived from Auckland Central with more corpses. Overworked clergymen came in relays to bury them, while distressed relatives of the dead wandered about trying to identify the coffins and burial mounds of their loved ones.
With a twinge of superstition I pace the sodden turf above the hidden bones, close behind me the sound of a passing train—on the same tracks that brought all those bodies here 86 years ago.
Clearly this wasn't flu as we know it, the annoying illness that puts us to bed for a few days. A wave of such flu earlier in the year, running up to October, had been no worse than usual. But a second wave, starting in late October in Auckland and exploding round the country within a week, proved a killer. The illness began mildly, with aches and pains, but ended terribly, with patients drowning in their own body fluids. Death could follow within hours of the first symptoms. Adding to the horror and grief, victims often turned a purplish black.
At the height of the epidemic, in November, between a third and a half of the country's population—and in some districts nearly everyone—was infected. In most towns and cities, services were either scaled back or cut altogether because there were too few fit people to run them. Theatres, hotels, schools and banks closed. Coastal shipping stopped. Food and coal shortages were common. Maori were particularly hard hit: in some areas so many died that the few who were left had to move elsewhere.
Puzzlingly, death was most likely to visit those aged between 20 and 45—not vulnerable children or the frail and elderly. And in New Zealand, unlike other parts of the world, the virus showed an unexplained predilection for young men.
[Chapter Break]
On a cool October morning in 1918, the steamship SS Niagara sailed into Waitemata Harbour. On board were New Zealand Prime Minister William Massey and Finance Minister Sir Joseph Ward. Massey and Ward were returning home after visiting New Zealand troops in France and attending meetings of the War Cabinet and the Imperial War Conference in London.
Niagara was one of the glamour ships of the Union Steamship Company running between Canada and New Zealand and could accommodate up to 700 passengers. She had left Vancouver on September 21 with 254 crew and 313 passengers and sailed via Hawaii and Suva. A few days out from Hawaii, some of her crew had come down with influenza. By the time she had reached Suva on October 9, 83 crew had fallen sick, along with a handful of passengers. Volunteers, including Massey, were running the dining room.
The bosun's mate developed pneumonia after insisting on sleeping on deck in spite of a high fever. By October 11, the evening before the ship reached Auckland, most of the crew were convalescing, but later that night the bosun's mate died.
On shore, the authorities were worried. News had reached New Zealand of a vicious flu ravaging South Africa. Cape Town had reported 250 deaths, Kimberley 466. A month and a half previously, the troopship Tahiti, on her way to Plymouth with New Zealand soldiers of the 40th Reinforcement, had suffered a horror trip. Within days of stopping off in Sierra Leone, where a flu epidemic was raging, 800 of the nearly 1200 on board were ill. Seventy-six died, and a further nine soldiers and a nurse died after the ship had docked at Plymouth.
In New Zealand, the milder form of flu—particularly contagious but otherwise little different from the kind that did the rounds every year—was racing through the population. In Wellington it had sent many shop and office workers home to bed, and in the military camps of Trentham and Featherston hundreds of cases had been reported. It was an inconvenience, but there was no real concern that it would prove anything more serious than that.
Yet there were suspicions about the cases on Niagara. Were they the new super-flu, already killing thousands of people in other parts of the world? This dread disease—dubbed the "Spanish flu" because the King of Spain had been a prominent victim—presented an altogether more worrying prospect.
After a certain amount of hesitation, the decision was made to dock the ship. In future years some would decry this as an act of political expediency, since the Prime Minister would have been inconvenienced by any delay. Be that as it may, the medical authorities deemed the cases on board to be the mild variety of influenza and announced that the remaining seriously sick could be taken to Auckland hospital. So it was that at 10.30 a.m. on October 12, Niagara tied up at Queens Wharf. Regardless of the wisdom of this move—and it should be noted that six other overseas vessels docked in Auckland that month—the name Niagara would forever be associated with the deadly flu that was about to hit.
[Chapter Break]
On October 19, in Auckland hospital, three of the Niagara patients—two crew and one volunteer nurse—died. By now cases across the city were increasing rapidly, with young adults the prime victims. By the third week of October, 12 more had died, and as the remaining Niagara cases gradually recovered, a growing number of severely ill were admitted to the hospital. On October 26, 28 nurses reported sick. Eventually, of 180 nurses, 140 would catch the disease, entirely filling three of the hospital's wards.
On October 29, like a fire flaring from first flickers to inferno, the disease exploded all over Auckland. By the following day, a quarter of the city's 330 post office employees were sick. By November 1, only three of the 25 firemen at the central fire station were fit to work. And by November 6, the telephone exchange had pared back its service by three hours a day because 80 per cent of staff were ill. Schools were turned into temporary hospitals, and the grandstand at the Ellerslie racecourse became a children's convalescent home.
First symptoms of the flu developed suddenly: severe headache, back pain, nausea, vomiting, coughing, aching muscles and joints, and a temperature of 102–104°F (39–40°C). Many people made a complete recovery. But some, almost as soon as these symptoms started to come on, developed pneumonia, and within a few hours or days they died. Yet others, just as their families were thankfully watching them improve, became suddenly feverish again, contracted pneumonia and quickly died.
As they succumbed, the dying developed distinctive mahogany-coloured spots around the mouth that spread until, as one report described, "a white man could not be discriminated from a coloured: a peculiar stench emanated from many patients, they would begin to gasp for breath, bloodstained fluid would froth from their mouth and nostrils, patients would become delirious and death would follow from suffocation".
The purplish black colour of so many of those who died was a consequence of the pneumonia. Damage to the lung membranes meant the air spaces in the lungs filled with blood and other fluid, shutting off the flow of oxygen to the bloodstream and leading to the rupture of countless blood vessels all over the body. The horror of seeing someone you loved change into a hideous stranger in front of your eyes must have been terrifying.
Members of sick families unable to get outside help were often incapable of assisting each other. This led to some dreadful situations. As a St John Ambulance man recorded: "One house I went to was in Grey Lynn. We found a man who had been dead for three days. His body was in the bed and his wife was lying in the same bed, not dead but driven out of her mind that she was lying in bed with a dead husband and could not get up."
By November 6, public life in Auckland was paralysed. Two hundred railway employees were off sick, three-quarters of Auckland's 856 watersiders were absent, and 250 of the 650 tram workers were unable to work and services had to be cut back. The Minister of Health declared influenza a notifiable disease, meaning local authorities could use special powers to try to stop it spreading. Officials marched into billiard rooms—one of the main men's gathering places of the era—and declared them closed. All schools were shut, and public and race meetings banned. University examinations were suspended, and the Catholic bishop put all services on hold until better times.
There was now a full-scale epidemic, with no cures and little treatment. The Public Health Department lamely told those who feared they had caught the disease not to depress themselves: "Don't worry, don't worry, be cheery" it exhorted them in newspaper advertisements. Alcohol was widely prescribed as a cure, and in the face of the hostile temperance movement the health department distributed small bottles of stout, whisky and brandy from central depots.
Some people wore muslin masks, others bags of camphor around their necks. In an attempt to stave off the virus, panicking Aucklanders rushed to inhalation chambers set up throughout the city. There they breathed in zinc sulphate vapours—and breathed out the virus, inadvertently spreading it further. The deaths mounted.
Irma White was a child living in Freemans Bay. "One day I was sent to the shops and being a nosey child I was very interested on my way home to see a big furniture van… making its way down our street stopping every few yards. Men were bringing out of the houses what looked like rolled up rugs and carpets, which is what I thought they were, until I got closer and… then I saw feet sticking out. They were collecting bodies. I passed an empty shop at the top of Wellington Street and saw a card stuck in the window that said "For God's sake help us". I ran home and told my mother and she ran to our corner shop and rang the police. We heard later that the police found a family of five, a man, a wife and his three children, all dead or nearly dead, some lying on the floor."
Other Aucklanders told of seeing coffins lined up on the footpath outside one of the city's largest churches, St Matthew­in-the-City, in Hobson Street. Makeshift hearses—commandeered drapers' and furniture vans—picked up bodies and delivered them to overwhelmed undertakers.
The official death toll was kept out of the news—a tactic reminiscent of war secrecy and supposed to contain panic. But day by day in the death columns of the newspapers the true story became apparent.
[Chapter Break]
During the first week in November, the news from the war front was increasingly optimistic. By the 4th, four of the enemy countries had capitulated and it was clearly only a matter of time before Germany also gave in. Then, on November 8, a cable arrived. Germany, it said, had signed an armistice. The news was posted outside the office of the New Zealand Herald in Queen Street, and within hours, as one spectator observed: "As if by magic, Queen Street just filled with people. It was one mass of laughing, crying, coughing and obviously sick people—the feeling of elation in the air that morning was just marvellous."
According to another: "Auckland just went mad, bells, sirens, shouts, cheers… a glad bedlam. Strangers hugged one another and I don't think staid Auckland had ever witnessed such crowds and happy abandon before."
But it was a mistake—the news of the armistice was false. Aucklanders weren't to learn this for some hours, however, and by then every rule for trying to curb the epidemic had been broken. Come mid-afternoon, police had moved into the hotels to send the revellers home. Proprietors were told they would be prosecuted if they didn't close their bars. People drifted dejectedly back to their houses and the following day the Herald reported: "Today the city wears a deserted and gloomy appearance, not improved by the constant rush of ambulances and relief cars."
On November 12, when news of a genuine armistice arrived and New Zealanders all around the country poured onto the streets to rejoice, Aucklanders were barred from celebrating in public and forced to stay at home. That was the blackest day of all for the city, as the flu reached its peak. On that one day 83 people died. Normally in November there were around a hundred burials in Auckland. In November 1918 there were 1028. Bodies were laid out in Victoria Park to await the funeral trains to Waikumete.
By the time the flu left the city the following month, 1128 out of a metropolitan population of 133,712 had died—7.6 people out of every 1000. Some of the smaller centres would easily outstrip this grim statistic.
Nightcaps, in Southland, was home to 718 people, some living on farms surrounding the main settlement. In a few short weeks, 33 of them died—a death rate of 45.9 per thousand. At one stage, according to reports, of all the men only two were not ill. One woman resident would recall commandeered cars taking the sick from Nightcaps to Riverton hospital "and bringing the dead back on the return journey." Was the high death rate a result of the town's men being mainly miners and therefore susceptible because of the generally poor condition of their lungs? More likely, researchers think, is that with everyone sick the dying townspeople simply couldn't get the help they needed to stay alive.
A fast response from community organisations seemed to be critical for survival, and one good thing to have come out of the war was an efficient network of War Relief Committees. When the flu struck, many of these simply changed their name to Epidemic Relief Committee and stepped in.
Wellington's residents were not well organized, nor were its volunteers as willing as others around the country. One Dominion correspondent wrote that while his volunteers were nearing exhaustion, "the courts of a fashionable city tennis club were thronged with fit young men and women who could have been helping—moral shirkers in the midst of an emergency."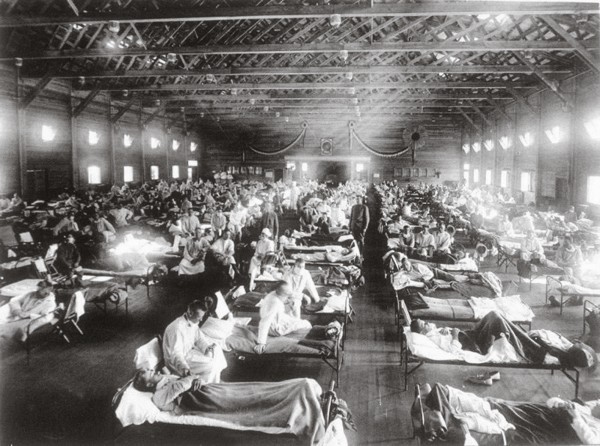 Many Wellington doctors became sick, and by Armistice Day the city was as afflicted as Auckland at its worst. Wellingtonians were told to hang a white cloth out of a window or on their gate if they needed help. As one doctor reported: "It was not at all unusual to walk into a house and find three or four people in bed in different rooms with one or two dying or dead." All schools and public places were closed. Mail trucks were commandeered to carry 16 bodies at a time to Karori Cemetery, and funerals passed through the streets with Armistice bunting still fluttering. By the time the epidemic waned, in mid-December, it had claimed 757 lives, and with 7.9 deaths per 1000, the capital had suffered the highest death rate of all the cities.
Able-bodied citizens weren't above profiteering from the situation. Fruiterers sold lemons at many times the normal price. When this happened up the line at Featherston, soldiers smashed and commandeered a fruiterer's stall and reduced the lemons to their old price.
Christchurch and Dunedin were better prepared for the flu than the North Island cities had been, but Christchurch still decided to go ahead with its annual race carnival and A & P show. Carnival Week was famous throughout New Zealand, with hundreds from the North Island travelling south to join in the fun. It was the high point of the year for many country people —along with the hunt club ball, held at the same time.
The carnival was at Addington Raceway, the A & P show right next door, at the showgrounds. On Friday November 8, therefore—the day of the false armistice announcement—there was a good crowd on hand. People mingled and celebrated until deteriorating weather and lack of confirmation of the war's end dampened their spirits. The epidemic took grip through that week, but amazingly, given the reports of deaths from around the country, the celebratory procession on actual Armistice Day also went ahead, with thousands of onlookers sneezing and coughing as the floats passed by. The crowds stayed on in Cathedral Square, and when flu sufferers in nearby hotels complained that the noise was making them still sicker, police tried to send partygoers home. The revellers were having none of it, though, and the day ended in a riot, with police retreating down Hereford Street under a barrage of stones.
[sidebar-1]
During Carnival Week, newspapers reported that "the city's hotels are like hospitals, full of the sick and dying…" Christchurch hospital admitted 722 patients, of whom 232 died. In Dunedin, of 701 patients hospitalised, 172 died. In Southland, 491 perished—which, with 8.2 deaths per 1000, represented the highest regional death rate in the country.
Looking back, it's clear that South Islanders could have escaped the flu if they had simply stopped all inter­island ferry crossings. Elsewhere, efforts at isolation paid off. At Te Araroa, on the East Cape, shotgun-toting locals manned roadblocks to make sure no one passed in or out. Coromandel residents did the same, anyone with a temperature being sent back to Thames—which meant that Coromandel had no deaths but Thames had 50. In addition, a quarantine centre was established on nearby Jones Island for all passengers arriving from Auckland by steamer.
[Chapter Break]
Maori suffered heavily during the epidemic. Of an estimated population of 51,000, 2160 died—a death rate of 42.3 per 1000, seven times the overall European death rate. Maori have always been particularly susceptible to respiratory diseases, and in 1918 they still lived mainly in the country and therefore away from hospitals and doctors. They had been somewhat isolated from the rounds of mild flu that passed through the cities and towns on a regular basis every spring and winter, and this may have made them even more vulnerable. When the November epidemic hit, rural Maori communities were often unable to cope, with nearly every adult down in some settlements.
At Mangatawhiri, in the northern Waikato, confused and sick adults tried to help each other, but lacking any useful knowledge they could only watch helplessly as those around them died hourly. Out of 200 adults, Queen Te Puea's future husband, Tumokai Katipa, was one of only three who did not become ill when the flu struck: "Nobody knew what they were doing. One person told us not to drink water and we believed it for a while. When one of the ones who were ill went mad and jumped into the water and drank water frantically, he got better. Others, my sister among them, were crying out for water. And we didn't give them any. And they died. We just didn't know what we should have done."
Afterwards, Te Puea made an epic trip down the Waikato River gathering all the orphans and old people who had nobody left to look after them. She took them back to Ngaruawahia, to Turangawaewae Marae, where the more than 100 orphans became the core of the Kingitanga, or Maori king movement.
The epidemic tested Maori–Pakeha relations. The Minister of Health forbad tangi, with their large gatherings, even though European funerals were still allowed. In Christchurch and Auckland, railways were told to do "everything within their power" to stop any Maori from travelling—an injunction that extended to the member for Northern Maori, who, on his way back to Parliament after flu-related duties in his constituency, was refused a ticket at Auckland.
Commenting on the lack of support among Pakeha for Maori in south Taranaki, the Hawera Star observed: "People will recollect the persuasive eloquence which assured the Maoris that we were all brothers when it was a question of going out to fight the Hun. Has this relationship ceased now the war is won?"
The war had already depleted the upper orders of many iwi, and the flu epidemic would claim another layer of future leaders. Yet one unexpected outcome of the disaster was the emergence of both a new Maori leader and a new Maori religion that would have a profound and lasting influence. On November 8, 1918, at his home 20 km south of Wanganui, wheat farmer Tahupotiki Wiremu Ratana was sitting on his verandah. On that clear sunny afternoon, Ratana saw a cloud approaching his house from the direction of the sea. A voice announced the presence of the Archangel Michael and charged Ratana with the mission of uniting the Maori tribes under one God. They were to abandon the superstitions of the past and forsake the harmful ways of the tohunga, or traditional priests. They were to put aside tribal rivalries and worship the God of the Old and New Testaments.
This was the culmination of a number of visions Ratana had experienced since 1914, and proved the catalyst for him to become one of Maoridom's most influential spiritual leaders. He became a healer, and eventually more than 2000 people claimed to have been cured by him. In 1925, at the Ratana Pa that had grown up around his house, he put his spiritual seal on the new religion. Eighteen months later, volunteers completed construction of a temple there.
Whether Ratana's November 8 vision was the result of delirium induced by the flu isn't clear. But he was ill, and when he recovered he found himself surrounded by dead and dying whanau. His vision coincided with the peak of flu deaths in Wanganui, and his healings formed the basis for his followers' trust in him as their leader. Each year on November 8, the temple is the scene of a commemorative feast.
As spring became summer, the epidemic ran its course, burning itself out as the supply of new victims was exhausted. As quickly as it had begun, it was over.
By mid-December most cities and towns had limped back to a wounded normality, and—oddly—people carried on almost as if nothing had happened. The country turned to welcoming home the living from the war, to Christmas celebrations, and to peacetime. But behind closed doors many families were left shattered, and the season of good cheer that year was bleak.
Now, decades later, it's hard not to be confronted with memories of World War I, most cities and towns having erected monuments in memory of the fallen. But of the flu epidemic there is almost no trace—no stone memorials, very little in print, and almost no public memory. There is nothing heroic about dying of the flu.
[Chapter Break]
Clearly the 1918 flu was a monster, the likes of which had not been seen before. It was a brand-new disease; hence no one had antibodies to the virus, meaning it hit with the deadliness of a shark let loose in a public swimming pool. Dr Lance Jennings, of the Christchurch School of Medicine and Health Sciences, is a clinical virologist and the architect of New Zealand's influenza-control and pandemic-preparedness strategies. I asked him if another flu epidemic that lethal could strike again. His answer was straightforward: "Yes. In 1997 we had the bird flu outbreak in Hong Kong, where influenza crossed species directly from birds. This avian virus infected 18 people and killed six before authorities culled all the birds that were potential carriers. That's a 33 per cent death rate. The same thing happened in 2003—a bird virus crossed directly from poultry to humans in Belgium. Again authorities managed to curb it by culling 30 million potential carrier birds. These viruses have been called the nasty bastards of the flu world. If they had managed to cross with one that travelled easily from person to person, we could have had a repeat of 1918 proportions."
In experiments reported at the end of June 2004, Chinese scientists tested how readily samples of bird-flu virus collected from ducks between 1999 and 2002 infected mammals. The more recent samples made mice much sicker than did the samples collected four or five years ago. It is suspected that the viruses are shuffling between birds and pigs—the two often live in close proximity in Asia—and becoming more adept at infecting mammals.
New Zealand is more prepared for a massive public health disaster than are many other countries. Being aware of its approach is critical, and it is the function of the WHO's surveillance and communication network to put the world on alert. New Zealand's Pandemic Committee has contingency plans for such an emergency. The sudden acute respiratory syndrome (SARS) scare gave those plans a dusting off, but dealing with a deadly strain of flu would be much harder than containing SARS. As Jennings explains: "Flu is highly infectious as soon as the symptoms begin to appear. SARS only becomes highly infectious much later into the disease, when pneumonia develops, rather than at the onset of symptoms. You have time to get organized with SARS."
Flu becomes transmissible from one person to another one or two days after the first person has been infected. Adults can continue to pass it on for a further three to seven days, children for 10 days or more. And flu spreads at an astonishing speed. Take this example. In March 1977, an Alaskan flight with 54 passengers and crew was delayed by mechanical failure for three hours. Soon after boarding, one person developed flu symptoms, including a cough. While on the ground, most passengers chose to stay aboard the plane because of the extreme cold outside, and during this time there was no ventilation. Within 72 hours nearly three-quarters of the passengers had developed flu symptoms. On arrival at their destination, they started an outbreak in the city. Air travel has the potential to disseminate a disease to any corner of the globe within one or two days.
Even with early warnings of a new virus and impending pandemic, Dr Jennings goes on, "I doubt if we could isolate New Zealand. We would immediately strengthen our border controls. This might delay entry of the virus, but stop it coming in? No. Vaccines are our best protection against influenza, but there will probably be too little warning time to develop these before the disease gets here. And then our manufacturing capacity would probably be too meagre. WHO is trying to coordinate efforts to speed vaccine development, but at the moment we do not have vaccines capable of dealing with new strains waiting in the wings."
Antiviral drugs would be useful for combating all strains of flu that might hit, but once symptoms are evident it is almost too late for these to work. It would be best to take them in anticipation of catching the disease, but that would mean dishing them out to everyone. "We wouldn't have enough of them," Jennings says bluntly.
Governments have been slow to recognize that stockpiles of these drugs would be a good idea, even though WHO has recommended them. The supply would be rapidly outstripped by demand throughout the world, and the more powerful countries where the drugs are made would undoubtedly be first in the queue.
Antibiotics—there were none in 1918—would deal with the bacterial pneumonia that often follows initial flu symptoms, but they wouldn't touch viral pneumonia.
Would we have enough hospital beds? Would we have enough respirators? Probably not. Even normal yearly flu outbreaks tax hospitals to their limits. In 1996 Christchurch hospital had to restrict its operating schedules for three weeks because it was overloaded with seasonal flu cases—and that was with an epidemic only marginally more severe than usual.
The powers of the state can be called on under the 1956 Health Act, which is being updated. But who would halt inbound tourism, for instance, or pull the plug on the Super 12 final? Who would be brave enough to face the slew of lawsuits that could follow?
Such measures would not be purely a matter of protecting public health, but would have a major political and social impact also. And doesn't that have remarkable parallels with the dilemma of whether to allow Niagara to berth all those years ago?