In Love With the Weeds
Taxonomist Roberta D'Archino is finding and cataloguing our marine flora, one dive at a time.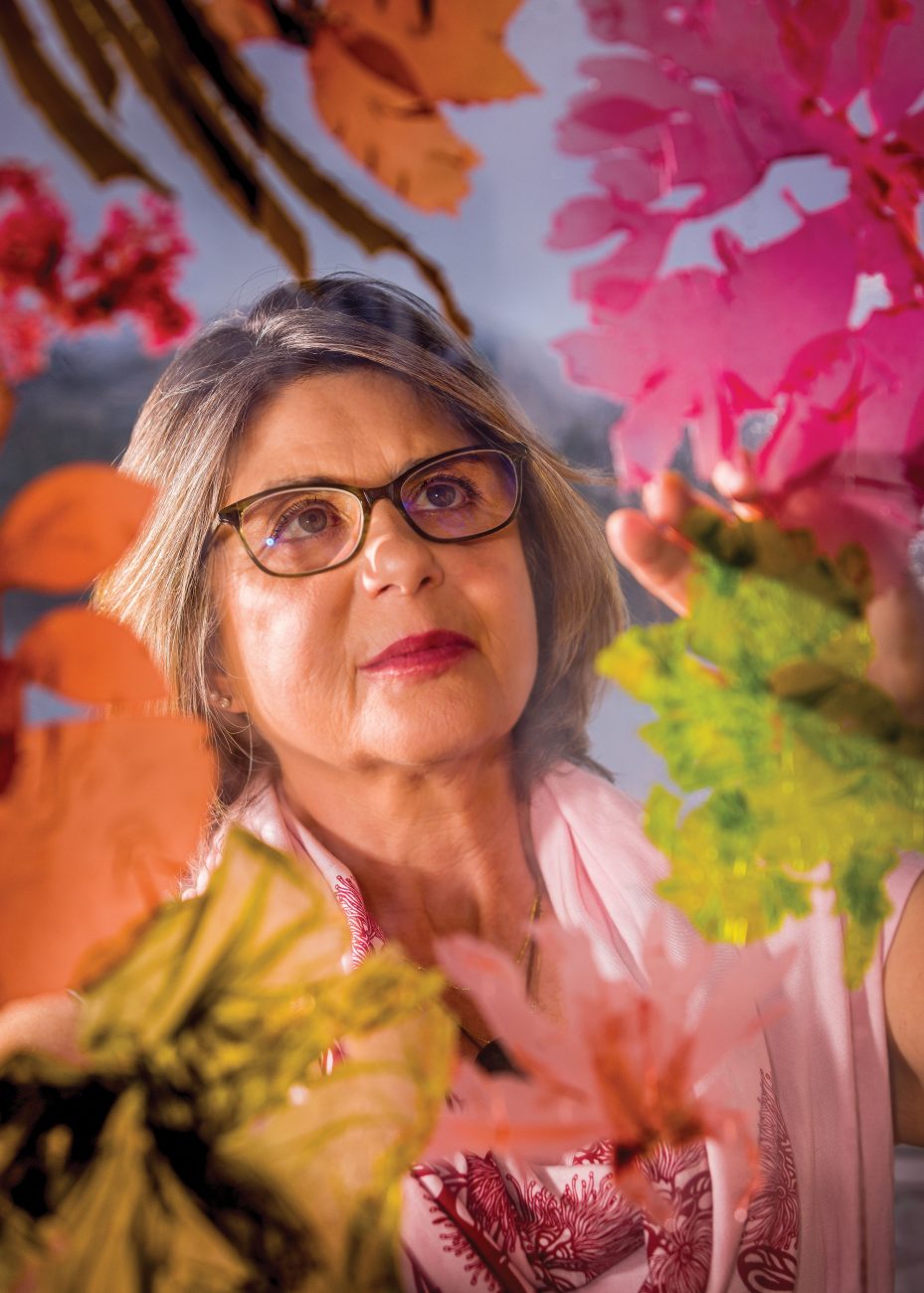 Rob Suisted
In the 1970s, if you were to wander Italy's Latium coast on a hot day, you might have found Roberta D'Archino's father near the sea, his toes dug into the sand, binoculars pointing at the ocean.
He didn't know how to swim. But his daughter did. So he watched for a pair of little feet poking up out of the water—a sign Roberta was safely collecting shells. Her favourites to collect were gastropods, once the homes of snails. Of these, the most prized were Cypraeidae, commonly known as cowry shells. After each holiday, she would take these back to her bedroom in Rome. "I had a very nice, cool, collection," she says, "because I started young." The shells, carefully organised by shape, were left behind when she moved to Aotearoa 17 years ago.
In May, D'Archino, now 58, was again peering at shells through a snorkelling mask—this time on the rocky coast of Rakiura/Stewart Island. She was collecting oysters for her colleagues' research at NIWA, where she's worked for as long as she's lived here. On that expedition, the scientific divers were joined by playful sea lions (though they were friendly, the divers exited the water, because "you never know"). Being this close to wildlife, and going to remote places, is a privilege to D'Archino, a part of her job which makes her feel very lucky.
But it's no longer shells for D'Archino, not since her first scuba dive, at 18. When she entered the clear water off the Tuscany coast with her tank and instructor, she expected to be interested in fish, crabs, corals, starfish and shells, but it was a patch of red seaweed that stopped her in her tracks. Previously, seaweed had been something icky which drifted, dead in the water, before children threw it at each other. Now, it was a dancing, beautiful cluster of fronds on the sea floor. She was entranced; the instructor eventually had to move her on.
D'Archino began to bring fresh specimens to her botany class at Sapienza University of Rome, hoping to learn more about them. But no one could tell her what species they were. How is it possible, she thought, that so little is known about seaweed? Her professor encouraged her to take her specimens to the lab, inspect them under a microscope, draw their morphology, and photograph them. This turned into a thesis, and then the first illustrated guide to Italy's marine flora, published on three CD-ROMs.
Despite that track record, D'Archino is surprised to hear that more than 1000 items in Te Papa's herbarium are now attached to her name. These specimens are things of beauty as well as science—dried seaweeds pressed onto white mounts, carefully labelled with pencil and blue stamps. The translucent pink fronds of Tsengia northlandica create overlaps of a deep magenta; the frilled edges of Schizymenia apoda are flattened into a series of miniature trumpets; the little clumps of hair-like leaves of Lychaete feredayi eddy from impossibly thin branches. In Te Papa's Cable Street building, they're part of a 350,000-strong collection, preserved for the future and regularly consulted in the present. Boxes of specimens are filed on shelves in two locked vaults, where temperature and humidity are tightly controlled.
D'Archino has identified specimens in those vaults that date back to 1945 (two dark splats of Gigartina falshawiae, collected by Victor Lindauer on Stewart Island). Specimens she has collected date back to 2006, her first year in Aotearoa. Every time she dives, she collects from the family of seaweeds she specialises in, foliose red algae, and others, too. Collecting is important because in New Zealand there are still many undescribed seaweed species, and lots of species are known from fewer than five specimens. "So we need to know more; about seasonality, fertility, morphology, habitat, depth range," she says.
D'Archino never thought she would end up so far, almost as far as possible, from her hometown and parents. After a PhD describing the marine flora of Kenya and Tanzania, she found herself working a string of short contracts back at Sapienza University. "I wanted to do seaweed taxonomy, and I was really determined." But there weren't many opportunities for such a pointed passion. When New Zealander Wendy Nelson, a world seaweed expert, offered her a year-long postdoctoral research position at NIWA in Wellington, D'Archino was finally on her path. "That was my dream job," she says. And something else happened. She wasn't looking for it, but love found her. Today, D'Archino is married, and mother to "a beautiful Italian-Māori boy". Her English is still stamped with her native tongue, and a dark, circular pounamu lies over her sternum.
What starts with collecting ends with knowing. Specimens document what was in a place at a certain time. They're a starting point for taxonomists, who base their descriptions and categorisations on directly studying the organisms. But it's the delicate pencil labelling that give specimens context: they show marine ecologies and changes.
"Taxonomy is fundamental to so much other work: biosecurity, ecology, restoration, conservation," says D'Archino.
There are specimens she hasn't yet given to Te Papa, because first she needs to describe them. At her office on Wellington's rocky south coast, gridded identification charts of seaweeds cover most of a pinboard. Beside them, printed photographs petal over each other, waiting to find their place.