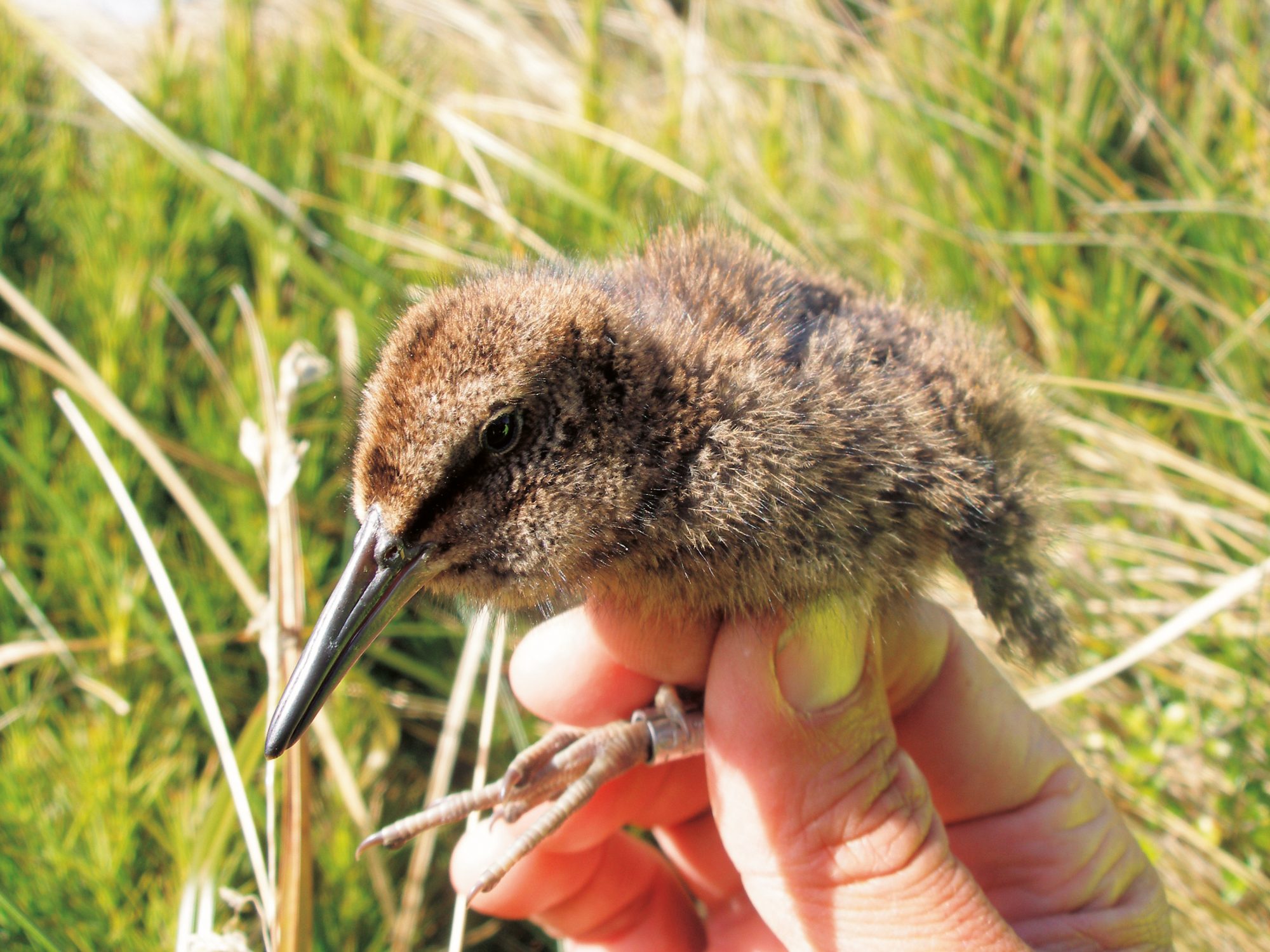 Hunting snipe
Snipe-hunting on subantarctic Campbell Island
It was a blustery, grey January afternoon when James Fraser and I first looked down on the picturesque Six Foot Lake catchment on the south coast of Campbell Island. Below us were 200 ha of dancing tussock and wind-shorn inaka (Dracophyllum) shrub forest. And somewhere in that subantarctic "hay field" was the needle we were looking for—the rare and enigmatic Campbell Island snipe. But at James' heel was our secret weapon, our biological metal detector—Percy, a three-year-old English setter certified by the Department of Conservation (DOC) as a bird-locator dog.
Few New Zealanders are aware that their country boasts an endemic snipe, which is ironic given that snipe are the most characteristic birds of the New Zealand biogeographic region. They were once common throughout the main islands and most vegetated outlying island groups, from Norfolk Island in the north-west, east to the Chatham Islands and south to Campbell Island. (Although Norfolk Island is politically part of Australia, its plants and birds, including extinct snipe, kaka and kereru, clearly demonstrate that the island's biological affinities lie with New Zealand.)
The fact that snipe are so poorly known by the New Zealand public means also that the irony of the term "snipe hunting" is lost on it. In North American parlance, to go on a snipe hunt is akin to going on a wild-goose chase. And on that blustery day we had no way of knowing whether we would return emptyhanded from our planned 10-day hunt for snipe.
What is the Campbell Island snipe, and why were we so keen to catch one? No one knew that there was such a thing until 1997. The discovery of a completely unknown bird species in New Zealand was unprecedented in the 20th century; the last comparable discovery had been that of the now extinct Stewart Island snipe on Jacques Lees Island, off Stewart Island, in 1897. How could a bird remain undetected for so long in a country as well explored as New Zealand?
One answer is that Norway rats reached Campbell Island long before the first naturalists. When British naval captain (later Sir) James Clark Ross visited Campbell Island with his vessels HMS Erebus and HMS Terror in December 1840, Robert McCormick, the surgeon/ naturalist on HMS Erebus, commented on the surprising absence of land birds on the island compared with the Auckland Islands, from which they had just departed. Although McCormick didn't record the presence of rats during his three days exploring Campbell Island, his failure to record pipits, snipe, teal, parakeets, falcons, bellbirds or banded dotterels—all now known originally to have been present, or assumed to have been, based on sightings since the eradication of rats on Campbell in 2001—is a clear indication that rats had already devastated the island's avifauna.
Of these seven types of bird, three—pipit, teal, and snipe—survived on one or more of the rugged, rat-free stacks and islets off the coast of Campbell Island. One of these, the sheer-sided 19 ha Jacquemart Island, had been visited by humans only twice—in 1980 and 1984, and but briefly on both occasions—before a survey for teal was conducted in 1997. Campbell Island teal were only known to have survived on 20 ha Dent Island, and a team of three conservation workers and three bird-locator dogs was given the task of landing on other rat-free islets in an attempt to locate additional populations. They drew a blank, but made the remarkable discovery of snipe on Jacquemart Island, capturing one bird.
No one has returned to inhospitable Jacquemart Island since then. Following the eradication of rats on 11,268 ha Campbell Island—the largest successful rat-eradication exercise in the world (see eradication sidebar)—there was increasing evidence that at least two snipe had flown from Jacquemart across the kilometre of water separating it from Campbell. In 2003, probable snipe footprints were found in mud in Monument Harbour; then, in March 2005, two snipe were seen, and one was caught near the outlet of Six Foot Lake into the harbour. The captive bird was identified from photographs as a fully-feathered chick, and must have been reared on Campbell Island. But, as in the case of the bird caught in 1997, no feathers or blood were collected for genetic analysis; thus it was still not known whether the snipe on Campbell Island were distinct from those on either the Auckland Islands or Antipodes Island.
I have been an enthusiastic snipe-ologist since 1982, when I first visited the Snares Islands as a second-year university student. My research on snipe, which eventually developed into a PhD, took me to the Snares eight times over the next eight years, as well as to the Chatham Islands (twice) and Antipodes Island. In addition to carrying out fieldwork, I became thoroughly engrossed in the human connection with snipe, both the historical collection of specimens and, especially, the role of snipe in the myth of the hakawai, the mystery bird of the southern Muttonbird Islands, near Stewart Island (see hakawai sidebar). However, eventually I had to get a real job, and employment with DOC on the West Coast and then in Wellington led me away from snipe—until that dramatic discovery in 1997.
At the time, I was quoted in the media as saying that I would "cheerfully lose limbs" for a chance to visit Jacquemart Island. James, Percy and I wouldn't be visiting Jacquemart, but the discovery of snipe at Six Foot Lake had provided an opportunity to collect measurements, descriptions and genetic samples from the still undescribed species, and to attempt to estimate the size of the colonising population. It had taken eight years, but my dream of getting a hand on my personal holy grail had finally become a reality. And my limbs remained intact.
[sidebar-1]
James had had a rather different experience with snipe. With his previous dog, Fiddich, he'd been part of the team that had discovered snipe on Jacquemart Island in 1997, but the captive bird was the only snipe he'd seen before our departure from Bluff as supernumerary passengers on the ecotourism vessel Marina Svetaeva (operated by Aurora Expeditions) on January 4, 2006. Of the types of New Zealand snipe known to survive, the one neither of us had ever seen was the Auckland Island snipe. This was about to change, however, as our first destination was Enderby Island, in the Auckland Islands group, where we hoped to teach Percy what a snipe was.
Percy had proven his ability with a range of bird species, including brown teal, Campbell Island teal, kiwi and kakapo, but we might have been asking a bit much of his keen nose to find a snipe on Campbell Island if he hadn't known what one smelt like. We had therefore arranged to spend a few hours on Enderby Island, which has a dense snipe population, on January 6 while our fellow passengers visited three sites on nearby Auckland Island. During our four hours on Enderby we caught five snipe, and Percy soon figured out that these "pointy-nosed" birds were what we were seeking (even with the whiff of Auckland Island teal and many other smells to distract him). We were now confident that our "metal detector" was primed and ready to find the "needle" on Campbell Island.
[Chapter Break]
There's no hut near Six Foot Lake, so our plan was to establish a tent camp beside Kirk Stream, at the head of the lake, about 1.5 km from where snipe had been seen the previous year. After a few nerve-wracking hours on the morning of January 7, when gale-force winds almost kept us aboard Marina Svetaeva, which was bound for the Ross Sea and then Hobart, we were extremely relieved to be dropped off at Garden Cove, at the head of Perseverance Harbour. We were now our own masters, apart from an obligation to maintain a daily radio schedule, and could set about establishing the southernmost camp in New Zealand and start hunting snipe.
I had speculated that there would be fewer than 10 snipe on the island. If we caught just one, therefore (for genetic sampling), we would have good reason to regard the trip as a success, while three to five birds in the hand might be a realistic goal, and any more would take us into bonus territory.
In January, there's a lot of daylight at 52° south—about 19 hours a day, in fact—so we decided to use the long twilight of our first day to explore our main search area. With our camp established, we walked (a quaint euphemism for stumbling over tussock pedestals and falling into hidden watercourses) the 45-minute route to the outlet of Six Foot Lake, giving Percy a chance to prove his worth. After three days aboard ship he had more energy than James or I did and, at James' command, got to work searching through fern, tussock, Bulbinella and sedge, leaping across watercourses and wading through elephant seal wallows (which James and I tip-toed round, as some are rumoured to be bottomless and all are vile-smelling).
After about three-quarters of an hour, Percy flushed a snipe in an area of tall tussock and Bulbinella—our first glimpse. It flew about 10 m upslope, and I scrambled after it with a hand net, flushing it two more times before it came to ground and stayed put. Percy pointed to where it crouched between two tussocks. With his tail horizontal and unmoving, his body rigid and his muzzled nose just half a metre from the bird, he had assumed the stance that James knew so well and I was learning to recognise, as if to say, "Here it is, boss!"
The bird was soon in the net, and, elated, I was able to make my first close examination of the species. I've been to some amazing places and seen some spectacular sights in 30 years as a birdwatcher, scientist and conservationist, but this had to be one of the highlights. We'd been ashore for only 10 hours, and I was just the fifth person in the world to see and handle a Campbell Island snipe. James, of course, was already a member of this exclusive club.
The subantarctic is renowned for its robust weather, and we were treated to the full gamut. Over the next three days the westerly gales were severe and unrelenting. Our camp—two Olympus tents and a kitchen fly—required constant repair, and we knew the conditions would be tough for Percy. Strong winds carry air scents away, and frequent rain squalls suppress ground scents. We began to realise just how lucky we'd been on our first night. Snipe are active 24 hours a day, but various factors conspired to reduce our search time. Not only the severe weather, but also camp logistics, the difficult terrain and Percy's energy levels all played a part in our deliberations about how much effort to make each day. On a good day, Percy had the energy, and could maintain discipline, for at least five hours and was able to work a couple of shifts, day or night. On a bad day, James would decide that Percy needed a complete break, which did at least also give us humans a chance to recharge our own batteries.
[sidebar-2]
Two days after our first success we had another—a three-week-old chick. As is typical of snipe, it called persistently when handled, and its parent came rushing in to defend it. Snipe lay two eggs, and each parent takes sole care of a single chick, so there are never two adults to watch out for. I netted the parent, but we were disappointed to find that it was the bird we'd caught (and banded) on our first evening.
After four days on the island, we had two precious blood samples and had seen two further birds that we'd failed to catch—unspectacular progress, but about what we'd expected. Then our luck changed. During an amazing 20-hour spell on January 11–12 (which included working through the night), we caught eight new snipe, two of them chicks, and became the first humans to see a nest of a Campbell Island snipe.
The main factor in our improved fortunes was our decision to shift our focus from the tall tussock and fern on the west side of the outlet to the lower sedge and mat-forming herbs on the east side. This meant that all three of us could move more freely, and snipe had less chance to disappear after being flushed and landing a few metres further away. (They usually fly less than 15 m when put up.) The sea-lion and elephant seal wallows were just as deep and smelly, but a waist-high coating of foul slime was a small price to pay for more invaluable birds in the hand.
The highlight of a memorable night came at 4 a.m. James had netted a snipe on a bank above the sedge swamp, and we were part-way through processing it when James realised that Percy was still pointing nearby, with his nose under a large fern clump. James stuck his own head and torch under the fern and soon asked me, "What do snipe eggs look like?" Sure enough, we'd hit the jackpot—the only Campbell Island snipe nest ever discovered. We stumbled back to camp in a state of euphoria, arriving at about 6:30 a.m. Percy had that day off.
The following night we found that the snipe had another surprise for us. James had retired to his tent and I was cleaning my teeth during a rain squall, when I thought I heard the distant chup, chup, chup of a territorial male snipe. But we'd been camping there for a week by this stage, and had seen no evidence of snipe within 1.5 km of our tents. Perhaps my imagination was turning some other sound into what I wanted to hear?
Just in case, I grabbed a cassette recorder and torch and walked the south bank of Kirk Stream for 10 minutes, playing snipe calls and listening for a response. Nothing. I returned to camp and climbed into my sleeping bag. Then I heard, twice, what sounded like another distant call—this time the chupyur of a snipe either on the ground or in the air (see hakawai sidebar).  However, a rain squall hit each time just as the noise came—so I still wasn't sure whether or not it was my imagination. Finally the wind dropped long enough for me to hear a clear but distinct series of chups. We had snipe near our camp.
[Chapter Break]
Over a cup of tea the next morning I suggested a change of plan. Why don't we try hunting snipe nearer the camp? James asked if I was on drugs, but straight after our radio sched we both heard a clear snipe call to the north-east. Thus began a remarkable six hours of hunting using tape playback to encourage our quarry to call so we could get Percy close to it. Once he showed us exactly where the birds were, James and I used our nets and hands to catch four adult snipe and two chicks, all within 300 m of camp. Of most surprise to us was a male and his one-week-old chick caught within 70 m of our tents. They'd been living right under our noses. We wondered why Percy hadn't noticed and alerted us.
For all this excitement, the snipe were saving the most spectacular discovery for last. While researching the hakawai in the 1980s, I'd established that the eerie cry of the mythical bird was in fact the noise created by a snipe's tail feathers during an aerial display in which it dives at speed through the night sky. This behaviour causes the tail feathers to wear in a distinctive fashion, something readily seen on a bird in the hand. Eight of the 12 adult snipe we'd handled had had snapped tail feathers consistent with hakawai performance, but we'd failed to hear it.
On our last night, knowing there were snipe within earshot of camp, we joked as we ate our evening meal that it would make the perfect end to a successful survey if we were to be the first people to hear the hakawai in that remote and beautiful spot. And we were. Between 11:30 p.m. and midnight we were privileged to hear at least three snipe performing their amazing aerial displays simultaneously, while another three called excitedly from the ground.
Two men and a dog, an island restored to rodent- free condition, a healthy recolonising snipe population and the hakawai. What a dream—but what an even more magical reality.