Hunt for the wilder places
New Zealand's 11 wilderness areas offer adventure, solitude and a glimpse of the world as it was. But what does the future hold for what one tramper termed our "hunting grounds for the imagination"?
Olaus Murie looked down on the roofs of Auckland as the plane banked. Ahead lay islands—Fiji, then Hawaii, across the Pacific to his Wyoming ranch. On that 1949 flight, his thoughts turned to home, where battles to preserve wild lands were succeeding beyond expectation. Murie, the president of America's Wilderness Society, had spent seven months touring the wilds of New Zealand with wife Mardy and 17-year-old son Donald. In that time, he had been accused of being a communist, and trying to steal the newly rediscovered takahē.
Neither commie nor thief, Murie gave rather than took. He had brought to New Zealand an idea—that some wild lands should be kept that way, preserved without sign of human development. In the United States, the notion had struck a chord. Building on the popularity of national parks, both Republicans and Democrats supported preservation of some lands 'as is'. In the words of Alaskan explorer Robert Marshall, "there is just one hope of repulsing the tyrannical ambition of civilisation to conquer every niche on the whole Earth. That hope is the organisation of spirited people who will fight for the freedom of the wilderness."
In the US, hope came in the form of the Wilderness Society, established in 1935. Its aims were "not merely to preserve pieces of ground, but to maintain and encourage a certain philosophy—a reverence for the outdoors".
When the Cantabrian conservationist Lance McCaskill travelled to the United States in the 1939, he met Aldo Leopold and other Wilderness Society luminaries. A decade later, the favour was returned. As the first Fulbright scholar to New Zealand, Olaus Murie came to study the wapiti (North American elk) released in George Sound, Fiordland in 1905 after they had been gifted to this country by US President Theodore Roosevelt. Murie felt our protected areas were managed rather chaotically, and the time was ripe for reform. While McCaskill was the architect of legislation that later became the National Parks Act 1952, Murie may as well have been holding the pen for section 34, "wilderness areas".
[Chapter Break]
The conception of wilderness in New Zealand largely mirrored what would emerge in the United States' Wilderness Act of 1964. Here, the legislation dictated that any land set aside as a wilderness area "shall be kept and maintained in a state of nature"—that meant no buildings, ski tows, maintained tracks, trails, roads, vehicles or horses.
McCaskill played a major role in establishing the first wilderness area, Otehake (12,000 hectares) in Arthur's Pass National Park in 1955. These were followed by Te Tatau Pounamu and Hauhungatahi in Tongariro National Park in the early 1960s—these too were small, each being less than 10,000 hectares.
By definition, wilderness areas do not have a high profile—you have to dig into national park management plans to find them on maps. If there is no shelter from the storm, no bridge across swollen waters, no route marked, then it is no country for the inexperienced. And publicity could lead to overuse, which would defeat their very purpose.
Following the formation of the Nelson Lakes National Park in 1956, the park board established the West Sabine Wilderness Area around Lake Constance and Blue Lake (renowned for having some of the clearest water in the world) in the upper reaches of the Sabine River. However, the wilderness tag attracted more and more trampers, and by the late 1960s, the park board revoked the area's wilderness status, improved the track up the West Sabine and built a hut at Blue Lake.
It was apparent that wilderness areas were in danger of being loved to death by wilderness lovers, an experience echoed by one American in 1971, who said "the woods are overrun and sons of bitches like me are half the problem".
While the seed of the idea was American, New Zealand proved fertile ground. Prior to the Wilderness Society being formed in the United States, the Federated Mountain Clubs had been established in 1931 to promote and safeguard mountain recreation. In its first couple of decades it urged the Minister of Lands to give better protection to the ad hoc collection of national parks and reserves. During the 1950s, it lobbied for the creation of 'mountaineers' wildernesses' in the Olivine range and Landsborough valley on the West Coast. While unsuccessful, its efforts helped to establish Mt Aspiring National Park in 1964.
Establishing wilderness areas relied on creating a consensus on how remote lands were to be managed. But this didn't yet exist, even for national parks managed by the National Parks Authority. Departments with conflicting agendas vied for interests in other lands held by the New Zealand Forest Service and the Department of Lands and Survey. Many fingers pointed to potential resources—hydroelectricity, forestry and minerals.
Progress was slow, and it was only in 1974 that the first large wilderness areas (Pembroke, near Milford Sound, and Glaisnock, the country's biggest at 125,000 hectares) were created in Fiordland National Park. Murie would have approved—25 years earlier, in Christchurch, he had noted that, "if ever there was a natural wilderness area, Fiordland surely was one".
The push for a more home-grown approach to wilderness culminated in the country's first wilderness conference, held at Rotoiti Lodge in the Nelson Lakes National Park in 1981, the Federated Mountain Clubs' 50th anniversary year. At this time there were seven wilderness areas, a "very motley assortment" in the words of the federation's Les Molloy. All were in national parks: two in Tongariro, one in Arthur's Pass, two in Westland and the two biggest in Fiordland.
In the conference opening address, Minister of Lands Venn Young referred to wilderness as "an ethereal or spiritual concept". Referencing the proposed wilderness area (now Tasman Wilderness Area) in what was then Northwest Nelson Forest Park as an example, Young told the more than 100 attendees that, "to many people, such areas are natural refrigerators, areas where resources are locked away, made all the more remote by regulation, available only, as one American observer put it, to the 'healthy and wealthy'."
Countering his view were conservationists, trampers and climbers, who saw intrinsic value in natural landscapes that were not elitist, but rather places for anyone prepared to walk.
During the 1970s, mining companies had built huts in the Red Hills of South Westland, where they were looking for asbestos, and in the Karamea catchment in northwest Nelson, where they were looking for molybdenum. Extensive track systems and huts had been built on the West Coast by the New Zealand Forest Service to control deer. Huts had also been built on Stewart Island and at Waitutu in Fiordland. For Les Molloy this was "wilderness eliminated" and "wilderness diminishing", and he suggested that "as a people, we are afraid of the 'wilderness myth'. We are afraid to state, unequivocally, that some parts of New Zealand should remain wild, undeveloped and largely unknown—no matter what the economic cost."
The Rotoiti conference concluded with the Federated Mountain Clubs issuing a shopping list of 10 large wilderness areas. Each proposal was for more than 30,000 hectares, and in total they covered three per cent of the country's land area. By 1985, the Wilderness Advisory Group chaired by 'Bing' Lucas of Lands and Survey had hammered out New Zealand's wilderness policy. It was more purist than that of the United States, where if land had the potential to revert back to a wild state, it could be included. In the States, this was a conscious decision to ensure that there would be some wilderness areas east of the Mississippi River. Smaller areas and horses and tracks were also permitted. As a result, there are more than 750 wilderness areas in the US today. They range in size from the two-hectare Pelican Island Wilderness in Florida to the more than 3.67 million hectares of Wrangell-St Elias Wilderness in Alaska.
New Zealand's policy had minimum sizes for wilderness "at least two days' foot travel to traverse" buffer zones, exclusion of aerial access, and no huts, tracks, bridges or signs allowed. Most of the earlier, smaller wilderness areas had their status revoked as they no longer met the new criteria.
In 1988, the first wilderness areas outside the national park system were created—the 40,000-hectare Raukumara on the East Cape and the 87,000-hectare Tasman in what the then Northwest Nelson Forest Park (now Kahurangi National Park). Others wilderness areas followed—Hooker-Landsborough in 1990, Olivine in 1997, Paparoa and Adams (West Coast) in 2002, and the most recent, the Ruakituri (Te Urewera National Park) in 2006. There are now 11 wilderness areas in New Zealand.
But what does the word even mean—what is wilderness?
[Chapter Break]
Ideas of wilds as a juxtaposition to settled lands have been around since the first agriculturists, perhaps before. Once there was only wilderness. It's been receding ever since the light from the first fire kept back the beasts, the first settled cave, the first stone tools. Throughout history, wild has been both feared and revered. Jesus and Old Testament prophets sought enlightenment in the desert. The meditative and contemplative benefits of spending time in nature are found in many cultures. In America, the west was wild in more than one way, and the mythology of pushing the frontier back helped to form the national identity. Its remaining wilderness became something that set it apart from Europe in the late 1800s. Henry David Thoreau wrote, "In wildness is the preservation of the world." And he meant the New World as Europeans found it, not the Old World.
Theodore Roosevelt was part of the 'wilderness cult' movement, which culminated in the formation of the world's first national park, Yellowstone, in 1872. He wanted to ensure that there would be opportunities for future generations of 'frontiersmen' such as Kit Carson, 'Grizzly' Adams and Hugh Glass.
For Aldo Leopold, whom Lance McCaskill had met in 1939, it was a counterpoint to the ennui of the modern world, a tonic against striving "for safety, prosperity, comfort, long life and dullness".
Parts of New Zealand's 1985 wilderness policy read like some journey of self-actualisation: "It embodies remoteness, discovery, challenge, freedom and romance. It fosters self-reliance and empathy with wild nature. Wilderness is therefore principally a recreational and cultural concept which is compatible with nature conservation."
Not all were convinced—a decade later, the American environmental historian William Cronon wrote a withering essay entitled 'The trouble with wilderness, or, getting back to the wrong nature.' His central argument was that because we had protected some wild lands where we could play, this assuaged our guilt and allowed us to trash the rest of the land. His concern was that we might see wilderness as "an antidote to our human selves". If we viewed wilderness areas as virgin and untrammelled, then the risk was that we might become misanthropes—only able to see value in landscapes where people were absent. "The myth of the wilderness as 'virgin', uninhabited land had always been especially cruel when seen from the perspective of the Indians who once called that land home," he wrote.
But wilderness areas are not virgin—they have weeds, rats, mice, stoats and possums, trout, deer, tahr, chamois as well as kiwi, kea, blue duck and wild landscapes, and people who choose to go there on the country's terms.
The Murchison Mountains, managed by the Department of Conservation (DOC) as a special area, is replete with extensive track systems, huts and stoat traps to protect takahē, blue ducks and kiwi. Ironically, therefore, the managed 'Murchies' may well be wilder in terms of animal life than the unmanaged tracts of the Stuart Mountains in the Glaisnock Wilderness Area to the north.
Nowhere is beyond human influence today. Even New Zealand's most remote areas—such as the Adams Wilderness Area, which takes in the Garden of Eden and Garden of Allah ice plateaus—are affected by humans. The snow bridges and glacier tongues that once gave easy access are melting due to climate change, and trampers must find new routes.
The notion of what is wild, and what is not, has changed over time and no doubt will continue to—ultimately it's personal.
I grew up on an asbestos mine in Swaziland. After we returned to New Zealand, my father worked as an inspector of mines and quarries, and in my teens, I got a holiday job sorting out old files in his agency's Dunedin office. There were some gems—nutters writing in about the need for cave inventories in case of a nuclear holocaust, or a Southland farmer asking about the latest "ground snifters and laser beamers". In a back room I dusted off thick exploration licence files for the Red Hills in the Olivines—it was a prospect for asbestos and other minerals. The Mines Department opposed the creation of wilderness areas if there was any chance that a mother lode lay beneath.
I recall unfurling a rolled-up map with a wooden spine. When it fell apart, there were blanks on it, with the words "yet to be explored". I wanted to go to those places.
A decade after the filing job, I was working as a hut warden on the Kepler Track. Annoyed at finding a cairn on the summit of Mt Tinsley, I kicked it over. The reaction of my younger self is embarrassing now. I'm not sure what I expected to find there—no sign of any other human ever having set foot? It was hardly deepest darkest Fiordland, but somehow that pile of rocks was not right. It was just an arbitrary value judgment. But then, wilderness is just an idea. And it's personal—what American photographer and environmentalist Ansel Adams called "a state of mind and heart".
Comments of Fiordland wilderness users are revealing. "It's almost like an addiction… you get bitten by it"… "you can't describe it to other people, really". Some are mountain men or women, others sea dogs or desert rats—whatever the moniker, there is something transcendental to be had in the experience of the outdoors.
The term 'peak experience' has been used to describe moments of awe and Zen-like bliss. People speak of being in a state of 'flow'—a term coined by the Hungarian psychologist Mihaly Csikszentmihalyi. Flow is an experience of timelessness; the world fades away. You feel a part of, not apart from, nature. I've felt it—both within wilderness areas and elsewhere.
In the Glaisnock Wilderness Area in the 1990s, I recall a tramping colleague Daniel 'the Captain' Agar turning to me in the gloaming as blue ducks whistled and rainbow trout rose to mayflies. As he took a leak into the Worsley River, he muttered, "Spiritual, Walrond, deeply spiritual." His point—if he did have one—was that a little urine in Fiordland's billions of litres just didn't matter.
Like the Captain's, my purism has waned. Even in the Olivines you find cairns and rock bivvies with soot-blackened ceilings and built-up drystone walls. I like huts and tracks and swing bridges—but I also like the idea that there are places where these don't exist.
[Chapter Break]
Geoff Spearpoint lives at Birdlings Flat, where the Pacific eats away at Canterbury's cobbled shores. His great love is the mountains and he has edited Moir's Guide North, the tramper's bible of route guides.
Spearpoint feels that it's a bit of myth that wilderness areas are sacrosanct. "The turning point was a pretty isolated place near Bald Mountain," he says. "It was during a storm and I came across recent boot prints. Some still think there are places where no one has visited… Well hello! Charlie Douglas would have been horrified. It's time that we matured—a cairn here or there or a lightly marked track doesn't bother me. The pristine virgin thing… it implies this inbuilt self-loathing for the human species."
For Spearpoint, history and locale are touchstones. "I don't go to an area because it is wilderness. I go because of the place. It wouldn't matter a toss if there were huts and tracks through the Olivines. I'm not saying I want that, but that I'd still go there if there were."
Robin McNeill, outgoing president of the Federated Mountain Clubs, is editor of Moir's Guide South and pens the 'Uncle Jacko's Cookery Column' for the federation's Bulletin.
"I've written about as much of Moir's as I'm going to write," he says. He is reticent about detailing every route in the wilds, as if the description somehow diminishes it—like the notion that photos can steal souls. For him, 'a sketchy pass' provides a sense of accomplishment, yet happiness is also "ambling up the Lugar Burn with my wife, stopping every hour for some sun".
Wilderness, like gold, Uncle Jacko points out, "is where you find it".
But some don't find it in the presence of aircraft noise or commercial guided activity. The noise from a helicopter, or 'kerosene taxi', can be unpopular. Yet all noise is not equal. "South of Milford it's pretty quiet. To be honest, I don't mind if a 'meaty' [meat hunter] comes over in the morning; it's not people flying in to have a champagne breakfast."
While a Japanese tourist may find the coach drive to Milford Sound a wilderness experience, for McNeill wilderness is the back of Fiordland. "Yet, both experiences are valid and so for either of us to dismiss the other's experience would be arrogant. Both need to be respected and protected, through a social contract." The federation's thinking is 'somewhere for everyone', or what's called Recreation Opportunity Spectrum.
As tourism has grown, some places on the edge of wilderness areas have come under more pressure. One such location is the Ngapunatoru Plateau, near Milford Sound, which borders the Pembroke Wilderness Area. Helicopter operators taking tourists onto the plateau for glacier tours can't meet demand. DOC is increasing the daily landing limit from 14 to 80 on a trial basis over the next year. For climbers on nearby Mt Tutoko, or in the Darran Mountains, the aircraft noise detracts from the experience.
The great challenge for DOC will be how to retain quality experiences, both in the front country and the backcountry, now that annual tourist arrivals are over three million.
[Chapter Break]
The Ruakituri, the most recently gazetted wilderness area (2006), is quite different from the others, which are predominantly isolated mountain country. Lowland forest cloaks relatively gentle to moderate terrain. Isolation saved it from pasture and its most remote part today allows "travel on foot for several days, very much on nature's terms in the spirit of true wilderness, in an environment very different from other wilderness areas, yet characteristic of how much of New Zealand once was", according to the Te Urewera National Park Management Plan.
Some flexibility in interpretation of the wilderness policy is evident. The historic Rua's Track (named after the prophet Rua Kenana) will continue to be maintained. This runs through the Ruakituri Wilderness Area and past Anini Clearing—some three hectares of grassland with scattered beech trees, where horses and cattle using the track were once grazed overnight. Also within the wilderness area is an unofficial hut built of ponga logs in the 1950s, known as Tui Flat Hut, which is in a habitable condition. It has a hutbook, axe, fireplace and billys, and sleeps two.
For iwi, the preservation end of the conservation spectrum presents difficulties. In 'Wilderness as a walled garden', her contribution to the recent collection of essays titled Wild Heart, Otago law professor Jacinta Ruru writes that "the concept is rarely more than a myth rendering Indigenous homes invisible to the modern eye".
Māori lived in and traversed wilderness areas for some eight centuries. They saw the world as a great cosmic whanau—all things were related and charged with mauri. The land was no wilderness; it was a homeland, a larder. They were the land, the land was them. For Ngāi Tahu, Aoraki is an ancestor, as the Urewera mists are for Tūhoe.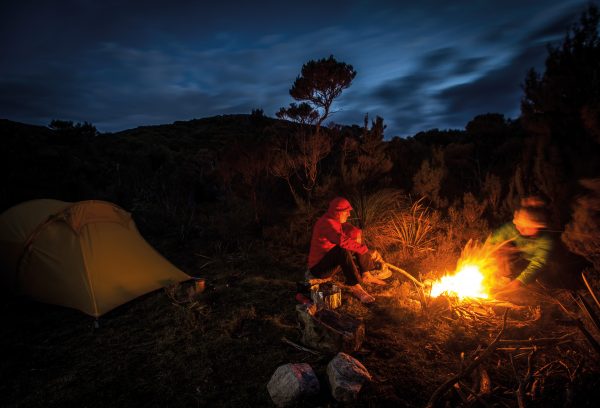 In some cases, setting aside protected areas, such as the creation of Te Urewera National Park in 1954, actually alienated iwi from their land. After years of wrangling, the Crown and Tūhoe came to a settlement in 2014. They agreed that Te Urewera would cease to be a national park, and that it actually belongs to itself. Robin McNeill represented Federated Mountain Clubs in the process. "Not only is it a legal entity now, but it's actually got a gender: It's a she."
The language in the legislation that created Te Urewera is not a world away from 1985's wilderness policy: "Te Urewera is ancient and enduring, a fortress of nature, alive with history; its scenery is abundant with mystery, adventure, and remote beauty. Te Urewera is a place of spiritual value, with its own mana and mauri."
Tūhoe are now recognised as tangata whenua, and after some years as dual managers with DOC, they will become guardians and governors of Te Urewera, including the Ruakituri Wilderness Area within it.
It's a model that may point a direction to a new future for the management of wilderness areas, one that recognises the Māori worldview and strikes the fine balance between protection and flexibility.
The model may provide some insights into the biggest questions facing New Zealand's wilderness system. Will it grow any bigger, and if so, how? A purist approach to what constitutes wilderness will ensure that authorities will not add to the current number, while being too flexible undermines the very purpose of the areas. A greater recognition of the Māori worldview could be key to striking this fine balance, and even promote a truly indigenous wilderness policy.
[Chapter Break]
Earlier this year I visited Les Molloy, a member of the Wilderness Advisory Group, which devised New Zealand's wilderness policy in the 1980s, and author of many books on the subject. His study at Point Howard, overlooking Wellington Harbour, was littered with topographic maps, books and proofs of an upcoming book on the Nature Heritage Fund.
We talked of the idealism of the 1960s, when a three-week trip through what is now the Olivine Wilderness Area set his life's course. "We thought back then that you could change the world," he told me.
Molloy was in his teens then, and in the decades since—though progress has seemed glacial—the Federated Mountains Clubs has convinced successive government ministers to achieve great things. Of the 1981 wish-list of 10 wilderness areas, six have been approved (Ruakumara, Tasman, Paparoa, Adams, Hooker and Olivine) and two others (Pegasus/Tin Range in Stewart Island and Southwest/Cameron in Fiordland) are proposed in national park management plans.
They did not change the world, but New Zealand's wilderness advocates ensured that large swathes of it would not be changed at all.