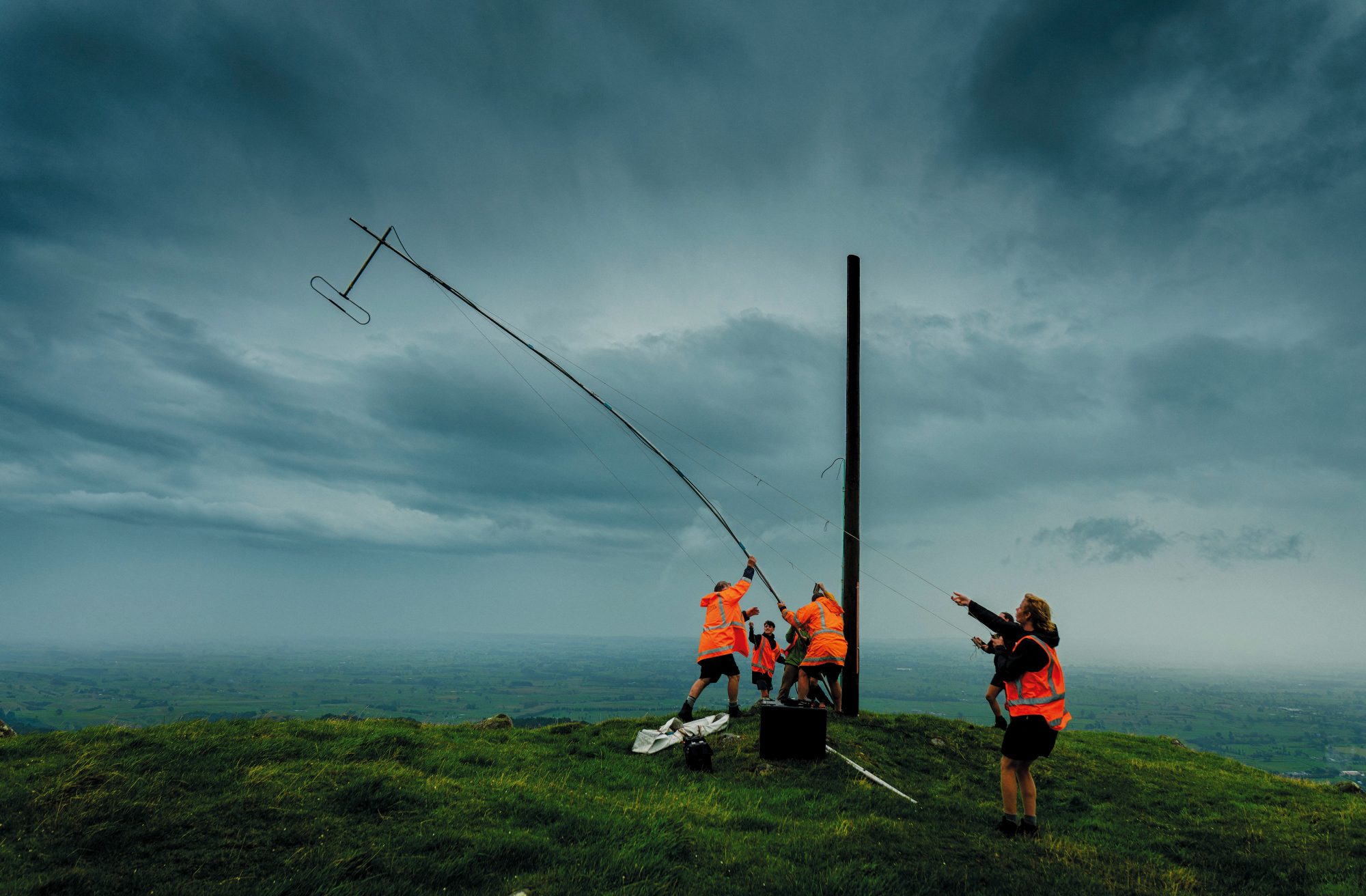 How to save a life
Fifteen years ago, a crisis loomed for search and rescue. Two-thirds of volunteers were men over 40, and as the years ticked by, they were going to struggle with the gnarly climbs, river crossings and long days so often required to find those who are lost. But would young people be altruistic enough to step up?
Three teenagers cross the first few paddocks at a quick clip, steadily climbing in altitude. Then they hit a rough track in the bush that will take them to the top ridge of the Kaimai Ranges. The terrain is steep and rugged and the bush is thick. Sodden mamaku tree fern fronds form slippery mats, supplejack tripwires grab at ankles. Brittle ponga trunks might look sturdy but crumble under an arm groping for a handhold, and mud sucks at boots.
Barely an hour in, 15-year-old Aria Hatakeyama is mentally and physically exhausted. She feels out of practice and unfit. She's trailing her teammates, Eugene Pfennig (16) and Corban Elliott (14), who are boosting ahead to get the hard part over and done with. It's the incline that's really bothering her: she keeps having to drop to all fours and scramble. And because it rained the night before, it's often one scramble forward and then a slide back, inching uphill. Aria feels tears welling up. I can't do this, she tells herself. But she keeps pushing on through the mud and sweat.
After three hours, the trio finally reach the ridgeline. The mood lifts; they take turns setting the pace, stop for a bite to eat, and joke around. They hit their first two waypoints fairly quickly. But from the second point, the navigation gets trickier. They are supposed to 'redline' to waypoint three—which means walking in a straight line, no matter the obstacles, guided only by a compass and map. It's not long before they encounter a river. Eugene looks at the map. He's confused—waterways like this are supposed to be marked. He finds a blue line wiggling across contour lines and figures that's where they are. If they follow the river up a couple of hundred metres, they'll hit a track. There they can get another bearing and navigate to the third point.
Following the river takes a really long time. The teens are weaving in and out, in and out, contorting through supplejack vines that catch on backpacks. There's an uneasy feeling sprouting. They've been bushwhacking for an hour, hour and a half. And the river is getting smaller. "Are you sure this is what we're meant to be doing?" Corban asks. But it has to be right, according to the map. They march on, hoping for the best. Eventually, the river peters out to nothing. The realisation hits: they're lost. Aria is drained and frustrated. Eugene feels horrible—as team leader, it was ultimately his call to follow the river. They're hungry, wet, sad and exhausted. And there isn't even a flat spot here to bivvy. They just want to go home. And they're meant to be the search and rescue team.
[Chapter Break]
Aria, Eugene and Corban are lost. But they're also learning how to find people. They're second-year students in a programme called Youth Search and Rescue (YSAR), and they're in the Kaimai Ranges on a weekend exercise with about 60 other teens from Hamilton, Tauranga, and Thames/Coromandel.
Nationwide, 176 teens are part of this programme, set up in 2008. No matter their life experience, newbies begin at level one, where the focus is on keeping themselves alive in the bush. The following year, as level twos, they get stuck into search and rescue (SAR) methodology, expand their technical skill set, and begin leading others. Third years, or level threes, learn to manage a full-scale emergency response.
Throughout the year, the teens attend weekly classroom-based workshops and complete homework—but it's these weekend field exercises that are the biggest drawcard. They happen six times a year. There's also an end-of-year camp where a parent gets 'fake-lost' and the teens manage the whole search and rescue operation.
Of course, it's not just about technical skills, says Neil Penniston, YSAR operations manager. "It's about leadership development. We let them make mistakes so they can learn, and allow them to experience the disarray people can get themselves into."
Before the teams set out this morning, the level threes gave a briefing to a sea of trainees in orange high-viz. After the hard day of bushwhacking, the level one and two teens would all be sleeping in bivvies— makeshift shelters constructed using tarps and ropes in the triangular shape of a classic old-style tent. So weather is key.
"Cloudy with a chance of meatballs," began one teen, standing self-consciously up the front with his cohort. "It will start raining around 12, then it will start really raining at about 4am." They discussed river crossings and the need to always wear high-viz in case of hunters. Anyone coming across a "plantation" in the bush was to record the grid reference only: "Don't approach—it could be booby-trapped." Penniston ended the briefing with a warning: "If we hear too much noise tonight, we'll know you have too much energy and we'll have to go on our first night hike. Don't test me on that. We will do it."
When the newer students left, the level three teens stayed behind. It was their first briefing; they'd bantered and joked around, and neglected to use visual aids such as maps. Penniston expected better, and told them that. "You're good at what you do. Make sure they know you're good at what you do," he told the sheepish troop. Level three is where YSAR teens grow up: as leaders, they are expected to eschew likability and laughs, and show instead that they can be trusted.
[Chapter Break]
At base camp, a trio of level three students gather around an electronic map, watching blue rectangles inch up the contour lines. Each field team, including Aria, Eugene and Corban, is equipped with a GPS that pings every 10 minutes. It's a safety back-up: they're meant to rely on their compasses, and the screen on their GPS has been taped over.
Every now and then, the base team check in via walkie-talkie. "Alpha-three, this is Te Poi base, do you copy?" They talk with the field teams, offering instructions.
As well as the team at base, there's a level-three trainee stationed at each of the waypoints on the mountain. Staying at base is perceived as the less-fun role—one teen thanks another for taking the "crap job". But Steve Campbell, founder and now general manager at YSAR, says the different facets of emergency management suit different people. "The more academic people may find the technical aspects—geographical information systems, drone mapping—easier, whereas someone who is more practical might be more at home in the bush." There isn't a typical YSAR kid, and that's reflected in the interview process, where all they're looking for is commitment to the 1800 hours of training over three years. Some teens come into the programme with extensive bush experience, but others are new to the outdoors.
May Little, was actually out in the bush when she came across YSAR kids on an exercise, and she thought it seemed like a good way to make friends and add to her CV. "If the world were to blow up, we'd still be fine. If civilisation died, we'd be surviving out here," the 14-year-old says, adding that it'd be cool if YSAR led to a job in search and rescue. In contrast, Aria had "zero experience", but wanted to learn about the bush and try something new. "I was excited, not too scared or nervous. I just got stuck in and enjoyed it," she says.
When Beinan Ji, 17 years old, joined YSAR, he had never been into the bush before. He moved to New Zealand from Shanghai, China, five years ago and thought YSAR sounded like a great chance to make friends.
"The very first camp was so nerve-racking. I was absolutely clueless. I brought all the wrong gear and had dry Weet-Bix for breakfast. My friends still make fun of me for that."
Now starting his final year of YSAR, Beinan says the community is "awesome". "We went from absolute strangers to probably the closest friends I'll ever get. It's 2023, everyone's on their phone. But just spending the weekend with your friends and nature, it's refreshing." Beinan plans to study medicine and reckons his first aid training through YSAR has already equipped him with useful skills for his future career.
[Chapter Break]
Base camp today is a cluster of buildings in a bush clearing: a spruced-up old Scout bunkhouse, classroom and semi-outdoor kitchen. Campbell stumbled across these buildings—then very rundown—in 2005, during a search for a 53-year-old man named Bobby Roberts. On November 30, 2004, Roberts ploughed through the lookout barrier at the top of the ranges in his work van, plunging 250 metres down a cliff. When first responders reached the mangled vehicle, they found no sign of him. He had been flung from the van, but survived the crash and wandered into the bush. Search and rescue teams spent four days scouring the bush for Roberts. At the time, it was the biggest line-search ever.
Campbell, then a search controller with the police, joined a crew that went back in eight months later. They found Roberts' clothes neatly folded in a pile inside a hollow log. The day of the crash had been wet and miserable and finding clothes discarded like this is often a sign of the final stages of hypothermia. Roberts has not been found.
For search-and-rescuers, there's always an emotional pull to come back, to keep looking, maybe one day solve the mystery. That's what Campbell did. In 2009, he returned to those buildings in the clearing, with a flock of keen teenagers in tow. Together, they conducted a search over 12,000 square metres, using search-and-rescue skills imparted by Campbell during the fledgling stages of YSAR. They didn't find any sign of Roberts.
[Chapter Break]
Last night was not a restful one for the level-one teens. As predicted, the rain came down hard at around 4am, pelting the plastic walls of the twin gazebos housing the newest YSAR recruits. "Our gazebo malfunctioned and we woke up in water," says 14-year-old Will Curle. "I got a bit wet—didn't help that my mate who got the most wet jumped straight onto me. But we persevered and supported each other." The boys give their sleeping bags a cursory airing before stuffing them into packs. The level-one group file out of base and into the forest.
By late afternoon, the level-one cohort has scrambled through the bush for several hours, practising navigating using compasses. Their knees and faces are streaked with dirt. Emily Dale, 14 years old, says she's gotten used to her heavy pack. "When you take it off, you feel so light," she says. Emily is following in her brother's footsteps on her YSAR journey—he's in level three. She hopes to learn navigation and bush skills that will keep her safe while hunting, one of her favourite pursuits.
With the day's bush-bashing complete, the teens busily erect a village of bivvies. For most, it's their first time making a bivvy, and the boys are especially keen to ensure their shelters are waterproof. The completed bivvies are a range of sizes and styles—some are barely high enough to sit up in, and some are pinned down with a mixture of metal pegs and foraged twigs. Some bivvy-dwellers—like Will—will be extra cosy, with four or five occupants sardined under the tarp. He's been camping with his family but nothing like this. "I was really excited—but also nervous, because I didn't know what was involved, exactly. But everyone is really supportive and they all cheer you on," he  says.
Their day is not done. Before dinner, there's a race at the nearby river. In teams of four or five, the teens have to carry a plastic stretcher holding a patient—Mr Chippy the log—around a racetrack loop that crosses the river twice. "Don't tip him out, don't drown him, keep him level. He's our mate," says Aaron Tower, level-one instructor. "If his head goes underwater, that's a 10-second penalty." The first team takes off and while navigating the uneven ground, one kid trips and drops the feet-end of the stretcher. "I think Mr Chippy is gonna need anti-nausea medication," someone quips. By the end of the race, Mr Chippy—and a few of the kids—are dripping with river water.
[Chapter Break]
Up in the mountains, Aria Hatakeyama notices something else: it's quiet. They've heard no burbling chatter from the radio for some time. Eugene Pfennig fiddles with the dials, realising it's been knocked off the correct channel. He's hesitant to radio base; he's had trouble with navigating before and it sucks to admit he's lost again. But he calls anyway.
It turns out the river they've been following isn't on the map at all. The teens manning the base check the trio's position on the electronic map and tell them they're just 500 metres off their next waypoint. They provide a new bearing. The trio begin trudging back the way they came. They find their waypoint, and on their way to point four of six, they run into another team. It's a moment of joy and relief to see some familiar faces. They decide to join forces and redline together to a mapped river, then follow it to their next point. But impenetrable supplejack keeps forcing the group to shuffle over, straying further from the redline. Eventually they hit a waterway, but it's much smaller than they expected. Eugene feels the pressure rising. Are they lost again? He's upset with himself. The group huddle around their GPS tracking device. Maybe they should pull off the tape and check where they are? Eugene feels in his gut that they should follow the small waterway. Sunset is not far off. They'll need to bivvy soon, and the area they're clustered in now is a bad place for setting up shelter—no clear spots. So they're better to walk, and either run into the big river they're looking for, or find a more suitable spot for a bivvy.
The stream turns out to be a tributary of the bigger river they were aiming for—they'd overshot—and once they reach the larger waterway, it's not long before they're nearing the waypoint. They begin to call out, "We're here!"—and they hear a response. Eugene is relieved, and delighted he won't have to sleep in a badly angled place. After sharing a warm meal of porridge and rice risotto, six kids cram into a single bivvy. They've spent 12 hours on their feet, but it's all good vibes from now.
[Chapter Break]
Campbell has been the driving force behind YSAR for 15 years and he's very proud that teens like Aria, Eugune and Corban keep proving naysayers wrong. While YSAR has enjoyed broad support from many (including LandSAR and the overarching search and rescue governing body, NZSAR), some corners of the SAR ecosystem initially expressed scepticism that teenagers would even be interested.
"There are many who hold stereotypical views of a teenager being lethargic, sitting in front of devices, not offering value to society… this could not be further from the truth," says Campbell.
"They have a sense of altruism which equals that of our older generations and a heart for volunteering. They want to impact their communities. Altruism is not reserved for the middle to late aged."
The first phone calls he received in the wake of Cyclone Gabrielle were from YSAR students, wanting to know how they could help.
Paddy Bauld, 15 years old, was inspired to join YSAR after his own experience with search and rescue. While mountain biking in the redwood forest near Rotorua, he came off his bike and suffered a concussion. It was a team of volunteers from LandSAR who helped him. LandSAR also helped his mum's friend who got into trouble with a sprained knee while hiking in Gillespie Pass in Otago's Mount Aspiring National Park. "I'm an outdoor enthusiast—a mountain biker, tramper. And it made me think about how people I know have been rescued and I've been rescued," Paddy says. "This was a cool opportunity to gain those skills and be able to possibly become part of that community of volunteers in the future."
The numbers prove the naysayers wrong, too. All YSAR branches—even the newest ones—are oversubscribed, attracting twice as many applicants as there are places. There are now five YSAR branches across the North Island, with five more, including the first South Island branches, set to come online in 2024. Campbell's expecting to soon have 500 teens enrolled at any given time.
All of these young people are sponges, Campbell points out, primed to soak up the knowledge developed by those who've given decades of service. "You've got people who've been doing this for 30, 40 years and it's sad when that expertise is not carried on. We want these experts in their field to share their stories and experience with our teenagers."
Diversity is a challenge. In recent years, there's been a shift in thinking that goes right to the top of search and rescue in New Zealand, says Campbell—the goal now is to expand SAR from being the domain of older white men. It's already happening: Carl McOnie, chief executive at Land Search and Rescue New Zealand, says they now have just as many women volunteers as men, and just as many 35-year-olds as 65-year-olds.
Campbell says the goal is for each YSAR cohort to match the diversity of its community. He is working with board member Amy Tocker (Ngāti Tūwharetoa, Ngāti Raukawa, Ngāti Maniapoto) on an ambitious kaupapa Māori project. The plan is to weave tikanga into all YSAR resources, and meaningfully connect with mana whenua wherever they open a new branch. As well, there are tentative plans to launch a South Auckland branch specifically for Pasifika teens next year.
There's an even gender split in this cohort, and two students have transitioned during their time at YSAR. Campbell had never trained or looked after any trans people before, or had to make decisions around their wellbeing. He was humbled by the way the other teens accepted their trans peers "and walked the journey with them".
Leading YSAR has been one of the most rewarding things Campbell's done. "We often underestimate the potential of youth," he says. Penniston agrees: "They're inquisitive, switched on and question things all the time. Nine times out of 10, they turn up with the goods.
"This is only an exercise for teenagers, but at the end of the day, it could be a matter of life and death."
[Chapter Break]
On Sunday morning, the intrepid level-two navigators begin to trickle back into base camp. Many hoon down the final hill and arrive puffed, sweating, red in the face, and groaning under the weight of their packs. One kid clocked 17 kilometres per hour barrelling down the steep track, according to his GPS. After downing mouthfuls of scroggin, the kids are soon swapping war stories: battles with the supplejack, roly-poly tumbles down steep hillsides.
"Yeah, the navigation could've been better," says Aria. "But it's nice to get away from school, away from parents. And my mum likes it when I'm away from my phone."
Once everyone is safe and accounted for, the level twos gather in a circle for a debrief with their instructor Matt Tomlinson, himself a graduate of YSAR. In their frenzied race to get back to base, all but one of the teams had committed a big no-no. "People were getting left behind. Never lose sight of your team members," Matt says. It's a stern rebuke, and eyes are downcast. "You need to have that discipline to stick together—and don't be afraid to put up your hand if you need help." Apologies are exchanged between teammates, and the culprits are sent off on a short run. It's been a huge 24 hours, with most teams making only a few of the six waypoints. "Don't worry, by the end of the year, you'll be making the points like that," says Matt, snapping his fingers.
The one team who did stick together didn't have it easy. "My feet alone could tell a helluva story," says Oscar Sandford, 16 years old, who was the team leader. Oscar joined YSAR after he started finding Scouts too "mellow". He was drawn in by the chance to learn survival skills, and it's the combination of learning, the outdoors, and the people that has kept him coming back. Moving into level two, "it's definitely a step-up", he says. "Ten hours walking, lots of k's, super-dense bush. Taking your boots off just makes it all worth it, a good bivvy spot in a nice clearing, and Uncle Ben's rice tops off the day."
Oscar's team had hit trouble on the same steep ascent Aria Hatakeyama struggled with. One team member had become very short of breath. The team took a rest, and Oscar shouldered her pack as well as his own, carrying it on his front "to free his hands up, because you're basically rock climbing". The girl's shortness of breath returned as the group climbed a smaller hill, and again a team member took the backpack burden. Oscar was concerned it might be a medical issue, and radioed the situation into base camp. But ultimately, the team decided to bivvy overnight and return the next day as planned. "You just have to stay calm, otherwise nothing gets done," Oscar says. He's matter-of-fact, calm and logical.
And now, he's learned to trust himself. "Being the person I am, I usually doubt myself," he says. "This is teaching me that I am actually doing some things right."
About a month later, the teens head back to the Kaimai Ranges for another weekend of exercises. For the level-two cohort, the experience is a lot more low-key. This time, they stick close to base, focusing on identifying terrain features. Eugene Pfennig is pleased with his redeeming performance: "I think the other teams got lost, but I actually made it perfectly to every single point."