How to recreate a rainforest
In Brazil's once vast Atlantic Forest, Laury Cullen Jr. has created a model for forest restoration that allows wildlife to flourish, local communities to gain employment and landowners to meet their legal obligations.
Laury Cullen Jr. calls the Pontal do Paranapanema region in Brazil a "very sexy landscape".
It's a place that blends two ecosystems—the dry savannah of the Cerrado and the rainforest and beaches of the Atlantic coast. As a result, it's a biodiversity hotspot that is home to over 20,000 species of plants and 2000 species of animals, including jaguars, puma, tapir, ocelots, monkeys, bats and birds.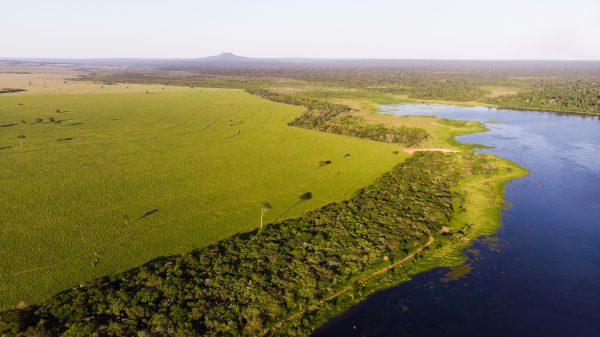 When he started his academic career studying the endangered black lion tamarin in the early 1990s, more than 80 per cent of the Atlantic Forest—an area originally about three times the size of California—had vanished, felled for timber, cattle grazing, or sugar cane production.
Some forest fragments remained, but he quickly realised that many of the animals the region attracted were unlikely to survive over the long term unless significant forest restoration took place, which would allow wildlife to travel through these linking corridors.
Cullen Jr.'s response was to devise a model that combined climate, community and biodiversity by convincing local farmers to restore the forest to make more money from carbon credits and forest-friendly crops like shade-grown coffee, while allowing the wildlife to coexist with agriculture.
"We used to do 100 hectares per year, but now we can do 1000 hectares per year," he says.
In 35 years, his organisation has created over 2000 hectares of forest corridors in the Pontal region, generated over US$2 million for the local community and locked up hundreds of thousands of tonnes of carbon.
"The forest is coming back," he says, and, as a result, wildlife populations are recovering (he says there has been an eight per cent increase in the number of jaguars in the region since the reforestation project started).
Knowing where to put these forest corridors was an important part of the process and that's where the 'Dream Map' came in. Cullen Jr. calls it a "connectivity index" based on the idea of agroforestry where insights gleaned from studying local animals are combined with other scientific information about the landscape, like the distance from a river, the edge of the forest, or the coast.
It's about "seeing the landscape through the eyes of the animals" and trying to simulate the movements of wild populations, while also trying to provide for around 6000 families that were resettled in the area and eventually restoring 60,000 hectares of forest.
"When you put all these layers on we can understand where to put the forest. We know where to restore in terms of the lowest cost and biggest benefit—for wildlife, for people, for ecosystem services."
He says there is a lot of talk about nature-based solutions, but he prefers to talk about people-based solutions where strong communities, plenty of engagement, a mix of incentives and "a very long institutional presence" can get results.
"We don't plant a single plant, we just engage people in doing the restoration locally. We talk to them, and we teach them how to do the right thing. We are very proud of the equation we have created. All this land; all these farmers willing to cooperate in compliance with the law; all these families who are finding jobs and bringing all the funds to the local community."
At present, 11 small start-up nurseries produce four million native trees per year, which is enough to plant 2000 hectares. It is hoping to create another eight small nurseries, which will also be run by small rural family groups, and eventually plant up to 5000–6000 hectares per year.
Cullen Jr. says Brazil has strong laws in place through the Brazilian Forest Code and good regulation has been a crucial part of the formula. In the Atlantic Forest, for example, landowners must leave or restore 20 per cent of their land as forest. In the Amazon, it's 80 per cent.
"Thank god we have that," he says.
The enforcement of those laws was poor under the previous government, but he says that has improved recently under the new, more environmentally-focused regime.
In the Atlantic Forest, there are about one million hectares to restore to meet those legal obligations and he believes it can reach that goal in another 50 years.
"It is possible. I never thought it would be possible. But intelligence and engagement and understanding the system to shape the solution can work."
As well as the stick of regulation, there are also some carrots of incentivisation. The growing carbon market has provided additional revenue to help fund reforestation and local farmers can also be paid for providing ecosystem services. There are also benefits to reforested farms in terms of improved soil health, extra water production and more pollination, he says. Increasingly, reforestation is being seen not just as a good environmental decision, but as a smart business decision.
"They see their next door neighbour doing it and they're getting results," he says.
He points to one 10,000 hectare farm in São Paulo state as an example. It belongs to a single owner and 20 per cent of the land needs to be restored, but they don't have the funds to do it. Restoration can cost more than the price of land per hectare, he says, so they look for the farmers who are willing to put the forest back, work with law enforcement, and then engage with the local community who are willing to help in the process through seedling production and planting.
Cullen Jr. says the Rolex Award for Enterprise he received in 2004 was an important international seal of approval for the model. (The Rolex Awards for Enterprise are now part of the company's Perpetual Planet Initiative, which supports individuals and organisations devising solutions that will restore balance to our ecosystems.)
"We have got a lot of awards and prizes for what we've done, but when we talk about Rolex, it is different. The funding at the time was very important for us, and it opened the door for a lot of co-funding. The network of laureates was also very helpful and the media attention was nice too. It makes a difference, believe me."
Cullen Jr. is involved in other reforestation projects in other parts of Brazil, like the Amazon and Pantanal. And he believes the model can be scaled up, especially as more funding for reforestation is provided through the carbon market. (British drugmaker AstraZeneca, for example, recently committed $400 million to plant over 200 million trees by 2030 as part of its strategy for reducing carbon emissions and a good chunk of that will be spent in Brazil.)
"We need good partnerships and good people and good engagement. It's about the right people in the right place at the right time. We want to copy and paste the approach."
From fires to floods to deforestation, it's hard to escape depressing environmental stories these days, but Cullen Jr. is "very, very optimistic" about the potential of his model to show how the forest can create environmental, spiritual, and economic value.
"I've always been optimistic. We have this good law, we have enforcement, we know how to do it, we know how to involve the local communities and now we have the growing carbon market… We never thought it could happen, but we are so proud and amazed at how fast we can restore ecosystems."