Have raft, will travel
Lightweight, inflatable boats are changing backcountry travel. Easier to paddle than a whitewater kayak, and more forgiving of mistakes, packrafts are opening up river sports to a wider audience.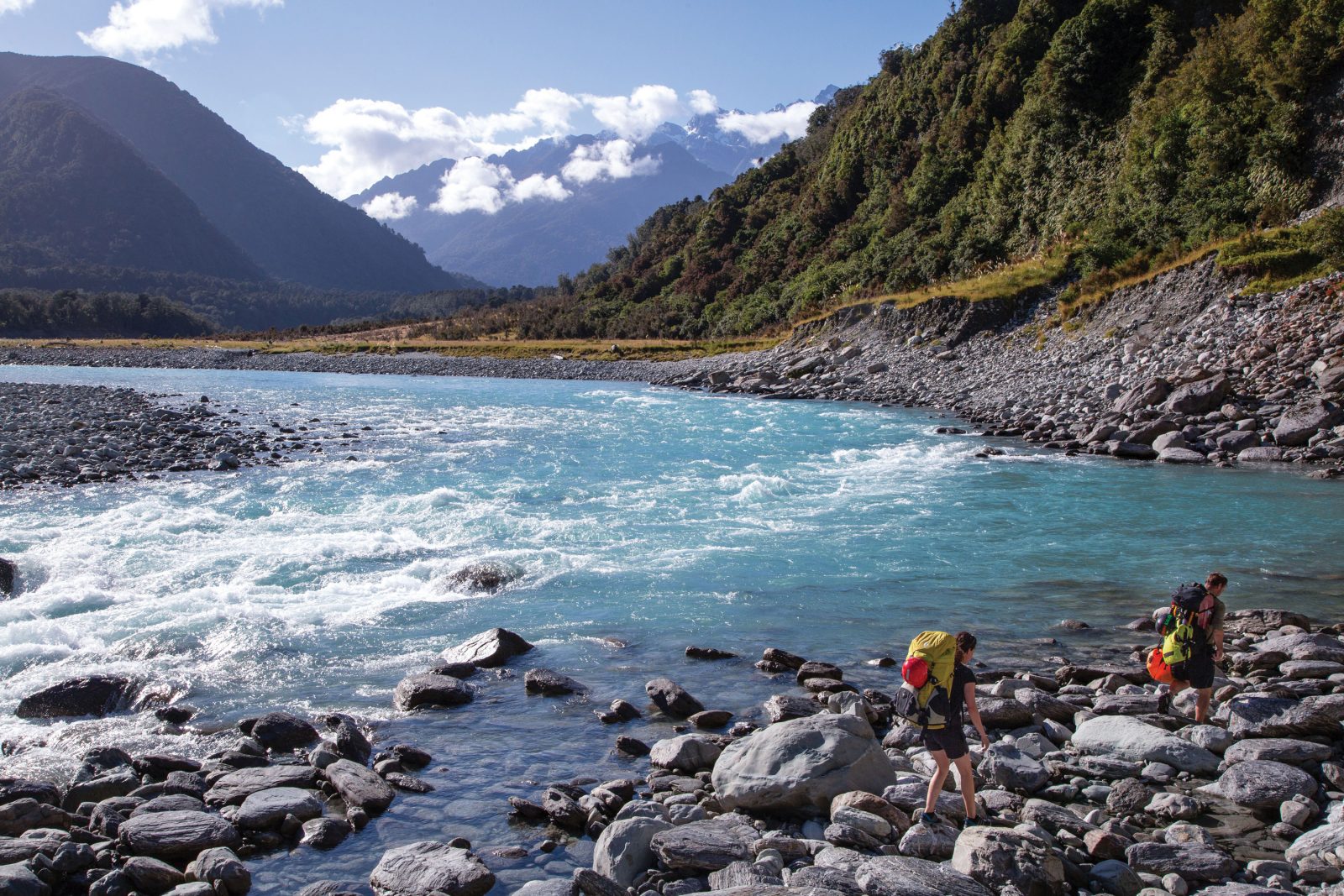 It does look a bit like a deflated pool toy when I pull it out of my pack, a crumpled mass of bright-blue plastic. I unfold the packraft into a squashed oval on the grass of the riverbank.
Ahead of me, the Taipō River Track continues up the valley. Over my shoulder, the river is a bright channel among jumbled grey boulders, the water so pale it looks frosted, probably because it used to be; the Taipō flows north off the Southern Alps, then bends west here, at the foot of the Bald Range, towards Hokitika.
The afternoon is sunny and still, except for the song of crickets and the hiss of inflating plastic. There's no one in this valley but us: myself, photographer Neil Silverwood, his friend Luke Wigram and a lot of sandflies. I pull on my wetsuit in record time.
The inflated packraft is balloon-light, except for the weight of my pack stowed away inside. I put the boat down in the shallows, one hand on it so it doesn't blow away, tugging the chin-strap of my helmet tighter. The river hurries past, like it's got somewhere to be. It's floury with suspended stone, which makes it look somehow thicker and softer than normal water. Silverwood points downstream, and I catch the white glint of a whio's eye. The duck watches us for a second, then crests a wave and disappears from view.
I clamber into the packraft and pull the thigh braces over my knees. It feels surprisingly sturdy, though this will be the fastest water I've paddled in my two-day-long packrafting career. Pointing the nose of the boat upriver—I've learned to start in the opposite direction to the one I want to go in—I push off and paddle hard towards the current. I lean downstream just as I meet the faster water, lifting the edge of the boat with my knee, and the river snatches the packraft and spins it around. All at once I'm going so quickly that, for an astonished second, I forget to paddle.
[Chapter Break]
"The big thing about packrafts is the ability to get in a packraft on the first day and paddle grade II whitewater," veteran paddler Hugh Canard had told me over the phone a couple of days earlier. "It's actually possible. And it's happening all the time."
I was sceptical. But Canard should know—he's been running rapids for longer than I've been alive. When he gave up whitewater kayaking after breaking his neck ("I think it's God's way of telling me to not do it"), he took up packrafting instead.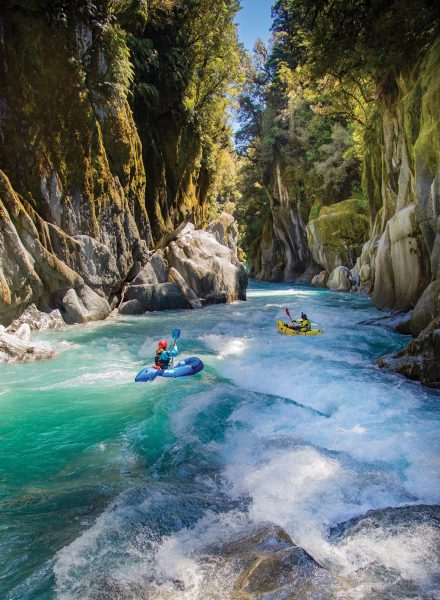 I've never once considered whitewater kayaking—that's a sport for other, braver people—but when I first heard about packrafting, it appealed immediately. Tramping has its duller days, and they usually involve following river flats out of a national park to a road end. What if I could just pull out a packraft and float down in a fraction of the time? I could paddle on lakes I normally contemplate from the edges. Cross rivers that would otherwise be impassable. Cruise on mountain tarns among icebergs, just for the hell of it.
And I'm not alone in instantly seeing the appeal. When Nelson outdoor educator Dulkara Martig first heard about packrafts, she went straight home, called a shop in Alaska and ordered one. Martig, a soft-spoken professional adventurer with the endurance of galvanised steel, prefers long expeditions, and packrafts opened up new routes across the map, turning rivers into roads. At first, she couldn't find anyone to paddle with, so she organised a national packrafting gathering. The first one had about 30 people. This year's had more than 100.
"New Zealand is basically packrafting paradise," says Huw Miles, the most recent president of the Packrafting Association of New Zealand. Miles started teaching packrafting courses in Queenstown about a decade ago, and now the sport is big enough that it's beginning to fragment: there are long-expedition packrafters, adventure racers, whitewater packrafters, hunters, bikerafters. But most people who pick up the sport are trampers. People who, like me, look at the river beside them and think, "What if?"
[Chapter Break]
"Catch that eddy up ahead," yells Silverwood back to me. "Behind the big rock!"
He paddles directly towards the edge of a boulder and at the last moment spins 180 degrees behind it, tucking his packraft into the pool of calm, soft water in the rock's shadow. I perform a messier turn, skidding a couple of metres further downstream, paddling furiously out of the current until I'm sheltering behind the rock, too.
This is the only way to stop on a river: in an eddy, a patch of slow water that circulates backwards, moving gently upstream. Eddies form behind boulders or outcrops of the riverbank. Paddlers "eddy out" of the current to stop and scout what's
coming up.
Everything inside a river is more dangerous than the water itself. "The only thing that can probably kill you on this river," Silverwood told me the first time I got into a packraft, "is trees." When the current sieves through something like the branches of a tree, it can trap a bigger object—like a person, or a packraft, or both—against it with immense force. So there are other ways to stop on a river besides catching an eddy, but they don't end well.
Silverwood also used to be a whitewater kayaker. He can read the rapids ahead, visualising the forces in the water and the direction they're moving in. Backwards. Forwards. Underneath, down into the river. "There's a hole," he'll call back, delighted, while I see only the churn and foam of waves splashing over me, bracing with my paddle to stop my packraft tipping into some hydraulic feature that he's just pointed out.
And my packraft doesn't tip. This is why the sport is so easy: the boats are so stable. On flat water, I have to try hard to capsize. On rapids, I bump my way down artlessly. I perform inexpert eddy turns that, in a kayak, would put me underwater.
What I do know is I'm only in control of the packraft if I'm going faster than the water, and so my main technique—my only technique—is to paddle as hard as I can. Which, as a bonus, also prevents me from thinking about anything else.
[Chapter Break]
Many people are happy to leave whitewater well enough alone. "There tends to be two sorts of packrafters," Stu Bilby tells me. "The ones coming from a whitewater background are all about going to the worst bit of a river and paddling like crazy for half an hour and then going home. The ones from a tramping background look at that bit of the river and say, 'Well, the good thing about packrafting is that you can walk.' And the whitewater people are going, 'You just missed the good bit,' and the tramping people are going, 'But you're only paddling the bad bits.'"
Bilby is the second type. So am I.
Canard puts it another way: "Packrafters are quite often on a journey—they're at the top of a river and they want to get to the bottom—and kayakers are generally out there to have fun on a river, and they're enjoying the actual detail of it."
I'm sure Bilby is enjoying details, too, but they may not be made of water. In 2020, Bilby undertook a packrafting traverse of the South Island, paddling and tramping from Hanmer Springs to the coast of Southland. The method was simple: he and a friend would follow a river valley on foot until there was enough water to paddle on. "As soon as we ran out of food, we'd pick the nearest river," he says, "and follow it down till there was a town and we could resupply."
Bilby is a water engineer ("When I'm going down rapids, I can see the equations"), a tramper and an early adopter of packrafting in New Zealand. He had no previous whitewater experience. Instead, he learned in the traditional Kiwi manner: via misadventure.
"We tended to blunder into rapids without doing enough research into how hard the river was," he says, and laughs.
"With packrafts you can easily be overconfident, because they're so forgiving. You kind of just bounce down grade I and grade II without any skill and can think you're a lot better than you are, until you suddenly hit more serious whitewater."
Generally, paddlers look up the grade of a river in advance, as well as the water level. Rivers are categorised from grade I, water that moves, to grade VI, certain death. (If a paddler runs a grade VI river, it's downgraded to a V, extreme consequences.) It's common for one river to span several grades, being more difficult in its upper reaches and becoming easier as it grows in volume.
Rivers also need to have the right amount of water in them, and this can change quickly. At higher flows, a river develops trickier rapids; too little and it's bony, the underside of the boat scraping against rocks. Most river guides, however, are written with kayaking in mind, rather than long-distance paddling, as Bilby discovered on his traverse. "A lot of the rivers, we didn't have a lot of information on, so you're not quite sure what's around the next corner."
[Chapter Break]
In the next stretch of the Taipō, I get my packraft jammed on top of a rock that's just beneath the surface, and then I spin sideways just as I come loose. Now I'm heading straight for a tree that has toppled into the river, its branches stripped bare by the water. I paddle furiously away from it, but the current is heading right through. At the last moment I dive out, and my packraft sticks in the branches. I'm swept to the shore, where I sit on a rock and hold onto my knees, my heart beating enormously.
Wigram, who is a nurse, is waiting there for me. "Well," he says, "at work we talk about giving people shit sandwiches, which is when you tell them a good thing, a bad thing, and then a good thing," and I'm glad he's talking so that I have something to concentrate on, "but then we decided to go with open-faced shit sandwiches to save time. So here's the bad thing: you went into a tree strainer. But the good thing is you didn't die."
Silverwood has rescued my packraft. I look at the river, at the next rapid. The waves flex like muscles. I am more scared than I have ever been. I look at the backs of my hands, which are freckled pink with sandfly bites. I'll think about just one thing at a time, I tell myself. One thing, like gripping the paddle with my right hand. Like getting into the packraft. Like tucking my knees into the braces. Like paddling into the current at a 45-degree angle and lifting my downstream rail.
[Chapter Break]
The potential for things to go wrong on a river means that whitewater kayaking has developed a safety etiquette—it's essentially a team sport—but the wider packrafting community hasn't yet taken this on.
"I went down the Shotover with about 65 packrafters," says Canard, "and I've never been so lonely. That's because if I was with ten kayakers or five kayakers or even two kayakers, they would go down the rapid and stop at the bottom and look up the river and wait for me and give me signals to say 'go left, right, centre' or whatever.
"And packrafters go down, and they never look back. You're swimming, and nobody's looking after you. No kayaker I've ever met would not stop at the bottom of a rapid and look up, but packrafters, until recently, would have done the opposite. And part of the reason is they haven't paddled with other people."
When the Packrafting Association conducted a survey of its members in 2020, about 30 per cent of people said they packraft solo. "Which is really high for a watersport," says Miles. (Of the 11 packrafting fatalities documented globally so far, six involved people paddling on their own.)
Miles and other members of the packrafting community are doing their best to bring the embrace of a club environment to the sport. In 2021, packrafters shouldn't have to learn from misadventure, or paddle alone.
"A lot of packrafters have this real sort of self-sufficiency—'Oh, I'll just get a packraft and I'll just go and do stuff'; that kind of mentality," says Rotorua builder Megan Dimozantos. A former elite mountain biker and LandSAR volunteer, Dimozantos is no stranger to risk. When she began packrafting a year ago, she took a course with Miles, having never paddled
whitewater.
"Oh, it's terrifying," she says. "If you fall off your mountain bike, or even if you fall when you're climbing, you're eventually going to stop. Whereas in a river, you fall out of your boat, and if you don't get yourself out of trouble—or if your teammates don't get you out of trouble—the river will keep having its way with you."
Over Easter, Bilby and Dimozantos took some new packrafters down the Mohaka, a river in Hawke's Bay. "We had a couple of gnarly rapids, and they'd come down them and floated off down the stream. I got them all together and said, 'Look, the kaupapa here is if there's a gnarly rapid like that, we all eddy out and we wait for everyone to do the rapid, because if that person takes a swim and there's bits of gear all over the place, and a person that needs rescuing, and a boat that needs rescuing, and a paddle that needs rescuing, we need people who can go and pick up those pieces—and if you're 100 metres down the stream, you're of very little use to us.'"
[Chapter Break]
The sound of the river quietens, and I look up to find us enclosed by high walls of fractured stone. Moss grows down the shattered faces to the water. The sunlight is blotted out by the forest leaning over the ramparts of the gorge, and the water goes the clouded grey of unpolished metal. It's as though I'm floating through an ancient, drowned colonnade. You couldn't reach this place on foot. We lean back in our packrafts, stretching out our legs, letting the current bear us along until the sound of plunging water grows louder.
"All right," says Silverwood, over his shoulder. "Just head straight down the middle of this one. If you swim, try to keep hold of your boat."
The gorge opens into a chute of seething water. I paddle as hard as I can. The rapid throws me from side to side and I ride over three standing waves that tip me up and down—but not out. As the water calms, I paddle to the river's edge, where Silverwood's waiting.
"That was a grade III rapid," he says, getting out of his packraft and hoisting it over his shoulder. "Want to do it again?"
No way. But so much of this sport is opposite to my instincts that I convince myself to pick up my packraft and walk up the riverbank to the top of the rapid. On my second attempt I don't hit the first standing wave straight on, and spill out to the side. The shock of the cold water is immediate through my wetsuit and two layers of merino. I reach for the packraft and miss, and it skims on ahead as I'm carried up and down the wave train. My legs are banging on rocks on the riverbed, so I turn over into the whitewater swimming position: feet downstream, lying back on the surface of the water, as flat as possible, like sunbathing. We practised this just a couple of hours earlier, one of us swimming in swift water while the others cast throw-bags—long spools of rope—out to us. Silverwood has got his throw-bag out, but I wash up in the shallows, unable to figure out whether I'm exhilarated or terrified.
[Chapter Break]
The next day, we head to the Arahura, the river legendary for bearing pounamu. The first descent of this river in a kayak was made by Canard in 1985, the same year he made the first descent of the Taipō. We put in on a sluggish branch of the river, and I discover that I can't stop thinking about all the things that will go wrong. My paddle strokes are clumsy. I hit boulders and tip out.
Before the first rapid, I get out of my packraft and sit on the bank. I try focusing on one thing at a time—looking through the clear water for glints of green—but it's as though my mind is a loudspeaker, shouting about rocks and trees and catastrophes. Perhaps I've hit the limit of fear my body can process.
I deflate the packraft, split the paddle into two pieces, stuff the lot into my pack with my lifejacket and helmet, and walk back up the river alone, leaving my friends to continue. That's when I learn just how much faster packrafting is than tramping. As I totter on boulders and sink into quicksand I remember gliding the other way, and wish my brain was similarly frictionless about the whole thing.
Most of us have complicated relationships with fear. It's hard to have the right amount of it. When I felt myself getting apprehensive on the banks of the Arahura, I tried telling myself that paddling rivers isn't much more dangerous than the highway from Christchurch to the West Coast that I'd driven a few days earlier. This didn't help in the slightest. I tried telling myself that being afraid is sensible. Rivers are dangerous. This is what fear is actually for. Perhaps if I'm afraid of something that's truly risky, I'll become less anxious about something that isn't.
[Chapter Break]
So I get back in on gentler water. I practise falling out and catching eddies in the Arnold, a river tannin-stained the colour of strong tea.
The Arnold was supposed to be a sacrifice that paddlers made to the demands for clean energy. When a plan was proposed for a 46-megawatt hydro power station that would raise the level of the river, flooding the rapids, kayakers opposed it—then realised that, if a power station had to be anywhere on the West Coast, losing the Arnold would hurt the least. The river is surrounded by farmland, so it's not particularly wild. The government granted a consent for development, but the scheme never went ahead. Now, when other schemes are proposed, paddlers object: couldn't you just dam the Arnold?
Whitewater kayakers have been fighting battles over rivers since the 1960s, and they continue today. Few unmodified rivers remain in New Zealand, pointed out then-Parliamentary Commissioner for the Environment Jan Wright in a 2012 report. In 1986, the government drew up a list of 32 wild rivers important enough to require protection, then failed to systematically protect them.
The way to protect a river, if it isn't in a national park, is with a water conservation order—but these are expensive to obtain and can be limited in impact. Fifteen rivers have water conservation orders, most of them in the South Island. Fish & Game spent $543,000 on its successful application for a water conservation order on the Rangitata, which was granted in 2006. Whitewater New Zealand is currently disputing a water conversation order granted to the Ngaruroro River, under which the river can still be tapped for irrigation.
Wright pointed out that many important but unprotected rivers are located on stewardship land—areas managed by the Department of Conservation which are waiting to be assessed as to whether they're worth protecting further.
The easiest way to preserve such rivers in their wild state, wrote Wright, would simply be to reclassify the stewardship land they flow through as national park. Federated Mountain Clubs picked up the idea and is advocating for a Wild Rivers National Park on the West Coast, which would protect 16 major river systems. (Much of the conservation land on the West Coast is stewardship land.) In the past decade on the Coast, the Waitaha and Mōkihinui rivers have been the subject of controversial hydro-dam proposals, neither of which proceeded; now, a plan exists to draw water from Griffin Creek.
"If you dam a river, that's the end of it," says Canard. "If you divert a bit of water occasionally, in summer, that's kind of okay. That's like giving blood, not like taking your arm off."
Canard counts off the losses. The massive rapids of the Waikato River gorges—gone. The country's best rapid, Sargoods Weir on the Clutha/Mata-Au—gone.
"I got a big list of rivers," says Canard, "and I went through and we had in New Zealand something like 25 major high-quality, really serious top-end rapids. There's only five left. And that was in my lifetime."
Kayakers focus on rapids, but a packrafting journey from source to sea is also a lesson in how humans have transformed New Zealand's waterways. Bilby has watched rivers change as industry clothes their banks. Chemicals from plant fertiliser, animal waste and human waste seep into water, and their effects are obvious. "You start off in the headwaters and they're so clear and pristine and drinkable," he says, "and then you're into the, 'Oh, this is disgusting. I don't want to fall out in this.'"
[Chapter Break]
In the calm water of the Arnold, I'm surprised to realise I'm bored. I miss the clarifying aspect of whitewater, the calm that comes from intense focus. I think I know why people do this: to access remote places within themselves. The internal precipices and deep, circulating holes and still pools of the mind.
Stu Bilby cruised down here on his traverse of the South Island, on his way to the Grey River/Māwheranui. For him, the length of a journey is the key, and adding packrafting to tramping means he can extend his travels even further.
"There's a really nice headspace about a long trip. It rewires my brain. I find myself thinking differently. I become much more alert. I notice I start thinking faster, and my navigation improves, I start smelling things, I navigate more by listening.
"We often argue on these long trips whether we're actually smarter or just feel like we're smarter. But I think you actually are smarter. There's lots of problems that you can solve faster when you've been walking for a while."
Dimozantos, on the other hand, likes the craft of it: "I'm quite a technical person and I enjoy the technical elements—understanding the river dynamics, and understanding what your paddle will do when you put it in certain positions and what your boat will do when you put it in
certain positions."
Bilby is planning a traverse of the North Island; it'll be a first. Dimozantos has bought a kayak to improve her packrafting technique. She won't tell me her plans, probably because they involve walking into places that haven't been packrafted yet.
"There are a whole lot of trips like that that just haven't been done," says Bilby. That's the appeal of it, too. "That sense that everything is new."