Gold
The onset of fever is quick. The bug goes straight in and buries deep. It can hit like flu, transmitted through words and touch. "Have a look at this," goldsmith Rob Heydelaar said, passing a thumb-sized vial half full of rattling yellow crumbs. Some were as thin as fingernail clippings, others plump like grains of rice but misshapen, like tears of solder splattered from the iron.
If ever there was a land of gold this is it!
The vial was heavy, boring into my palm. Its contents seemed radiant, each sliver a miniature gem, beautiful in its imperfection. A wave—part heat, part excitement—rushed over me, leaving in its wake goose bumps and tingling hair. In retrospect, this sensation—like a mild malarial shiver mixed with a pang of want—would be easy to anticipate, and perhaps to avoid. But I was unprepared, innocent and vulnerable, and before I knew it I was rapidly coming down with severe gold fever.
To be sure, I've come into contact with gold many times before. In my decade and more of roamings for this magazine hardly a story has failed to contain at least some "colour": the Barrington duffer rush in the south-west and Charlie Douglas's ruminations on gold and human nature; Cavie diving the rapids of Buller River; the gold diviner in Marlborough; the Moria-like mining tunnels in the Paparoas; the sieved-through landscapes of Charleston; the Clutha dunes piled high by dredges. There have been vestiges of gold wherever I've looked. At times it has seemed as if this country was built on and because of gold.
The major New Zealand gold rushes, on a par with those in North America and Australia, put the country on the world map, making it a promised land where instant fortunes awaited the most industrious and daring. Thus gold became the primary motive for the exploration of New Zealand's interior and for the influx of settlers, which is why our folklore explorers usually have a panning dish dangling from their swag. The early gold-hunters must have felt the same fervent excitement that was short-circuiting my neural network as I stood in Rob's Alexandra workshop. The prospect of imminent wealth that would turn the wolf at the door into a loving pet; visions of eclectic leisure and luxuries—all stretched before me.
I have owned items of gold over the years—bits of jewellery, an odd bar, once even an engagement ring—but never before had I been so near so much gold, up so close and personal. And raw gold—pieces not bought but found, and nuggets in particular—seems to exude a certain magnetic aura. (Gold's chemical symbol, Au, comes from the Latin aurum, meaning "shining dawn"). It's so pleasingly tactile you want to finger and fondle it, and definitely not put it back in the bottle. Later I would learn about another gold dealer in Alexandra who used to hand his buyers a large nugget to hold for a few moments. Invariably they reported that it glowed with some inexplicable inner warmth.
A life-long gold-bug, jeweller and treasure hunter, Rob too knew how to fuel the heat. "There is plenty of it left in the hills," the tempter said, nodding towards the foothills of the Old Man Range behind his property. "The diggers only took what they could see, and besides, they were in such a mad rush to get the easiest pickings they missed a lot of good gold. Now, with new technology, we can really clean up after them."
This particular technology, Rob explained, came in the shape of a super-sensitive metal detector. It consists of a computer the size of an ice-cream container mounted near the handle of a crutch, at the foot of which is a dinner­plate-sized sensor which scans the ground. It comes complete with headphones and, in later models, discrimination circuitry, which tunes out unwanted scrap metal. It also happened that Rob's brother Pieter was the world's leading user of such devices and had made a fortune detecting gold nuggets from Western Australia to Arizona. Rob had accompanied him on several expeditions.
[Chapter break]
The next day we were out early, driving up a mountain along a rutted farm track. Rob parked his 4WD, assembled
the detector, donned a set of headphones and tied a tool belt with a pick, garden trowel and plastic cup with perforated bottom round his waist. He had made barely a couple of sweeps near the vehicle before he stopped and listened intently. Then he moved the round foot of his detector in decreasing crosses above the ground as he zeroed in on the signal. He scratched the sun-baked earth for a while, scooped some of it into the plastic cup and sieved out the sand. At the bottom, among the pebbles and bits of dried thyme, there glittered a single crumb of gold.
"Your first nugget," he said. "There must be plenty more around here." Then he climbed back behind the wheel and drove off, leaving me with his gear in the middle of what felt like a minefield laid with gold.
It was a long and thirsty day, poking about the old diggings and cavelike dwellings at Conroy's Gully, where, in October 1862, freelancing prospectors boasted of getting 200 Troy ounces (6.22 kg) in one panning, while others washed 580 T oz (18 kg) in three weeks of work. (The Troy system of weights is used for precious metals and gemstones: 24 grains = 1 pennyweight; 20 pennyweights = 1 ounce; 12 ounces = 1 pound.) It was reported that this golden gutter was so rich the men digging there forsook referring to pennyweights and ounces and talked in pounds of gold instead. I returned to Alexandra with barely weighable slivers but these still made my host ecstatic: "You have found gold! On your first day! That's incredible," Rob enthused that evening. Out came Dutch cheese, bread and moonshine.
The technology worked well, I reported, too well perhaps, for along with the few specks of gold I had found an untold amount of metal junk: nails and wires, lead pellets and ammo shells, even an old coin. Ah, but that was all good, gushed Rob, unfazed. With time and experience I'd come to differentiate the junk by sound alone. In his detecting heyday, he could tell not only when he'd found a piece of junk but what size it was too. A nail, for example, gave off a sound like a whining cat if tracked lengthwise. The sound of gold, on the other hand, was unmistakeable—as clear as a gong.
That night, at Rob's, life seemed to have taken a radical turn. His brother Pieter, Rob told me, spent much of his time living out of a 4WD camper, swagging about in the Australian outback, following the seasons and his nose for gold, living a dream and making a golden living at the same time. It was an irresistible idea—a treasure hunt and a road map for a life of freedom. To go walkabout in the hills, breathe in fresh air and the expansive Otago vistas, get a good tan and find enough gold to make it all financially worthwhile. Who could ask for more?
But there was one critical factor to consider, Rob warned: only the duffers and the wannabes poked about hoping for a lucky break, a lottery win. The pros like his brother researched meticulously. They did most of their work before they left home. And only the amateurs bragged about their finds. There was a code of silence among the elite gold-hunters. No names, no places, no amounts.
"Here," Rob said, handing me the detector and giving me a bear slap on the shoulder, "I'm getting too old and comfortable for this. Get out and have a go. You can pay me back in gold."
To my surprise, he wasn't joking.
[Chapter break]
From time historical and beyond, gold has exerted an unrelenting grip on human imaginations, hearts, souls and pockets, and at least part of this innate, almost genetic, fascination with gold can be attributed to the metal's extraordinary properties. These are such that it is easily perceived as the ultimate substance, the ne plus ultra of the physical realm. Thus it is no surprise that it played a central role in the pseudo-scientific predecessor of chemistry known as alchemy: the transmutation of other—inferior—metals into gold; or, more symbolically, the transformation of the base into the perfect, the mortal into the immortal.
Perhaps most striking, gold is virtually indestructible: all of the gold ever mined on Earth—guesstimated at about 145,000 t—still exists today, and is as brilliant as ever. It has not tarnished, rusted or corroded because, as one of the least reactive metals, gold is unaffected by air, heat, moisture and most solvents.
It is also the most malleable and ductile of all metals: you can stretch a Troy ounce of gold (31.1 g) into a wire 80 km long, or hammer it out into a super-thin sheet 3 x 3 m wide. Moreover, you can work gold countless times—melt it, pour and quench it, stretch it, hammer it out, roll it up, re-melt it, again and again—and it will show no sign of fatigue or weakness. Throughout, it will retain its colour, its aura, its structure, its perfect composure.
This retention of qualities under the most testing conditions; the metal's exceptional conductivity of both heat and electricity; its superb reflectivity (pure gold reflects up to 99 per cent of infrared rays; the mirror of the world's largest telescope, in Hawaii, is coated with gold )—all make the perfect metal an invaluable and highly sought-after material.
In our everyday lives we are surrounded by gold, albeit in the tiniest quantities. There is almost-pure gold in the mouthpiece diaphragm of your telephone and the phone jack contacts, on the surface of your CDs, and in every TV, VCR and copying machine, in which gold-coated mirrors are used to reflect heat. You'll find gold in the sensors for air-bag deployment in your car, in aircraft engines and navigation systems, in the jet nozzles of the space shuttle and in fire-fighters' protective suits.
Pure gold is also the key connecting element in all silicon circuitry—in the form of both bonding wire (with an average diameter of 0.01 mm) and the paste which is printed onto ceramic bases to produce circuit boards—and thus forms the neural network of our information age. Coating with gold has also long been used in architecture for non-corroding decoration, and is proving increasingly useful in the pursuit of energy efficiency. Technological advances that allow the application on glass of an extremely thin coating of gold—as little as a Troy ounce of the metal spread over 90 sq m—have led to the construction of gold-and-glass buildings. With the gilded surface reflecting the summer heat out and the winter heating in, this technology is reported to cut the costs of air-conditioning by some 40 per cent.
Being non-toxic, non-allergenic and biologically inert, gold also finds wide use in medicine, particularly dentistry. By the 7th century BC, the Etruscans were using gold wire to make substitute teeth. Gold's inherent softness—pure gold is no harder than fingernail—means dental gold has to be alloyed with palladium, silver, copper or platinum to give it the necessary tough cutting edge, but an average filling is still 62–90 per cent gold. Annually, some 60 t of gold are turned into new teeth, making dentistry the world's second-largest consumer of gold after jewellery.
From trinkets and knick-knacks to fountain pens, Olympic medals and crown jewels, jewellery uses about 65 per cent of all gold available to the market—some 2000 t per year. Here, too, the yellow metal is usually alloyed with additives which add hardness and can also alter its colour. Thus melting in silver results in green gold, aluminium makes it purple, copper turns it red or pink, while zinc, nickel or platinum make white gold. It is a legal requirement in most countries that jewellers state the degree of purity of the gold in their wares, and this is traditionally expressed in carats (or karats), a measure derived from the carob bean, once commonly used as a units weight in Oriental bazaars (qirat in Arabic, equivalent to 200 mg). Gold of 99.99 per cent purity is defined as 24 carat, while 18 carat alloy—the most popular variety—is 75 per cent gold, containing 18 parts gold and 6 parts other metals.
Nelson jeweller Thorkild Hansen, who made the One Ring for Peter Jackson's film trilogy (actually, he made several One Rings, the largest with the diameter of a Frisbee), says that the kind of jewellery a culture wears is a direct expression of its values. Thus, in Western jewellery there is more emphasis on design and aesthetics than on weight and purity. In the Middle East, India and Asia, on the other hand, where craftsmen are cheap and artists plentiful, good jewellery is heavy jewellery, and you literally wear your fortune, even if that means a sore neck and elongated ear lobes. An example of the latter approach is the chukkam, or pure-gold, jewellery common in China and Hong Kong. Never mind artistry, it's the almost 24-carat gold that matters here. Which brings us to the final and most important use of gold, its very essence and meaning. Be it because of rarity, difficulty of extraction, charm—whatever­ gold has always been civilisation's universal currency. Its intrinsic value has weathered history's upheavals and the rise and fall of world powers with their dreams of dominion and "hard" currencies.
From about 1500 BC, gold was money, a standard medium of exchange for all trade whose first expression was the shekel, a coin originally weighing 11.3 g made from the naturally occurring alloy electrum, containing approximately two-thirds gold and one-third silver. Around 1091 BC squares of gold were legalized in China as a form of money, and in 50 BC the Romans minted a gold coin called the aureus. By AD 1284, Venice had secured its position as the gold-market leader and introduced the gold ducat, which remained the most popular coin in the world for more than five centuries. Later, among others, came the florin (variously Florentine, British and Austrian) and the British noble, crown and guinea.
But gold coins were clunky and cumbersome (gold is twice as dense as lead—a tonne could be fitted into four or five shoe boxes), and their jingle easily attracted unwanted and often violent attention from have-nots. Wealth was literally a physical burden, and often life-threatening if you had to travel with it. Banks came into being, first as repositories of gold, then also as facilitators of its transfer. For your bailment of metal you received a bank note stating you had so much gold in the bank (this practice survives in Switzerland). Later, bank notes began to come in specific denominations, which is how we arrived at money as we know it today.
Notes were as acceptable a form of money as gold, and much handier. Their worth, however, derived directly from the banks' gold reserves—the piles of the precious metal stored in their vaults—and in times of trouble governments printed more notes than there was gold in the coffers for them to represent without losing value, thereby plunging their countries into hyperinflation. Thus the gold-bugs of the world, still adhering to tradition and the cumbersome but unsurpassedly pleasant business of gold weighed in the hand, coined the term fiat money, meaning currency conjured out of thin air—or paper and ink, or, today, the virtual realm of the computer; one that has no, or limited, physical back-up in the form of gold reserves. Most modern currencies lack a golden foundation. For example, when the Euro was introduced in 1999, it was backed up only 15 per cent by gold.
Recent developments, however, may see your wallet containing once again not wads of folding plastic but clinking coins. In 2002, Malaysian Prime Minister Mahathir Mohamad proposed a return to "real money"—the dinar (4.25 g of 22-carat gold) and the dirham (3.0 g of silver)—and to use this currency instead of the US dollar in all international trade among Islamic nations and communities. Since then, the two coins have been accepted in 22 countries and produced in four mints, and, of course, have been quickly followed by their electronic equivalents, the e-dinar and e-dirham. They have given rise to what market observers term the "gold bloc".
One of the founding principles of Islam is a religious tax called zakat, which cannot be settled with a promise of payment—an IOU, draft, cheque or bank note(s)—but only with real stuff: flocks, grains, fruits, gold or silver. In Asia, too, memories are still fresh of the 1997–98 economic meltdown, caused largely by currency speculation. In comparison, the tradition of the two hard metals considered the most stable currency the world has ever seen offers reliability. As the e-dinar pulpiteers put it, a chicken at the time of the Prophet Mohammed cost one dirham, and today a chicken still costs one dirham. Which gives a zero inflation rate over the past 1400 years. Gold and silver, they add, are independent of all financial systems, governments and politics. They cannot be speculated with, inflated or devalued; furthermore, if universally accepted by the world's 1.3 billion Muslims (some 20 per cent of the planet's population), they could, inshallah—and what a nice added bonus—end the global hegemony of the greenback and all that it represents.
Not that we Westerners no longer have our own pure-gold money. The US has its eagle, Canada its golden maple, the British their sovereign, South Africa the Krugerrand and New Zealand the golden kiwi. Like relics from a by-gone era, these seem but numismatic treasures, eye-catching if out-of-vogue collectables. In some circles, however, they have lost neither their purchasing power nor their attraction.
[Chapter break]
In Auckland, researching the future markets for my imminently forthcoming of nuggets, I visit the local branch of AGR Matthey, one of the world's most prominent precious-metal dealers and refiners. In New Zealand, if you're buying or selling gold—coins, bars, granules or wire—this is a good starting place.
"It is odd," the manager Clair Goldsworthy tells me, "that, despite our golden past, there is almost no tradition of owning gold in this country, no awareness of using it as an investment tool. In Germany, Switzerland or Asia, you can walk into a bank and buy gold bars, but not so here. There is neither the demand nor the habit." Consequently, some 95 per cent of AGR Matthey's business comes from supplying the jewellery industry.
Still, Goldsworthy says, there is always a small group of New Zealanders, usually middle-age plus, who own and keep gold. These days, when a sharemarket hotshot is one of our pop icons, hoarding gold may seem a trifle retro, but, she assures me, around the country there are more than a few cookie jars filled with bars and coins, stashed away just in case.
Gold always comes back into favour at times of global instability, a safe haven in which to weather political and economic storms. Immediately after 9/11, gold's popularity soared, and when a certain much-denigrated president was addressing his nation to say whether he would take it to war with Iraq or not, the graph of the gold spot price recorded an earthquake like jump. Ever since, the gold price has been experiencing a palpitating rise­ with occasional hiccups—to reach a five-year high of US$425 per ounce.
Trading gold is easy, Goldsworthy says, and the metal's liquidity means that reputable dealers offer a buy-back guarantee. Sell and buy prices are different, she explains, and fluctuate daily with the international spot price. "You call us with an order and we fix the price, which stays valid for 24 hours. You transfer the funds and we send you the gold. It's that simple." Meaning the yellow stuff is thrown on your doorstep with the newspaper? CLANG! "Most buyers either come in person to collect or opt to have their gold sent via ordinary courier mail," Goldsworthy confides. No armoured vans, no security—the less attention the better.
In the AGR Matthey's pantrylike vault I see a lot of gold: TipTop ice-cream containers full of granules of all sizes, wires and sheets, books of gold leaf buttery to the touch and so fine it's almost see-through, and, of course, bars—of one, two and five ounces, like oblong pieces of chocolate in gilded wrappers, all stamped with the hallmarks of their Perth refinery. I feel the now-familiar tingling, particularly when I hold a kilogram block—only the size of a bar of soap but hefty enough for a biceps workout.
All this gold and not many buyers, I reflect. What of our taste for enduring values? When the world's markets went into a dizzy spin during the aftershocks of 9/11 and even the safest investments and retirement funds were making compounding negative returns, I read a memorable piece of advice from an internet financial guru swamped by desperate "What do we do now?" questions. "Buy gold in New Zealand," he counselled. Somehow this combination of value and location seemed the epitome of safety in a world of chaos.
Ah, but why buy if you can find your own? Thousands have, and many still do. The earliest known traces of mining for gold date back more than 6000 years, and it's not unlikely that the story of the Argonauts and their Golden Fleece has its origins in a raid on miners who used sluicing contraptions lined with sheepskins (instead of the carpet common today) to filter out grains of gold from surface sediments.
The first known gold rush was the Spanish conquista of South and Central America in the 16th century, fuelled by visions of the Rio de Oro (River of Gold) and El Dorado (a fabled city rich in treasure). From the mid-1850s until the turn of the century, several major gold rushes—this time of itinerant miners rather than soldiers—flared in the New World: California in 1848, New South Wales in 1851, British Columbia in 1858, Otago in 1861, New Zealand's West Coast in 1864, and finally Klondike in 1896.
In New Zealand, gold was first discovered in the 1830s by whalers, convicts and ship deserters living on Beesons Island (now Whanganui Island), near the entrance to Coromandel Harbour, but it was the 1856 finds in Aorere Valley, Golden Bay, that sparked the first big rush. This was followed by the rush in Otago, one in Marlborough (1862) and then the one on the West Coast. In 1866 New Zealand production of gold reached 735,000 oz (over 22 t), a record that has never been bettered.
At first it was every man for himself, a stake-­your-claim-and-dig-out-your-fortune kind of affair, with itinerant prospectors fanning out across the country, each hoping for his personal lucky strike. The 1861 discovery of gold near Lawrence by Tasmanian Gabriel Read resulted in a rush involving tens of thousands and a yield of 12 t of metal in the first year. And that was only the beginning.
One March Sunday in 1862, Thomas Arthur found himself at Overshot Creek (later Shotover), and with a milking dish and knife gave it the reputation of the richest gold-bearing river in the world. Arthur and fellow shepherd Harry Redfern gathered almost 1000 oz (31 kg) in two months. Such were the riches of the Shotover that the first consignment of gold, floated down to Lake Wakatipu in a whaleboat, totalled 25,000 oz (778 kg), worth a cool $15.5 million at today's prices.
By August that year, Horatio Hartley and Christopher Reilly had washed out some 1100 oz (34 kg) in about two months in the Clutha River's Cromwell Gorge, while in the upper Shotover Gorge, in the place subsequently known as Maori Point, Dan Erihana and Hakaria Haeroa, who swam across the river to rescue their drowning dog, found a beach paved with gold and by nightfall had picked up almost 400 oz (12 kg).
The nearby Arrow River hid similar fortunes. When prospector Thomas Low, stopping to quench his thirst from a trickle of water running down a rock face, grabbed a clump of tussock to steady himself, a gold nugget fell out from under the grass. Low walked on and found gold everywhere, "scattered in pieces for fully a hundred yards, the same as if it had been sown like corn on a field". The Arrow gravels were so thick with gold that an 1862 digger wrote: "I am making my fortune fast, this is the richest river in the world. I walk in up to my waist in water, put down the shovel, and bring up 5 to 6 ounces of gold." Instantly, the settlement of Arrowtown sprung up at the mouth of the river gorge, a temporary home to some 2000 diggers and a conduit for some 6000 oz (187 kg) of gold a month.
The next mega-rush erupted on the West Coast, following the discovery of gold at Greenstone Creek, between Kumara and Lake Brunner. It swelled the region's population from 150 to 30,000, giving rise to a string of instant towns. Prospector Charles Money recalled the birth of one such settlement: "At dawn… we were surrounded by an eager mob­ lighting fires, pitching tents, drinking, fighting, cursing and shouting, all at once. By eleven o'clock, in the heart of the dense and almost untrodden bush, a street had arisen… stores, shanties, public-houses, butchers, bakers and doctors' shops were to be found on every side." The towns, of course, could become deserted equally quickly at news of another, invariably bigger and better, find.
There seemed to be no limit to how much gold could be found. For example, the first four men to try black-sanding on the Coast in 1865 collected 2500 oz (78 kg) in six months, and there were black-sand beaches all the way from Karamea to Jackson Bay. Eventually, the Coast's total gold production would exceed 205 t, and Otago, with its 80 separate gold­fields, would yield some 195 t—each about twice as much metal as won from the famous Klondike. No wonder that in Dunedin—New Zealand's biggest city at the time—business boomed to such an extent that, in 1862, there was talk of South Island secession and the set­ting–up of an independent colony.
However, just as the scales of wealth were tipping in favour of the Mainland, the 1867 discovery of major gold reefs on the Coromandel Peninsula returned them to equilibrium. Towns like Thames, Coromandel and Waihi appeared overnight and the population of the region reached 18,000 in a matter of weeks. What became known as the Hauraki Goldfields proved to be the richest of all New Zealand's deposits. In 1871, a single shot of three explosive charges in Thames' Caledonian Mine brought down two tonnes of quartz and 25,000 oz (778 kg) of gold. Hauraki's official production of gold and silver reached 1170 t, although gold-prospecting and -finding, at least before its industrialisation, was an inherently unofficial pursuit, so total production would certainly have been greater than this.
As the easy pickings were exhausted the miners resorted to more industrial methods. They built elaborate water races so they could sluice elevated terraces with high-pressure water hoses, sunk deep, probing shafts into the underlying bedrock and carted immensely heavy machinery about the craggy countryside. They also began to turn over riverbeds, pioneering the use of gold dredges. The first steam-powered machines churned the bottom of the Clutha in 1881, where Dunedin became the world's first commercially successful gold dredge, operating until 1901 and recovering 17,000 oz (529 kg) of gold. The pickings were so rich that during the heyday of dredging, from the 1890s to 1915, over 200 machines of various sizes operated in Otago and Southland. On the lower Kawarau, today an arm of Lake Dunstan, a dredge had to move only half its length to pay for itself.
The gold rushes quickly fizzled out, and with them went the romance and adventure of treasure-hunting. Mining became an industry requiring increasingly more sophisticated machinery as well as considerable capital. Relying more on science than luck, mining companies began to work the gold-bearing grounds more methodically, particularly in the areas which had been "rushed". The Hauraki Goldfields, including the Martha quartz vein discovered at Waihi in 1878, were a point in case. The gold locked in their rich hard-rock deposits was so fine that, try as they did, the early prospectors simply could not extract it. However, in 1889 a cyanide-solution process was trialled at the Crown Battery in Karangahake on crushed rock and proved so effective it led to a new and long-lasting boom in Coromandel mining.
By 1911, Martha was New Zealand's biggest gold mine and the nearby miners' town of Waihi, population 6500, the largest town in the region. Four decades later, Martha's production, after the processing of nearly 11 million t of underground ore, totalled some 5 million oz (155 t) of gold and 35 million oz (1088 t) of silver. With the largest known hard-rock gold deposit in the country, Martha is still productive, operating today as an open-cast mine. All up, the Hauraki Goldfields' gold and silver production—the work of several hundred mines gnawing at 50 separate deposits—is estimated to have been worth about $6700 million at current metal prices.
For us 21st-century beings, with all our modern conveniences, it is nearly impossible to comprehend the grit and courage of those early gold-miners. "There was great comradeship among those men," geologist Stuart Rabone told me. "They worked together in dangerous situations and had only themselves to rely on. This type of narrow vein mining in the Cornish style is extremely skilled, and tough on the mind and body." Expressions like "between a rock and a hard place" come from such mining situations. Following a one-of-a-­kind idea, in 1999 Stuart began re-opening an old Coromandel gold mine, restoring it after a century of decay, to a working demonstration of traditional mining methods.
The site, at Broken Hills, is in bush reserve managed by the Department of Conservation, and the preservation of the mine workings fits in with the conservation of the natural and historical features of the area, providing a unique window into our gold-mining heritage.
I meet Stuart at the mine's timbered portal which is overhung by native bush and ferns. Walking past, you could miss it altogether and it gives no hint of the rabbit warren of tunnels that extend kilometres into the hard rock of the mountain behind. But now it's smoko and the crew are out for fresh air and sunlight. Wayne Green ("Greenie") a man of quiet strength and a tunneller of great experience, and Mark Edgecombe ("Ox", of massive physique), yarn about the daily news. Stuart's sons Tom and Vic are also on hand helping with the mine work.
Coromandel gold is epithermal, deposited in fractures and cavities by hot fluids associated with volcanism about six million years ago. Stuart explains, "The ore at Broken Hills is in quartz veins in rhyolite rocks, and the mine was unique in the Coromandel in winning paying gold from rhyolite 'country'. Hot spring and geyser deposits on the hilltop above the mine were formed where the geothermal fluids reached the surface, and provide a fascinating geological link with the mineral deposition occurring deeper in the earth."
Stuart shows me a map that reveals the mountain is honeycombed with tunnels. This kind of mining—stope-mining—he explains, is a process of following and removing veins of quartz, sometimes no wider than the pages of this magazine.
Smoko over, we follow the crew into the mine, past a figure of St Barbara, the patron saint of miners, and along a narrow gauge railway track. There are a few modern conveniences, like battery cap lamps, but otherwise we are back a century or more.
The mine was originally developed by an English company in 1895, but although they spent a great deal of capital setting up a battery, they became disillusioned before tunnelling work had been significantly advanced, and sold the mine and plant at auction in 1899 to the well-known entrepreneurial mining engineer H.H. (Henry Hopper) Adams. Adams formed the Tairua Broken Hills Gold Mining Company with a local syndicate, and mined very successfully from 1899 through to 1912. At its peak more than 200 people worked there and the nearby Broken Hills township had its own hall and post office, and even a jail cell hewn from solid rock. But the Great War brought an end to operations, and apart from a little work by individuals during the depression, the mine was abandoned for the next 70 years.
The surrounding kauri forest provided a ready source of wood, and timbering of passages and shafts was a skill of the highest order, keeping the workings from collapsing and protecting those who worked there. The original timbers have rotted away, and Stuart and his crew have replaced them following the original timbering methods. The tunnels are just high enough to walk through, helmet or light often scraping against the roof. Where the quartz seams have been worked upwards, multiple timber stulls hold the stopes open. The floors of the tunnels are only the width of a hand-truck—no room for claustrophobia. The feeling that I am caving stays with me throughout my time at the mine, but these caves have been made by hand, picked away piece by piece, worn not by rivers but the determination of the miners. I see the stumps of century-old candles, held in little lumps of mud on rock edges, where the hand of a brave unknown miner stuck them so long ago. The time-warp illusion continues as around the bend of the tunnel I see Tom and Vic loading another bin from the rockpile.
And there are other haunting mementoes­ recently on a wall in a long-abandoned part of the mine, the crew noticed a piece of 'graffiti' from yesteryear, written with the soot of a carbide lamp: "As you sow, so shall you reap".
Meanwhile, a certain disquiet is burrowing into my rookie gold-hunter heart: these men never see as much as a sprinking of gold, never mind a nugget. All they ever work with is the broken ore—sticky, yellow-brown and wet, like so much rubbly "dirt"—and indeed the old miners called it "dirt", or "paydirt" if it was rich. Only then do I recall the words of Rob Heydelaar: "If you can see gold in the quartz veins then the reef is extremely rich."
But how is a hunter to pursue his quarry without seeing it? "Research! Research!" a man I shall call RKC told me a few weeks later. "Stay away from epithermal gold. Stalk the gravels of known gold-bearing rivers, particularly after a fresh, and don't forget old workings. Big nuggets [like New Zealand's largest, the 99 oz (3.1 kg) Hon. Roddy, found at Ross in 1909, and the 87 1/2 oz (2.7 kg) Victory, unearthed at Moonlight Creek in 1917] often come from abandoned claims and mines." Above all, he added, keep it quiet and never give up.
I was sifting through an international gold prospectors' forum on the internet when I came across RKC's surprisingly well-informed and thorough writings. I emailed him with a few questions and it turned out that he lived and worked only half an hour away from me. He agreed to meet on standard gold-hunter terms: no names, no places, no amounts. Which is why I have to refer to him by his chatroom nom de plume. A lifetime prospector, he has roamed wherever gold has glistered, most recently around the hill-tribe forests of Papua New Guinea. He has prospected much of the South Island, often helicoptering up remote river valleys. He knows most of the pros in this shadow industry, and, unusually, was prepared to talk about it.
"It is a young blokes' game," he said with his still-strong Aussie accent. At 55 he was getting too old to spend his days in the single-digit temperatures of mountain rivers, he said. And so he was moving into a consulting role, helping others to get started.
Superimposed over the map of New Zealand was another set of data, RKC explained, one which delineated stated gold claims. Most of the good gold-bearing ground had been claimed but little of it was being systematically mined. Usually, the owner of a claim would be only too happy for someone to work it, the standard royalty being 10–20 per cent. Such small-scale gold-mining operations were usually worked using a digger-and-screen method (inherently messy and likely to attract environmental opposition) or by suction dredging. The latter was the preferred option, RKC said, himself a dredging specialist. Portable, environmentally acceptable and offering good returns, dredging was nothing more than vacuuming river bottoms for flakes of gold. However, because it was physically demanding, it was unlikely to attract any but the grittiest.
One such man is Danny Walker of Takaka, perhaps the country's most successful dredger, who for nearly six years dived the gloomy chasm of Lyell Creek in the upper Buller Gorge. In one year he found about 250 oz (7.8 kg), the following year 150 oz (4.7 kg) in just one month. As well as diving and dredging in New Zealand mountain rivers, Walker now works a digger-and-screen operation in Mongolia. A direct descendant of John James, co-discoverer of the Collingwood deposits, Walker says he has gold running in his blood.
But you don't need to go to Mongolia to find gold; in fact, as deer farmers Dave and Helen Stewart discovered in the early 1980s, sometimes you don't even have to leave home. They discovered a rich gold seam running right under the floor of their house in Woodstock, south of Hokitika. Even mowing the grass was a kind of gold-prospecting because the mower used to turn up sizable nuggets. The Stewarts were told that if they didn't claim the gold on their 20 ha property, a big company might, so they got a prospecting licence and, just testing the ground, found some $93,000 worth of gold in a month. They borrowed heavily, bought diggers and trucks and took on six employees.The driveway went, then the orchard. Soon the house was but an island surrounded by diggings up to 20 m deep. On occasion Helen had to hitch a ride in the bucket of a digger to get from the house to the road. The noise of the four diggers shook and rattled the house from dawn to dusk. It was so loud, Helen recalled, you only heard it when it stopped. But the gold made it worthwhile: with a daily haul of up to 30 oz (0.9 kg), they extracted some seven or eight million dollars' worth in total. Eventually, costs began to exceed returns, and the Stewarts wound down the operation and moved on.
Traditionally, RKC reminded me, gold-prospecting has been done with either a panning dish or a small portable sluice-box. This kind of fossicking has also become a popular recreational pursuit, the stuff of a working holiday. Whenever you drive down the Coast you're likely to see someone scratching around with shovel and pan in the Arahura, Mikonui or Grey Rivers. There are also 16 designated fossicking sites in the South Island where you can hunt without a mining permit¬ as long as you use hand-held non-motorised equipment. Fossicking sites are often located where major rushes once occurred, in places like the Aorere River, Lyell and Moonlight Creeks, the Arrow River and the lower Shotover.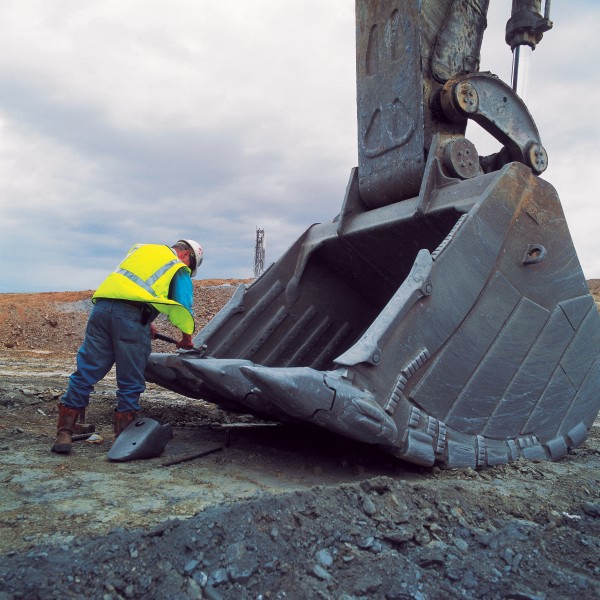 For a serious pro, however, fossicking was just child's play, RKC said. Detecting nuggets, an esoteric trophy hunt, was also more hobby than business, he declared, but here the stakes were higher, the pay-offs potentially greater. Let's not forget that the biggest nugget ever found—the Welcome Stranger, unearthed in Victoria, Australia—weighed 2276 oz (70.8 kg), and that a lot of South Island gold is coarse and nuggety. Among the most recent finds were pieces of 20 oz, 17 oz and 10 oz (0.6 kg, 0.5 kg and 0.3 kg), added RKC, "and that's only what we hear about". (A large nugget is today considered more a gem than simply a lump of gold, and, as such, can fetch a price up to twice its weight equivalent.)
In this business you went broke easily and often, RKC concluded, but when things went well you could get back on your feet equally quickly. "I was working the Arrow—perhaps the most heavily dredged river in this country—and I was still picking quarter-ounce nuggets off the ground," he said. "If you look hard enough you're going to find your share."
This is certainly true of industrial gold-mining, though here the scale, complexity and microscopic precision of extraction can be staggering. If my nugget-detecting was a needle-in-the-haystack kind of quest, at Macraes Flat, in coastal Otago, the gold-miners seem to pursue the traces and residues that such needles may have left behind. In their quest they leave no stone unturned, unground, unsieved, methodically churning through mountains of rock. Surprisingly, those traces and residues add up to impressive amounts. As I stand in Oceana Gold's gold room, holding a 20 kg brick of gold—it's only the size of a squashed loaf of bread—I again feel the familiar tingling. Here's a portable and compact retirement package!
I have come to see Oceana Gold's mining operation, a series of open-cast pits scattered through hilly pastureland, because it's the country's largest and most sophisticated example of modern-day gold extraction. "Macraes Flat had already seen one prolonged if intermittent boom, from 1862 to 1950, and so all the easy gold is long gone," my guide, Mark Cadzow, formerly in charge of the processing plant and now the company's sustainable development manager, says. "The ore is very low-grade. It contains only one-and­a-half grams of gold per tonne, which means that for the 1.7 million ounces [52.9 t] we have extracted since 1990, we've had to process some 41 million tonnes of ore. Without the high-capital, high-tech approach, mining here would not be economic." And most likely not worth the trouble, which, as you will see, is considerable.
In a ute with flashing amber lights I am taken on a whirlwind tour of the site by Mark and Barry Matheson, one of the mine's technicians. The entire operation is a Tim the Toolman's world of horsepower in the thousands. Along the terraces of the pit, monster diggers scoop up loads of freshly blasted rock and dump them into the trays of even more monstrous trucks. Barry confides with pride that, in his spare time, he drives one of the trucks himself. "The biggest can carry up to 190 tonnes," he says. "Each tyre costs something like $25,000."
Following the flow of ore, we drive to the processing plant, a multistorey suburban block of mills, tanks, vats and cyclones interconnected with a vascular system of plumbing. The process of gold extraction is complex but, in a nutshell, the ore is crushed and ground in a series of mills, turned into a slurry, then "floated"—mixed with an additive (sodium isobuthyl xanthate) and aerated with bubbles. The additive makes the gold-containing sulphide minerals hydrophobic­ they adhere to the surface of the air bubbles and, suspended in the froth, are thus separated from the slurry. The froth is pressure-oxidised in an autoclave and the resultant acidic sulphides are neutralised with caustic lime, before the particles of gold are dissolved by cyanide and adsorbed on carbon. The carbon is then leached with hot caustic soda and more cyanide, the latter by now containing all the extractable gold. The gold is separated from the cyanide by electrodeposition, collected onto steel wool, smelted and poured into bricks.
"The recovery rate is about 84 per cent," Mark says. "Some 180,000 ounces annually, and getting better every year."
All in all, an ounce of gold costs about $440 to extract, which at the current gold price of around NZ$620 an ounce makes for a handsome profit. This is the bright side of gold-mining.
But there is a darker, more troubled flipside to gold-getting. Because Au is chemically inert, it can only be extracted by bonding it with an extremely reactive, and hence toxic, substance. Traditionally, mercury was used to dissolve gold, and the mixture was boiled until all the mercury had evaporated. The toll on miners unaware of quicksilver's toxicity must have been enormous. Val Currie, a fourth-generation West Coast gold–miner, once told me that the resulting malady was known as the hatter's disease (hat-makers used to use and ingest mercury, which caused insanity). "Your hair fell out, your teeth fell out, and you died laughing," he said.
During a recent trip to Brazil—a country still in the grip of pick-and-shovel gold fever—I saw what those early New Zealand rushes must have been like: thousands of people digging in excitement, pouring tonnes of mercury with carefree abandon. To produce each gram of gold required one to four grams of mercury, and some 40 per cent of this escaped—an estimated 128 t a year in the Amazon alone.
At Macraes Flat, the most dangerous substance is cyanide, which, Mark assures me, is completely contained within the plant, with no chance of it leaking out. "Technologically, we have come a long way since the days of pouring mercury out of buckets," he says. "The industry has a strong awareness of the health, safety and environmental issues. Also, New Zealand has some of the strictest mining standards anywhere­ half of our expenses are environmental costs—and there is no way we'd jeopardise our future or the environment by cutting corners."
Still, there is no avoiding gold-mining's shadowy past. "We are forever haunted by the sins of our forefathers," Mark tells me. "They left behind mess and pollution and we now have to work hard to earn back public acceptance, a social licence to operate." Indeed, Oceana Gold seems to spare no expense to accrue public credits, to show itself as a good neighbour, and Mark makes sure I'm clear about that.
The land, once mined, is rehabilitated back to pasture, and you can see stock grazing where only a few years ago there was a big hole in the ground. The topsoil is conserved and reused; even the contours of the backfilled hills retain that unmistakeably Otago lie of the land. Then there is the Heritage and Art Park which is to become a tourist attraction after the mine has closed, and—a joy to my eyes particularly—a trout hatchery for put-and­take fisheries in many of Otago's reservoirs.
"Look,"—Mark drives home his final trump card—"the total land disturbance that the mine creates is 550 ha, about half the size of an average Otago farm, and it provides jobs and contracts for some 300 people over a period of at least 25 years. When we leave here, the land will be rehabbed back into farmland, and the Heritage and Art Park should secure the future of the community beyond mining." It's not charity but good business sense, he adds. "Our philosophy is that if we do a good job here, it will help to change people's opinion of gold-mining and make it easier for us to get permits and resource consents elsewhere."
For now, "elsewhere" is the further expansion of Macraes, including an underground operation, a new venture near Reefton (an open pit at the Globe Progress mine and an underground redevelopment at the Blackwater, both about to start) and an advanced exploration at Sams Creek, near Takaka. With some 6.7 million oz of proven resources, Oceana's future in New Zealand looks distinctly golden.
Indeed, with a steep rise in the gold price, New Zealand may be about to enter a new era of gold-mining. The past two decades have seen a steady increase in both exploration and production. According to the Ministry of Economic Development, current annual gold production stands at some 11 t, mainly from industry heavyweights like Oceana Gold, Golden Cross and the Martha mine at Waihi, but also from about 50 other operations, small­to-medium-sized alluvial mines which, like the Stewarts of Woodstock, use excavators and mobile gold-recovery plants and whose total annual production tallies up to about 2.9 t.
Crown Minerals is trying to attract more miners here, estimating more than 300 t of gold remain on the West Coast and over 90 t in Otago, with more elsewhere. But I wonder why we need multinational bigfoots to get our gold out. Couldn't all the "colour in them thar hills" keep our own good keen men busy for decades to come?
[Chapter break]
Today I'm returning Rob Heydelaar's metal detector, wondering whether the few slivers of gold rattling in my vial
will make much of a payment for the use of his device. I'm also concocting a riposte to his inevitable jokes about why I'm not arriving in an Armourguard van. In the end my concerns prove unnecessary. Rob is a practical man and has already moved on. He shows me his new project: an ingenious prototype of a feral-cat trap which he hopes to mass-produce. "A boom for me, a bust for the ferals," he laughs, and props the metal detector in the corner of his workshop, until another dreamer comes along.
After a few months of intensive gold-hunting I, too, am moving on. I'm happy to report that I have fully cured myself of gold fever. It must have been the day when I dug a metre-deep hole in tough river gravel only to find a tiny piece of crumpled aluminium foil. The gold is out there somewhere all right, of that I
'm certain, but it's no route to instant wealth.