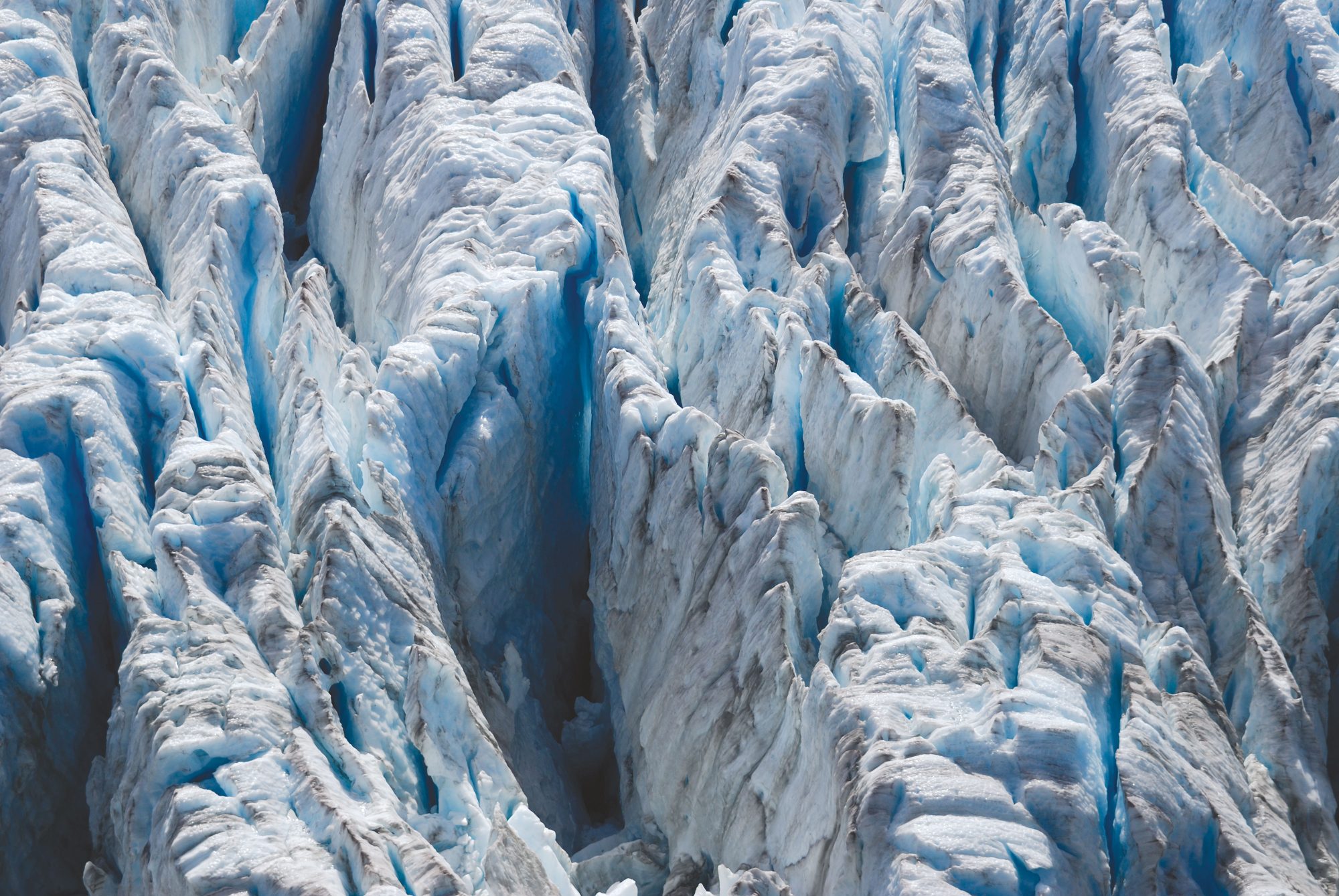 Fragile Wonderland
As temperatures around the world slowly rise, glaciers steadily retreat. New Zealand has over 3000 glaciers in its mountains, among them two of the fastest moving, most accessible and spectacular in the world—the Fox and Franz Josef. While thousands of annual visitors are impressed by the glaciers' immensity, fewer get close enough to examine the beauty of the ice that makes up these groaning behemoths.
Many different forces act on the face of planet Earth. We are all aware of the power of volca­noes, tornadoes, floods, tsunami, earthquakes, avalanches and like surprises that periodically buffet our world. All these powers of nature are destructive and potentially deadly. Yet although they leave scars on the land and in human memory, after a time the physical damage fades, remaining visible only to the trained observer.
This is not the case with one force which, due to its silent, slow but persistent action, can operate almost unnoticed. Ar­guably, the most destructive and powerful hand of Mother Nature on Earth lies in the ice of glaciers. We don't perceive glaciers as doing much harm to us unless we fall into a deep crevasse. Yet they change the landscape we inhabit more or less irreparably. Glaciers are literally excavating the moun­tains and destroying everything that lies in their way. They are imperceptibly scraping down ridges, gouging out valleys, conveying massive volumes of rock rubble and depositing it along their course, sometimes scores of kilometres distant from its point of origin. They are changing rivers, forming lakes, hills and so on. These seemingly sleepy, giant mon­sters are altering our environment on the grandest scale and forever. Because they are not fast, we don't notice their ef­fects immediately, but they are tireless workers, wreaking changes to astonish later generations.
In these times of global climate change, glaciers are giv­ing us some of the clearest signals about what is happening on Earth. Some changes in the atmosphere are rapidly re­flected in changes in a glacier's behaviour. Glaciers are also invaluable repositories of information about past climate, information that can be unlocked from ice cores containing annually deposited layers of ice stretching back for centuries or even millennia.
The general perception of a glacier is usually that it is just a huge mass of ice ploughing down a valley. This is absolute­ly correct, but everybody seems to miss the other side of the picture—the phenomenal beauty of its icy formations, and the simple spectacle of the blue ice itself. This is the arena in which I encounter widespread ignorance, as nobody seems to have tried to show all the facets of a glacier. I once knew nothing about glaciers either, but that has changed.
In 2001, I was on a year-long photo–hitchhiking–tramp­ing mission through New Zealand when I arrived in Franz Josef. My head was full of expectations and excitement about the world-famous sight, as I had not seen a glacier before. My first time, I made it just to the front of the glacier, not onto the ice itself. Nonetheless, I found it overwhelming, and hu­mility was the only word to express my first encounter. This experience stuck in my head as well as on the film of my camera!
My second visit came a few years later. This time I found myself treading over the lateral moraine and up on the ice itself with a full-day guided tour. What a sensational day! I was completely astounded by the beauty of the white-blue environment. It was incomparably different from anything I had ever seen before; like being in the dreamy world of Nar­nia, just waiting for the ice queen to arrive. I took heaps of photos, and after the film had been developed I found myself staring in wonder at those pictures. The urge to see more and more of this "blue stuff" drove me back to the glaciers, and I have been capturing the glory of the ice ever since. To­day, after several years of this icy relationship, ice and glacier photography has become my area of expertise. Needless to say, I am completely in love with the glaciers, which to me represent the fragility of a global environment which can be broken and lost so quickly, in the same way that a piece of ice can melt and disappear in your palm.
Most people I have met on glaciers have no idea what gla­cier ice can look like. They don't know what to expect until they go up. I believe that many people, after what they see on the ice, realise the need to change their environmental habits to save not only the ice but the whole planet. The striking beauty of blue-ice formations simply can't leave one unmoved. These formations of endlessly diverse shapes and forms lift you out of the world you know and drop you into the wonder-world of an open-air art gallery. Unbelievable shades of blue, turquoise and green carve deep scars in your memory.
Many people wonder where the striking blue colour comes from. The explanation is the same as for the blue of the sky and ocean. It is the effect of something known as Rayleigh scattering. Minute air bubbles contained in solid ice scatter blue light much more strongly than other colours, owing to its shorter wavelength, giving glacier ice its distinctive blue shades. The harder the ice, the bluer it appears. Depending on both the angle of the light falling on the ice and the den­sity of the ice, the colour can even take on greenish shades, green being next to blue in the colour spectrum. The ice doesn't appear violet (to the other side of blue in the spec­trum) because the photoreceptors in our eyes are unable to detect wavelengths much below this range. However, birds have photoreceptors sensitive to wavelengths around 370 na­nometres (ultra-violet light), so one can suppose glacier ice is a brilliant ultra-violet to them.
To photograph this bright white and blue environment on film can often be a bit tricky. To capture the real colours, as our eyes see them, and to retain as much white detail as possible, I tend to underexpose images slightly.
Most glaciers lie in alpine regions, which makes access to them very difficult. Thus only mountain climbers can experience them. There are only a few glaciers which are readily accessible. Here in New Zealand we are fortunate to have two of the most beautiful and easily accessible glaciers in the world: Franz Josef and Fox. These offer an immense opportunity to see what is, to me, one of the most dazzling spectacles given to us by Mother Nature. However, it is up to us how long we will be able to enjoy this unique splendour, before it melts away. I feel extremely privileged to be able to photograph and record the magnificence of these glaciers.