Finding ourselves at Te Papa
Taking over where nature left off, eager hands rub river gravel into the water-worn surface of a massive greenstone boulder inside the new Museum of New Zealand Te Papa Tongarewa. Valued by Maori and Pakeha alike, this boulder, named Mauri, meaning "life force," is a metaphor for what Te Papa—"our place"—aspires to be: a treasure we can all appropriate and together work at enjoying.
A row of little shoes stuffed with socks stands at the edge of the sand. Little fingers grasp plastic buckets and shovels, ready to dig. Coloured flags and pegs tempt investigation. All the ingredients are here for a classic treasure hunt on the beach.
At a signal, children dive in and chaos reigns. Sand flies in every direction. "I've got a bone!" shouts a four-year-old, holding up his prize. Several children converge on the victor. More holes are quickly dug, eager hands pursu­ing something hidden, engrossed, oblivious to everything around them. Cries of triumph announce new discoveries. Slowly, amidst smaller finds, something bigger is uncov­ered. Bone by bone, a shape emerges from the sand to take the form of a skeleton. "We've found a head," someone calls. Shovels are swapped for brushes. Sand is swept away to reveal detail.
Finally the action dies down. A prehistoric creature lies revealed. Fossilised flippers announce its aquatic origin. Our budding palaeontologists cluster around their tutor. Faces intent, hanging on each word, they learn the story of the mosasaur.
Museums were never like this when I was a child. Visits to their hallowed precincts were saved for rainy days during the holidays. Museums were sombre places where you had to walk slowly and speak softly. Their display halls were vast, dimly-lit affairs, usually with marble floors that made every noise echo. Exhibits were cocooned in glass cases, watched over by hawkish custodians with grim "touch-and-you're-dead" expressions. The museum experience was exclusively for the eyes. Other senses—especially those restless, tactile hands—came along for the ride but were destined not to partake.
The exhibits themselves seemed to have been collected on the basis of "the older the better," and their relevance to life in New Zealand was difficult to fathom. I never imagined that museums might have something to say about who I was and what it meant to be a Kiwi.
Life in the mosasaur pit at Te Papa Tongarewa is a long way from the austere corridors of my childhood memo­ries. Here—and at any one of dozens of interactive exhib­its—the question is not how to make the museum and its message accessible to a modern audience, but about how far that process can go before content becomes distorted or lost. Where should the balance lie between education and entertainment? Should museums exist as collections of priceless artefacts in pristine display cases, or should they be theme parks offering a Disneyland experience with a tad more intellectual engagement?
Sir Neil Cossans, director of London's National Mu­seum of Science and Industry, said during a recent visit to Wellington, "It is very easy to create a museum that is hands-on and minds-off—a place of entertainment with­out intellectual or scholarly foundation. However, interactivity in the right context in relationship to the right messages is excellent, and that's what I believe this new museum has done."
Overseas research shows that most museum visitors seek answers to questions of identity: Who am I as an individual? Who are we as a nation? If that is true of this country, what does our new national museum have to say about the subject? Are we just a group of Pacific islands inhabited by people with an overdeveloped sense of achievement, keen on our rugby, yacht-racing and kiwifruit? Are we merely clones of those who colonised these islands, both brown and white, or do we have a unique identity, something that marks us out as distinctly New Zealanders?
Come with me and tour Te Papa, "storehouse of the nation's treasures," while I try to find out.
[chapter-break]
For all New Zealanders, the sense of having come here from somewhere else is part of our iden­tity. Maori trace their lineages back to migrations from Polynesia. For Europeans, scrolling back just a few generations takes us to an immigrant ship ploughing through the oceans to a new land.
Te Papa's "Passports" exhibit addresses the journeying aspect of the European heritage. As you enter this section, an introductory panel poses the question: "You're going to a new country and life is about to change forever. What's going through your mind?"
What will not be going through your mind is an air hostess's instruction to "check that your seatbelt is se­curely fastened." For most people a decision to emigrate in the 1840s meant four months at sea in almost unimagi­nably abominable conditions. No pleasure cruise, but passage in steerage class. People and possessions piled into tiny spaces with paper-thin walls. Dank, stinking bunkrooms with no privacy. Hours of boredom, frayed tempers and poor food—peas, raisins, rice, cured meat and barrelled water the standard fare, with vermin com­peting for every skerrick.
Passports paints the scene in vivid detail: sound effects, cubbyholes packed with artefacts, a computer simluation in which you chance your arm as a ship's captain. Quota­tions from passengers' letters are telling:
"Today the ship's doctor cut his throat."
"Served dolphin fried in butter. Very good eating."
Alcohol was the surgeon's cure-all, prescribed for everything from seasickness to constipation. Breast-feeding mothers were given a pint of stout a day. To counter disease, passengers were fumigated with hot vin­egar and cayenne pepper.
To relieve the boredom, passengers bet on who could eat the most pudding without vomiting. They shot birds and played backgammon, draughts and dominoes.
A quick trip, 120 days at sea, must have been hellish enough, but some journeys took six months, and some ships never made it at all.
To leave home for the ends of the earth and endure such a journey suggests strong reasons for leaving. Dis­possessed Shetland Island crofters had few choices. These families had eked out a subsistence living on rented small­holdings on the remote and inhospitable Shetlands, but early in the 19th century ruthless landlords simply cleared the crofts a dozen at a time to run larger flocks. Free passage to a new life must have seemed a godsend to the dispossessed Shetlanders.
Leave or starve was the choice faced by many during the Irish potato famine, which saw an estimated one mil­lion people die from hunger and disease. Two million fled to wherever they could, including New Zealand.
The stories of these immigrants are ones of trial, tenac­ity and, for some, subsequent fortune, and they are told in detail in the exhibition.
Of course, leaving is only one half of the migration equation. Impressions on arrival are as important to un­derstand as details of the journey. One new arrival in 1853 commented on "the unfinishedness—everything appear­ing as if done yesterday in a great hurry."
Emigration was certainly no ticket to instant happi­ness. While some of the new arrivals embraced the harsh challenges of the new country, others were disillusioned when the promises of a rich and clement land foundered on the realities of intimidating jungle, rain, mud, isolation and unrelenting hardship. Passports offers us the example of Ingeberg Stuckenberg, a writer of talent described by one researcher as the Katherine Mansfield of Denmark. Trapped in an unhappy marriage, she fell in love with a gardener and eloped with him to New Zealand.
Arriving in Auckland in 1903, Ingeberg wrote: "The sun rose in all its glory over this fairytale land." Alas, her joy and hopes were short-lived. She found New Zealand backward and uncultured, with no outlet for her talent. She worked 14-hour days as a maid, earning a pittance. After 18 months of misery she shot herself.
The same harsh conditions that led to the undoing of some brought out the strength of others, including Charlotte Badger, probably the first white woman to live in New Zealand. Found guilty of stealing in England in 1796, she was sent as a convict to Australia. On a later voyage to Tasmania, the convicts mutinied—some say led by Charlotte. One account has her dressed as a man, armed with a pistol, flogging the captain and raiding another ship. The muti­neers sailed to New Zealand, where Charlotte disembarked in the Bay of Islands, choosing to live among the Maori rather than accepting of­fers of passage back to Australia. Her fate is unknown, but today she leaps into action as Te Papa staff enact her life as part of a school history programme called "Migrant Tales."
The Guard family, also from a convict back­ground in Australia, showed similar fortitude. They operated a whaling station in the Marlborough Sounds in the 1820s and '30s, Betty Guard reputedly becoming the first white woman to settle in the South Island. On a trip from Sydney their ship was driven ashore near Cape Egmont and the family captured by local Maori. The story goes that Betty was hit on the head by a mere with such force that the teeth of her comb were embedded in her skull, where they remained for life. The other half of the comb is on display. Early New Zealand was a violent place.
What do these stories say about us as a people? Immi­grants to New Zealand were choosing the hard option—the most difficult journey and most distant colony. Only the keen and the desperate would have wanted to go. The journey was a form of natural selection which ensured newcomers had the pioneering spirit.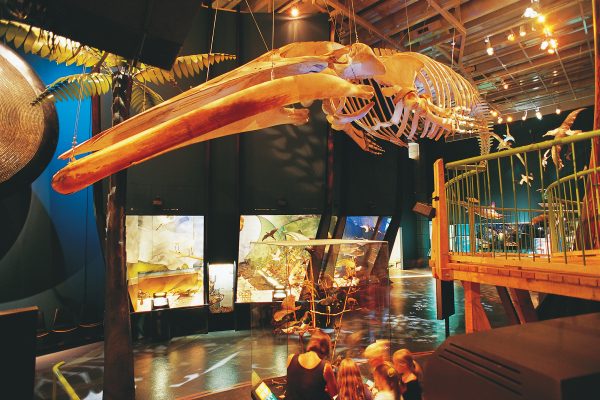 Jock Phillips, the Wellington historian who master­minded the Passports exhibit, says the period of rapid development in the country from 1840 to 1890 reflects the fantastic energy of that generation of immigrants. They were people who wanted to leave behind the class system and seek a new life, he says. Prepared to take a gamble, they wanted freedom, space away from over­crowding, a chance to better themselves and a future they could believe in.
And what made them distinctly New Zealanders, says Phillips, were the encounters that those arriving had with the land. Most immigrants had to try to carve out an existence from the main asset the country had to offer: land. Clearing dense forest, draining swamps, building fences, breeding and droving animals, surviving in miser­able shacks in the wilderness.
"We're all farmers at heart," claims Phillips. "Farming culture has deeply penetrated the New Zealand identity."
The display "On the Sheep's Back" explores this theme, looking at the place of wool in New Zealand's history. There is a mock shearing shed where you can test your knowledge of shearer's lingo and listen to wild and woolly yarns. The history of knitting is unravelled (it took off during World War One, as women made socks by the score for soldiers), and so is that of the legendary Swanndri—a range of woollen jackets and shirts which have become a New Zealand icon. A national com­petition provided Te Papa with the best believe-it-or-not tales of the "Swanni," a thigh-length bush shirt, in use. One man claimed to have turned his into a dinghy by tying it up and inflat­ing it for a quick trip out of trou­ble when trapped by a flooded creek.
How long does a wool suit last? On display is one of the earliest, made in the 1880s. Put in a drum for castaways and taken to the Antipodes Islands, the suit was found in the 1960s in mint condition. Those ship­wrecked on the remote islands either missed the drum or failed to appreciate its significance.
Also exhibited are a woollen wedding gown and bikini.
[chapter-break]
The concept of a distinct New Zealand identity is not a modern concept. Te Papa presents snapshots of the self-image the country has sought to promote in a section called "Exhibiting Ourselves," covering four international exhibitions, or what we now call "expos."
In 1851, New Zealand was a raw and uncertain colony. At the Great Exhibition held at the Crystal Palace in London, we were on show to the world for the first time. Artist John Gilfillan's painting Inside a Maori Pa evoked a peaceful image of life in a native village with untouched natural surroundings stretching off into the distance. The reality was somewhat different. Violence marred Gilfillan's life when a military incident brought tensions over land to a head. Attacked by Maori, Gilfillan lost his wife and three of his eight children. Paradise lost, he packed his bags and headed for Australia.
Flax, timber, kauri gum and minerals dominated the 1851 display. New Zealand was portrayed as the ideal source of raw materials for the Industrial Revolution in Great Britain. The message to visitors was: we want capi­tal and immigrants. Wool was yet to feature as the domi­nant export, though our potential as a source of furniture timber was pushed by Johann Levien, a German furni­ture-maker who had travelled extensively while working in New Zealand between 1840 and 1843.
By 1906, New Zealand had enjoyed 20 years of Liberal gov­ernment. Commercial prosperity and a sense of "boisterism" were used to promote the success of young New Zealand—portrayed as the social laboratory for the world—at the New Zealand In­ternational Exhibition held in Christchurch. Enormously
popular, the exhibition drew more than double the entire population of the country through the turnstiles.
Prime Minister Richard Seddon, the driving force behind the exhibition (and the person who coined the phrase "God's own country"), sought to pro­mote New Zealand as the hunt­ing, fishing, shooting capital of the world. He had just estab­lished a Tourist and Publicity Department, and was keen to present a romantic image of New Zealand as beautiful and a place for adventure.
A Maori pa constructed as a sideshow was positioned next to the exhibition's fairground—a placement consist­ent with the message that Maori had put away their guns and could now be seen as a tourist attraction.
[sidebar-1]
Tucked away in a corner of Te Papa's display are two turn-of-the-century equivalents of today's video arcade games. A fortune-telling machine offers suggestions on future marriage partners and the like, while a test-your­strength machine assesses your muscularity according to how hard you grip a metal lever. The resulting messages to would-be Charles Atlases, including "Was that you or a puff of air?" "Eating more spinach might help" and "Maybe you're more suited to mental pursuits" have a surprisingly modem satirical ring.
Rongotai, now the site of Wellington Airport, was the site of the New Zealand Centennial Exhibition of 1940, which sought to convey a sense of progress and pride m what we had achieved as a country in our first 100 years. The site was huge: 55 acres with 15 acres of buildings. The United Kingdom, Australia, Canada and Fiji were represented along with New Zealand.
One of the features of the Centennial Exhibition, "Dr Wellandstrong," a talking, moving mannequin, is brought back to life at Te Papa, where he continues to espouse the values of the Welfare State.
Race relations, scarcely an is­sue in 1906, when Maori were considered a people on the way to extinction, are given a more prominent place in Te Papa's treatment of the 1940 exhibition. A much-enlarged photograph of the Governor-General, Lord Galway, shaking hands with an unnamed Maori man is accompa­nied by two quotations. One, from Galway's address at the opening of the exhibition, gives his version of a century of Maori development: "The fair and equitable treatment that [Maori] received at the hands of Gover­nor Hobson in the first place and later as the result of wise govern­ment was such that they readily appreciated the advantages of British rule and in living among British people." Presenting a somewhat different perspective are the words of Sir Apirana Ngata, made during an address at Waitangi in the same year:
"Lands gone, the powers of the chief crumbled in the dust. Maori culture scattered—broken."
Such sentiments failed to intrude into the business of the exhibition, and had no place in Seville in 1992 either, where Ian Fraser, commissioner-general of the New Zea­land Expo Commission, would announce, "The business of Expo is business."
In 1992, New Zealand's message was that we are a sophisticated, cosmopolitan and cultured nation with strong secondary and tertiary industries. Value-added ex­ports, glassware, ceramics, software, wine and art took the lead within the standard "clean-and-green" refrain.
What, then, is the message we have been telling the world? Consistent over 140 years and four exhibitions has been the theme of a beautiful, unspoiled paradise. The economic message, however, has changed. Rather than primarily producers of raw materials, we now see our­selves competing in the arenas of sport, art, culture, wine and food. No longer content with the status of "just some island down-under," we want to take on the world.
[chapter-break]
Innovation, is it genuinely part of the national psy­che? The way male visitors flock to the Britten motor­cycle, rearing up like a wild stallion on its plinth, would indicate that even if we don't all have it, we identify with it. John Britten's 1000cc superbike is a contemporary symbol of Kiwi ingenuity and competitiveness; and, best of all, it's a great story of how to over­come the odds.
Britten knew that if he were to build a motorbike that could take on the world and win, he could not use the conventional design route followed by big bike manufacturers. Sinking massive capital investment into big production teams and work­shops the way American and Japanese manufacturers did was not an option. Britten realised that a leap in innovation offered the only path to success.
Working in his garage with the help of friends, Britten dis­carded conventional thought on everything from chassis design to what fuel tanks were for. Britten's tank not only held fuel but acted as seat, air deliverer for the engine and housing for a cooling system. Kevlar and carbon fibre replaced metal, and the engine became the chassis.
Working near 24-hour days, Britten produced a radical design which went on to win a string of victories and speed records around the world.
Another example of automobile innovation which at­tracts the car-mad and the merely curious is Jeff Thomson's corrugated-iron Holden station wagon. "Aren't those off people's roofs?" asks one incredulous youngster in a school group. "Does it go?" asks another.
Thomson has made his name as an artist by taking ubiquitous roofing iron and transforming it into an ex­traordinary array of objects. His car (which did go before it became a national treasure) stands at the entrance to Te Papa's showcase of artistic innovation called "Parade." Subtitled "Where there are people there is art," this ex­hibit walks the visitor through 150 years of New Zealand cultural expression, encompassing familiar names such as Charles Goldie, Sam Hunt and Split Enz as well as the obscure and unknown: Anton Teutenberg the medal maker; Jane Brenldey, midwife, mother of 11, wood carver and painter who "left unfinished paintings on her kitchen table, adding a few brushstrokes each time she passed."
Art is well catered for in the museum, with several galleries and spaces presenting aspects of this important means of expressing identity. One of the key messages in the Parade section is that art and design are linked. So just a few paces from Colin McCahon's sublime Northland Panels with its perceptive inscription, "A landscape with too few lovers," we find an exhibit on refrigerator design. Stroll past Robin White's Mangaweka landscape and there is the Bruce Farr story and a tribute to New Zealand yacht designers. This is paired with the story of the development of moulded plywood, a huge breakthrough in material design terms which New Zealanders were among the first to apply to boat-building.
Also explored in Parade is the evolution of ideas. An exhibit called "The Battle for Taste" contrasts American and English influences on New Zealand culture. High drama versus hi-jinks, suggests the interpretive panel. From the UK we have supposedly derived the concept of the connoisseur and a love of products built to last. From the US we have learned to be consumers, enjoying the pleasure of the moment through products that are here today, gone tomorrow.
Sounds like the perfect proposition for a debate.
[chapter-break]
Something that is destined to be debated for years to come is the Treaty of Waitangi. So pivotal to the story of New Zealand is this document that Te Papa accords it a large open space in the centre of the museum, from which the nation's founding agreement seems to emanate its own magnetic energy.
Standing at the entrance to "Signs of a Nation," I see a visitor pause to listen to quiet voices coming from a cluster of tall poles. "The treaty—it's not just for Maori, it's a bill of rights for us all." "We can support a symphony orchestra, but a full-time Maori culture group wouldn't even be considered." "Why should good honest Kiwi farmers be kicked off their land because of some cock-up hundreds of years ago." "The treaty is just a gravy train for the rich Maori elite." "It's only fair that as this place belonged to the Maori they have the right to say how it should be run." The voices offer ordinary New Zealand­ers' feelings about biculturalism, and this murmur of sound acts as a backdrop to the museum's presentation of the treaty proper.
Beyond the poles, fused in glass, a replica Treaty of Waitangi towers above the viewer. Standing seven metres high, it commands attention from every direction. Its tattered condition testifies to the neglect it suffered dur­ing its first 50 years of existence. Nearly lost in a fire in the government offices in Auckland just a year after it was signed, the document was locked away and forgotten. Rediscovered in 1908, it was found to have been chewed by rats and damaged by water. So much for the icon of nationhood.
To each side of the facsimile, the articles of the treaty, carved in six-metre-high kahikatea panels surrounded by Piha iron-sand, bring to life the illegible 19th-century copperplate original. Comfortable seating encourages visitors to stop and read. I watch a number of people sitting opposite the English version, eyes elevated. This may be the first time they have had the chance to read the nation's First Document.
At Te Papa the spirit of the treaty is put into action from the top down. The museum's chief executive, Cheryll Sotheran, works in partnership with Cliff Whiting, the "kaihautu" (the name derives from the helmsman of a waka). Partnerships between the museum and iwi have been an essential part in the development of the Maori exhibits for Te Papa, and nowhere is that spirit more apparent than in Te Papa's marae, located in a prime part of the building which looks towards the rising sun.
Intricate carvings inside and outside the wharenui, the main building of the marae, depict much more than Maori histories. Sudden recognition flashes on the faces of visi­tors as they identify symbols from their own heritage: Chinese dragons, Polynesian flowers, Celtic emblems and the English rose. Carvings shaped like stained-glass win­dows portray the skills and culture brought to New Zea­land by immigrants in the areas of sport, education, jus­tice and more—a remarkable range of images carved not in traditional native timber but modern fibreboard.
Near the marae is one of Te Papa's most popular exhib­its. A computer interactive? A test-your-strength machine? No, something more elemental: a massive, primeval form, lying solemnly in a pool of water. A gleaming pounamu boulder which seems to reach out to passersby, begging to be touched. Using coarse sand, visitors polish its raw, pristine form, delighting in this simple act that somehow connects them to a precious essence.
The story of pounamu (jade) is expanded in "Mana Whenua," the main Maori exhibit, which offers the visitor a pilgrimage into Maori culture, arts and history. As with other exhibits, the experience is designed to be a journey of discovery.
Visitors press buttons to listen to Maori musical in­struments, poke their heads into an elevated pataka (store­house), listen to legends being read. One wall is devoted to the reproduction of a huge whakapapa (genealogy), the heart of a Maori understanding of personal and tribal identity.
[chapter-break]
The strains of Isi Lei (or just as likely How Bi­zarre, depending on who's making the selection) draw the visitor on from the Maori section to Mana Pasifika and a deeper understanding of New Zealand's Polynesian roots. Here you can come to terms with the hair-cutting and ear-piercing ceremonies which are rites of passage in a number of Pacific Island cultures.
Listen to an interview with singer Annie Crummer, marvel at the amount of food that would fit into a bath-sized Cook Islands wooden feast bowl, enjoy the humour of Corned Beef 2000, a steer made out of cans of tinned meat, or visit the Pasifika discovery centre, one of four dotted throughout the museum, and learn about the 101 uses of a coconut palm or have a game of lafo, Samoan disc-pitching.
To the influence of immigrants, music and art on our identity must be added that of New Zealand's natu­ral environment, a fundamental force in shaping who we are. Our landforms and biota establish our country as unique in the world.
Along the northern side of the building, Te Pa­pa's "Bush City" provides an island of tranquillity for visitors wanting to escape the air-conditioning inside and revitalise themselves in Wellington's wind. From volcanic plateau to glow-worm cave, the exhibit compresses the outdoor environment into a ribbon that softens the profile of the mu­seum amongst its urban surroundings.
Look down a tomo (cave entrance) beside the walking path and you find yourself staring at a collection of moa bones. Take a seat beside a putaputaweta tree riddled with holes and learn that it is nicknamed the "motorbike" tree (try saying the name quickly!) and that the holes are made by puriri moth larvae, and become favoured homes of tree weta once the moths have flown.
A more dramatic experience is to be had back inside in "Awesome Forces," a salute to the origins of the land. A blast of hot air and the thundering sound and sight of rivers of molten rock oozing down the sides of a volcano alert the visitor that geology is not a gentle subject. This section of Te Papa reminds us that we are part of the Pacific Ring of Fire, a tectonically active zone around the edge of the Pacific Ocean.
Graphic demonstrations of the power of recent erup­tions on Ruapehu leap to life on a giant screen, but we are told that deceptively peaceful Taupo is the real threat to watch. Our largest lake was formed by a monumental eruption 26,500 years ago—possibly the biggest volcanic episode in the recent history of the earth. Taupo has been active for 300,000 years, and there have been 28 eruptions since the big one. The most recent was 1800 years ago, and vulcanologists say there is still plenty of energy left beneath those inscrutably blue waters.
Visitors can get a taste of the grinding of the earth's crustal plates by standing inside a replica room of a house which was damaged in the 1987 Edgecumbe earthquake.
The floor and walls shake, a voice screams, "Stand in the doorway!" and a video plays an interview with a dis­traught homeowner. It's a convincing re-enactment which makes other static displays—a pile of rock at the base of a photograph of avalanche-shortened Mt Cook, storm fronts rushing across a satellite view of the country—seem more compelling and significant.
"Mountains to the Sea" investigates how our various landforms and aquatic habitats have come to be popu­lated by the unusual biota that are our ecological trade­mark. Species are divided into "original cargo" and "later landings." Tuatara, weta, giant land snails, moa and native frogs were already living on the sliver of land that became New Zealand when it drifted away from Gondwanaland. The kiwi, interestingly, was a later arrival. (To satisfy curiosity about New Zealand's national bird, Te Papa thoughtfully supplies a stuffed brown kiwi for stroking. Restless fingers, so frustrated in the museums of my youth, here roam to their digital content.)
Instead of exhibiting creatures in glass cases with tax­onomists' labels, Te Papa places them according to habi­tat, and often shows their habits as well. In the high-country section, a group of kea dissect a tramper's pack with their Swiss-army-knife beaks. A weka purloins a sil­ver spoon. From a dark corner, a Captain Cooker pig grunts a greeting.
Botany, though not treated as thoroughly as zoology, is not ignored. Preserved bottles of native fruit, looking much like exotic varieties of olive, show how plentiful fruit is in New Zealand forests. Nikau, mahoe, titoki, kawakawa, karaka and tawa all look lavish eating for a browsing pigeon or possum: plump fruit with colour to boost the attractiveness.
Kauri gum, beautiful in its own right, takes on new meaning when you realise that the golden resin is the tree's equivalent of nasal mucus: it carries away unwanted germs, bacteria and insects which could attack the tree. Wandering through exhibits of native birds, I learn the secret of the tui's throaty song: two voiceboxes allow the production of the resonant calls. Another morsel of fact fleshing out the story of our world.
[chapter-break]
If, as Soren Kierkegaard said, life must be lived for­wards, but can only be understood backwards, then knowing the stories of our past—the journey of a land, the journey of its peoples—becomes an important step towards knowing ourselves.
Te Papa sees itself as a repository of the nation's stories. More than a repository: a purveyor of stories, a teller of tales. Each exhibit in the museum is structured as a chapter in a historical narrative, one which unfolds gradually but easily to challenge and embrace the reader, the way all good stories do.
The triumph of Te Papa is how well it engages the visitor—anticipating questions, exploring veins of histori­cal curiosity, catching interest and channelling it into learning. Depth has certainly been achieved, though breadth has suffered, and Te Papa's narrative is by neces­sity a Reader's Digest version. Many chapters in the na­tional story are missing. Wool is here, but not dairying, horticulture or forestry. A famous motorcycle, but, for all that we are "farmers at heart," no tractors or electric fences. Geological power, but not hydro-electricity. The arrival of rats, but not their subsequent eradication on some of our island refuges. Not much conservation at all.
Te Papa's instinct to celebrate our history perhaps gives the identity question a too-positive spin. Should there be darker shades in the mirror? Deforestation, gangs, de­pressions and unemployment, our experience in wars, experiments in welfare, declining fortunes in agriculture—these are as much the province of a national museum as sporting triumphs and artistic treasures.
I spent many hours on many days "looking for myself" in Te Papa. I didn't find a single answer. In many ways, the New Zealand character appears to match the land itself: diverse, unique, changeable. We are a young nation, and perhaps less set in our ways than some. Yet perhaps too willing to jettison the past in order to keep up with the present. And like many Western societies, we struggle to find a balance between the individual and the communal, be that family, tribe, community or country.
Words inscribed in the glass of an observation area that looks out on the hills of Wellington suggest that achiev­ing a sense of turangawaewae—the Maori understanding of identity, literally "a place to stand"—is a journey, not a destination.
"This is my wakening up, my camp, my resting place along the never ending lines that cross my world. My
song waits here, I sing it."