Evicted from Aotearoa
Nearly 50 years on from the systemic and racially targeted deportations of Pasifika New Zealanders, the scars and shame of this experience linger—as the government prepares to formally apologise for its actions of the past.
When Toni Fonoti was a teenager, he lived with his family on Summer Street in Ponsonby. Today, this central Auckland suburb is famous as an enclave of the wealthy, with rows of immaculate white villas and carefully manicured gardens lining the streets. Back then, in the early 1970s, Ponsonby thronged with migrants from all over the Pacific.
At the time, there were about 32,000 Pacific Islanders in New Zealand and two-thirds of them lived in Auckland, making it the largest Polynesian city in the world. Many people had come in search of work, enticed by the generous pay. Manufacturing was booming, and the government and employers encouraged migration from the Pacific in order to fill labour shortages in factories, freezing works and related services.
But Aotearoa wasn't a safe haven. There was fear on the streets. People were disappearing.
"Our cousin Feti and his wife and children were living with us, and he was working out in Penrose," says Fonoti. "One day, he never came home."
Feti had been caught up in a programme of deportations that would soon become known as the dawn raids. Police would surround people's homes in the early hours of the morning, entering properties with tracking dogs to drag overstayers from inside their wardrobes and from underneath beds. The raids traumatised families, with second-generation children—New Zealand citizens—woken from their sleep by the shouting of police.
Many migrants had arrived on visitor visas and never left, even as their visas expired, but very few fanau thought that would be a problem. New Zealand had all the raw materials for a brand-new life. Wages far exceeded those available at home. Working overtime, a Pasifika factory worker might make up to $200 per week—equivalent to around $3000 today. One worker could support an entire family back in the Pacific, with enough to spare.
But in 1973, Britain joined the European Economic Community, terminating all bilateral trade agreements with New Zealand, and subsequently dropped to fourth place in the ranks of this country's export partners. In the Middle East, the Yom Kippur War between Israel and a coalition of Arab states jacked oil prices to astronomical levels—as much as a sixfold increase virtually overnight—while simultaneously reducing the supply for small markets such as New Zealand. The boom was over. An economy that had sustained unprecedented Polynesian migration began to stutter. Unemployment returned in a way not seen since the Great Depression, jumping from 1.4 per cent in 1971 to 7.4 per cent by 1986.
While Pasifika communities comprised a minority of migrants to New Zealand—eclipsed by migrants from Europe, North America and Australia—they were highly visible and easily scapegoated, much like the Chinese immigrants before them. "The myth was that Pasifika people were stealing jobs," says activist Alec Toleafoa. "That we were responsible for the violent crime, and that we were largely to blame for the country's economic woes."
For the Pasifika community, the crackdown on immigration status came as a surprise. Previously, the authorities hadn't seemed to care about overstayers. "They were quite happy to waive the immigration documentation while things were going good," says Toleafoa, "but once the economy busted, then they started to enforce immigration laws."
In the 1975 election, television brought the battle for votes into the home. The National Party, led by Robert Muldoon, enlisted the services of United States cartoon studio Hanna-Barbera to create colourful television ads stoking populist fears of a socialist takeover and job-stealing migrants. One that became famous showed a nightmare vision of waves of planes bringing racist caricatures of Pasifika people to New Zealand, who subsequently broke into violence when they failed to find employment. It showed a Pasifika man being punched in the head by a Palangi, or Pākehā, employer after being denied a job. The message was clear: New Zealand cities were no longer safe, clean or quiet—and migrants were to blame.
As a campaign strategy, it worked. Muldoon swept into power with 55 seats to Labour's 32, a stunning reversal of the exact same 23-seat margin Labour had achieved just three years before. But the Muldoon campaign's message of law and order was more than pre-election posturing. Soon, the police and immigration services intensified the nationwide crackdown on Pasifika overstayers. "And when that happened, although we were about one-third of the total number of overstayers, Pasifika people made up two-thirds of the prosecutions," says Toleafoa. "That made it very clear: we were not New Zealanders, and we were not welcome in this country."
Nowhere was safe. Police raided bars, sports clubs and churches, demanding proof of citizenship and detaining those who couldn't provide it.
On the streets, they began to make random stops, asking suspected overstayers to produce passports or other supporting documents—uncommonly carried by people on their way to work or to the shops—and held them until they could prove their status.
For Fonoti, who would become a founding member of reggae legends Herbs, the situation came knocking at his family's door when his brother—a New Zealand citizen—was detained at the Auckland Central police station, then charged in the Auckland Magistrate's Court (now District Court) with an immigration violation and sent to Auckland Airport to be deported. Social worker Agnes TuiSamoa saw Fonoti's brother and contacted his mother, who raced to the airport with his New Zealand passport. If she hadn't arrived in time, he would have been sent overseas without the authorities having checked his legal status.
"I just thought that was normal," says Fonoti. "Even though I was born in New Zealand, I thought I deserved to be stopped, that it was normal to be questioned. I didn't know we had rights. I thought the police could ask me anything they wanted and that they could put you in the car and it wouldn't be until the next day I could go to court and then I could call my parents. Eventually, even my parents got used to it—if I wasn't home, it was because I'd been picked up on the street."
Police claimed they were simply performing random checks. But, Toleafoa points out, "it wasn't really random, because it was only targeting people from the Pacific, and those who looked like they were. And the government denied this was taking place. Immigration denied they were doing these things. But at the grass roots, there were people with legitimate legal status being turned over."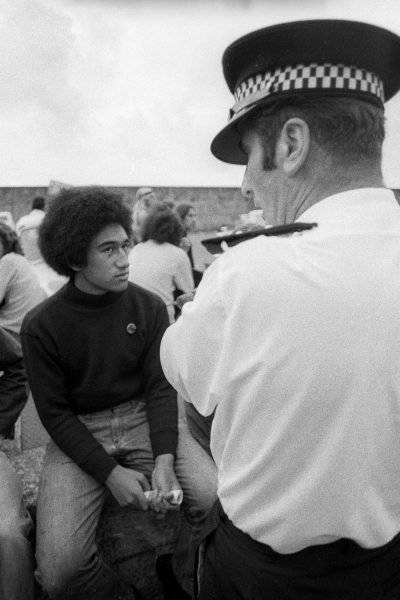 Legal immigrants from the Cook Islands, Tokelau and Niue—part of the Realm of New Zealand, and thus citizens here—would be swept up in the stings, as would New Zealand-born people of Samoan, Tongan, Fijian and even Māori ethnicity.
"It didn't matter if you were tangata whenua," says Pauline (Vaeluaga) Smith, author of the book Dawn Raid and curator of a touring exhibition about the era. "It didn't matter if you had been born here. If your skin was brown or you had an afro or you wore an island-looking shirt or jandals, you would be stopped on the street. Anybody that was brown was being turned over. There was no such focus on overstayers from North America or the United Kingdom. And there was no targeting of places frequented by Pākehā. There certainly was targeting of Pasifika people. Nobody raided the houses or workplaces of Pākehā people, but they did raid us."
At the time, the Minister of Police, former dairy farmer Allan McCready, defended the stop-and-check policy, saying that "Friesians stand out in a crowd of Jerseys". In other words, cops knew what an overstayer looked like.
"I don't think we appreciated being synonymous with cattle," says Toleafoa. "That's how we were understood. We could be analogised as cows, as livestock. It reeks, too, of thoughts around slavery. We were utilities."
Pasifika people were detained even in the workplace—those same factories they had been encouraged to fill. Workers were called into meetings with managers, only to find police waiting with handcuffs. As detailed in the 2005 documentary Dawn Raids, people were summoned under false pretences before being seized and deported.
"I was at work—I never dreamed that something like this would happen to me that day," says one man featured in the documentary.
"I was taken by surprise when these men came and took me from work. They said I would be questioned and then returned. That was the last time I saw anyone—including my family."
Relations between Pasifika communities and the police broke down rapidly, with the police seen by some as the enforcement arm of the machinery of racism. News reports from the time spoke about discontent among the ranks. Some police felt they were being used politically, and that harsh immigration measures were destroying any goodwill officers on the beat had established with the communities they policed. In Dawn Raids, one officer recalls conversations with other members of the force: "Some of us said, 'This is a very harsh treatment we are giving our brothers'."
[Chapter Break]
Not all of those raided were sniffed out by authorities. Some were turned in by fellow Pasifika. The first wave of migrants from the Pacific had a high regard for authority and were not opposed to reporting members of their own community who they believed were bringing the wider diaspora into disrepute. The chance at a better life with higher pay and more opportunities fostered a sense of gratitude among Pasifika communities, and older generations in particular felt obliged to self-police.
"Being labelled as an overstayer was an odious thing. It was a derogatory label," says Toleafoa. "In some ways it's been reclaimed, but at the time, that was a shameful thing to be identified as. You had disgraced your family and you had disgraced your community. You were an outcast."
Fonoti says the church, God and authority are paramount in Polynesian families. First-generation migrants wanted to be seen as valuable and law-abiding members of the community, and as desirable employees. Family-focused elders frowned upon the behaviour of those migrants who became so enamoured of life in the big city that they spent their money here rather than sending it home to the islands. In their disapproval, elders occasionally reported them to the immigration authorities.
But while many of the first wave of migrants bowed to authority, their children were less interested in following rules they saw as unjust. Taking their cues from international civil rights movements, a new generation of activists took to the streets. They were New Zealand citizens, unafraid of deportation, unwilling to live in fear of the police.
"We understood why we were first at the counter and last to be served," says Melani Anae, senior lecturer in Pacific Studies at the University of Auckland. "Our parents thought this was just a new country with new ways, that they'd have to accept it, because they had respect for authority. They brought that with them. But we as young people knew, if you walked down Ponsonby Road with an afro, the cops would harass you. We had carloads of young Palangi hoons hanging out saying, 'Go home, coconuts, you boongas'—and that's putting it mildly."
In 1971, when Anae was a student at the university, she and Toleafoa, with several others, decided to fight back. Inspired by the recently created Black Panther Party, a United States Black activist organisation, the Polynesian Panthers met in secret at a Ponsonby flat, bringing together students, activists and ex-gang members. They wore leather jackets, dark sunglasses and black berets. In short, they were cool as hell.
"By the time of the dawn raids, the Polynesian Panthers had been active for a number of years," says Anae. "We had come to know that as soon as we were born, we were suspects. It was in the media—when there was a crime, it would be 'crime committed by a Polynesian, height so-and-so, afro'. For a European offender there were no ethnic details."
After finishing university, Anae travelled to Los Angeles to visit members of her extended family who'd settled there. Her trip, however, turned into more than a jaunt abroad. Before she left New Zealand, her brother instructed her to get in touch with the Black Panther Party. "My brother said, 'All right, sister, this is your assignment. You have to make contact.' So, he ruined my whole holiday."
Anae's first impressions of the United States were hardly encouraging. Driving with her family through the Watts neighbourhood of Los Angeles, the site of six days of racially charged rioting in 1965, she was instructed to keep her head down. "Don't look at anyone," they told her. "Don't eyeball anyone."
"We drove straight through the carnage—wrecked cars and broken windows and so on. That made it even worse in terms of what I had to do. I was terrified. Then, in the last week or so I was there, I looked the Panthers up in the phone book—I just looked them up.
"A lady answered the phone and after five minutes of trying to explain to her where New Zealand was, I let her know that the Polynesian Panthers were in solidarity with the Black Panther Party. Then I could relax."
Two weeks after Anae returned to New Zealand, a box of educational materials arrived from Black Panther HQ. These materials included instructions for communal gardens, homework centres and basic legal fundamentals. Will 'Ilolahia, co-founder of the Polynesian Panthers, was arrested in Canberra soon after while disseminating copies of the material to indigenous protesters agitating for the establishment of an Aboriginal embassy.
Following the example of their US counterparts, the Polynesian Panthers began community programmes, food banks and study sessions. Small concerts were held in old folks' homes, and a rent strike was organised to protest the dangerous living conditions of inner-city lodgings. The Panthers also began a campaign of legal education, commissioning lawyer David Lange—who would later become Prime Minister—to write a pamphlet on legal rights and how to deal with the police, and arranging a PIG Patrol to monitor police brutality in their communities. (Ostensibly, PIG stood for Police Investigation Group.)
"Our platform was to annihilate racism through peaceful means, to celebrate mana Pasifika, and to liberate through education," says Anae. "That's what drove us to take the actions we did."
The Panthers also began to conduct raids of their own. They would head out before dawn, armed with loudhailers and spotlights, targeting the homes of politicians and demanding they come outside and show their passports and their documentation.
"For the police, their worst nightmare was young, savvy, afro-headed brown people who knew their rights," says Anae. "That gave a cop on the beat the shivers. It was awesome."
In the late 1970s, founding Panther Tigi Ness was tasked with raiding National Party senior whip Bill Birch's house. In a now-legendary interview with Radio Hauraki—at the time broadcasting illegally from a boat in the Hauraki Gulf—Birch demanded: "How dare these people come at such an ungodly hour?"
[Chapter Break]
By the end of the 1970s, the dawn raids had ceased. It had become clear the practice had done nothing to alleviate New Zealand's economic woes. But, while the government and police were keen to move on, the effects are still keenly felt in the Pasifika community today. In research for this story, many attempts were made to interview people who had been impacted by the raids; however some potential interviewees declined to comment. Some highlighted the precarious situation economic migrants still face in New Zealand, while for others, the shame and stigma endured.
"There is still a lot of hurt," says Fonoti. "It was a shameful thing to be deported."
Pauline Smith agrees, saying the historical trauma is coupled with an awareness of the realities Pasifika peoples still face in New Zealand. As with the economic crash in the 1960s and 70s, COVID-19 has again hamstrung primary industry, and the state has begun to look closely at who has the right to work here—and who doesn't.
Today, there are approximately 14,000 overstayers in New Zealand, around 60 per cent of whom arrived on visitor visas. During the nationwide COVID-19 lockdown, many of these migrants were working essential jobs: cleaning, manufacturing and fruit-picking around the country. Their immigration status meant engagement with the healthcare system was fraught with difficulties, making contact-tracing, doctor visits and virus testing a life-altering gamble.
Overstayers are ineligible, too, for benefits such as the Jobseeker subsidy or COVID-19 wage subsidies, instead relying on community support and food packages. They're vulnerable to exploitation by unscrupulous employers. And according to Pasifika leaders like Manase Lua, it's "easier to get into heaven" than it is to find a pathway to permanent residency in New Zealand.
In July last year, a petition with more than 10,000 signatures was presented to then-Immigration Minister Iain Lees-Galloway, who promised overstayers would be treated with compassion. But with Lees-Galloway gone from Parliament, there is fear in the community. "There is an element of the current situation that makes you wonder," says Toleafoa. "The same dynamic seems to be in play: 'We need you, because there is a gap in our labour resource, but now we don't need you, we won't support you, so see you later.'"
The Panthers were founded on June 16, 1971, and with 2021 being the group's 50th anniversary, it has repeatedly requested an apology from the government for the trauma of the dawn raids. As this issue went to press, the government announced that it would formally apologise on June 26, 2021.
"The apology has huge significance, because there are still a lot of broken people and broken families out there who will never forget the terror of the dawn raids," says Anae.
"It was state-sanctioned racism. In the language of today, it was terrorism. And so an apology will go a long way in acknowledging the pain and hurt that was inflicted on us—illegally."
The Panthers are still active, and hope that with more education, including their current programmes in schools, Pasifika communities may be treated with a little more humanity. The programmes, centred on the theme of "liberation through education", aim to teach the story of the dawn raids and the Polynesian Panthers as told by those who lived it. Anae estimates the Panthers have spoken to thousands of high-schoolers across Auckland and wider New Zealand over the past 10 years.
"It's exhilarating to see this hunger from a new generation who want to know the history and why things happened and how they can change things for the better," she says. "These are young people who are making the most of their education and who will succeed, because, as we have always believed, education is the strongest form of protest."