Dirt Track Gladiators
The dance hit "I Will Survive" battled its way through the sound system at Te Marua Speedway—and I really, really hoped that I would. Once I finished my sausage-on-a-stick it would be my turn to head out onto the track and drive in my first speedway race. I had to use all my willpower not to turn to the woman next to me and tell her what a moment she was about to see. Instead, I ate my sausage in silence, grinning like a maniac.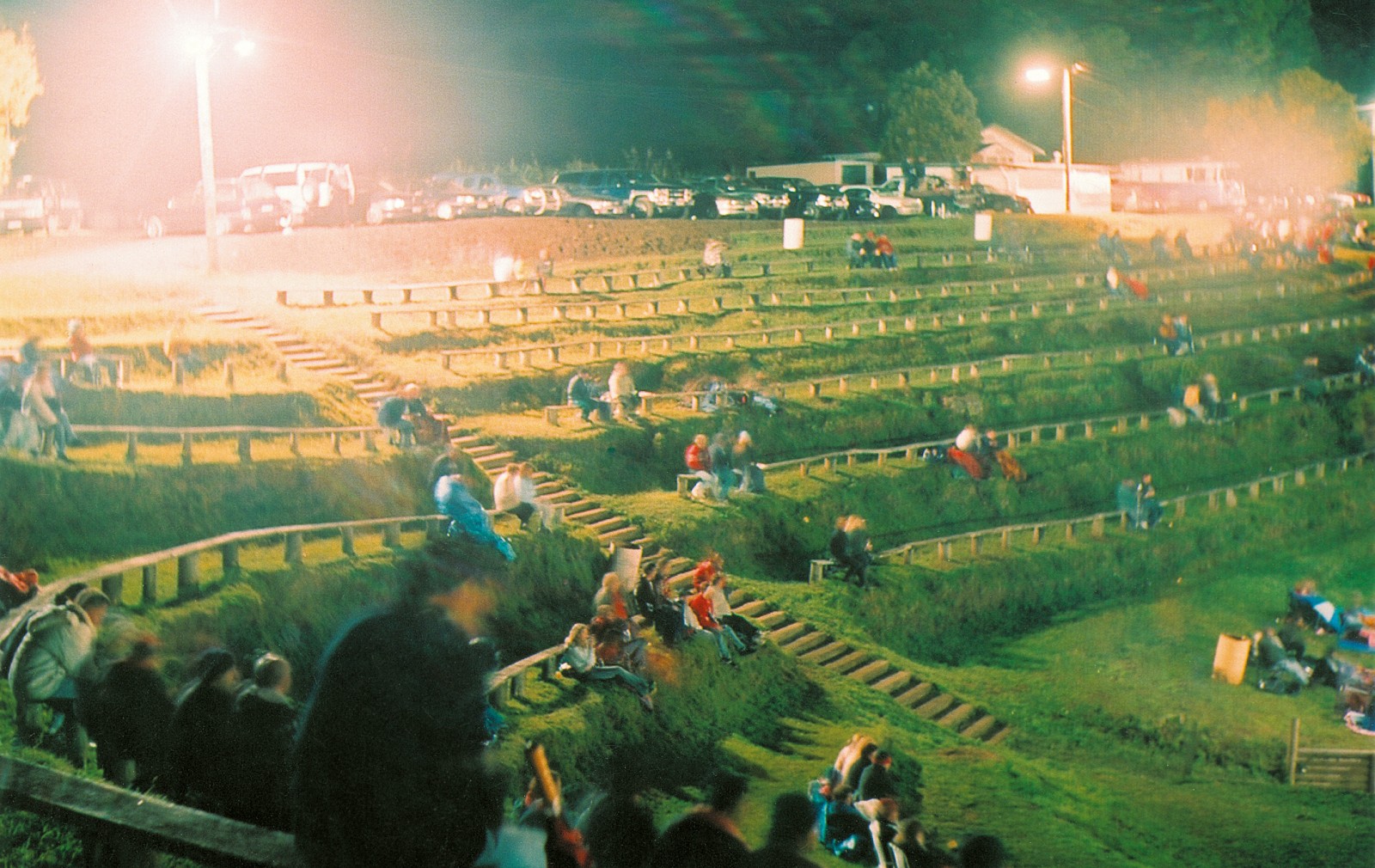 For a while in the mid-20th century, New Zealand had a love affair with speedway. Having produced the inventor of the sport, Johnnie Hoskins, the country went on to create three world champions, who dominated speedway for over two decades. Today, however, much of the glory has faded and speedway has become a niche pursuit for the devoted few.
My introduction to speedway came as I was driving along the motorway from Wellington to Petone. Parked in a lay-by was a garishly painted car advertising the "Upper Hutt Family Speedway's Annual Fireworks Spectacular." Unable to imagine quite what such an event would be like, I headed up the Hutt to find out.
The fireworks, to my surprise, were indeed spectacular, and there seemed to be a never-ending supply of cars crashing and bashing their way around the oval dirt track. I was beginning to enjoy myself until I witnessed what I was sure could only have been a fatal smash. My neighbours in the bleachers rose to their feet and cheered with all their might while I sat silent, looking on with disbelief and horror. Just as I was wondering how long it would take the emergency helicopter to arrive from Wellington, an elderly tractor lurched slowly to the rescue.
No ambulance turned up. Rather, the tractor pushed the cars apart while men in white coats picked up stray bits of vehicle from the track and the commentator announced the next race. The drivers emerged from their wrecks looking disappointed but seemingly unhurt.
The crowd settled back under their blankets and tarpaulins and poured tea from their Thermoses as a freezing drizzle set in. It hadn't occurred to me that Te Marua sits at the bottom of the Rimutaka Range and that there wouldn't be a nice cosy beer tent.
[Chapter break]
Go along to a Saturday night of speedway racing in New Zealand and you'll see lots of cars of various shapes and sizes (eight classes all up) and, if you're lucky, a few motorbikes with side-cars. Originally, however, Speedway was the motorcyclist's domain, with cars a novelty. The British side of the speedway family tree can be traced back to 1923, in Australia, when Hoskins held a motorbike race on an oval dirt track and called it "speedway."
The American side dates back to the 1930s in the South, where young men were running from the law over state lines in street cars with souped-up engines and trunks full of tax-free booze. Soon they started racing each other on dirt tracks. They, too, called what they were doing "speedway."
Speedway in the form of motorbike racing caught on in New Zealand in the late 1920s. As the Depression took hold in the early 1930s and spectator numbers dropped, cars were introduced to increase gate sales, and speedway as we know it today was born. The 1950s saw spectator numbers dip again—the advent of TV was blamed—but when 21-year-old New Zealand motorcyclist Ronnie Moore won the world championship at Wembley Stadium in 1954, the sport's popularity surged afresh. Moore went on to win a second world championship in 1959.
Fellow Kiwi Barry Briggs was world champion in 1957, '58, '64 and, finally, '66. Briggs achieved sufficient fame to warrant a This Is Your Life television special, and has been called the greatest motorcyclist ever. Both he and Moore were awarded MBEs for their services to sport.
But it is the 1970s that are known as the golden era of speedway. It was then that New Zealander Ivan Mauger was hailed the sport's "golden boy." Mauger earned the label when his motorbike was gold-plated by a pair of American fans after he had won his third consecutive world championship in 1970. He dominated the sport through the 1970s, winning further world championships in 1972, '77 and '79. He became a sporting superstar, and was awarded both an MBE and OBE.
Mauger's retirement from the sport heralded the end of an era, and speedway again slipped out of the limelight.
It is hard these days to envisage the sport's past successes and wealth. On my next trip up the Hutt I found a starkly different speedway. There were only a third as many people and no fireworks. Most of the bleachers were empty, and the spectators who were there looked as if they had been sitting in the same seats for 20 years. In fact, the whole place looked like a relic from the eighties: well loved and used but not particularly well funded.
Even so, the commentator's voice still carried excitement, the hot-food caravan gave out the reassuring smell of deep frying that characterises outdoor events in New Zealand, and the crowd still cheered.
Te Marua is one of 23 tracks which operate under the aegis of Speedway New Zealand, the official governing body of the sport. There are another 25 or so tracks which function at a more grassroots level. Larger venues, such as Auckland's Western Springs and Tauranga's Bay Park, boast full flood lighting, concreted pits and other amenities. By contrast, on the day I attended Rangeview, in Matamata, a call was put out for any 4x4s present to come on down and flatten the track so racing could begin. At neither end of the spectrum is money free-flowing.
Before racing began one evening at Te Marua I watched as club secretary Michelle Burton signed the competitors' cheques. The biggest prize money was $35 for a win in the Super-Saloon class. This is one of the most expensive classes, Michelle told me. The fuel, methanol, costs about $50 for a night's racing, and a single tyre can set you back up to $500. I had known the prize money wasn't huge, but hadn't realised it was quite so paltry. When I remarked on this, Michelle shrugged and said, "I know, but they do it because they love it."
Michelle's life has revolved around speedway for the past 15 years. When she was 12, her 15-year-old brother, Russell, started driving. Michelle, too young to be left home alone, was forced to go with the rest of the family to the track. Initially she hated it, refusing to watch any race except those in which Russell was competing. Eventually she made the best of it and got a job in one of the hot-food caravans. Now she is married to a speedway driver.
On race day, Michelle gets to the track about three hours before racing starts so she can check the scrutineering cards, write out the prize cheques and sort out the grid draws. Her work continues through the evening as she feeds the commentator information and deals with the odd lost child. After the racing she heads to the clubrooms, generally leaving about midnight.
When I asked if she ever felt her life had been taken over by speedway, she said, "I don't know any different. It's just what we do as a family."
I asked if she had ever thought of driving herself.
"No, driving is for men," she replied. "It's like women playing rugby­ they play a totally different style of game from the men. You wouldn't put a woman in an All Blacks game, and it's the same with speedway. The guys don't change their tactics because a woman's in the race. These guys can be absolute maniacs. Anyone who races takes their life in their hands. People die. There are guys in wheelchairs."
Michelle's comments made me curious. How was it that a third of the people in the pits were women yet so few of them were driving? It didn't take all that long to work out: they were cleaning the cars of their husbands, partners, brothers, friends, even sons. Initially, I assumed this was an extended pride thing, like ironing your husband's business shirts.
I came across a woman in a crisp, white fluffy jacket and full make-up (including sparkly eye shadow) and asked her about it. At this stage I was coated in mud from the knees down, with splatters over most of the rest of me. My shoes were a write-off—one had been suctioned off my foot by the mud, and I'd had to retrieve it as elegantly as possible while worrying about being hit by a stock car entering the pits.
Endeavouring not to feel intimidated by her superior "in the pits" look, I put on a brave face and asked why she was scraping her partner's car with a fish slice.
"So it doesn't weigh so much for the next race and the crowd can still see the sponsor's logos," she replied.
"Very sensible," I said, and sloshed my way back across the pits.
Each driver can have as many as five people in his pit crew. I'd been told that some crew get paid, but none that I met were so lucky. The majority cover their own travel and accommodation expenses for away racing.
The jobs of drivers and their pit crews don't stop at the end of racing on a Saturday night. The spectacular crashes that render the cars unrecognisable mean long hours must be spent readying them for the following week. Most of the work is done in garages at home or in the workshops of businesses owned by drivers or their employers.
The off-season—usually May to September—is no holiday, either. This is the time when new cars are built, many of them from scratch. Work even continues on Christmas Day, as big race meetings are often held on Boxing Day and December 27.
Speedway racing isn't cheap. I heard a story of a driver's wife who dragged his new $2000 Standard Stock car seat into the lounge the night he bought it, telling the kids to have a good look because it was the reason why they didn't have a lounge suite.
[chapter break]
The nature of speedway in New Zealand hasn't changed much since the 1950s: a hobby verging for many on obsession. Kiwi ingenuity reigns supreme, but no one these days seems to expect to make much money out of the sport. This is where the drivers of today and the likes of Mauger differ. Mauger could see all too clearly the relationship between how many people came through the gates and how much he got paid.
These days, only a small number of drivers can afford to approach speedway in a professional manner—and not by making money out of the sport, either, but by bringing it in from their own business concerns, or outside sponsorship. Indeed, sponsorship has become an indispensible part of the sport—though it is not within the reach of all drivers. Speedway has changed as a result. For example, 10 years ago the Standard Stock class was formed as a cheaper alternative to what were then called simply "stock cars" and are now known as A-Grade Stocks. The class was designed with restrictive rules that aimed to create a more even playing field, where money was not so influential on the outcome of a race.
Competition can be sparse at the top end of the financial spectrum, as Wayne Hemi, of Wellington, has found. Wayne is rumoured to have spent $200,000 on his A-Grade Stock, named the Red Waka. Not many drivers can afford that sort of investment, and, as a result, the class is relatively small. Wayne either has to travel away from Wellington to find other A-Grade Stocks to race against, or race with the Standard Stocks.
Peculiar to New Zealand Standard Stocks is a "Contact Class," in which drivers can intentionally hit any other car at any time for any reason. A Standard Stock costs anywhere from $6500 to $65,000, but no car in this price range could take the kind of knocks the Red Waka dishes out. Consequently Hemi chooses to drive "non-contact." Watching him race against Standard Stocks is akin to watching Jonah Lomu playing against schoolboys.
As in so many sports now, money draws the dividing line between the winners and the rest. No matter how good a driver you are, you can't make a pig go faster.
[Chapter break]
As I lined up for my race I felt like a new-age gladiator sitting in a motorised chariot, ready to do battle. The sense of being on my own was extreme, but I was reassured by my temporary pit crew, who tightened my seat belts one more time while telling me to put my foot down and GO!
I was strapped in so tightly I felt I was wearing a car corset, and wished I hadn't had that sausage­on-a-stick. But there was no time to dwell on such thoughts. We had started to roll forward. I chugged through the pit gates and out onto the track ready to wow the crowd and take the chequered flag.
Not unexpectedly, I came dead last, and caused one of my fellow drivers to hit a wall. I took a corner rather wide and temporarily lost control, unaware that you're supposed to accelerate through the speed wobbles. I should probably add that this was a mini-stock race and all the other drivers were under 16 years old.
I can't deny the appeal of speedway. No one else matters but you. Your crew is waiting for you in the pits, fish slices at the ready. On the track you have paid your dues and this is your time to be champion.
The heyday of speedway may have passed, but the sport remains well entrenched in New Zealand culture. Who knows—it could be set for a bit of a comeback, with Ivan Mauger, now a speedway promoter, bringing the motorcycle World Long Track Championship to New Plymouth in November 2003, '04 and '05. Johnnie Hoskins would be proud.