City of stone
Then as I looked at your buildings rising in stone of the utmost brilliance, of a kind I have never seen before, I thought, Oamaru is a fair maiden that sits by the sea. —Sir George Grey, Prime Minister, 1878
Perhaps it was a surfeit of sun glancing off whitestone. Maybe one too many Emersons under the belt at the Criterion or the clat­ter of hooves and jangle of horse furniture in Harbourside. It could have been vertigo from following the swoop and tilt of ordi­naries negotiating the necklace of orange cones on the main street, or the seductive hiss of crinoline from passing promenaders. Whatever the cause, something akin to par­allax had begun to warp the frame of daily life for me here in Oamaru, this concrete emblem of fleeting wealth. This monument to Victorian high spirits. This enclave of hewn stone.
I was in town to experience the annual riot of fancy dress, street parties and assorted goings-on collectively known as the Victo­rian Heritage Celebrations and had thrown myself into it with something approaching vigour. I had got up close and personal with old-fangled penny-farthing bicycles, sweated through a swaggers and servants dance, turkey with cranberry and red-currant relish, chicken and apricot terrine, lettuce with edible herbs, mango and pas­sion-fruit rum truffle and a hundred other temptations at the heritage ball, and admired an endless shop-front parade of Oamaru's finest in full period kit. All of which had mere­ly brought me to the close of day two. There was, it seemed, much to celebrate.
Queen Victoria, aka Annie Baxter, was to give shape to the fevered pace of things a day or two later when, setting her diadem aright, she confided in an unroyal moment: "Sometimes one just feels like escaping to Auckland for a rest."
Evoking the ghost of She Who Is Not Amused is apt. The Criterion Hotel—watering hole of choice for many Oamaruvians—was built in 1877, the year Queen Victoria became Empress of India. The origins of the town itself go back to 1853 (by which date Victoria had been queen for 17 years), when Englishman Hugh Robison threw up the first house hereabouts, fashioned from raupo, flax and earth. Robison had bought a block of North Otago called Run No. 15 from the provincial government and brought with him 2700 sheep and 47 head of cattle to show that he was serious about settling down. His perseverance, and that of those who followed, paid off. Oamaru prospered. What is more, when decline set in, the town did not tear itself apart. Today, it is hailed as possessing the country's most com­plete Victorian townscape, as well as the most intact Victo­rian/Edwardian deep-sea port in the Southern hemisphere.
Novelist Janet Frame called it the Kingdom by the Sea. The phrase is from her autobiographical To the Is-Land. Frame, Oamaru's most famous daughter and the country's supreme chronicler of provincial life, was born in Dun­edin, 90 km to the south, but grew up here. Her writing is full of the place: the Athenaeum's subscription library with its domineering librarian; the imposing opera house; Oamaru's public gardens with their begonia house and Japanese bridge—a favourite backdrop for her father's fam­ily snapshots. Woollen mills, freezing works. The sweet factory.
By the time Frame's family moved to Oamaru in the 1930s, the town had achieved an established maturity. Lord Bledisloe, the governor-general of the day, played to local pride when he declared: "New Zealand is the gem of the British Empire, the South Island is the most beautiful part and Oamaru is the most attractive town."
Such effusive trumpeting was nothing new, even in Ble­disloe's time. Fifty years earlier, a visitor had remarked that the entire colony admitted Oamaru to be "the town of fine buildings". Industries of New Zealand (1898) went further, claiming that "for its bustling activity, it reminds one of the Far East and the tales of old Byzantine times". As re­cently as the 1970s, architectural historian John Stacpoole was putting a romantic spin on Oamaru's "extraordinary character". The old harbourside buildings were, he said, reminiscent of Italy. "Here, if anywhere in New Zealand, Antonio might have bewailed his ship's wreck or Tybalt have duelled with Romeo."
But Oamaru's architectural reputation was two-edged. Soon it was being called not only the best-built, but also the most-mortgaged, town in Australasia. An expression both of colonial capitalism and of the Victorian impulse to pub­lic theatre, it at once encapsulated and surpassed the civic experiments being conducted elsewhere in the embryonic nation, from Russell to Invercargill.
In the decade to 1881, Oamaru's population quadrupled, swelling to more than 6000 and elevating it to the seventh-largest town in the colony, the equal of Invercargill and larger and more prosperous than Timaru or Napier. Adven­turous—some would say financially ill-considered—public­works projects, fuelled by massive loans, transformed the sea front, creating an artificial harbour and an impressive townscape of multi-storey stone buildings whose classical facades carried echoes of European grandeur.
Picturesque banks and hotels, civic chambers, shops and even fancifully decorated grain stores spoke of an unquenchable optimism and confidence in future prosper­ity, as did the construction of a 41 km water race which brought water to town from the distant Waitaki valley. The town's main street was of a size that would have flat­tered imperial Rome. Stretching unbendingly into hazy distance it was a majestic 40 m wide—sizeable enough to allow a bullock dray to turn full circle with ease. The stone bridge thrown across a troublesome creek that bi­sected this grand thoroughfare was one of the country's shortest but more than made up for this by being, until the opening of the Sydney Harbour Bridge, the widest single-span bridge this side of the equator.
Oamaru was surveyed and its streets were laid out in 1859, the year that the quintessentially Victorian writer Charles Dickens published A Tale of Two Cities. Ralph Sher­wood, tour guide and self-appointed custodian of Oamaru's architectural past, finds the coincidence illuminating. He told me that geographically and socially Oamaru itself told a tale of two cities: newish North End and the older South Hill, home to the historic Harbourside precinct.
"I get the impression that a lot of North End residents think the people who frequent the precinct are eccentric," said Sherwood, who himself sports an immaculate three-piece suit and top hat as everyday wear. "That is as it should be. It is very Dickensian. Dickens is full of eccentrics of the nicest kind."
I knew what he meant, having spent time with book­binder Michael O'Brien on my first night in town. O'Brien, full-bearded, tartan-clad and staunchly—defiantly—out of step with the 20th century, let alone the 21st, soon in­ducted me into the traditionalist movement, which has seen a renaissance of craft industries in Oamaru's Harbourside enclave.
We fell into conversation at the official launch of Heritage Week when, noting my gaze at the colourful throng, he pointed out that there were two types present: "costume wearers" and "trads"; those who had hired or made clobber for the occasion and those who came in their workaday rig. "Slim there is in his work gear," said O'Brien, pointing to a chap in tartan.
O'Brien himself possessed a startling fruit of the loom known as a feileadh-mor—nine yards of primitive kilt wrapped, tucked and buckled in such an unkiltlike manner that it swaddled his impressive frame.
"The first time I wore it I almost put my back out laughing," he admitted.
O'Brien's feileadh-mor was nothing less than the costume of Cluny, a lead character in the BBC's television version of Kidnapped, which had recently finished shooting in and around Oamaru. Before the film crew left town O'Brien had snapped up a dozen un­wanted costumes.
Oamaru is the location of choice for an increasing number of feature films, including The Lion, the Witch and the Wardrobe. Several locals landed bit roles in this, while others turned a dollar offering accommodation. Over a quiet pint, traditionalist boat-builder Lindsay Murray told how for 11 days he had been what he liked to call a "faunstar" out at Elephant Rocks, mixing it with minotaurs, cyclops, midgets and satyrs.
The cast of Lion were still in town, and one evening I was with O'Brien when he fell into conversation with ac­tress Tilda Swinton, at a window of the Criterion. A tireless propagandist for the cause, he held forth from the pave­ment, attempting to persuade Swinton of the merits of set­ting up home in his adopted town.
[chapter-break]
Over the Coming days I was to meet many who had done just that, forsaking their roots— O'Brien himself had quit Auckland—to take up a new life in Oamaru.
Tour guide Sherwood, for example. Napier-born, Sher­wood grew up in Blenheim and later worked in Christch­urch before moving south. Four years ago he found himself in the Harbourside precinct amid artisans in period clothes.
"I think I got off in the wrong century", he told me, re­ferring to his former life. "I felt instantly at home here."
Sherwood had agreed to show me round his patch, and early one morning we met on a traffic island under the 13 m-high granite memorial to the fallen of World War I. Across Thames Street in one direction were ranged the pil­lared facades of the former Bank of Otago and the old Bank of New South Wales; in the other, two former post offices.
Further up the high street were a clutch of solid edifices, including the Opera House, the neo-classical North Otago Museum and Courthouse, and the former council building with its impressive Venetian Renaissance palazzo detailing.
"It takes people by surprise to be confronted by such grand imperial buildings in a small South Island town," said Sherwood. He raised his cane towards the two old post offices. "We are in a very eloquent part of town," he added, and began giving me the benefit of their history.
The modest single-storey building to the left, now earn­ing its keep as the Last Post restaurant, was the town's first post office. Built in 1864 when the population had barely reached a thousand, it was plain and unadorned, the cir­cular windows of its squat tower left as blanks for a clock that never arrived. "Stone had just been discovered in the hinterland and they hadn't yet worked out its potential," Sherwood explained.
Hard by the 1864 building, and dwarfing it, was the second post office, built just 20 years later in the full glory of the style known as French Second Empire. The lavish upscaling of Oamaru's post office was a barometer of the town's progress, fuelled by burgeoning yields of wool, grain and meat on the big outlying estates.
North Otago had by this time consolidated its reputa­tion as one of the country's finest wheat-growing areas, with more than 32,000 ha of land under cultivation and an annual crop of some 28,000 t (more than a million bushels). The market for grain was itself stimulated by the enormous population influx precipitated firstly by the inland gold rushes and then, a decade later, by the public-works and im­migration policies of big-spending Julius Vogel.
Oamaru's growing wealth, derived from this agriculture, was slow to find expression in public buildings, however. The increasing splendour of the town's private edifices made the civic amenities look like "wretched makeshifts" by comparison. The early post office was soon being dis­missed as "little better than a wigwam" and the town's courthouse as "more like an English squire's mausoleum, or a Scotch Ice-house, than anything under heaven". Even the Athenaeum didn't escape the sharp tongues of locals, who dismissed it as "more like a dead house or a neglected boatshed than a public institution". Stirred to action by the commotion, the Minister of Public Works visited Oamaru in 1880, and within four years the town had itself a new customs house, a new courthouse and a fine French-in­spired post office to rival anything being put up in Timaru, Invercargill or Waimate.
Sherwood directed me to the imposing bank buildings across the street, described on their first appearance as "Greek temples that have strayed from Athens". Very much of this world, they were built as calculated monuments to security and financial probity. They also stand as mute tes­tament to a longstanding trans-tasman rivalry, for, in a pat­tern—amusing from this distance in time—that repeated itself throughout the colony, whenever a New Zealand bank established a presence, its Australian counterpart would eventually square off alongside.
In Oamaru's case, the Bank of Otago (1871) was out-porticoed 12 years later by the Bank of New South Wales next door, which flourished an extra two columns sup­porting an elaborate balustrade. Ironically, the earlier building is now occupied by the National Bank, while that of the Australian rival serves time as an art gallery.
Next, Sherwood led me to an extraordi­nary building: the New Zealand Elevator Company's massive five-storey grain eleva­tor. Something of a colonial skyscraper when it was put up in 1883, it had doors large enough to admit railway wagons and incor­porated the latest labour-saving American technology. Unfortunately for its owners, the elevator opened as farmers were turning to meat and wool, so its ranks of 6 m-deep storage bins were seldom full and the building soon fell into decline. Today, even without its two upper storeys (lost in a fire in 1920), the 50 m-long edifice remains impressive.
Further down Tyne Street stand more mercantile buildings, including Smith's Grain Store, described by the Historic Places Trust as "probably the most ornamental grain store in the country". By 1884 the Ital­ian palazzo-style building, praised by the Oamaru Mail as a "temple of art", was up for sale, owner Joseph Smith having found it increasingly hard to make grain pay.
Behind Tyne Street is Harbour Street, home to the New Zealand Loan and Mer­cantile's 100,000 sack-capacity grain ware­house and to the fetching gabled premises of Lane's Emulsion, dispenser of a notoriously vile cod-liver-oil remedy concocted by Ed­ward Lane and inflicted on generations of suffering New Zealanders.
[chapter-break]
Having become acquainted with some of the history that is so indelibly recorded in the stone of Oamaru—in buildings that, to use Sherwood's phrase, "held up a mirror to what was going on in people's heads"—I was keen to learn more about the roller-coaster ride that fortune had dealt the town. Neil Plunket, long-time project manager for Whitestone Civic Trust, the organisation that rescued and restored many of Oamaru's run-down historic buildings, was just the man to enlighten me.
The discovery in May 1861 of gold at Gabriel's Gully, in South Otago, was what set the ball rolling, Plunket told me. Soon gold was being discovered further afield, and by the end of the year Otago's population had more than dou­bled to 30,000. The province's gold revenue attracted the banks and helped underwrite Oamaru's agricultural infra­structure, local land having some of the country's highest cropping rates. Agriculture, in turn, gave rise to warehouse construction, railroads linking the town to both Christch­urch and Dunedin, and the building of a breakwater to cre­ate a safe deep-water port.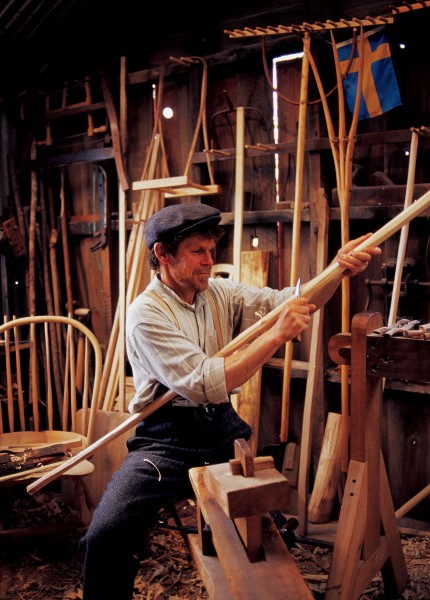 Then, in 1882, a bold experiment was made at Totara Estate, 8 km south of town. The estate was part of the New Zealand and Australian Land Company's vast empire, which included 700,000 sheep on 1.2 million ha of land, and it was there that two of the company's senior employ­ees, William Soltau Davidson and Totara manager Thomas Brydone, oversaw the country's first export of meat. Sheep were killed there in a newly built slaughterhouse before be­ing despatched by rail to Port Chalmers, where the carcases were frozen aboard the Albion Line's Dunedin and shipped to Britain. The safe arrival of the trial cargo in London three months later heralded a new farming economy in the colony based on sheep bred for meat as well as wool.
It was an economy that was to have an extraordinary long-term impact on the country, and one that greatly benefited Oamaru; Dunedin's second voyage, significantly, began at the town's port. Just three years later, the New Zealand Refrigerating Company had built a freezing works in town, between the rail tracks and the sea.
Rail, port, grainstores, freezing works. "The whole his­tory of New Zealand agriculture can be mapped out in the streets of this town," Plunket told me. A freezing worker at the Pukeuri works north of town for 17 years, he got involved in the historic precinct through music—doing gigs to raise money for a new venue called the Penguin Club, which eventually set up shop in the area. "At that stage there was only one light bulb in the whole of Harbour Street. It was like the black hole of Oamaru."
The precinct had been built in pre-electric days—it even has an Electricity Museum to chart the changes—and cast-iron water mains in the street testify to the widespread use of water power.
By the mid-1980s the extraordinary wave of prosperity had come and gone, leaving Oamaru's whitestone buildings as little more than stranded, derelict shells. By then most of the warehouses were owned by agricultural-service com­pany Wrightson, but changes in grain-handling technology made most of them redundant and deferred maintenance had left them little more than liabilities. Ironically, the de­cline that had pulled the plug on Harbourside made demo­lition uneconomic.
A council-commissioned feasibility study recommended the creation of a preservation zone administered by a trust, and having as its events theme the Victorian Town at Work. Plunket followed the doings of what became the Whitestone Civic Trust, enlisting for some time as its project manager. "There was strong support from city elders and local business people, and over the years the trust has been eminently successful in tapping into grants."
The trust uses the money to buy the old buildings—it recently acquired the original Lane's Emulsion building­ and, as funds allow, to re-roof them, add sprinkler systems, restore facades and generally put into practice the philoso­phy known as adaptive reuse. The council itself led the way in the early 1980s when it turned two local icons—the Athenaeum and the Bank of New South Wales—into a mu­seum and art gallery respectively.
The trust is now consulting with the Department of Conservation over application for World Heritage Status for the port area and the outlying Totara Estate.
Trust chairman Bruce McCulloch later told me that however reasonable such an approach might now seem, in the early years it had been difficult to persuade some of the economic benefits to be had from celebrating Oamaru's heritage. Nor has much work yet been done on quantifying the economic returns from Heritage Week.
"We have for years been trying to get acceptance of dressing up in costume," said McCulloch. And he didn't mean for Oamaru's five festive days a year. Like O'Brien, Sherwood and a host of other Victorians at Work, McCul­loch dons the appropriate period gear every morning before heading off to work—in his case down the main street to the Athenaeum, now home to the North Otago Museum, of which he is director.
Such sartorial resoluteness has marketing value accord­ing to McCulloch. "I can go to another town dressed in Victorian clothing and be instantly recognised as coming from Oamaru," he said.
Oamaru's mayor, Alan McLay, admits to initial scepti­cism about the economic potential of the town's Victorian heritage. "The impact from tourism has been such that a lot of people have shifted their opinion," the immaculately dressed civic leader told me as the garden party wound down around us. "What heartens me is that the Historic Places Trust is not looking to make a Disneyland here. We are preserving what we have and then, instead of going all plastic and glass, we are using found materials adapted to the 21st century."
McLay is reluctant for the council to take much credit for the preservation push. Oamaru was booming when he arrived in the 1960s but subsequent economic decline and droughts removed the impetus to tip buildings over. "It was people like Michael O'Brien coming down and looking ec­centric in his tweed suit who showed us what we had and took an uncompromisingly protective attitude towards it."
McLay also credits Meridian Energy for a part in Oamaru's economic revival. Despite the collapse in 2004 of its hydro scheme Project Aqua, the company bankrolled ir­rigation of the Kakanui and Waiareka valleys, giving land­holders the possibility of growing cherries, nuts and pinot noir grapes as well as undertaking dairy conversions.
By getting prosperity back into the community through farming and tourism, McLay believes Oamaru will be able to maintain its herit­age values without "doing the Queenstown thing".
"Michael O'Brien and the others have to realise the cost of restoring something that doesn't have a commercial outcome," he said.
Ken Mitchell, Oamaru's kilted black­smith, would no doubt take exception to talk of heritage not being able to pay its way. Another of McLay's "eccentrics", he suffered an embarrassing defeat at the previous year's celebrations of the sort that would have brought a shudder to any self-respecting Vic­torian male. His Scottish terrier, Jock, won the beard-growing competition, prompting such newspaper headlines as "Dog Beats Master" and "Three-Year-Old Wins Beard-Growing Competition".
Mitchell is lesee of a handful of corrugated-iron work­shops once owned by the Oamaru Harbour Board which stand hard against an old quarry near the harbour's south­ern seawall. Several of the sheds, now registered historic places, were damaged in a badly judged explosion in 1943 and have since been rebuilt.
I came across Mitchell in one of the sheds tending his forge and fashioning dirks. "One can never have enough sharp knives," he said, teeth showing through his beard.
I was aware that some Oamaruvians, who considered the town's fetters to the past broken, entertained plans for a marina in the harbour, complete with apartment buildings and cafés. Such talk is anathema to Mitchell. "There is a huge demand here for workspace from traditional crafts­people. The vision is to create an artisan and crafts village," he told me. "Private apartments are not where it's at."
Mitchell would like to see more sheds to complement those housing the woodworkers, stonemasons and others already active in the area. He suggested the harbour would make an ideal place for international yachts to winter over and have maintenance done.
There is certainly history enough to provide context for such a facility. Until the rock breakwater was built in 1880 to subdue the ocean surges and form an artificial harbour in the lee of Cape Wanbrow, Oamaru was an open road­stead and one of the colony's most dangerous ports, claim­ing some 25 ships in under 20 years. Most things—from foodstuffs and clothing to news and gossip—came by sea, brought perilously ashore by surfboat in what local histo­rian Gavin McLean has called "the Victorian equivalent of white-water rafting".
Yet, at a time when roads to Oamaru and through the Waitaki were little more than rutted tracks across tussock-land, the sea was the obvious highway. As McLean has said, here and in similar towns throughout the colony success depended "on how good you were at digging a big hole in the water near a warehouse".
Oamaru's breakwater was its salvation. The wharves built inside its protective arm gave pastoralists a conduit for the export of wool, grain and then meat, and so turned Oamaru into one of the so-called "protein ports" that hard­wired the colony into the greater economy of the British Empire.
By the 1880s Oamaru was the size of San Francisco and growing equally fast, with 400 or more ships a year berthing in its harbour. In its day Sumpter Wharf, a big wooden structure that has now fallen on hard times, berthed refrig­erated steamers built for the frozen-meat trade and bound for northern waters and British freighters loading feed for the horses of troops fighting the Boers in South Africa.
Scott's Own Sea Scouts use a smaller wharf nearby, their name commemorating the Edwardian explorer Robert Fal­con Scott. The association is no mere whimsy. It was at this very place, on February 10, 1913, under cover of darkness, that a party from Scott's ship Terra Nova landed to cable to the world the shocking news of his death, and the deaths of all his polar party, in the frozen vastness of Antarctica.
[chapter-break]
It is to see other things slipping secretively ashore that many visitors make their way along Waterfront Road. Blue penguins (korora) nest here, and for an hour or so after sunset the diminutive 40 cm-tall birds can be watched as they come ashore and make for their wood­en nesting boxes at the quarry. Oamaru, with its 3000­ strong colony, is the most convenient place in the country to observe korora, the world's smallest penguins, which began making use of the quarry shortly after it closed.
A visitor centre and viewing platforms have been built for the benefit of tourists keen to see korora and the less common hoiho (yellow-eyed penguins), a few of which live a short walk away at Bushy Beach. During Heritage Week the Oamaru Steam & Rail Restoration Society fires up its brightly polished 1924 locomotive and hauls excursionists to the quarry from the old railway station in town.
But there is no need for visitors to make the pilgrimage to the viewing platforms to see the blue birds. They are op­portunistic nesters, and the distinctive penguin smell that permeates the Red Sheds gives away their liking for warm foundations.
Stepping into woodworker Bill Blair's shed, part of which dates back to the 1870s, I came across a nesting bird just around the door. Blair makes a living fashioning such traditional implements as hay rakes and bent-wood pitchforks from oak, ash, elm and other timbers, which he harvests in a British-style coppice at Whites-tone woods, near Weston.
Blair's workshop is a pleasant place to be, in large part because of his decision to do without power tools and the jarring noise that inevitably accompanies them. Instead, he harnesses millennia-old technology: sharp draw knives, spokeshaves, a simple wood vice known as a shaving horse that lets him sit on the job. Also mauls, a side axe, a splitting frame called a brake, and a pole lathe—a brilliantly cunning device that draws power from little more than a springy pole and the user's foot.
Aside from forks, rakes and birch-twig brooms, Blair is one of only two people in the country (the other is in Nelson) to pro­duce an oddity known as a trug basket. Made of steamed willow planks fastened with cop­per nails and fitted with a willow handle, trugs were made fashionable by no less a personage than Queen Victoria, who took delight in the rustic garden baskets.
From time to time Blair also makes wood­en grain shovels, which he hand-carves from poplar. Six of them found their way onto the set of The Lion, the Witch and the Wardrobe.
Like many locals attempting to throw a lifeline to Victorian Oamaru, Blair finds his time and resources stretched. A serving member of the Historic Places Trust com­mittee, he is also called on to throw a leg over his elegant penny-farthing whenever occasion demands in order to compete in street races or to make up numbers in the annual Penny-Farthing Tour of Southland, the arrival of which in Oamaru, after a whis­tle-stop traverse that takes in Queenstown, Kingston, Lumsden, Winton, Invercargill, Edendale and a handful of Otago towns, helps kick off Heritage Week.
Blair is also a real-ale enthusiast, and after a dryish day at the shaving horse we retired to the Criterion for a remedy. As he extolled the virtues of organic pilsners, English-style bitter and the subtle interplay of these hops and that malt, I recalled an observation Sherwood had made.
It would be wrong, he had said, to picture Oamaru in the 1870s and '80s as a sedate town. Though the focus now may be on prim aristocratic life—and here I thought of after­noon tea at Burnside and croquet in the pub­lic gardens—back then it was a colourful and boisterous place. "There were sailors aplenty, a rough gang called the Larrikins, and not enough police. We had countless brothels and all sorts of dens of iniquity."
Historians report footpaths being blocked by intoxicated youths mouthing obscene lan­guage, the disruption of church services by hoodlums, and annual convictions for drunkenness in town that soared to three times the national average. With gam­bling and singing permitted at most of the hotels, which seldom closed until after midnight, and with a proliferation of unlicensed grog shops which passed themselves off as boarding houses, Oamaru was understandably branded by Dunedin's Age newspaper as "that drunken metropolis".
By 1881 local newspaper owner and ardent prohibition­ist George Jones was fulminating that some 6000 citizens managed to find work for 20 hotels, two breweries, 32 sly-grog shops and a dozen brothels. Jones got a park and memorial arch for his crusading spirit, and in 1905 Oamaru got some peace and quiet when the district was voted dry.
With their bars closed, the Criterion and its fellow es­tablishments eked out a living as private boarding houses. It wasn't until the Oamaru Whitestone Civic Trust refur­bished the Criterion in 1998, following Historic Places registration, that locals could again partake of a legal pint inside the elaborately ornamented building.
The trust itself is headquartered a stone's throw from the Criterion, in Number 2 Harbourside, a small jewel of a building that once housed the offices of the Oamaru Har­bour Board. The location is fitting, and not just because it lies in the heart of the historic precinct. In a very real sense it was the drive and vision of Oamaru's harbour board that built the town.
Formed in 1874 as a result of government legislation aimed at replacing ad hoc provincial harbour departments, the board immediately commissioned its Venetian Renais­sance building and set about discharging its duties by build­ing a viable port.
The symbolism of the Venetian-inspired architecture was obvious: as Venice before it, Oamaru was imagined as following its destiny to maritime prosperity. In some quar­ters it was even seen as the South Island's future capital—at least until the harnessing of steam aboard ships made work­able ports of Lyttelton and Port Chalmers.
Ambition outran caution at Number 2 Harbourside, however, and by 1891 the harbour board was defaulting on loans, nettling London money-lenders and prompting the august Financial Times to complain about "the recklessness or worse of colonial borrowers". Financially crippled by the effects of the Long Depression and the cost of repair­ing damage caused to the breakwater by a storm in 1886, the board went into receivership in 1894. It weathered the financial storm, however, clawing itself out of debt and surviving in more or less good shape until 1978, though the harbour was closed as a port of entry in 1966 and its wharves served their last ship in 1974.
[chapter-break]
If the harbour board can be said to have built the town, it had on its payroll the man who could lay fair claim to having designed it: the extraordinary Thomas Forrester. For 25 years Forrester served as secre­tary and inspector of works to the board, among other things overseeing construction of the town's wharves and its 564 m-long breakwater. His dedication impressed all who knew him, not least the North Otago Times. "Were he to die," quipped the newspaper in 1881, "the words 'Oamaru Breakwater' would prob­ably be found engraven on his heart."
It was Forrester, too, who in 1879 discov­ered through trial borings that the harbour could be dredged, thus opening the prospect of a true deep-water port.
But the self-effacing, hard-working Scot was more than an able administrator and workmanlike engineer. He was also a plaster­er, draughtsman and amateur scholar, as well as a talented self-taught architect, though he pursued this passion outside office hours, the way another might dabble with oils.
This characteristically autodidactic Victo­rian arrived in the colony in 1861 and moved north to Oamaru in the early 1870s. In 1872 he founded the architectural firm of Forrester and Lemon with fellow harbour-board mem­ber John Lemon, who became the practice's business manager. Soon, the Greek-revival sensibility which Forrester had brought with him from Glasgow began finding expression in the "temples and palaces" that he set down to form the streetscape of Oamaru.
To be sure, other architects—some more talented than Forrester—contributed in­dividual buildings. The rival banks on the main street, for example, are both from the drawing board of Robert Lawson, though Forrester supervised their construction when still working for Lawson in Dunedin. But it was the products of the For­rester and Lemon partnership between 1872 and 1890 that provided the unifying keynote for Oamaru and stamped it with its unmistakable architectural character.
In large measure this was the result of the material the two men had to hand: North Otago limestone (or Totara limestone, to use its geological name). The high cost of im­porting timber to make up for a regional deficit, combined with the discovery of vast quantities of excellent local whit­estone, encouraged early experiments in the use of stone for construction. Oamaru stone is pure (98 per cent calcium car­bonate and halfway to becoming marble), granular and read­ily worked—it will take nails and can be cut with a handsaw.
What is more, there is a seemingly endless supply of it. The seams stretch back 35 km or more into Duntroon, and test drillings in Weston are said to have reached a depth of 80 m without finding the bottom.
Engineer William Blair took time off building Otago's railways in 1875 to publish his investigations into Oamaru's distinctive stone, which he described as light, durable and "remarkably uniform in colour and texture". Presciently, he wrote: "whole cities might be built in which one stone could not be distinguished from another".
Blair's findings, later reproduced in his Building Materials of Otago (1879), would have appealed to Forrester, who him­self had had the distinction 14 years earlier of drawing for James Hector the country's first geological survey map.
Lawson was won over by the stone's decorative poten­tial. "The ease with which it can be worked into any form permits of richness in detail and carving… which would be impossible in harder material unless at say three times the cost," he wrote.
Able to be sliced out of the ground as if it were mere clay, the stone was cheap to cart, costing just two pence per tonne/mile to get it from the nearby quarries to the heart of town.
Given such economic advantages, it is not surprising that Oamaru had a greater proportion of stone buildings than either Auckland or Wellington, or that it now has more century-old stone buildings than any town or city in New Zealand.
Oamaru's whitestone soon found its way to other cen­tres: as early as 1865 Dunedin constructed a post office with it, and some was even shipped as far as Melbourne. Nevertheless, most customers for the half-dozen quarries were local.
[chapter-break]
On my last day in Oamaru I drove out to Parkside Limestone Quarry, in Weston, which has been pulling blocks of limestone out of the rolling hills of North Otago since 1906. Wearing glasses against the reflective glare, quarry director Bob Wilson took me up to the cutting face, where massive rail-mounted mechanical saws cut slabs of stone from the quarry floor.
Sherwood had told me that Parkside, the district's sole surviving quarry, looked like the set for a remake of The Ten Commandments, and he was right. To our left was an enormous pit whose saw-cut pyramid-sided walls evoked the age of the Pharaohs. Begun in 1982, it was now knee-deep in water and weed.
"That was producing good stone but the water table beat us," said Wilson as we stood in the midst of a newly worked amphitheatre of rock where topsoil had been stripped back to expose the limestone bed and the ground levelled to give a flat working surface.
He gave me a tour of the cutting shed, where two-tonne blocks are moved about by forklift and sawn, split or bol­stered with the ease of plantation timber. Much of the stone is destined to become veneer in homes the length of the country, with some earmarked for prestigious projects, in­cluding a new hotel in Brisbane.
Waste is taken to a limeworks on the property, where lime is mined and crushed for fertiliser. The works was the biggest user of New Zealand Rail until the 1940s, Wilson told me, and the wagons were still running when the quar­ry became a Mitchell family business—it bears the name of their farm—in the early 1970s.
Peering at the stacked blocks of stone which were laid down 40 million years ago in the shallow sea that once covered the land hereabouts, it is easy to imagine the creak of crude Victorian derricks and the snort of patiently waiting dray horses as Oamaru's future face was cut and lifted.
Stone may appear a hard material to en­code with memories, let alone with a living past, but just as a big animal—a tiger, say, or a whale—can be made to stand for the con­servation of an entire ecosystem, so the res­toration of Oamaru's whitestone architecture is helping recover a more ample past. One that we are all the richer for sharing.
Such thoughts tend to come unbidden when standing at the quarry face—especially if, like mine, your travel trajectory has come under the influence of Oamaru's Heritage Week.
After all, it isn't far from the Mitchells' Weston to Forrester's Oamaru.