C.F. Goldie: the old master revisited
To the public he is a national treasure. To critics he was a "one-man academy" who clung to an outmoded style and produced work that was both patronising and dull. Why should Charles Frederick Goldie divide opinion so? Fifty years after his death, New Zealand's best-known painter remains an enigma, open to as many interpretations as there are hairs in a sable brush.
Her face has the texture of fin­est silk. Each wrinkle and eye­lash, the curve of her cheek­bones, the chisel marks of her moko, are so lifelike she appears to lift off the canvas and hover just before it. Her hands—every vein and knuckle—are so perfectly rendered I wonder for a moment if I once held them in my own. This ancestor, the Nga Puhi chieftainess Ina (Ena) Te Papatahi, is surely present in more than pigment and oil.
Many Maori certainly think so. While the uncanny verisimilitude of the por­traits of New Zealand's most famous artist, Charles Frederick Goldie, is what im­mediately strikes any viewer, for Maori the experience is even more profound: they believe the wairua or spirit of the subject somehow resides in each picture. Indeed, the descendants of many of the tupuna (ancestors) who grace Goldie's canvases often feel such overwhelming affection for the portraits that they have been known to confide in or pray to them, to kiss or hongi the images, and to weep silently in their presence.
In a career spanning five decades, Goldie earned an international reputa­tion through his portraits of Maori. He was represented and acclaimed at the Royal Academy of Arts in London and the Societe des Artistes Francais in Paris. In New Zealand, however, his artistic sta­tus has swung between lofty highs and gloomy lows. Since the start of his career at the beginning of this century, Goldie has been championed in one decade and derided in the next. Yet his appeal to the public, especially Maori, has never wa­vered. Now, as the century draws to a close, art professionals and the public are in agreement: the portraits of Charles Goldie have become, once again, vitally significant to New Zealand art.
A major retrospective exhibition to mark the 50th anniversary of the artist's death, mounted by the Auckland Art Gallery Toi o Tamaki in 1997 and now touring other centres, is giving the pub­lic and critics alike the chance to reassess New Zealand's 'Old Master'. Among the 135 paintings in the Auckland exhi­bition were some not seen in this coun­try since their original purchase when Goldie was alive.
For Roger Blackley, curator of his­torical New Zealand art at the gallery, assembling the exhibition was the culmination of almost a decade of research and curatorial work.
It was during the 1987 Te Maori ex­hibition, when a selection of Goldie por­traits was displayed in an adjoining room in the gallery, that Blackley first became aware of the special bond Maori feel for the paintings. He noticed that Maori visitors tended to gather in the Goldie room after viewing the main show. Cen­tral to the vision he subsequently devel­oped for the Goldie exhibition was the concept of providing, as he called it, "a meeting place for greeting the ances­tors." So instead of hanging the paint­ings according to Pakeha art conven­tion—by date or theme—he arranged the Maori portraits in tribal groupings.
For many Maori the exhibition was a much-anticipated event of deep cultural and political importance. To them, the act of hanging the portraits turned the gallery into a marae, a place where one could tangibly encounter many of the great figures of 19th-century Maoridom.
For other viewers, however, the exhi­bition was unavoidably tinged with the legacy of 80 years of professional ambivalence towards Goldie and his work.
At the beginning of his career, the man was hailed as "the first figure painter in New Zealand" and "the Dominion's premier painter," whose work would be admired "even in the great art centres of the world." But exuberant praise soon gave way to criticism. His work was considered "too photographic" and contained "too great a tendency towards still life." It was of "archaeological and his­toric value" only; a record of old-time Maori, properly at home in a museum, not an art gallery.
Detractors of Goldie during his life­time and the decades immediately fol­lowing his death in 1947 tended to view him from a modernist perspective, find­ing his conservative style ar­chaic and outdated. Then, as the colonial era took its place in history, accusations of a more political nature were levelled at Goldie: he was guilty of portraying Maori in a romantic, condescending light, of populism and out­right racism.
As if this censure were not enough, the widespread re­production of his portraits in prints and calendars, on tea towels and knick-knacks, led many to relegate Goldie to the realm of 1950s tourist kitsch, along with paua-shell keyrings and plastic tiki.
Danielle Tolson, Roger Blackley's research assistant and co-ordinator of the exhibition, admits to having held such a view. Typical of today's generation of arthistory students, she was in­clined to consider Goldie and historical painting generally as "a big yawn"; post-modernist feminist art held much more appeal. However, in the light of her experience with the exhibition, where she witnessed the potent connection to the portraits dem­onstrated by so many Maori, Tolson ad­mits she has changed her mind.
[Chapter Break]
Despite the fact that for decades the Pakeha art estab­lishment has marginalised Goldie's work, the guardians of informed opinion have been powerless to displace popular affection for Goldie or to devalue his commercial worth. Goldie has a track record as a gilt-edged invest­ment, and this fact has placed pressure on the art establishment to accord him a status commensurate with the huge prices his works command. (The paint­ings in the Auckland exhibition were es­timated to be worth around $22 million.)
A well-publicised furore in 1990 over the purchase, for $900,000, of two Goldies by the then National Art Gal­lery highlighted the conflicting views of Maori and the various factions of the art world. The gallery was criticised among the latter for making an excessive and untimely purchase. One prominent art writer and curator, Jim Barr, said the gallery should be concentrating on con­temporary works, and called the por­traits examples of "coon humour"—portrayals which demean their subjects and hold them up to ridicule.
Painter and former National Art Gal­lery trustee W. A. Sutton declared the pictures to be typical of Goldie's Maori paintings, which "look like a lot of old people sitting around in the sun waiting for pension day."
Appalled at such sentiments, Maori descendants insisted it was insulting to quibble over the cost of these priceless tributes to their ancestors.
The Maori belief that Goldie's por­traits transcend art to become spiritual manifestations of particular tupuna doesn't sit easily with the Western art-history tradition, in which a subject's identity takes a distant second place to artistic licence. In Da Vinci's Mona Lisa and Rembrandt's The Laughing Cavalier the identity of the sitter remains to this day vague and incidental, for what is be­ing celebrated is a momentary glimpse into the subject's character: the enigma of a smile, the irony of a joke.
Indeed, it is precisely the profound significance of the portraits to Maori, coupled with the emergence of theories on colonial oppression, that make Goldie problematic for the Pakeha viewer. While many Pakeha in the past have openly denounced Goldie for his apparent racism, they are faced with ac­knowledging the undiminished rever­ence in which Maori hold him.
Even now, half a century after his death, there is still no New Zealand art­ist who stirs the national psyche like Charles Goldie. Auckland artist Dick Frizzell sees in the portraits a much-needed reference point to a hazy past. "Considering the very meagre image bank we can call upon historically, we have to grab everything we can to see a reflection of ourselves, and I think Goldie functions on that level."
Given this country's history of intertribal rivalry and often strained Maori-Pakeha relations, the Goldie exhibition was seen by many as an event of hope. Mere Lodge, iwi consultant for the exhibition, offered Goldie as "the great mediator of our times."
Waving her arms around the collec­tion, she exclaimed: "He succeeds in bringing not only Pakeha and Maori together, but all these tribes as well!"
[Chapter Break]
Goldie's ability to unify was powerfully evi­dent at the launch of the exhibition. On Descendants' Day, as de­scendants of the portrait sub­jects gathered in the lobby for the official opening, the atmosphere was charged with expectation—and per­haps a little anxiety: after all, here was a principally Pakeha institution playing host to what amounted to a Maori hui.
Karakia were offered, seeking peace between the ancestors. Waiata, com­posed for the occasion, were sung. As a long hongi line, in which gallery staff wel­comed each descendant, drew to an end, the mood shifted from quiet anticipation to rapture.
Then it seemed that the paintings could breathe. Each one radiated a beauty and intensity that was awe­some and sacred. Little groups clustered before their family portraits, some elated, many with tears rolling down their faces. There was euphoria and sadness everywhere.
Ngahuia Te Awekotuku, professor of Maori studies at Victoria University, ex­plains the historical wellspring of this emotion. She says the time in which these ancestors lived was "a profoundly troubled period in our people's history." Many of Goldie's sitters had witnessed the signing of the Treaty of Waitangi. Their lives had been ruptured by events such as the surge of Pakeha immigration in the late 1840s, the eventual outnum­bering of the Maori population in the 1860s, the land wars and subsequent confiscations of land and the slow eras­ure of traditions such as the facial moko.
"The grief people are feeling here is just this huge weight of the loss of our heritage," said one descendant.
During the course of the exhibition, the gallery saw many moments of poign­ancy and exuberance. There was the morning a blind Maori elder was taken by arm around the exhibition by a rela­tive who described the paintings to him in Maori. Dozens of tattoo practitioners came to study Goldie's meticulous ren­dering of moko, leaning so close with their pencils that gallery attendants were sent into nervous flutters. Schoolchil­dren, especially from kura kaupapa (Maori schools) and kohanga reo (Maori preschools), visited in groups almost daily. They were greeted with a tradi­tional powhiri (welcome), and at the con­clusion of their tour would often express their gratitude by singing waiata, to the delight of other visitors. For Vapi Kupenga, tour co-ordinator, "the chil­dren singing was the most spirited gift of all back to the ancestors, the gallery, and, of course, to Goldie."
A programme of complementary events accompanied the exhibition, pro­viding a forum for the contradictory responses Goldie still invites. Serious aca­demic discussions teased out the prob­lems of colonialism in art, while a lighthearted celebrity debate argued the mo­tion that Goldie's paintings were not high art but high kitsch. Even notorious art forger Carl Feodor Goldie was on hand to talk about his craft (see sidebar). Surprisingly, people lined up to hongi with him afterwards.
[Chapter Break]
If goldie's work prompts con­flicting and ambiguous responses, the man himself was an odd mix of ego, eccentricity and genuineness.
Goldie always sought a high profile in New Zealand art. Publicity photographs show him posing in his studio with a luxuriant backdrop of palms, plaster busts and exotic drapery—an affectation of Parisian bohemianism intended to impress colonial Auckland society. He employed his own picture framer to make distinctive black frames with a deep oval sur­round that gave his work high visibility in the crammed early group shows at the Auckland Society of Arts. He targeted his sales at wealthy Europeans and American tourists who could afford the high prices he demanded.
Goldie's self-aggran­disement was complemented, if not justified, by a high degree of professionalism. He commanded the respect of his sub­jects, became an expert on matters relating to Maori, and was a perfectionist, paying obsessive attention to detail and often resisting sales because he felt his work was unfinished. His dealer on many occasions needed to con him into a sale.
But for all his artistic passion, Goldie clung to a style of painting that was even in his day regarded as passé. He railed against modernism and fought a rear­guard action to have his own work rec­ognised as important art.
There were also contradictions in Goldie's social and private lives. The social Goldie glided between the snobbery of high-art circles and the frivolous the­atrical world of singers, actors and musicians. He was equally at ease at cocktail parties with his close friend the gover­nor-general, Lord Bledisloe, and inner-city public bars, where he was known to be a rowdy drinker.
The private Goldie, on the other hand, was intense, passionate and elitist, and sometimes reclusive and bitter. Eileen Cowan, widow of writer and his­torian James Cowan, a close friend of Goldie, wrote: "[Goldie] thought that New Zealanders were artistically abso­lutely uneducated and held them all in vast contempt."
The duality that characterised Goldie's life may have had its roots in the disparate natures of his parents. Maria and David Goldie were a wealthy, prominent, yet eccentric Auckland cou­ple. Charles, their second son, was born on July 11, 1870.
The lustrous Maria—"Mater, as she was known to her eight children—had a great love of art and was an amateur painter herself. She entertained her children with spontaneous soirees, evening concerts and impromptu fancy-dress par­ties. Her husband, by contrast, was cold, authoritarian and fanatically religious, and as a businessman, member of Parlia­ment and, briefly, Mayor of Auckland, had a reputation for tight-fistedness and little time for family life. He was an ar­dent prohibitionist, and has gone down famously in the city's history for prefer­ring to resign his mayoralty during the 1901 royal tour of the Duke and Duchess of Cornwall and York rather than pro­pose an alcoholic toast in their honour.
Behind the gregarious artist with a flair for self-promotion we can see Maria, while in Goldie's business practices, his eye on a high return and his increasingly reactionary view of the world, he is his father's son.
Other hereditary inferences can be drawn. As a young man Charles Goldie, in defiance of his father's anti-alcohol stance, drank, smoked and loved parties. The large-scale religious work The Child Christ in the Temple, questioning with Doc­tors, found by His parents (1898-1911) was commissioned by his father, who de­manded two religious works a year from his son as part of the conditions of his financial support. Is Goldie mischiev­ously picturing himself as Christ hold­ing the room to attention, slyly usurping his father's moral domination?
In 1890, at the age of 19, Goldie en­tered the Auckland Society of Arts' an­nual still-life competition with Still Life (1890), a marvellously detailed painting of a small catch of fish with flax and watercress on a slab of marble (page 76).
The painting was relegated from the competition because its background bowl of goldfish—clearly alive and swim­ming—did not meet the conditions for a "still" life.
After leaving school, Goldie trained part-time under Louis Steele, a well-known Auckland painter, while being employed in his father's timber business. Easily bored by the tedium of office work, he used to escape to Steele's studio or to art events. It was through Steele that former governor Sir George Grey advised Goldie's father to send his son to Europe for serious art instruction instead of training him for commercial life.
So it was that Goldie left for Paris in 1893, a time when the City of Light was the centre of the art universe. He was to attend L'Academie Julian, where Henri Matisse had studied only three years ear­lier. This was the most conservative of Parisian art schools, and it was there Goldie acquired his disdain for Impressionism and other avant-garde European art movements and established a paint­ing style essentially academic and con­servative.
In Paris Goldie was in his element. He resided in Montparnasse, in the heart of the Latin Quarter, where students and artists mingled in the numerous cafes that lined the boulevards and back streets. What little survives of his gos­sipy letters to friends tells of outings to the Bois de Boulogne, picnics, steam­boat trips up the Seine and the consump­tion of large quantities of yin ordinaire.
L'Academie Julian, with typical French disdain for social pompousness, was not exclusive in membership. One writer described it as a place where "women, foreigners, French citizens, fifty-year-olds and twelve-year-olds were all equally admitted without entry ex­amination." Socially, the shift must have been dramatic for someone used to the limiting snobbery of colonial Auckland.
Goldie travelled extensively through­out Europe: to Antwerp, Rome, Flor­ence, Venice, Milan, Naples, Amster­dam, the Hague, Rotterdam and most of the famous galleries, copying at first hand many of the works of the Old Mas­ters. He was especially influenced by Rembrandt, as evidenced by the distri­bution of deep shadows and soft light on rich complexions that became a hallmark of his Maori portraits.
Goldie attempted a number of can­vases of European cityscape scenes, some of them with a soft impressionist light, but that deviation from an academic painterly technique was to remain a youthful experiment.
L'Academie Julian encouraged its stu­dents to make studies from life with a strong emphasis on photographic detail, a style in which Goldie naturally ex­celled. His tutor, William Bouguereau, told his students that "reality is charm­ing when it borrows a gleam of poetry from the imagination." This adage prob­ably stayed with Goldie throughout his career as he sought to find, through his talent for fine detail, a way to heighten his paintings beyond simple realism.
Goldie was a top student. In the acad­emy's monthly competitions, or contours, he was a regular runner-up. He finally came first equal, out of 300 students, in 1896. His painting of a male torso won him a gold medal and 75 francs, a help­ful sum considering a year's tuition fees amounted to 300 francs.
[Chapter Break]
Before he left New Zealand, Goldie had completed his first Maori portrait, Kawhena of Ngati Mahuta (1892). In Paris he would have seen parallels to Maori subject mat­ter in the work of the Orientalist paint­ers. Delacroix, Matisse and Renoir had all made journeys to exotic locations in Egypt and Africa and brought back lav­ish paintings of foreign architecture, peoples and cities to a wealthy European art market. For Goldie, painting Maori was to become far more than a passing fancy, in fact a life task to which he grew deeply committed, and the success of the Orientalists was undoubtedly influ­ential in his choice of subject matter.
In 1898, Goldie returned to New Zea­land, aged 27. He formed a partnership with his former tutor, Louis Steele, and opened the French Academy of Art in Shortland Street. The following year the two artists exhibited the result of their collaboration, The Arrival of the Maoris in New Zealand (1898), based on Theodore Gericault's Raft of the Medusa, which Goldie had copied while in Europe.
The Arrival (page 73) is now generally considered the biggest faux pas of Goldie's career. When it was first shown, the work was highly praised by the local press for being a pre-eminent New Zea­land historical painting, and even 30 years later was voted the most popular painting in the Auckland Art Gallery col­lection. Today, however, it is regarded as a prime example of the misrepresenta­tion of Maori history.
"The picture is a disaster," writes eth­nologist David Simmons. "The crew are shown as Polynesians with no tattoo, wearing tapa cloth, but they are sailing in a mixed-up double Maori canoe of the eighteenth century using a sail form which probably never existed."
The dire state of canoe and crew de­picted in the painting is considered a sluron Polynesian navigational and maritime skills, as well as undermining the pro­hetic and spiritual nature of the pil­grimage to New Zealand. Maori disdain for the picture (coinciding in this in­stance with professional opinion) has possibly encouraged critics to lump Goldie's portraits under the same banner of cultural misappropriation—a gener­alisation most Maori reject.
Around the turn of the century, Goldie turned to serious portraiture, painting members of his family, promi­nent Auckland businessmen and the first of the Maori portraits since his return from Paris. One 1901 work is of the eld­erly William Swanson of west Auckland. Hardly flattering, it was possibly a com­mission Swanson rejected, as the painting remained in Goldie's possession until 1920, when he donated it to the Auckland Art Gallery. A portrait of his mother at around the same time depicts a serious, almost severe woman not congruent with the accounts of soirees and art occasions she championed in Goldie's youth.
Goldie's Pakeha subjects are seated formally in chairs, a prop the artist never employed with his Maori portraiture. The bodies are noticeably rigid, and the facial expressions suggest a Victorian im­passivity. It is as if Goldie was ill at ease with the stuffiness of early-Edwardian Auckland society. His own conservative­ness in matters of art notwithstanding, these works suggest a reluctance or in­ability to identify with his subject matter.
To escape life as a commissioned por­traitist for wealthy Pakeha, Goldie be­gan to turn to Maori for his sitters. He soon discovered there was a market for these pictures, and developed an entre­ preneurial approach to their sale.
In 1901, Goldie painted the first of several portraits of Patara Te Tuhi, of Ngati Mahuta. In A Hot Day, Patara, dressed in European clothing, is caught sleeping. In Patara Te Tuhi, an Old War­rior, the chief, in full traditional attire, adopts a more formal pose. The contrast is telling. A Hot Day captures a moment of vulnerability, a lack of self-conscious­ness, which gives it resonance—the "gleam of poetry" Goldie's tutor had ad­vocated. An Old Warrior, on the other hand, in its emphasis on the trappings of chieftainship, the painstaking rendering of moko, cloak, tokotoko (stick) and tiki, and the direct, face-on posture of its sub­ject, seems contrived by comparison. It is probably the first of what have been considered Goldie's ethnological works.
Perhaps it was with A Hot Day that Goldie first began to sense the mana and ihi (spiritual authority) of the rangatira that might infuse and transcend the painter's medium.
Goldie himself distinguished between "subject" and "straight" portraits. In a "subject" portrait the artist has licence to create a pictorial representation of a person. In a "straight" portrait the artist subscribes to the sitter's perspective—commissions and court paintings being examples of this approach. Maori de­scendants lean to the view that Goldie's portraits are all "straight." At the exhibi­tion they were labelled as such. For ex­ample, the painting Goldie named Day Dreams: Christmas Time in Maoriland was given the simple legend Nataria Mitchell, Ngati Whakaue—although the artist's own titles were provided on the checklist given to each visitor and on the audio guide, available in Maori and English.
Goldie's original tiding is one of the more difficult aspects of his work in to­day's political climate. Titles such as Last of the Cannibals and A Noble Relic of a Noble Race (like, for some, the paintings themselves) carry connotations that strike modern sensibilities as romantic, patronising or blatantly racist.
Goldie used his tides to bridge the cultural divide between his subjects and European art buyers by attempting to neutralise the threatening aspect of his subjects. Sometimes, as in the case of titles such as Memories, Darby and Joan and The Widow, he employed trifling emotional sentiments to make the por­traits seem more accessible and relevant.
[sidebar-1]
Today, opinion runs hot as to whether it is appropriate to discard the original, potentially offensive, titles in favour of "straight" description, or to retain them in order to allow a deeper critical ap­praisal of Goldie's work.
As Goldie met and painted more rangatira, his interest in things Maori increased. He became fluent in conver­sational Maori, and his meticulous scrap­books, held in the Auckland Museum, are filled with clippings that tell of land disputes, hui, obituaries, historical inci­dents and political challenges. They give a record of the rupture between two cul­tures seriously at odds with each other, of history as it was actually lived.
Two of his most celebrated works, Darby and Joan and The Widow, illustrate Goldie's awareness of the stress Maori were experiencing. These portraits of Ina Te Papatahi and Harata Rewiri Tarapata, Nga Puhi women of high rank, were se­lected in 1903 as gifts for the departing governor's wife, the Countess of Ranfurly. Their titles suggest both women are grieving for their lost hus­bands. Around both figures the whare fittings are in disrepair and mats are fray­ing at the edges—touches which heighten the sense of loss. Unlike Goldie's contemporary Gottfried Lindauer, who painted Maori in picture-perfect settings, Goldie shows marae in decay, drawing attention to the policies of a postcolonial government which sought quite overtly the eradication of the Maori way of life.
Goldie clearly felt a sense of urgency and responsibility to represent the gen­eration of Maori elders whose facial moko, traditional dress and memories would perhaps die with them. Many of his close friends shared his concerns, including James Cowan and composer Alfred Hill, who transcribed haka, songs and waiata from marae around the North Island. Hill conceived his famous song "Waiata Poi" in Goldie's studio.
The prevailing view among Pakeha was that Maori were a race in decline and doomed to extinction. Walter Buller, the famous ornithologist and president of the Wellington Philosophical Society, is representative of this school of thought. In 1884 he proclaimed: "The Maoris are dying out, and nothing can save them. Our plain duty, as good, compassionate colonists, is to smooth down their dying pillow. Then history will have nothing to reproach us with."
The 1901 census, however, indicated a different outlook for Maori. Not only did it confirm an increase in their numbers, it also revealed the growth of a mixed-race population. Goldie's brother, William, a doctor, responded to this finding in an essay called The Destiny of the Maori Race in which he rejected the predictions of Buller and others and foretold the assimilation of Maori and Pakeha, an outcome he considered de­sirable as well as inevitable.
In the light of his brother's contribu­tion to the debate, it is likely that Goldie regarded Maori as facing change as opposed to extinction. But the fact that he concentrated on painting members of the older generation, only occasionally choosing younger subjects, doubtless contributed to the popular notion that he was recording the last of a disappear­ing race. Some have gone further and criticised Goldie for portraying Maori as passive and lost, as though acquiesc­ing to the blow of fate.
With such emphasis on a vanishing past, there is an unmistakable gloom about much of Goldie's work. Many who have visited the exhibition have come away feeling depressed, guilty or just simply unable to see past the morbidity of the images.
Though it seems Goldie's intention was, if anything, to prick Pakeha con­sciences over the loss of the Maori way of life, his work cannot be seen as entirely free of a personal agenda, as the old ways he sought to capture gave his paintings a limited-edition status.
Goldie must also have been concerned about his own survival as a painter—a portraitist in a modernist era—and in the images that emphasise the vulnerability of Maori can also be detected a message about his own dying art form. Through­out his career he campaigned vigorously against the sovereignty of modernism, using the term "farcists" in collective dis­missal of Cubists, Dadaists and Surreal­ists.
[Chapter Break]
The first and second decades of the 20th century were Goldie's most prolific years, but his early critical acclaim did not last. From around 1911 critics began to respond negatively to the repetitive formulae of the portraits: the same cloak, scarf and tiki, even the same subject. Such reitera­tion was seen by some as a blot on the authenticity of the representations, even suggesting a lack of talent. Some critics placed the portraits in the genre Roger Blackley calls "salvage anthropology," the rescuing of images and information about a dying culture before it is too late.
Goldie, however, seems to have thought it was possible to combine fine art and ethnological significance. He was not alone in this view. Affirmation came from a French authority on tattoo art who wrote to Goldie when Thoughts of a Tohunga (1933), a portrait of Te Whare­kauri Tahuna of Ngati Manawa, received an honourable mention at the Paris Sa­lon. Dr Herber praised the picture as "a work of art and a scientific document at the same time. You have proved that art and docu­mentation are not in­compatible." It was widely agreed then, and still is today, that no other painter or photog­rapher showed chisel-carved moko as effec­tively as Goldie did.
In 1934 he wrote: "Would I keep all modernist stuff' out of the gallery? Most emphatically, yes!"
But by 1912 Goldie's star was in decline. He was having to resort to hawking his portfolio through law offices look­ing for buyers. In 1913 his father granted him a yearly income. At 42 Goldie must have found this humiliating, though he pressed on, feeling that in time his work would find favour again. On two occasions, once in 1906 and again in 1910, a director of the Colonial Museum in Wellington sought to procure some of Goldie's works, but on both occasions Cabinet denied the re­quest because it felt the pictures were overpriced.
In 1920, disillusioned by the lack of support for his work, Goldie eloped to Sydney with his bride-to-be, Olive Ethelwyn Cooper, apparently intent on proceeding to Paris. Olive was a milliner who had been employed at Bon Marche Millinery Emporium in Karangahape Road. She was described as "a marvel­lous milliner—a real tough Sydney-sider. . . She would rip a hat to pieces if it did not please. When she was in a creative mood she dazzled the other girls and the boss with her marvellous sense of colour and artistry." Such vivacity would have appealed to Goldie, but the match seemed to upset his family. Their mar­riage took place in Sydney quietly, with­out any media attention and without the blessing of Goldie's parents. Olive was 36, Goldie 50.
Goldie's health had already begun to decline, and as a consequence the couple never made it to Europe. They returned to New Zealand in 1923, but Goldie's career never resumed its former heights. Failing health, now believed to be prin­cipally the result of lead poisoning, pro­gressively hampered him in his endeav­ours. Over the years it seems Goldie had inhaled high concentrations of toxic lead from the flake white with which he cov­ered his canvases before beginning to paint, and from paint residues on his fingers as he smoked while working.
Other factors may also have played a part—smoking itself, exposure to solvent fumes and immoderate alcohol consumption. He was now paying the price. The symptoms of lead poisoning are merciless: loss of memory, delusion, aggressiveness, alcoholism and general mental deterioration. Goldie was a text­book victim of this debilitating affliction for the remainder of his life.
Nervy and irascible, he was unable to be content unless painting. He became utterly obsessed, often working through the night or endlessly inscribing his signature in his books and journals. When­ever his wife took him on a Sunday drive in the country, he would complain mis­erably until he was back in his studio. In his final days, he would stand outside his Remuera home berating passers-by about the dangers of progress and mod­ern times.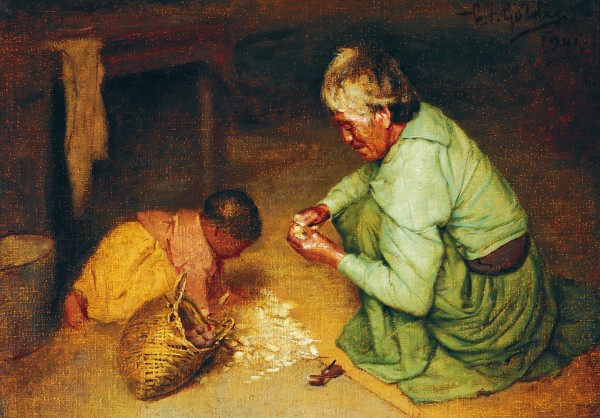 He did, however, keep painting, though in smaller frames and producing much quieter works than his earlier out­put. He worked largely from photo­graphs, often of people long deceased, among them Tamati Waaka Nene, the Nga Puhi chief. This particular work he gave to Lord Bledisloe, who, in turn, gifted it to the nation as part of the Waitangi Estate in 1934.
During the 1930s, Goldie successfully submitted paintings to the great art academies of England and France, and in 1935 the recognition he craved came in the form of the King's Jubilee Medal and the Order of the British Empire.
Goldie died in July 1947. In his will, written on the back of a menu in Sydney in 1923, he left his entire estate to Olive, who had stayed by his side through the years of illness, impecuniousness and the loneliness of being an artist's wife. As a consequence, she became chief trustee of a large loan of paintings held by the Auckland Art Gallery.
Two of Goldie's final paintings give the impression that had he been blessed with more time and better health he might finally have moved away from his portrait style. The Story of the Arawa Canoe (c. 1940) and Rahapa, Ohinemutu (1941) both portray elders passing on the stories and traditions of their culture to their mokopuna. They have a delicate poignancy that stands in striking con­trast to the grand statements of his early works, and come closer to impression­istic genre scenes.
Goldie's timing was as unfortunate as ever. The focus of the art world had long since shifted from impressionism, around which controversy had raged in Goldie's Paris days, to the many forms of mod­ernism Goldie found so offensive. The artists now holding centre stage were no longer Monet, Pissarro and Renoir, but Matisse, Picasso and Chagall.
[Chapter Break]
Goldie was a man perpetually at odds with the New Zealand art establishment. The reverse could probably also be said. For a start, the establishment didn't share his interest in "all things Maori." Over the years, academics, museum curators and directors have collectively thwarted a wider recognition of Goldie's talents, sti­fled sales of his paintings and hence con­fined his oeuvre to the lonely margins. Even the Auckland Art Gallery displayed such a lack of enthusiasm for the paint­ings at its disposal in earlier years that in 1947 Olive Goldie withdrew the large collection her husband had loaned to the gallery prior to the couple's departure for Australia. Part of this collection she subsequently presented to the Auckland Museum, where staff destroyed the original frames and some important la­belling with them.
Goldie was not alone in receiving such shabby treatment. During the long, ex­clusive reign of modernism, most work of a historical, pictorial or figurative style was sidelined. Goldie's work probably suffered particular neglect, however, on account of its Maori content. There has been a general resistance to the celebra­tion of Maori content in New Zealand painting. Such resistance today might be explained in terms of Pakeha fear of offending Maori protocol, but in the less politically correct years following Goldie's death, from the late 1940s to the 1970s, a more convincing explanation might be the reluctance to upstage Pakeha artists such as Colin McCahon, whose work implied that to be a New Zealander was to be a lone male in an empty land waiting anxiously for angels to appear.
Other Pakeha artists, such as Rita An­gus and Sir Tosswill Woollaston, painted landscapes conspicuously devoid of Maori presence on their own fragile path towards establishing a unique identity for New Zealand painting.
Perhaps the most contentious aspect of Goldie's art today, however, is the na­ture of the power dynamics between Goldie and his sitters. Attention has been drawn to a photograph taken around 1911 of Goldie trimming the beard of an elderly sitter (page 80), an act deemed by critics as culturally insensitive and belit­ding to the subject. Goldie has also been accused of locking his sitters in his stu­dio when he went out for meals.
In Goldie's defence, it can be said the hair-cutting incident indicates the extent to which the model must have trusted him. As for confining his sitters, such behaviour could have been a transgres­sion on Goldie's part or perhaps a laud­able attempt to ensure the safety of his studio and subjects—we will never know.
Auckland artist Selwyn Mum com­ments: "Our people knew what tapu was all about, and he must have been very respectful of this. The sittings would have been quite lengthy—and if you took the subject's mana away he would have just stood up and walked out."
The reality is that Goldie himself was dependent on his sitters to provide him with the rich subject matter that brought him fame. He also paid them for their services. For their part, the sitters knew that a portrait was a vehicle that would allow future generations to know them, and they were prepared to make com­promises to achieve that end.
One fact is clear: Goldie's portraits have transcended their original context. In a remarkable swing of the pendulum, the focus is now on the Maori sitters, who live through their images on canvas.
After the current exhibition, it is hard to imagine Goldie ever being consigned to dusty basements again. Far more likely is that he will be re-collected, reframed and restaged to convey a new set of meanings that fit into a particular gal­lery's objectives, while his merits as an artist will continue to be hotly debated.
One person in no doubt as to what the future holds is Ira Norman, a descendant of Te Aho-o-te-Rangi Wharepu, one of Goldie's regular subjects. On the morn­ing of the Descendants' Day ceremony, beaming triumphantly, she said: "I know now after seeing this [exhibition] that my people are going to have everything returned to them. Everything. Our land, our mana, our culture. And it's all be­cause of God and Mr Goldie. We just say thank you very much, Mr Goldie."