Beneath the bay
Placid or storm-tossed, the surface of the sea is merely the portal into Earth's largest domain, the ocean realm. For 15 years, Tauranga-based marine biologist and photographer Kim Westerskov has dived his home waters of the Bay of Plenty and found myriad subjects for his camera.
My first encounter  with the Bay of Plenty was at night, standing at the helm of a yacht and looking up at the crests of swells that towered above us. The yacht was owned by my then girlfriend's parents. We were on our way from Auckland to Wellington, and I was pretty scared. The yacht's owner—ex-Royal Navy—gave me some advice: "When you see a big wave, Kim, don't turn into it. Stay side on. The weight in the keel makes the yacht float gently over the swell."
Easy for you to say, I thought, watching the huge waves bearing down on us in the moonlight. But he was right, of course, and we made it through the night in one piece.
I haven't been out in such big seas in the Bay since, although I have been on the water hundreds of times since moving to Tauranga in 1985.
On some trips, the sea has been smoother than any road—a limitless expanse of oily reflections. Usually, of course, it is somewhere between these extremes.
The Bay of Plenty was given its Pakeha name by James Cook on account of the number of thriving Maori settlements he saw, reflecting an abundance of food and other natural resources. For me, a biolo­gist by training and a photographer by inclination, the Bay has provided a bounty of creatures to observe and habitats in which to observe them—and enough textures, patterns and moods to satisfy the artist that lives in the corner of a nature photographer's soul.
As a body of water, the Bay of Plenty occupies an intermediate position between cool temperate and warm subtropical waters. One of the interesting things about the sea is that water temperature affects species diversity. In truly tropical waters, species diversity is enormous, and many of the organisms are very colourful, but overall numbers of any one species are usually low. As you move into colder water in higher latitudes, diversity falls off, creatures are typically less colourful, but numbers of individuals may be very large. (Around the world, the most productive fisheries are—or have been—those in cold waters).
From the north, the warm East Auckland Current flows into the outer Bay. This is the current that bathes the Poor Knights Islands, off the east coast of Northland, and is responsible for the richness of marine life there. Here it affects Mayor Island (Tuhua) and more especially White Island (Whakaari), and its influence can be seen around the eastern bays towards Cape Runaway and beyond. Some years this current delivers a whole raft of tropical organisms to the Bay, while in others its influence is less apparent.
One of the things that attract me to the sea is its changeability. When I started diving 30 years ago, I remember being impressed by a photograph of clusters of a beautiful pale-blue ascidian, genus Clavellina, in a book by renowned New Zealand diver and naturalist Wade Doak, but I never came across it on my own dives. Then, having carried that image around in my head for 25 years, I found a whole rock face stippled with it near White Island. There was no doubt as to its identity (see page 66). I haven't seen it since.
Curiously enough, on the same reef the exotic long-spined sea urchin Diadema palmeri is common—the only place I know in the country where it is found commonly. Even at the Poor Knights you only find the odd specimen, and it is deep down. On this rock, there are hundreds of Diadema, and they extend into quite shallow water. Why they should frequent just this one reef is a mystery.
I've always liked seaweeds, and kelps in particular. At university I seriously considered specialising in them (but didn't—I chose oysters instead) and my first success in an underwater photography competition was a grainy black­and-white photo of bladder kelp off the Otago coast. Kelps don't reach the same luxuriance in the Bay of Plenty that they do in southern waters, but they always harbour an interesting array of creatures. In many ways, kelp forests are analo­gous to terrestrial forests. Fish hide in the foliage of large species such as Ecklonia radiata or flit through the weedy canopy like birds. Swimming through them (if the kelp is tall enough) also has some of the good closed-in feeling you get when you're inside a forest on land.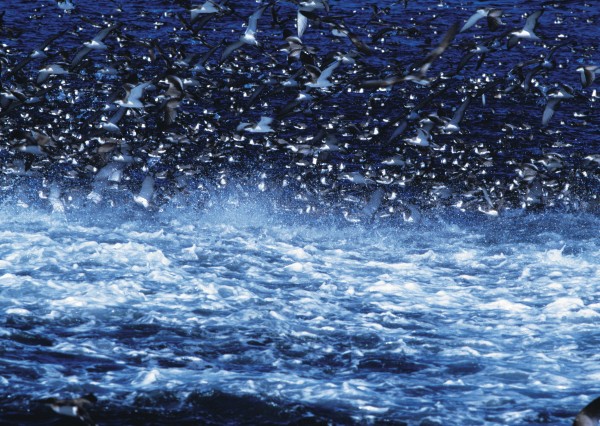 Down on the bottom, where the kelp plants are fixed to the rocks by their cup-shaped holdfasts, is a low-growing understorey. This consists of tufting algae, pink encrustations of calcium-impregnated Corallina algae, bryozoans and other sessile organisms, among which molluscs, sea urchins and many other crea­tures live and graze, all taking advantage of the protection offered by the forest above. Shelter and cover are always popular commodities in the sea. Many fish prefer some sort of protection, which is why rocky reefs typically have more fish than other areas do.
In time, shipwrecks turn into artificial reefs and become home to a wide range of marine life. Of the few wrecks in the Bay of Plenty, my favourite is that of the Taupo, resting in 30 m of water about 8 km off Bowentown. This large steamer had run aground at the entrance to Tauranga Harbour and was being towed to Auckland for repairs when the temporary concrete patches vibrated loose and it sank. Over more than a century, the wreck has gradually disintegrated, but much of it still stands proud of the seafloor. Now it has become a rich habitat in an otherwise relatively barren sandy area.
A dozen years ago, I decided that there were two things I still really wanted to accomplish with my diving. The first was to dive under the ice in Antarc­tica, and the second was to dive with big whales. I fulfilled the first goal in 1991-92, when I spent six months in Antarctica. When I started reading about good whale locations, names such as the Azores, Hawaii, South Africa, Alaska and other distant places came up. For a number of years I travelled to Tanga every spring to photograph humpbacks (see New Zealand Geographic, Issue 30). One year, on the day I flew out a friend spotted a blue whale from his boat and on the day I returned he saw a fin whale, both not far outside Mt Maunganui. Whale sightings are on the increase in the Bay—probably we're just noticing them more than we used to. There have been reports of humpback, sei, southern right, minke, pilot, beaked whales and other species from sites which are virtually right on my doorstep.
Common dolphins can be found in the Bay on most days, and bottlenose dolphins and orca are also regularly seen. Orca periodically enter Tauranga Harbour, apparently in pursuit of stingrays, which they seem to relish. In a rare encounter I watched an orca carrying a stingray for some time—much as a cat carries a mouse—before devouring it (see page 67). Off Kaikoura, I once saw a group of orca play with a three-metre blue shark for over an hour, periodically stunning it into compliance with a tail slap close beside its head.
Some of my most rewarding encounters have been with young animals. They are often more curious and less cautious than older individuals. This is certainly true for young whales. Just a few miles out from the Mount, a baby southern right whale peeled away from its mother's side to come and inspect me. The mother followed. With the baby eventually a mere metre away and the mother coming up alongside, all I could see through my facemask was WHALE. I swam rapidly backwards out of the way. Baby and mother contin­ued on their way at the same unhurried speed that made the species such an easy target for whalers in the past.
Another memorable experience was with creatures you don't normally expect to encounter while diving: birds. I was ascending slowly from a deep dive near Mayor Island when young fluttering shearwaters swam down towards me at a depth of 10 m. I surfaced, strapped on a fresh tank, then went back down to see if the birds would still be interested in me. Sure enough, they again "flew" back down. I'm sure they were just curious—I'm a far cry from their usual prey of small fish and shrimps!
Diving is like that. No two experiences are ever the same, and you never know just what awaits you below the surface. Especially in a place like the Bay, with its incursions of subtropical water bringing who knows what this year. Even after 15 years diving here, I still feel I'm just scratching the surface. I'm sure that my best underwater photos are still to be taken, quite possibly right here in the Bay.