Angler's El Dorado
Since 1915, when the first marlin was caught on rod and reel in New Zealand, the Bay of Islands has been a mecca for big-game anglers. American writer Zane Grey ecstatically described New Zealand as the "Angler's El Dorado" after fishing here in 1926, and Northland's east-coast waters remain a world-class marlin fishery.
Dew on the decks, diesel purring a sweet baritone note at 1800 revs, white prow cleaving a blue-black sea, Marline makes her way up the Northland coast at a stately seven knots. My father is at the helm; I'm on the poop deck with the lines and lures. We're trolling in the wake of Zane Grey, an American sportsman-writer-adventurer who fished these waters in the 1920s and whose book Tales of the Angler's Eldorado, New Zealand put the Bay of Islands on the gamefishing map.
We're trolling in my grandfather's wake, too, fishing for memories. Leon was a boatbuilder, and Marline was his last boat. Kauri from cabin top to keelson, she was built in 1949 under his sister's house in St Marys Bay, Auckland, long after he and his brother had closed their Russell boatshed and officially retired.
Leon was not just a builder of boats but one of the pioneer swordfishing skippers of the Bay of Islands, which is how his wake crosses that of Zane Grey. In 1926, Grey chartered Leon and his launch Marlin to help him chase the fighting fish that fired his imagination. There's a backhanded credit to him and his deckhand in the front of Angler's Eldorado: "To Leon Warne and Bill Hodgson, who drank gallons of tea and saw millions of imaginary fins." I never asked my grandfather what he thought of that jibe. Not much, probably.
We've journeyed up this coast many times in many weathers, my father and I, making our annual run to El Dorado in the summer and back to Auckland for the rest of the year. We've been here on windless days when oily swells sucked at the weed on the Cape Brett rocks and the tide race eddied the dark water. And we've felt the teeth of north-east gales, when Marline's round-bilged hull rolled drunkenly through alarming arcs, tipping charts and rods off their shelves in the saloon and throwing the food out of the fridge. Once we endured the ignominy of being towed in to Russell when the universal joint disintegrated at Whangamumu. Today we have calm seas and an entourage of dolphins and false killer whales leading us through the gap between Brett and Piercy Island.
We travel close to the cliffs, grim battlements that have withstood the battering ram of the sea. I've seen these blackened ramparts covered with what looked like snow­flakes—a rabble of roosting gulls. Grizzled pohutukawa cling to the tops, many reduced to staghorn skeletons by possum browsing, but others flushed with fresh growth thanks to a pest-eradication programme. Leon and his fellow skippers used to shoot goats off the cliffs from their launches and pick up the carcasses from the sea.
Cape Brett lighthouse, a dazzling white bastion on a steep grassy slope, has shone here for exactly 100 years—then kerosene, now solar. An early keeper, Robert Wilson, used to go after game fish from a rowboat. On one occasion he was towed a mile to sea by a mako. His gloveless hands were cut to a bloody mess by the wire leader as he attempted to get the thrashing shark into the boat.
We round the cape and enter a broad, cliff-bound bay where Dad brings Marline close to the cliffs and reminisces about the day in 1951 when he was at this same spot, in the same boat, with his father. They'd had a hard, luckless morning trolling in rough seas and they came in here to shelter from the weather while they had a bite of lunch. The lines were left out on the outriggers, the kahawai baits dangling straight down in the water. Father and son were in the saloon, having a cuppa.
"One of the reels went tick, tick, tick, and the line came off the outrigger peg," Dad recalls. "The old man went out to have a look. He felt the line for a minute, and said, 'Probably snapper nibbling the bait.' A few minutes later it happened again. Tick, tick, tick. Then the reel screamed, and I jumped up and went for the rod, belting my head on the door frame and nearly knocking myself out." The nibbling snapper turned out to be a striped marlin—a pin fish, no less, the heaviest caught in the season. My father still rubs his forehead tenderly at the memory of the splitting headache he had while he fought that fish.
We take a turn around Bird Rock, a guano-frosted slab where gannets occupy the upper storeys and gulls the ground-floor roosts. Between here and the cape was marlin alley. Boats would motor to the cape, drift down to the Bird, then repeat. I can't begin to calculate how many lines and trolled baits have cut these waters, how many propellers have churned back and forth between here and the Ninepin, the rock that marks the western entrance to the bay.
We pick up a couple of kahawai on lures and head out to the deep. See if we can spot a few "imaginary fins", eh, Zane?
[Chapter Break]
He was born Pearl Zane Grey in Zanesville, Ohio, in 1872. The son of a dentist, young Grey graduated in dentistry himself before deciding his destiny lay not in pulling teeth but penning Westerns. His first bestseller was Riders of the Purple Sage, and he went on to be one of the great writers of the purple prose, a prince of pulp. At the time of his death in 1939, he was billed as the greatest-selling author of all time, with sales of his work said to be exceeded only by the Bible and the Boy Scout Handbook. So prolific was his output that his publisher brought out a new posthumous Zane Grey title annually for 24 years. More than 100 movies have been made from his novels.
But as well as writing about tall, dark strangers riding their burros into the lonely desert night, Grey penned stories about battles with giant fish. Preferably his battles. His goal was to be, if not the world's greatest angler, then at least the most famous, and New Zealand was a waypoint in that journey.
Swordfishing in the Bay of Islands offered both a tantalising adventure and excellent book fodder.
"Swordfishing", I should say up front, is a misnomer. Most fish caught in New Zealand are not swordfish but marlin, especially striped marlin, which make up over 90 per cent of the gamefishing catch. The striped marlin recreational fishery in Northland is considered the world's best. For some reason, perhaps because we're on the edge of the striper's geographical range, we get the big fish here, the ones that have the muscle to travel farthest. Sixteen of the 22 line-class world records for striped marlin are held by fish caught in New Zealand waters, including the all-tackle world record of 224 kg, caught off the Tutukaka coast in 1986.
Besides the striped marlin, two other species of marlin frequent New Zealand waters: the black and the blue. A fourth member of the marlin family—which gets its name from the marlinspike a sailor uses to splice ropes—is the shortbill spearfish, a long, lean fish with a translucent crest that runs almost the full length of its back, but very little bill to speak of. Closely related to the striped marlin, it was unknown in Grey's time, but is a common catch today.
The true swordfish—effusively described as the "gladiator of the deep", "the animated torpedo of the Seven Seas" and "the greatest fighting fish in the world"—is eagerly sought but rarely encountered by New Zealand anglers. Xiphias gladius (literally "sword sword", by virtue of the use of both Greek and Latin words) earns its moniker because its bill, which can reach up to half the length of its body, is flattened like a broadsword, whereas marlin bills are rounded, like a spear. Very few swordfish (or broadbills, as they are usually referred to) were caught here until the late 1980s, when specialised techniques­ such as drift fishing at night with chemical lightsticks­ were used to target them.
Elsewhere in the world, the marlin family includes white marlin, three relatively uncommon species of spearfish and the sailfish, the fleetest and the finniest of the group. On the burst, a sailfish can exceed 100 km/h, and is said to be the fastest fish in the ocean. Blue and black marlin are the heavyweights of the group, reaching six metres and 800 kg. These are not fish to be trifled with. In 2006, a blue marlin being played by an angler in a Bermuda gamefishing tournament leaped across the stern of the boat, impaling a second angler with its bill and slamming him into the sea. As he was being carried down with the diving marlin, the angler managed to prise himself off the metre-long spear, which had skewered him just below the collarbone. He surfaced with blood pouring out of the wound, but quick thinking by crew, who stuffed a towel into the fist-sized hole, and a speedy response from emergency services saved his life.
In another incident in Florida, a thrashing black marlin jammed its bill into the mouth of the angler who was fighting it, the spear stopping millimetres short of his brain.
In medieval times swordfish were considered malevolent creatures that used their bills to sink ships—an idea that has persisted in popular folklore. My mother used to recite a monologue by English comic actor Stanley Holloway in which an overzealous swordfish causes problems for Noah by jabbing its beak through the planking of the ark. Now and again, real-life incidents turn up of billfish poking their snouts into unwanted places. In 2004, the loading of oil from an offshore terminal in Angola was temporarily halted when a marlin impaled the heavy-duty rubber delivery hose and become stuck there, pinned by its bill. In 2008, a broadbill became wedged in the steel scaffold of an oil rig at a depth of 700 m. A video that has done the rounds on YouTube shows the fish being successfully liberated by the robotic arm of a submersible. Another, gentler, incident involving a submersible occurred off Bermuda in 1987. The operator noted: "At a depth of 628 m, a large swordfish approached the submersible. It paused for several seconds in front of the observation sphere, gently tapped the lens of our TV camera with its bill, then swam away."
The bill as a sensory device? Perhaps, though a more popular theory is that the rostrum, to use the ichthyological term, is an asset in feeding and fighting. Marlin are said to slash with their bills as they lunge through shoals of fish, then turn and consume the stunned or injured prey. Researchers analysing the undigested prey of blue marlin caught in a troll fishery off Japan found that 38 per cent had injuries attributable to spearing and slashing. Yet possession of a bill does not seem essential for feeding: billfish have been caught sans sword (presumably lost in plank-impaling manoeuvres) but in otherwise prime condition. And underwater video footage of marlin feeding in bait schools shows very little slashing going on.
I asked Northland billfish researcher John Holdsworth for his opinion. "Some fish get speared in a charge at bait schools, and yes, damaged fish that result from a charge are easy prey," he said. "But marlin are visual feeders­ they target a fish and aim to catch it in their mouth. In my experience, blue marlin are aggressive and attack a bait at speed. What would happen if, at the same time as charging a bait, they moved their head through a 30-degree arc to strike it with their bill. They would miss everything!"
And as a weapon? The use of the bill in battling rivals or defending against predators has been inferred from the presence of bill fragments embedded in the flesh of landed billfish and sharks. That said, adult billfish have very few predators. They can outswim almost everything in the ocean, with the exception of the shortfin mako shark­ although orca and various species of shark will prey on billfish if they can take them by surprise.
Billfish boast other adaptations besides the defining beak. They possess "brain heaters" to warm the eyes and brain. Modified muscle cells around the eye produce such quantities of metabolic heat that eye and brain temperatures may be 13°C above the surrounding water temperature—a remarkable feat for a "cold-blooded" fish. This thermal blanket for the head enables billfish to make regular feeding forays into colder, deeper water beneath the thermocline. Without it, vision and neural processing would be impaired, reducing the ability to capture prey. It has been estimated that a warm eye works more than 10 times faster than an eye at the deep-sea temperature of around 3ºC.
[sidebar-1]
But the feature of billfish that draws greatest admiration from anglers and divers is their ability to alter the colour and iridescence of their skin. Two types of cell are involved: chromatophores, which contain pigments, and iridophores, which contain stacks of crystal plates with reflective properties. When striped marlin are hunting or courting—or fighting for their lives on the end of a nylon line—the pigmented bars on their sides turn from cobalt to lavender, and seem to pulsate in waves of iridescence.
Towards the end of his life, one of Russell's pioneer skippers, Mervyn Arlidge, admitted feeling a pang of regret about ending the lives of such radiant creatures. "Having been instrumental in helping to kill so many, I did at times feel a little bit sad at seeing the beautiful fish being hauled onto your boat and all their beautiful colours fade and you brought them back home and you saw the fish strung up and the proud angler stand alongside… Sometimes I would think—aw, those beautiful things, there they are hanging up there and these people gloating over them. That's the way it affected me."
Perhaps because of this, Arlidge took the inevitable reversals of fortune in his stride: "There were times when the fish would throw the hook and I would say, 'Good on you, mate—I'm glad you beat us, you deserve it.'"
[Chapter Break]
We're three miles off Piercy Island, watching the number on the depth-sounder creep upwards: 130 metres, 135, 140. There are a dozen boats outside us, some mere dots on the horizon, patrolling the blue water. This is the warm water that sweeps down the east coast of the North Island, the long tail of the East Australian Current, and is a degree or two warmer than inshore water. It's marlin water. My father has seen it when it formed almost a sharp dividing line: the inky black water inshore and the radiant blue water offshore.
There's a gamefishing tournament on, and I switch on the VHF radio to listen to charter boat chatter.
"Hot Tuna, Hot Tuna. Ocean Runner. Where are you?" "A hundred and thirty-three metres off the [Nine]Pin. What about you?"
"We're in 140, heading to the Cavallis. Seen anything?"
"Lots of blue water but not much else. A few mahimahi, but nothing hooked on."
War, they say, is long stretches of boredom interspersed with brief moments of terror. Angling is not much different, though there's no terror involved, just what skipper Bruce Smith likes to call "controlled pandemonium".
Smith skippers Striker, one of the boats whose name regularly appears on the catch board that stands outside the Russell swordfish club. He has 30 years of gamefishing sea time under his belt. "I came to the Bay for three weeks as a deckhand in 1977 and have been here ever since," he told me when I caught up with him at his home in Matauwhi Bay. We talk about what's changed in fishing technique since the Zane Grey era.
Lures are an obvious starting point: they weren't used for gamefishing in the 1920s, and their advent has opened up new opportunities by bringing species such as blue marlin and spearfish into the angler's ambit. These are species that rarely take trolled baits, and so had been unknown in the early years. The first blue marlin made its appearance in Bay of Islands Swordfish Club catch records in 1953. By the late 1990s, as many as 50 a season were being caught. The shortbill spearfish didn't become officially accepted as a game fish until 1979.
I am surprised to learn that baits still have their place in the angler's armoury—though they're more likely to be deployed alive than dead. Skippers try to locate feeding billfish on the depth-sounder and lower live baits down to them.
Smith admits that electronics have "taken a lot of the contest out of the sport", but says if you don't use the modern gear you get left behind. "Clients go with the boats that are catching the fish."
Fishing range has increased since Grey's day, too. It would take a boat like my grandfather's two hours to get from Russell to the blue water, limiting the distance that could be trolled in a day, but a fast modern boat can go the same distance in a quarter of the time, stay at sea longer and cover more ground.
Perhaps the biggest change has been the increased number of private boats—fizzboats—fishing for marlin. Nationally, the gamefishing charter fleet is put at about 100 vessels, while an estimated 1000 private boats go after the same fish, perhaps because anglers can expect to shell out upwards of $1500 a day for a top boat—somewhat pricier than the six dollars a day my grandfather used to charge.
We're hoping for a taste of Striker-style pandemonium, controlled or otherwise, on Marline, but we seem locked into the boredom part of the spectrum. We're trolling a dead kahawai and a couple of colourful plastic lures—a nod to the past and the present, a dollar each way. I watch the kahawai intently as it skips across the waves, willing a big fin to loom up behind it, creating that moment when you dare not breathe, when everything turns on the fish's decision.
It happened to me once, so long ago I can hardly remember the details. We were off the Cape, trolling lures, and a fish struck and tore off a couple of hundred metres of line. We were so shocked it took a while to figure out what was happening. It leaped once. It was a marlin. Then the line went slack. When I reeled it in I found the heavy nylon leader had been rasped through. The fish must have got its bill around it. One glimpse was all I had, but that image of a marlin rampant, a sun-drenched thing of wild beauty, has never left me.
[Chapter Break]
We anchor for the night in Otehei Bay, and it feels like a homecoming. This was the bay from which my grandfather Leon and Francis Arlidge skippered their launches, Marlin and Alma G, for the three months of Zane Grey's fishing trip. Grey fished from the Alma G and his companion, Captain Laurie Mitchell, fished from the Marlin.
Grey chose Otehei Bay because he wanted a camp all to himself. He could have gone to Deep Water Cove, an established anglers' base a few kilometres towards Cape Brett, but that would have meant fraternising with other anglers, and that was not Grey's style. He liked to run his own show—his "outfit", as he called it—in his own way. So he leased a few acres on Urupukapuka, the largest island in the Bay, and set up his camp.
It was to be my grandfather's first and last fishing season with Grey. In an interview for the New Zealand Weekly News in 1971, Leon said, "I was with him one year and then I fell out with him. Unfortunately I don't know quite how it happened. He had written an article for the Herald and something in it was not quite right. I told him so and after this I was not too popular."
The "something" that was not right was undoubtedly connected with Grey's claims that the locals were philistines when it came to angling technique. He dismissed his hosts as "mere novices at the game… with no realisation whatever of this grandest of sport". Wrote Grey: "The New Zealand angler, when he got a bite, merely held his rod up and let the boatman run the boat in the direction the fish wanted to go. He did not strike the fish hard, as we do. He did not bend the rod, or pump the fish hard as we do. He followed the fish out to sea, and several hours later returned with or without the fish, mostly without."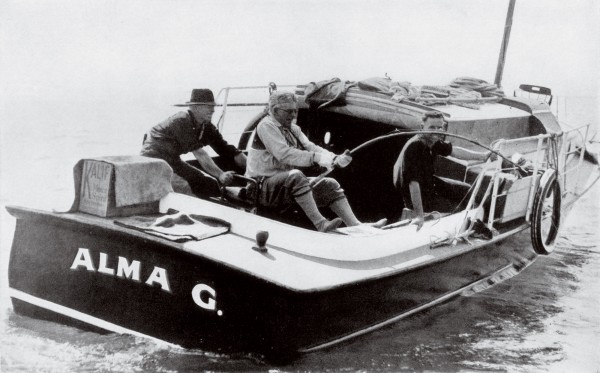 To the locals, this was a bit rich, coming from an angler who allowed himself to be towed out to sea regularly when fighting a prize fish. The difference, according to Grey, was that with him it was a necessity based on the breaking strain of the line, while with the locals it was a choice—a wimp's choice to boat any fish as quickly as possible, instead of fighting it "squarely and fairly" until angler or fish prevailed.
As well as criticising the practice of using the boat to catch the fish, Grey was scathing about local tackle, which he considered "hopelessly inadequate". Basically an evolution from British salmon-fishing tackle, local rods were made from tanekaha—stiff as a broomstick—and were equipped with narrow, direct-drive reels known as knuckle busters, because when a fish took line, the handle would spin backwards at great speed, and if you weren't careful you could end up with a broken finger. The only brake was a strip of leather you pressed against the line as it streaked off the spool, and the reels were mounted under the rod, as they are in trout and salmon fishing. Grey claimed that bottom-mounted reels prevented the angler from getting a decent purchase on the fish.
He reserved his harshest criticism for the treble or gang hook that was in common use at the time. Grey, who favoured a single J-shaped hook, called the treble a murderous device because it was invariably swallowed by the fish, causing it to die quickly without giving the leaping display which for Grey was the most thrilling part of the contest. "It is no trick, and no sport, to catch a swordfish on a great big murderous triple hook," he wrote. "The merest novice can do it. A ten-year-old child can do it." It was this accusation of unsportsmanlike conduct that stung the locals and the English anglers who had begun to make regular pilgrimages to the Bay.
Tactless he may have been—boorish even—but Grey was at least partly right. His methods (more accurately, the methods developed in the USA) were superior, and are now the norm. Short, supple rods have replaced long, rigid ones. The reel is mounted above the rod, so that the tension on the line when a fish is being played is distributed more evenly against the entire rod, and not just the line guides. And no one uses a treble hook for game fish today.
Another innovation Grey brought with him was the use of teasers, or tarporinos—fish-shaped dummies carved from wood and sometimes painted and embellished with glass eyes. Typically, a pair of teasers was trolled on each side of the bait in the hope of raising a billfish. If a fish became interested, the teasers were pulled in, so that the fish's attention would transfer to the bait. It wasn't until many years later that someone had the bright idea of attaching hooks to the teasers, and modern lure fishing was born.
[Chapter Break]
Opinionated egocentric Grey may have given New Zealand gamefishing an international profile, but it was the diffident Otago-born expatriate Charles Alma Baker who got him here in the first place. Baker had made a fortune in the tin and rubber industries in Malaya before retiring in 1915 to travel and fish. He discovered the Bay of Islands during a two-week fishing excursion in 1923 and was immediately convinced of its tourism potential. He told reporters that the Bay should be marketed to the millionaire anglers of California, especially those of the Tuna Club of Catalina Island—the world's oldest gamefishing club—of which he was a member.
The government's Department of Tourist and Health Resorts seized on the idea. The depart­ment was already convinced that a tourism windfall was to be had in the fish-filled waters of the winterless north and was prod­ucing pamphlets with big-game fishing scenes on the cover, proclaiming New Zealand "the sportsman's paradise". What was needed was a catalyst, someone to get the message out to a wider audience. Who better than a man of such boundless ambition and bankable fame as Zane Grey?
Baker had met and become friendly with Grey at the Tuna Club. In 1924, Baker dangled the bait of an invitation from William Massey, then prime minister, to investigate the country's fishing grounds, and set the hook with photographs of the fish being caught here. Having made certain of the catch, Baker joined Grey in Otehei Bay in 1926, but used his own boatman and launch and wisely camped at the other end of the beach.
Grey considered his 1926 sortie a mere scouting trip, and immediately made plans to return for the next season. At his recommendation, a local consortium promptly built a fishing lodge in Otehei Bay, called the Zane Grey Sporting Club, and commissioned four fishing launches from Auckland boatbuilder Collings & Bell. But apart from chartering one of the launches, also named after him, Grey never made use of these facilities. For his second season in the angler's El Dorado he used his own 60-metre, three-masted schooner Fisherman as a base of operations.
The quantity of gear he brought with him in 1927 was incredible. His tackle inventory included 40 reels (some of his own design), 160 rods (including heavyweight dual-wood rods—half hickory and half black palm glued together, the hickory providing the strength and the palm the spring), 35 km of braided gamefishing line, several hundred teasers and lures, 100 gaffs and 4 harpoons. The ship also carried three launches, a glass-bottom skiff, an aquarium, canoes, rifles, four movie cameras, 20 still cameras and "trinkets and utensils to trade with natives"—presumably those of Tahiti, where he fished for three months at the conclusion of the New Zealand expedition.
Grey could certainly afford the best, and plenty of it. In 1927, he earned $320,000 (equivalent to more than $13 million today) from book royalties, movie rights and the serialisation of his novels in mass-audience magazines such as Ladies' Home Journal and Country Gentleman. The first reel Grey commissioned from US tackle-maker J. A. Coxe in 1923 cost him the equivalent of five Model Ts plus change.
Unfortunately for Grey, the weather in the summer of 1927 was squally, and the fishing­ when the anglers could get out on the water—patchy. Despite fishing from Whangaroa to Great Barrier Island and most points in between, Grey's party of five (including his brother and son, both named Romer) managed a tally of only 61 fish. "I had expected to catch 601," wrote Grey in his diary. He considered the five-month trip a gigantic failure, the worst of his life.
Such pessimism was typical of the man. Despondency dogged him throughout his life. He called his black spells "a hyena lying in ambush", and said he "conquered one mood only to fall prey to the next". His run of luck, good or bad, was a pretty good predicator of his mood, and in 1927 it was mostly bad.
Anglers, perhaps no different from any other sports-people, spend a lot of time thinking, if not talking, about luck. Or Luck, with a capital L. They court her, cajole her, praise her when she is on their side and curse her when she isn't. Grey was obsessed with luck—his and others. He took to calling his fishing buddy "Lucky Mitchell"— perhaps trying a reverse psychology trick, "forcing" good fortune to transfer to himself.
It cut him to the bone when, during the 1926 trip, Mitchell caught a world-record 976-pound black marlin from my grandfather's boat. "I don't think I'll ever recover from the sight of that fish and my miserable misfortune," Grey wrote to his long-suffering wife Dolly. Miserable misfortune? Grey had been hauling in marlins and mako sharks hand over fist. Two days before Mitchell's triumph, he had landed the first broadbill to be caught on rod and reel in New Zealand waters.
Yet in Tales of the Angler's Eldorado he lays his misery on with a trowel, writing, "What a fish! I, who had loved fish from earliest boyhood, hung round that Marlin absorbed, obsessed, entranced and sick with the deferred possibility of catching one like it for myself. How silly such hope! Could I ever expect such marvellous good luck? …Oh the madness of a fisherman! The strange something that is born, not made!"
Mitchell's fish was indeed a monster. A hand-coloured photograph of it hangs in my study, arm's length from where I type these words. It's the standard angler trophy shot. The fish hangs by its tail from a tripod on the beach at Otehei Bay. Mitchell, wearing his trademark cheese-cutter, buttoned up shirt and waistcoat,every inch the British sportsman Grey makes him out to be (he was actually Canadian), stands next to it. The pectoral fin is at chest height while the tip of the bill is almost touching the sand. The fish was almost four metres long, and the bill was "as thick as a spade handle at the point", wrote Grey.
The New Zealand Herald conjectured that had the marlin been weighed when caught it would likely have passed the thousand-pound (453 kg) mark. Mitchell had landed the fish 10 miles off the Cavalli Islands, and did not get back to the Urupukapuka camp until evening. The fish, hoisted on the tripod and left there overnight, disgorged seven snapper. Even thus lightened, it was unweighable: the scales at Russell had a 600-pound limit. It was decided to cut the fish into three pieces. Noted the Herald: "It was no easy job but a butcher with a saw finally settled it under the superintendence of the fishing club secretary, with a well known Auckland medical man giving occasional advice from the standpoint of the surgeon."
I row ashore and walk to the spot where, near as I can figure it, the tripod stood. Pop music blares from the restaurant of the current incarnation of the Zane Grey Sporting Club, renamed the Otehei Bay Resort. Most of the original buildings burned to the ground in 1972, but the same layout of cabins and a central dining room has been retained in the new lodge.
I watch a stingray glide under the wharf, a black diamond on the pale sand. For several years a semi-submersible operated here as a tourism venture, offering visitors the chance to eyeball snapper and reef fish without having to don a mask and flippers. The yellow submarine has gone now, replaced by dolphin-watching boats of ever- increasing size. One of them pulls away from the wharf and deploys a net on outrigger poles into which passengers—if they're game—can splash about while the boat is moving. There's always some new twist to lure the punters.
Grey, Mitchell, Baker and others like them needed no more inducement than the thought of fighting another fish tomorrow.
I find it hard to imagine wanting to catch those magnificent fish every day for months on end, but I suppose I don't have the disease as bad as someone like Grey. He considered himself incurable, a martyr to rod and reel.
The catches in those days were astonishing, almost grotesque. There's a photograph in Angler's Eldorado of 10 marlin hanging by their tails from the Otehei tripod—a world-record catch for a single day—with grinning anglers and boatmen, my grandfather included, posed in front. Fishing success was measured in pounds landed, as if fish were trees to be measured in board feet. One of Grey's competitors (all other anglers were competitors), an English big-game fisherman by the name of White-Wickham, racked up a tally of 3087 lb in 19 days' fishing in 1922 and 4924 lb in 30 days in 1927.
Every fish was brought in for weighing, and, after weighing, its carcass was dumped. It would no more have occurred to these men to release a fish alive than to flavour their tea with Tabasco sauce.
[Chapter Break]
A small knot of spectators stands on the Russell wharf, watching a striped marlin rise slowly, tail-first, on the weighmaster's winch. Children licking ice creams cluster around the 117 kg fish and reach out to touch the bill and poke the glazed, dead eye. "Eeeeuw!" exclaims one. "I am never swimming in the ocean again," adds another.
When I was a boy, this scene was part of the summer holiday ritual—the walk down to the wharf in the late afternoon to count the triangular game flags fluttering from the flagpole and check when the various boats were due in with their catches. But weigh-ins are rare today. Seventy per cent of striped marlin that are landed are tagged and released. A fish is brought in mainly if the angler thinks he may have a record, or if it is early in the season, when freezers are empty and the palates of piscivores are craving the taste of smoked marlin.
In the early days, no one ate the stuff. Some was brined and used for bait, but 90 per cent was deep-sixed. One of the few times locals risked their taste buds on billfish flesh was when Grey caught the first broadbill in 1926. "Broadbill steaks appeared on the bill of fare at the [Russell] accommodation houses," reported the Herald. "It was passable eating, but no one undertook to leave a standing order with his fish merchant for broadbill. A steady diet of it would soon become monotonous."
The Japanese thought differently—and therein hangs a tale. Fifty years after Grey mythologised the angler's El Dorado, the gold rush of game fish was nearly snuffed out by tuna longline ships winching aboard the nomads of the ocean to satisfy the Japanese consumer's love of sushi and sashimi (see sidebar, page 89).
It was the Bay of Islands Swordfish Club that led the fight against commercial usurpation of the billfish stocks. An important part of the club's case was that it could show an unbroken history of recreational catches stretching back 60-plus years—a record preserved on kauri panels in the swordfish clubrooms overlooking the Russell waterfront.
I stroll up to have a look. It's a classic Russell summer evening. People are still sunbathing at 7 p.m. Restaurant tables under the pohutukawa trees on the waterfront are full. Sun streams through the windows of the swordfish club, where a video of a record marlin being fought on Striker is playing and the kitchen is doing a brisk trade in fish and chips.
The freshly varnished panels have a warm honeyed glow. In small, hand-lettered script are the names of Zane Grey, Captain Mitchell, Charles Alma Baker and, yes, Leon Warne, along with their catches and the boats they fished from, row after row, from 1926 onwards. For the angler's El Dorado, these panels have proved to be worth their weight in gold.
And Mr El Dorado himself? What of the man from Zanesville? He returned to New Zealand twice more, in 1929 and 1933, but not to the Bay of Islands; he fished off Whitianga both times. After the last trip, dismayed by the anti-American feeling inflamed by the Depression, he vowed never to return.
Grey did not weather the Depression well, economically or personally. Magazines were hurting. Newsstand sales and advertising revenues had plummeted. Film studios were downsizing and becoming indifferent to his work. Dolly, who handled his business interests, could not place a single serialisation in 1933, and his publisher stockpiled the manuscripts he sent them. "It is a terrible time," wrote Grey. "I do not know what to think, what to do, which way to turn."
He saw his star declining. He was becoming yesterday's man, perpetuating a literary genre that was on its way out. His fishing adventures had lost their lustre, both to the magazines that used to lap up his tales of leaping marlin and ruthless sharks and even to the great angler himself. "I am not keen about Australia or Tahiti or any place," he wrote to Dolly."This is serious."
To make matters worse, new adventurers had arrived on the horizon, men like William Beebe, the pioneer deepwater diver. Grey felt he was slipping behind. "As sure as God made little green apples, if I don't do something big and do it soon, I shall have shot my bolt and will be out of it," he wrote. Much as he hated to admit it, he was growing old, and it filled him with despair. "At this writing I am sick and tired of life. I do not care to live any longer without the thrill, the adventure, the love, the passion, the achievement that I've had for twenty-one years," he confided in his diary in 1933.
Years of unchecked spending had brought him to such a state of penury that for $1000 he agreed to endorse Camel cigarettes, despite his lifelong aversion to smoking. His creative proposals became increasingly desperate. He even wrote to Ernest Hemingway suggesting they team up for a "giant world fishing trip to make a picture". I'm not sure they would have had much to talk about in the evenings. They were both men of action, but while Hemingway was redefining American fiction, Grey was stuck in a stylistic rut, churning out purple prose that was passé even when he penned it. Critics had a field day. "It was as if he'd plundered a time capsule stuffed with the discarded sentences of James Fenimore Cooper," wrote one. Another said that his stories had been "dragged through the turgid waters of inanity". One jibe that gained widespread currency was that the plot of any two Zane Grey novels could be written on the back of a postage stamp.
But give the man his due. He helped create the myths that millions of Americans still cherish. "His fantasies were those of the nation," writes his most recent biographer, Thomas Pauly. And he genuinely relished the wilderness that was disappearing under his feet. He wanted to set it down on paper, to capture its essence before it was too late.
I can't help feeling something of a kinship with him, the kinship of the striver. Which writer hasn't, in moments of creative bankruptcy, echoed Grey's agony of self-doubt: "I don't know which way to turn. I cannot decide what to write next. That which I desire to write does not seem to be what the editors want… I am full of stories and zeal and fire… yet I am inhibited by doubt, by fear that my feeling for life is false."
What could Grey do other than push on, hoping a new adventure would revive his spirits and career? Mustering boats and crew (including his stalwart New Zealand boatman Peter Williams and his launch Avalon), Grey headed for Australia in 1935. He spent seven weeks in New South Wales chasing sharks, which were large and plentiful. Like most anglers of his day (and some in ours), Grey  loathed sharks and considered them "engines of destruction". He hoped to write a book on their malevolence, to be entitled Tales of Man-Eating Sharks.
Out of his trip Down Under came an Australian-themed Western (so bad it was not published until five years after his death), a documentary called White Death (which faded from theatres almost as soon as it was released) and another in Grey's series of angling books. The shark book, however, never materialised.
On the completion of these projects, Grey suffered a stroke. It took him two years to fully recover, and by 1939 he was back in Australia, still on the shark trail. He was convinced that there were some that reached 80 feet in length—a preposterous idea. He did, however, land an 800-pound great white, ignoring the crew who urged him to cut the line and not risk his health.
He was 67, and would not live out the year. But his six months in Australia renewed his optimism and gave his flagging confidence a boost. "In these two years," he wrote in a diary entry in August, the last month of his life, "I have dictated two novels and a fishing story. And now, as is evident here, I can write fairly well again. And I write resurgent—I shall rise again!"
Fishing will do that to a man.