A wing and a snare
Icon of southern seas, a soaring albatross is picture of grace and strength. Yet thousands die each year through contact with fishing operations. Snagged in nets or hooked and dragged under on longlines, they are victims of a silent slaughter which goes largely unnoticed by land-dwellers, but which is pushing several albatross species towards extinction. New Zealand's endemic southern Buller's albatross, here cruising off the Fiordland coast, is one of the species most frequently caught in local fisheries, and is the focus of a long-term study to assess the impact of fishing-related mortality on seabird populations.
Jean-Claude Stahl has a determined look on his face as he edges towards the albatross. It stands three metres away, patting the ground nervously with its saucer-sized feet. In between is a tangle of tree-daisy branches, each studded with brittle, broken twigs. Negotiating a thicket of this stuff without getting snagged or stabbed is difficult at the best of times, and downright impossible if you're lunging after an albatross.
Stahl wants this bird. He has been on North East Island for two days and has seen only a handful of albatrosses. They are late this year. It is mid-December, and each new day should see dozens, if not hundreds, of albatrosses returning to the Snares, a cluster of islands and islets a little over 100 km south-west of Stewart Island. Instead, the pedestals on which they lay their eggs and brood their young stand empty: peat chimney pots scattered among the rocks, tree daisies and tussocks.
Stahl, a seabird scientist with the Museum of New Zealand/Te Papa Tongarewa, in Wellington, is contrib- uting to a long-term study of the foraging behaviour and population dynamics of the southern Buller's albatross, one of 13 species of albatross which breed in the New Zealand region. As often as four times a year, he and his Christchurch-based colleague, Paul Sagar, of the National Institute of Water and Atmospheric Research (NIWA), spend up to a month on the Snares and Solander Island— the only two places this species breeds—gathering data and generally learning all they can about the birds.
Their research comes at a crucial time for all albatrosses. Seventeen of the world's 24 albatross species are regarded as globally threatened. In 2001, the conservation group BirdLife International launched a Save The Albatross campaign, enlisting the patronage of the Prince of Wales, to raise awareness of the birds' plight. A key issue is commercial fishing—longlining in particular—which is believed to be responsible for the death of 300,000 sea- birds a year, several thousand of them albatrosses.
It is an ignominious death for a majestic bird. Diving on baits as they are lowered into the water, an albatross is liable to be hooked, dragged under and drowned. Between 1988 and 1992, an estimated 1600 Buller's albatrosses died in this way in the Japanese bluefin tuna fishery off the southern coast of New Zealand. Still more died in trawling operations for squid and hoki.
As with all long-lived, slow-maturing, slow-breeding birds, the loss of breeding adults from a population severely diminishes its long-term prospects. Such species are doomed to inexorable decline and eventual extinction unless adult birds can be saved from premature death.
But here is a puzzle: despite the longlining deaths, numbers of southern Buller's albatrosses on the Snares increased by a surprising 78 per cent between 1969 and 1992, and a further 8 per cent from 1992 to 1997, to a present population of around 8900 pairs. On Solander Island, 200 km to the north, the reverse trend has been observed, with the population possibly declining by up to 19 per cent between 1985 and 1996, and now numbering some 2600 pairs.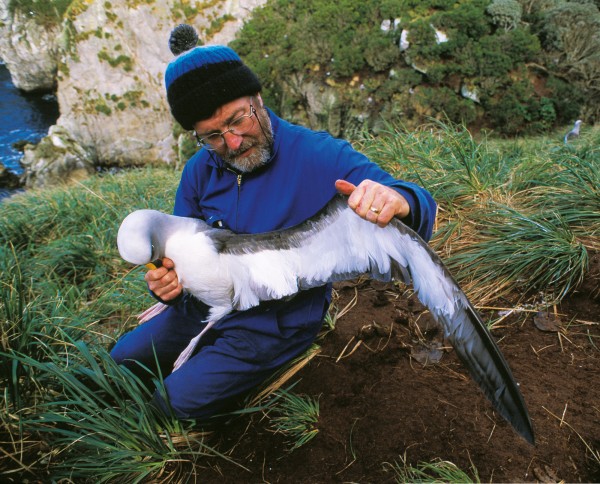 What is going on here? Why should one population in- crease and the other decrease, with no observable migration between the two? To answer this question, detailed knowledge of the birds' foraging habits is required, and the only way to track these ocean wanderers—capable of travelling thousands of kilometres during a single feeding trip—is by satellite.
Stahl has four satellite transmitters, each weighing about 70 g and costing $3500, which he plans to attach to two breeding pairs. The movement of these individuals will then be followed for up to five months, until the transmitter batteries wear out. Stahl has seven days the duration of this trip in which to deploy the transmitters and conduct his usual round of data-gathering: weighing (to assess breeding condition), measuring (to determine the sex of new birds) and band checking (to find out which birds are the early arrivers).
He advances towards his quarry. I take up a flanking position, as if herding a sheep. The bird, sensing capture is imminent, ducks under a fallen tree limb and makes a dash for the cliffs. Stahl vaults over one branch, sidesteps several others and seems within inches of grabbing it when it reaches the cliff edge.
Parachutes not being part of an ornithologist's kit, Stahl gives up the chase. We stand on a rock slab and watch the albatross soar away, the white of its feathers mingling with the whitecaps far below.
[Chapter break]
Holiday poster in a travel agent's window: "Spend a month on an uninhabited island in a Southern Ocean, lashed by the Roaring Forties and drenched by rain 300 days a year. Seven-hour boat trip each way(sea-sickness pills recommended). No heating. No electricity. No cellphone coverage. No flush toilet. Book now."
Somehow, I don't think so. Yet spending time on the Snares is no Napoleonic exile. These islands, jutting like granite molars out of the jaw of the sea, are among New Zealand's—and the world's—most important wildlife sanctuaries. Despite almost a century of intermittent sealing activity on the islands, starting in the 1790s, no introduced mammals have established themselves, and the only non-native birds—starlings, blackbirds, house sparrows, redpolls and the like—have arrived under their own steam from Stewart Island or the South Island.
The Snares are, quite simply, a naturalist's El Dorado. They are a glimpse of a lost world—the world that existed on mainland New Zealand before human presence despoiled the last intact large-island ecosystem on the planet. They are a place to see penguins padding along forest trails and sea lions sleeping in grassy glades, and to witness one of the great avian spectacles in the world: the nightly homecoming of millions of muttonbirds, blacken- ing the skies with their sooty plumage.
On my first evening I heard the muttonbirds before I saw them. I was talking to Stahl about albatross feeding habits while he stirred a pot of ratatouille over a portable gas cooker. (One of the advantages of spending time in the field with a Frenchman is that you eat well.) I heard what sounded like wind in tall pines. Stepping outside the hut, I looked up to see thousands of black specks circling above the forest canopy. Their calls merged into a con- tinuous hum, like the sound of a beehive.
Muttonbirds—known to Maori as titi and ornitholo­gists as sooty shearwaters—breed on the Snares in stag­gering numbers. In 1982, it was estimated that these islands (total area about three square kilometres) were home to 2.75 million pairs, plus an unknown number of non-breeders. Their burrows—which reach a density of two per square metre on North East Island—are in­terconnected, like underground apartment complexes. Researchers opening up one such condominium found it contained 23 nests and had 21 entrances.
Walking around an island so densely riddled with burrows is exceedingly difficult. The soil surface is often little more than a thin crust of peat and tree roots, and a misplaced step sends a person crashing through. As I followed Stahl to and from his study site at Mollymawk Bay—a 30-minute walk from the research station—one or other of us might find ourselves with one foot down a burrow and have to stop to make roofing repairs. Tree daisy twigs served as makeshift rafters, and the daisy's large, felted leaves as thatch. A few handfuls of peat scraped from the walls of the burrow entrance and patted down on top completed the job.
[Chapter break]
To stahl's relief, by mid­week there is an influx of albatrosses. Most are males, which typically ar­rive from their ocean wan­derings eight days before their partners. (In one study, the mean return date was Christmas Eve for males, New Year's Day for females.) Considering the vast distances the birds travel as solitary sojourners over featureless seas, the closely matched arrival dates of the sexes are amazing—and humbling to those of us who rely on clocks, calendars and diaries to keep track of appointments.
When checking banded birds in his study area, Stahl has a simple way of determining whether they are new arrivals. If recently in from the sea, they have cold feet. If they have been on land for a while, their feet are warm.
Synchronous arrival is important for successful breed­ing. Unlike some of the larger albatross species, which take a sabbatical year between chicks, southern Buller's albatrosses are annual breeders, each pair rearing a single chick over a marathon nine-month season. Being island-based for such a long period poses challenges for the adults, limiting their foraging range. Discovering where the adults feed during the breeding season and how much they overlap with fishing activities has been an important part of Stahl's and Sagar's research.
Consider a female who is reunited with her mate in late December. She will lay her egg a month later. After a 10-week incubation period, during which the parents take turns (averaging 10–11 days) on the nest, the chick hatches, and for the next three weeks—until late April—is guarded by one or other parent. From May to September, the growing chick is left unguarded so that both parents can operate a continuous meals-on-wings service. The chick fledges after 24 weeks, and by mid-September both it and its parents leave the colony.
The chick will not return—indeed, will not touch land—for six years, on average, and it will be a further five years before it takes a mate. Once it enters the breeding population it may breed for 25 years, maintaining fidelity to one mate over that time.
My first encounter with a breeding pair comes during an afternoon walk to Mollymawk Bay. (Small albatrosses, of which the southern Buller's is the smallest, are often called mollymawks by New Zealand ornithologists.) While negotiating an especially burrow-ridden portion of the forest, gingerly testing the springy soil with each step the way a mountaineer tests for hidden crevasses, I hear the strange buzzing calls of an adult albatross. It is a difficult sound to describe: imagine a duck with a kazoo stuck in its throat.
I steal down the hillside to find a pair which clearly has just been reunited. The female, slightly smaller than the male but in all other respects indistinguishable, is sitting on her pedestal, like a queen on her throne, while the male makes bowing movements and lightly touches her bill. He proffers a leaf—a love token, I fancy—before settling in front of the pedestal to allow her to preen him.
The mutual preening of these birds is a matter of the most exqui­site tenderness.
The heavy bills, devilishly hooked and with knife­like edges, can chop a fish into pieces, yet when wielded by a mate they become the most delicate of combs.
Layer by layer, the feathers of the head and neck are lifted, and the nibbling bill does its work of smoothing and cleaning.
The enchantment I feel while watching this pair in its forest bower is heightened, I'm sure, by the knowledge that southern Buller's albatrosses form lifelong pair bonds. I wonder if this pair is on track to celebrate its silver anniversary.
Divorce occurs in fewer than 4 per cent of pairs, and 90 per cent of breeding pairs return to their birth island each year to nest. One bird, banded as a female on an egg in February 1948, was last seen incubating another egg on the same nest in 1993, when it was at least 55 years old. If one member of a pair dies, it is at least two years before its partner breeds again. A change of partner, therefore, results in the loss of at least one breeding attempt.
While I have been observing my preening pair, Stahl has caught several birds and checked their bands. I find him sitting with one tucked under his arm, rugby ball-style, while he leafs through pages of banding data to look up its breeding history. Perhaps my appearance distracts him, for he relaxes his grip on the bill, and the bird seizes this opportunity to twist around and clamp down hard on his wrist.
Stahl curses in French, gets a fresh grip on the offend­ing weapon and pins the struggling bird. He looks across at me and mutters, "Don't ask for a translation."
With the bird calm again, he asks me to hold it while he gets a transmitter ready. We carefully make the trans­fer, and as I cradle the bird I can't help feeling I have been handed a most precious gift. "I now belong to a higher cult of mortals, for I have seen the albatross," wrote Robert Murphy, curator of birds at the American Muse­um of Natural History, during a sea voyage in 1912. How much greater is that sense of privilege when you actually hold the creature in your arms?
The dark, flashing eyes; the charcoal-smudged brows that impart an aspect of solemnity; the egg-yolk yellow of the bill edges, flanking a central slab of black—surely this is one of the noblest heads in nature. Running a fin­ger over the dove-grey neck feathers, I am astonished by their softness. The fluffed-up skirt they form is twice the diameter of the neck itself.
Stahl tapes the matchbox-sized transmitter to the stout shafts of several back feathers and releases the alba­tross to its task of supplying travel data. He already has a body of information about the birds' flight paths, which vary in length and destination according to sex, breed­ing status, time of year and weather. During the egg-incubation phase, for example, parent birds make long trips of up to 17 days' duration covering up to 6800 km. When they have hungry chicks to feed, they alternate be­tween medium-length trips of five to eight days and short trips of one to two.
During anticyclonic conditions, the birds typically fly to feeding grounds off the east coast of the South Island, ranging as far north as the Chatham Rise. If a low-pressure system comes through, they generally switch to Tasmania, making their change of flight plan about 24 hours before or after the passage of a front. "Sometimes they get it wrong," says Stahl. "They run out of wind in mid-Tasman. If that happens, they have to sit on the water for a couple of days until the wind picks up, then fly home. An aborted trip can jeopardise their whole breeding sea­son, as they may not have sufficient reserves to put in long weeks on the nest during incubation."
Such is the efficiency of an albatross's soaring flight that a bird expends more energy sitting on the water (through heat loss) than it does flying. With a strong tail wind (a 45-degree angle is optimal) southern Buller's al­batrosses can sustain speeds of 80–90 km/h, though they fly this fast only when commuting, not when feeding. Stahl hopes the data from his latest set of transmitters will enable him to compare the flight paths of breeding birds before and after laying, and provide still more in- sights into the travel habits of these frequent flyers.
[Chapter break]
Long-lived birds require long-term studies," says Paul Sagar, reading over the day's albatross measurements by lamplight in the Snares hut. It is July—seven months since my first visit. The island is a very different place from the one I left in December. The colonies of the endemic Snares crested penguin are now damp and deserted, the nests fought over so vehemently at the beginning of the breeding season just pathetic clumps of waterlogged sticks. The only reminder of the non-stop hissing, squawking and braying that is penguin colony life is a confetti of moulted feathers, not much bigger than rice grains on the wet peat.
Gone, too, are the sooty shearwaters, which massed nightly above the forest and streamed out to sea each morning along muttonbird "motorways"—favoured launching ramps scattered around the island. Gone is the sweet, citrusy fragrance of hebe blossom.
But the empty albatross pedestals of December are now occupied by fat, downy chicks, sitting up straight and looking like melting snowmen with clownish grins on their faces. With their pear-shaped torsos, beady eyes, gormless expressions and moulting down flying around like dandruff, these ugly ducklings are a far cry from the svelte adults they will one day become. It is hard to believe they are the same species.
At this time of year, the chicks—most of them three to four months old—weigh more than their parents, which steadily lose condition as a result of making continuous feeding trips. The parents normally never see each other after April. They return at any hour of the day—or, occasionally, at night, if the moon is full—"download" a meal to their chick, and set off immediately for the feeding grounds once more. In fact, the only way they know their mate is still alive is if they find the chick well fed. If it begs frantically, or looks emaciated, then it is almost certainly receiving food from just one parent.
Typical chick weight at this "post-guard" stage (when parents are no longer watching over their offspring) is 3– 4.5 kg, but Sagar has known chicks to weigh more than 5 kg. "I had to hook up two spring balances to record the weight," he says. The adults normally weigh between 2 and 3.5 kg, with males at the heavier end of the range.
With Sagar on this trip is Aaron Russ, a University of Canterbury student studying chick sex ratios and parent provisioning behaviour for his BSc (Hons) thesis, and Polly Hall, a field assistant. The thrust of Russ's investigation is to find out whether male chicks receive the same amount of food as female chicks and whether male and female parents contribute equally to the feeding regimen.
Sagar also wants to find out what the chicks are being fedan investigation which involves the unpleasant task of analysing albatross vomit. As it happens, albatross chicks are champion regurgitators. It is their primary means of defence (though after a day or so they get used to people in their midst and no longer chuck their meals).
Walking around the study colony—several dozen pedestals scattered among shaving-brush clumps of tussock and eroded slabs of granite—I learn to recognise the signs of imminent regurgitation. A clacking of bills is the warning signal. What follows is a projectile fountain of salp, fish, squid, jellyfish and sea squirt in a briny sauce. The spew itself is of surprising volume and has a significant stench, and I'm glad I'm not the one sifting through it.
Over the years, Sagar and Stahl have found all sorts of oddities in albatross spew: bits of wood and fishing net, latex gloves of the kind used on fishing trawlers, even the beak of a giant squid (undoubtedly taken from a dead squid at the surface, Sagar points out, scotching thoughts of a Rambo albatross at large in the Southern Ocean).
The most important finding, however, is that discards from fishing operations (mostly hoki and jack mackerel) are a major part of the diet of the southern Buller's albatross. In a dietary study conducted during 1996 and 1997, it was found that such discards were present in 70 per cent of chick meals. They constituted 60 per cent of the weight of those meals, and accounted for 91 per cent of all fish consumed by the parent birds.
Fish has a high calorific value compared with other items of albatross diet, such as salps—a type of free- swimming sea squirt—and jellyfish, and Sagar and Stahl believe that the availability of fishery discards has been at least partly responsible for the population increase of southern Buller's albatrosses on the Snares. It is their con- jecture that the population decrease on Solander Island reflects a greater overlap between where Solander birds feed and where longliners operate off Fiordland.
These two population trends demonstrate the funda- mental principle of seabird/fishery interactions. Although juvenile survival is enhanced by the availability of "free food" from fishing vessels (a well-fed chick is more likely to survive than a scrawny one), that advantage means nothing if adults are dying. As Stahl points out, "Even small reductions in adult survival can easily wipe out the benefits of tonnes of discards fed to chicks."
The long-term outlook for both populations will hinge on whether adult mortality can be lowered. Already, the use of mitigation devices on fishing vessels, such as bird-scaring streamers and weights to pull baited hooks quickly below the surface, and the practice of setting lines at night have reduced seabird bycatch.
By ascertaining which fishing grounds albatrosses use at various times of year, it may be possible to forecast the impact of existing or planned fisheries on seabird populations, and manage those fisheries in such a way that seabird bycatch is minimised.
[Chapter break]
What draws a person to spend months—cumulatively, years—on uninhabited islands sifting through albatross vomit and acquiring scars from the snapping bills of resentful birds? I pose the question to Sagar as we sit on a high granite outcrop at the northern promontory of the island. Offshore are the Daption Rocks, named after the genus of the Cape pigeon, which breeds on these exposed stacks.
"I guess I find remote places addictive," he says, chewing thoughtfully on a muesli bar. It's an addiction that goes back over 30 years, to his university days, when, as an undergraduate, he gained a place on a field trip to Antarctica. He first visited the Snares in 1976, but didn't begin studying southern Buller's albatrosses in earnest until 1992, in response to escalating concerns over the number of seabirds being lost to fishing operations. Initially, he made his field trips during his annual leave, but later received New Zealand Foundation for Research, Science and Technology funding and Department of Conservation support to continue the research as part of his NIWA job.
Now, with 3000 birds banded and breeding histories for some stretching back to 1948, Sagar feels he and his fellow researchers are poised to make major breakthroughs in understanding the ways of albatrosses.
"In five years' time we'll have a stunning number of birds breeding—birds of known age and known provenance," he says. "We'll be able to answer so many more questions then, such as whether young birds mate only with birds their own age, and the age at which senescence sets in, and whether older birds produce only female chicks, which weigh less and are therefore easier to raise than males."
Below us, on a ledge, a chick taps repeatedly on its parent's bill, pestering it for a meal. It reminds me of a petulant child tugging on its mother's skirt. Eventually the adult acquiesces, lowering its head and opening its bill to disgorge the contents of its crop.
It is a scene being repeated in hundreds of places across the island, and one which Sagar has shared with two of his children, who have joined him as research assistants. I ask him if he thinks they will inherit his albatross research.
"I don't know, but these birds are so long-lived you have to think about the next generation of researchers."
The study effort must stretch across geographical borders as well as across time. "Seabirds are international travellers, so the research needs to be international, too," says Sagar. "These birds feed on the high seas, and are affected by global changes to their environment. Jean- Claude and I have strong links with albatross scientists working on Crozet, Kerguelen, the Falklands, South Georgia and Macquarie. So New Zealand is contributing to a global perspective on the seabird–fishery issue."
Late that night, I walk from the hut to the boat harbour. I brush past hebes and ferns which overhang the boardwalk. Past the composting toilet, with its felt-tip rendering of Michelangelo's Creation of Man on the skylight—perhaps reflecting how its sketcher felt about this place. Down a peat path which squelches like sponge rubber under my boots.
I shine a torch where the sea heaves against the granite shore, and watch the crinkled blades of kelp swaying in the tide. I hear the solitary tweet of a tomtit in a tree daisy and the cough of a sea lion. More distantly, the wail of a non-breeding albatross, sounding like a lost lamb, carries on the night air.
A man could do worse than spend his days studying nature in such a place. And if those studies helped to keep even one species of albatross off the endangered list, it would surely be time well spent. For these are not just birds, they are gifts to the human spirit: glimpses of nature's wild essence.