A Stitch in Time
At first glance they could be mistaken for bellbirds, but this chick and its mother are much rarer: they are stitchbirds, or hihi, an endemic species once widespread in North Island forests but now confined to just a handful of island sanctuaries. Strenuous conservation efforts over the past decade have secured a brighter future for this rare and fascinating bird.
Most New Zea­landers are familiar with the tui and bellbird—our endearing nectar-sipping songsters. But few people will have seen the third member of the local branch of the honeyeater family: the hihi or stitchbird. In fact, this unusual bird came perilously close to extinction.
While tui and bellbird withstood and adapted to the changes wrought in Aotearoa since humans came to these islands—taking advantage of new nectar sources brought by tree-planting Europeans—the stitchbird did not.
As early as the 1860s, the noted ornithologist Sir Walter Buller commented, "This handsome species has only a limited range. It is comparatively common in the southern parts of the North Island, and may be met with as far north as the wooded ranges between Waikato Heads and Raglan, beyond which it is extremely rare. It is never found in the country north of Auck­land, with the exception of one locality, the Barrier Islands . . ."
When Buller returned to New Zealand in 1874, he was astounded at how rapidly the bird had disappeared from the mainland. In just six years it had vanished. The last confirmed sighting of hihi on mainland New Zealand was by a govern­ment surveyor in the Tararua Ranges in 1883.
A combination of forest clearance, the introduction of cats and ship rats and possibly new avian diseases carried by introduced domestic birds were responsible for the stitchbird's catastrophic decline.
The stitchbird (Notiomystis cincta) has several unusual or unique attributes. The sexes are quite different in appearance (which is not the case with bellbird or tui). The male has a wardrobe designed to impress—striking jet-black head with white "ear" tufts, bright yellow shoulder bars and breast bands, a white wing flash and a mottled tan/ grey brown body cover. Like the old fashioned Morris Minor indicators, the white ear tufts flick up and protrude outwards when the bird is excited. This display is frequently used by competing males, where it carries the typical Kiwi bloke "Wanna go, mate?" bravado, and also comes into play during mating displays.
The female is much more sub­dued in her appearance—some would say drab. With olive-grey brown body cover, white wing bars and smaller, less conspicuous white ear tufts she is certainly subtler. Both males and females have small cat-like whiskers around the beak, and large, bright eyes. When flitting in the treetops they often carry their tails high and erect, rather like a feather duster at "Atennrin-shun!" This tendency is one of the best diagnostic features when trying to spot them in the bush.
Unlike the tui and bellbird, which are known for their complex songs, hihi song is relatively simple. The bird's European name was, in fact, coined to describe its strident and harsh-sounding call—something like two river stones being hit together. Both sexes have a range of whistles. Some are loud and high-pitched, while small warble-like sounds are used in closer contact.
That stitchbirds escaped extinc­tion was due to the fortunate acci­dent of their presence on Little Barrier Island (Hauturu), in the Hauraki Gulf. Hauturu was declared a bird sanctuary in 1894, a protection which buffered the island from further habitat loss (in the form of logging) and the introduction of most predators that have spelt the end of many a native species else­where in New Zealand. Without the final sanctuary of Hauturu, hihi would certainly have gone the way of the huia. And for nearly 90 years, Hauturu remained the only place where hihi survived.
As everyone knows, having all your eggs (and birds, in this case) in one basket is an unwise idea. A single shipwreck and the chance introduction of rats, for example, would have represented the final nail in the coffin for a species with such a tenuous hold on existence as hihi. Even the effects of local weather patterns such as cyclones during breeding seasons can significantly affect the long-term viability of a small population, and there is also the risk of disease.
To improve the species' pros­pects, the former New Zealand Wildlife Service initiated a programme of translocating some hihi to other island sanctuaries. Between1980 and 1986, transfers were undertaken to three sites: Hen Island, off the Whangarei Heads (718 ha, two transfers, 46 birds in total); Cuvier Island, off the tip of Coromandel Penin­sula (181 ha, two transfers, 66 birds in total); Kapiti Island, north of Wellington (1963 ha; three transfers, 60 birds in total).
The establishment of new North Island saddleback populations had been successful on these islands, so hopes were high for the stitchbird transfers. However, although the new populations initially looked stable, a gradual decline followed until by the mid 1990s all hihi were gone from Cuvier Island and only a couple of birds remained on Hen Island. Kapiti fared somewhat better, but its population also showed a slow decline over the next decade.
When the Department of Con­servation was formed and assumed responsibility for threatened species, the plight of hihi remained critical. Throughout the 1990s, further translocations were made, again using Kapiti as one site, but also trialling two new locations: Mokoia Island, in Lake Rotorua, and Tiritiri Matangi Island, in the Hauraki Gulf.
Researchers also began an inten­sive study of stitchbird ecology. They looked, for example, at the relationship between tui, bellbird and hihi, and found that each species displays distinctive feeding and social behaviours. Tui are the real sugar junkies of the group, taking a higher percentage of nectar and lesser amounts of fruit and inverte­brates in their diet, while bellbirds and hihi both take a more even mix of nectar, fruits and insects.
There is a definite pecking order among the birds, with the larger tui holding the "top gun" position, followed by bellbird and then hihi, which are the social underdogs of the trio. In terms of available food sources, hihi may find themselves picking at the leftovers. This social (and food) pressure can take its toll on individuals, particularly at times of year when food is scarce, and may be a factor in the failure of some hihi populations.
Isabel Castro, a zoologist at Massey University, studied hihi mating systems and discovered a reproductive flexibility with few parallels among passerines (perching birds). Hihi can adjust the way they conduct themselves depending on the ratio of males to females in the population, the availability of nesting and food resources and even the timing of the breeding season.
In any particular breeding year hihi can be found in conventional pairings or in breeding groups. The group might consist of one male tending to several females nesting in his breeding territory, or in some cases one female may have several males in attendance.
In any of these combinations, the role of the male is to defend an area of forest which is focused on the nest site while the female undertakes all of the incubation duties, and most of the rearing of chicks.
Females enter overlapping swathes of forest in the search for food for their chicks, and may be aggressive to each other. When the population sex ratio is close to 50:50, a female may assist a male with territory defence, chasing off other females. But once the first female is actually nesting, the male may quietly slip this second female into another nest box in his territory later in the season.
Even in the simplest one-pair­one-territory situation researchers have found that all may not be as it seems. Analysis of the genetic make­up of some clutches has shown that the male defending the nest may not necessarily be the father of all the progeny in that nest. In one extreme case the five eggs in one clutch turned out to have four different fathers. This occurred in a breeding year where there was almost a two to-
one ratio of males to females, so competition from males for breeding opportunities was very high. Probably the most shocking element of hi hi mating behaviour has been the discovery of forced copulation. In some situations, males will harass an unprotected female and literally wrestle her to the ground and mate "face to face." While forced copulation has been well documented in several other bird species, it is not a common occurrence, ,md hihi is the only bird species in the world in which face to- face mating has been reported.
[Chapter Break]
As well as  having complex social lives, hihi are unusual in their nesting habits.They nest in cavities such as tree holes, a strategy seen in only one other honeyeater species in the world. Some researchers think that their cat-like whiskers may help them size up and navigate the entrances.
The male is the primary prospector of suitable nesting real estate. He carefully investigates holes in his territory, and if one is to his satisfaction he tries to "sell" it to the female. Leading her to the potential nest site, he dances about the entrance, going in and out, sometimes even offering some interior design advice with suitable sticks transported to the front door.
Hihi seem to prefer a split-level design in their nests, with the entrance below the living accommo­dation. Construction of the nest can take the female up to 10 days to complete. First, she builds a firm base, with larger sticks forming struts across the cavity. This phase may be undertaken in several nest locations shown to her by the male, before the final decision is made on which "apartment" to occupy.
Between 50 and 200 twigs will be collected from the forest and wres­tled through the entrance of the nest site before being stacked in place.
Once the base of the nest has reached a satisfactory density the female will choose finer, more flexible material and begin to weave a nest cup. Then for the soft furnishings she uses tree ferns, moss, lichen, old spider webs and feathers.
Once everything is set, the female lays her clutch. Between 3 to 5 tiny white eggs are laid over a period of about a week. The female will not start incubating the eggs until the clutch is nearly completed, often the day before the final egg is laid. She will then spend around 14 days sitting on the eggs, with only short breaks off the nest to feed herself, until they hatch.
All chicks emerge within a two-day period. At birth they weigh just 1 to 2 grams, are naked apart from a downy tuft on the head, and have closed eyes. The female then settles into a routine of rushing to and from the nest to keep hungry mouths fed and chicks growing, with only occasional assistance from the male.
The strain of caring for so many demanding mouths can be too much for the female, and she may die or abandon the nest. Although there have been cases of males taking over the care of clutches after the death of the nesting female, typically the loss of the female means the chicks perish, unless human help is at hand.
[Chapter Break]
The research and  management trials of the past decade have allowed scientists to pinpoint certain things that can be done to help hihi. When food is in short supply, sugar supplements in artificial feeders provide a nutrient boost. The feeders become a convenient place for conservation staff to monitor individual birds, carry out visual health checks, capture birds if necessary, and identify nesting females so they can be tracked back to their nesting sites. However, feeders can also be a source for disease transmission between birds, so the hygiene routines for cleaning feeders and maintaining stations rival those of the bottle-fed baby.
The fact that hihi are cavity nesters has meant that the birds readily accept artificial nest boxes designed for their use. This propen­sity enables easy monitoring of breeding activity. Perhaps even more important, nesting boxes can be placed in younger-growth forest which has good nectar supplies but few of the natural cavities found in older forest trees.
In some situations, the location and density of nest boxes and feeders may influence the breeding system adopted by the birds, alleviating stress on the breeding females. Disease-related mortality may also decrease, since stress is thought to influence the susceptibility of the birds to infections such as Aspergillosis (see sidebar above).
[sidebar-1]
The close monitoring of nesting behaviour allowed by the use of artificial boxes also enables early detection of problems such as nest desertion, infertile clutches and heavy mite infestations. For exam­ple, where a clutch is found to contain infertile eggs, but another with fertile eggs has lost the female, then it is possible to cross-foster the fertile clutch. Cross-fostering of young chicks has also occurred.
Controlling nest mites also increases chick survival. These tiny blood-sucking insects can cause fatal anaemia in young chicks. Or, if their numbers explode later, they can make life so uncomfortable that chicks will prematurely leave the nest, and may die from exposure or predation.
Monitoring nest mites is the least favoured task for field staff, and many a new worker has learned the hard way not to rest the hinged nest box lid on their head when peering inside. The fast-moving mites are attracted to body heat, and in minutes can swarm over skin and clothes. Although they feed only on birds, the mites give a new dimension to the phrase "makes the skin crawl."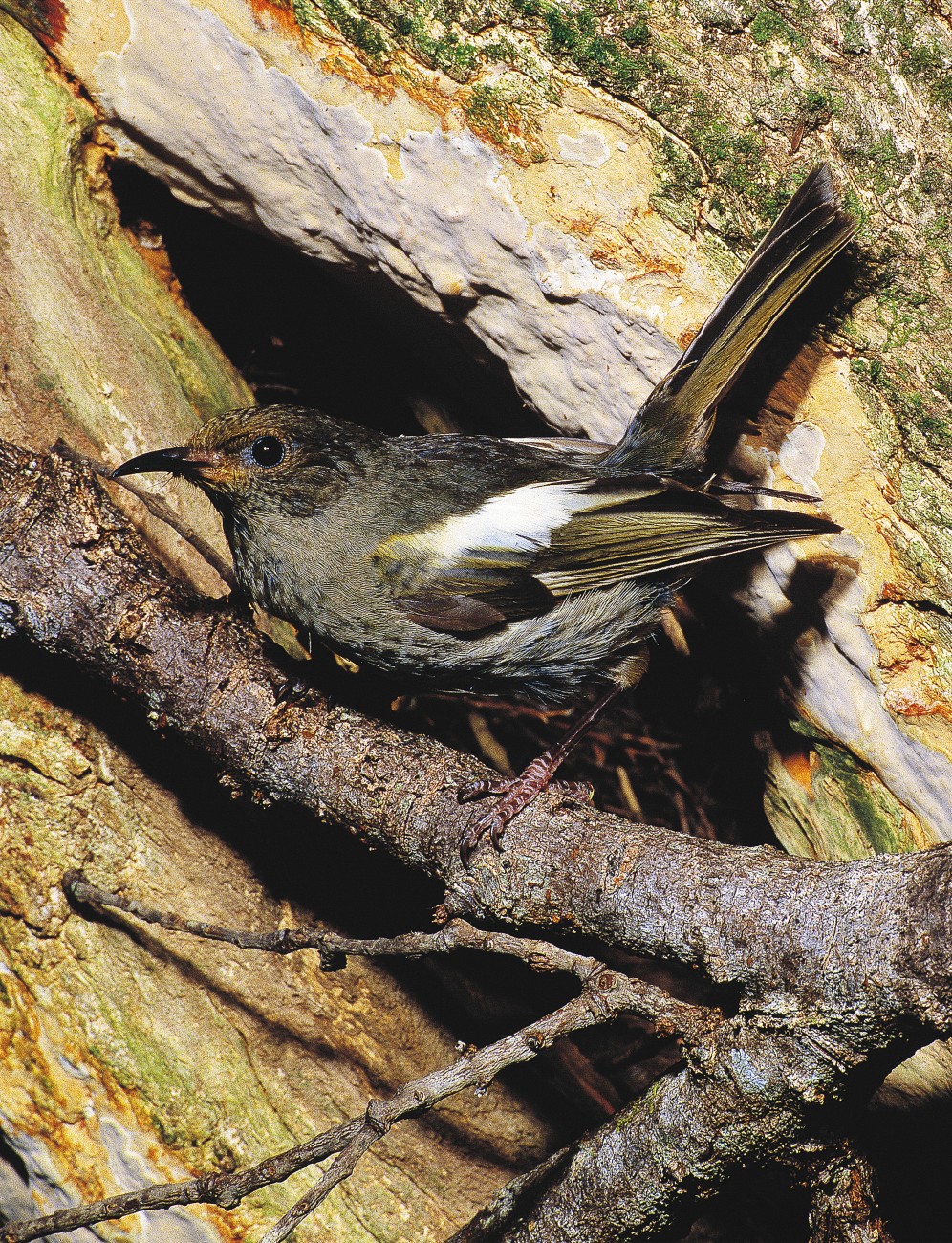 Mites can often, but not always, be controlled by spraying the nest. In some cases the entire nest box must be replaced. Although this can be nerve racking for field staff, hihi are amazingly tolerant in the later stages of chick rearing, when nest box changes usually occur. Staff wait until the female has left to find food, then quickly remove the chicks from the nest, remove the old nest box, install a new one with a preconstructed substitute nest and replace the chicks—all before the  female gets home. Recycled deserted nests can be used as replacements, or, alternatively, an artificial nest such as a sieve lined with Polar Fleece can do the trick.
Most of the birds in managed populations are banded in the nest at around 21 days old, prior to fledg­ing, so there is a way of keeping track of family lines and chick survival post-fledging.
Given the complexities of hihi biology, it is not really surprising that this species has had a hard time adjusting to a changed environment. What the research and experimenta­tion of the past 10 years has shown is that, with dedication, these special little birds can remain a viable part of New Zealand's biodiversity.