A rock and a hard place
Flowering broom gilds the shattered slopes of the wild middle section of the Clarence River, where it runs between the Inland and Seaward Kaikoura Ranges of Marlborough. Paddlers on multi-day rafting trips down this remote river must dig deep to guide their craft through the rapids that dot its serpentine course.
A loaf of bread, a tin of peaches and a cray­-fish. These were the provisions Sue Murray fetched from her pantry as I prepared to leave. "And you might want to take a shovel and a crowbar," she added. "In case you get stuck."
It was the last week of January. I had called in to Bluff Station—Sue and Richard ("Chid") Murray's property, inland from Kekerengu, on the Marlborough coast—to check if the road to Muzzle Station was drivable. The Muzzle is one of the country's most isolated stations, and its owners, Colin and Tina Nimmo, are regarded as local legends for having run the place for 25 years. Theirs is the only homestead on the mountainous middle section of the Clarence River. When I told people I was writing about the Clarence, the inevitable comment was, "You'll be talking to Colin and Tina, right?"
It's a five-hour drive from Bluff Station homestead to the Nimmos, on a farm track that in places is not much more than a bulldozer scrape on a scree slope. There are multiple towbar-thumping river crossings and dozens of gates to open and shut—each with its unique latching mechanism to figure out.
I drove the first few kilometres gingerly, enveloped in cloud, climbing a road with so many switchbacks I soon lost all sense of direction. Then, as the road tracked inland, the cloud thinned and glorious Tapuae-o-Uenuku—"foot­steps of the rainbow", highest peak in the northern South Island—stood out white and sharp on the skyline.
An hour or so later I stopped, set up a folding chair and ate the crayfish. The sun was hot now. Harriers worked the thermals and scouted the valley floor. The coastal cloud from earlier in the day was walled up among the crags of the Seaward Kaikouras, leaving the valley clear. Such conditions are standard for the Clarence valley. Moisture-bearing winds are blocked by the ranges that flank the river, creating a dry climate with extremes of temperature.
In summer the mercury can hit 40° C. In Tales of a Tussock Jumper, a memoir of mustering on Molesworth Station, New Zealand's largest station and the Muzzle's upstream neighbour, Fred Sta­cey wrote that it got so hot "the sweat boiled out through the lace holes in your boots". Grasshoppers "rained down on your hat like hail", and falcons gorged on them, leaving the tops of bushes covered in insect wings and legs.
Little wonder that farming came late to the Clarence valley. "Its forbidding barren ridges, its gorges, and its bleak winter climate deterred the entrance of squatters until the whole of the Awatere had been parcelled into sheep runs," wrote Kaikoura historian J.M. Sherrard.
Bluff Station was established in 1858. In 1980 an 18,000 ha block at the western end of the prop­erty was surveyed off and named Muzzle Station after a stream on its eastern boundary, and the Nimmos signed up to a lonely life between the ranges.
[Chapter Break]
This wasn't my first attempt to meet them. Two months earlier, on a rafting trip down the Clarence, I had wanted to call in for a cup of tea and a chat. The plan had been to reach the Muzzle by the end of the second day of the trip, but we were buffeted by a head wind all day, and nightfall found us still several kilometres short of our goal.
We strung a tent fly under tall Lombardy poplars at Quail Flat, an old homestead site. It was a squally night, a nor'wester blowing. The gusts came in pulses, roaring across the river flats like liv­ing things. Each time I heard one coming I would grab the fly and grip it hard while it shook like a sail.
In the morning—such colours! A river of jade, viridescent poplars, dark cloud shadows spreading across the scree slopes like ink on blotting paper.
We paddled on towards the Muzzle, checking off the various landmarks on the map as we passed them—Rough Stream, Horse Flat, a hill called the Clock Face—and coming at last to a thick stand of poplars that we assumed must be the homestead site. But where was the track? We couldn't see one. Nor was there an obvious landing place, and as we searched the bank for clues the current car­ried us further and further downstream.
We beached the raft and waded ashore, convinced that habitation must lie beyond the poplar copse. But after 20 minutes of crashing through a graveyard of fallen trees overlying a spongy swamp we abandoned the dream of hot-buttered scones with raspberry jam and paddled on.
Now, driving the last 50 metres to the house past those same poplars, I was glad to have finally made it.
So what had it been like, this quarter-century of living the pastoral equivalent of a lighthouse­keeper's existence?
Tina admitted to feeling daunted at the start. "Before we arrived no one had lived here for 20 years apart from shepherds and a few hippies. It was a pretty rickety old place. No lawn or garden or anything like that.
"We had a bad run of luck for the first few years. We'd been told there were some nasty north­wests, and one day a big wind came up and took the whole roof off and put it away up there in the paddock in one piece."
Another gale wrecked the Nimmos' pride and joy, a Cessna 180 aircraft. "We'd only had it six .ths. Colin dug a pit for it and tied it down, but the wind snapped the ropes and flipped it upside down. It was very sad. I cried."
Were there moments when they thought they had made a mistake, taking on such a remote sta­tion in such difficult country? "We did wonder when it was all going to stop. We built a hangar for the next aircraft, and within 10 months the door had blown off and all the trusses had been lifted up and broken. But since we fixed that we've been pretty lucky, touch wood."
The phone rang. It was their daughter Fiona (everyone calls her O), talking about arrangements for looking after the place while Colin and Tina were in Karaka for the national horse sales. (They own a couple of racehorses—an "insane
hobby" according to Tina.)
When she hung up, Tina remarked, "Didn't have that when we got here."
"Didn't have a lot of things," Colin added. "Couldn't get TV. Then satellites came along and now we've got 50 channels and still nothing worth watching."
There was a water turbine when they arrived, but it produced only enough pow­er to run the lights. Colin eventually had it rebuilt to run freezers and other applianc­es—and, lately, honey-processing machin­ery. A few years ago the Nimmos started a honey partnership with a Clarence apiarist, focusing on viper's bugloss, the wild blue borage that flourishes in dry country. "He looks after the beekeeping side of things, and we own the hives and the extraction gear," Colin said, giving me a spoonful of golden, treacly honey to try. "That's almost pure borage," he said, "and it's been like gold for us this year. We've got 500 hives, but this year we could have run 5000 hives and there'd still have been enough nectar to go round."
In terms of income, honey is the sweetener; Merinos and Herefords are the main fare. The Nim­mos run 5000 sheep and 1800 cattle, the low stocking rate reflecting the dryness of the country. Given the rock-bottom price of wool at the time, I asked Colin if he had any plans to move out of Merinos and into meat breeds, but he said no. "The wool has got harder to sell, but Merinos suit this country, so we'll stick with them."
Gaining access to the Clarence Reserve, across the river (Colin has a licence to graze 12,000 ha there), has been a financial godsend, allowing the Nimmos to hold on to their stock and sell at a higher price. "When we started out we used to sell calves, but then TB came on the scene, and the Animal Health Board regulations made it harder and harder to sell calves. Now we keep them till they're two and sell them as fat cattle. We couldn't do that without the grazing at the reserve."
Around the Clarence, there's real admiration for Tina for having brought up two children in the back of beyond. She reckons some people think of her as "that strange woman from the scrub"—a view not entirely contradicted by her actions. Such as competing in the local dog trials a couple of days be­fore she was due to give birth, and leaving Lucy sleeping in a tussock while she helped Colin muster. Both girls were schooled by correspondence. Now Lucy works as a wool handler in Darfield, but comes home to the Muzzle to do stock work during the busy times. O is in her final year of a commerce and marketing degree at Lincoln and wants to take over the property when her parents retire.
Tina is known for taking in feathered waifs and strays: Paradise ducks, Canada geese, even a cou­ple of kea. One particular goose has become a permanent resident. It lays eggs at shearing time, Tina told me, and they make excellent sponge cakes. But extracting them from a possessive mother with a powerful, snapping beak is not for the faint-hearted. "You have to throw a jersey over her head," Tina said. "No one's game to do it but me."
Being the only people on a 100-odd km stretch of water, the Nimmos meet all sorts coming down (or up) the river: rafters, kayakers, tubers, the occasional jet-ski, a tinnie or two. In spring, jet-boaters often have a crack at running the river, seeing how far upstream they can go. Some of the more colourful names of rapids, such as Jawbreaker and Nosecrusher, have their origin in jetboat mishaps.
The Nimmos take visitors in their stride, whether they turn up asking for something to patch a punctured raft or (as happened once) a spare cauliflower or two. Tina told me that when Lucy and O were youngsters, playing in the river, some paddlers on an Easter rafting trip stopped to talk to them. "Did the Easter Bunny visit you?" one of the paddlers asked. To which Lucy—a chip off the old block—retorted, "No, we shot the bastard."
[Chapter Break]
Talking to the Nimmos and the Murrays—inheritors of a farming legacy that goes back 150 years—made me think of Isaac Newton's observation about standing on the shoulders of giants. An undoubted giant in these parts was Chid Murray's grandfather, A.J. Murray. When he took up Bluff Station in partnership with a man named Bennett just after World War I, the place had been abandoned to rabbits, which had stripped the place like locusts.
"Grass there was none," wrote Bennett's wife. "Even the tussock had been killed out. All that was left was matagouri bushes and even they had been stripped of their bark right out to the end of the highest branches." Driven by hunger, rabbits felled cabbage trees to get at the pith.
During their first few winters of rabbit poisoning, Bennett and Murray took tallies of up to 300,000 a year. Returns from rabbit skins exceeded the wool cheque. There was so little pasture that the mule trains which brought in supplies had to carry their own feed. It was a three-day journey to the Bluff homestead (now the Nimmos' place) from Kekerengu.
Mules were used because their hard hooves could handle the stony ground without having to be shod. But even mules couldn't climb some of the steep country that had to be fenced, so the posts and battens and wire were carried and dragged up to the ridge-tops by hand. You get a crick in your neck just looking up at these ridges, 500, 600, 700 m high. And an ache in your back at the thought of fencing them.
This was country which had "broken the hearts and bank balances of succeeding occupiers," wrote A.J.'s son, Jim. But it didn't break A.J. Until his death in 1949, he never gave up on his dream to see the Clarence opened up and its full potential realised. Rabbits be damned! "He could not con­scientiously live in the area and witness the erosion of 50,000 acres of good grazing land being blown and washed away and lost to New Zealand for all time," wrote his son. His life's work was "to restore this country to the best of his ability". He pleaded with government to help him put in access roads, and asked that the property be considered for rehabilitation blocks for returned soldiers. Yet the Land Purchase Board "declined to have anything to do with such remote and depleted country—de­void of vegetation and overrun with rabbits".
The old enemy, the rabbit. Scourge of the Clarence, as of so many dryland farming regions. Early Clarence runholders planted sweet briar roses to make jam for poisoning rabbits. Now, like intro­duced broom, which cloaks the hills in gold, sweet briar runs rampant, forming thickets of fiendish impenetrability.
I had tangled with one of these infestations of botanical barbed wire during our rafting trip. We had spotted a hunters' hut at a place called Stony Flat and decided to take a closer look. Easier said than done. The briar patch in front of the hut was a labyrinth of thorns, part of which had to be ne­gotiated by crawling.
Colin Nimmo actually defends briar, saying it does more good than harm—providing shelter for stock and allowing grass to get established under it. "It's good for stock," he says. "If there's snow on the ground and some briar around, the stock will gnaw away on that. There's a bit of tucker there to keep them going. Quails, possums, horses, rabbits— they all eat briar berries in winter."
When the Nimmos came to the Muzzle in 1980, the place was hopping with rabbits. "It was a nightmare. They didn't really have burrows, they just nested in the briars," Colin said. "In those days rabbit boards and regional councils were responsible for rabbit control. They monitored how many rabbits you had and told you when they would be poisoned. They did the operation. The farmer paid rabbit rates. Then it gradually changed to user-pays. It was costing us $50,000 a year to achieve nothing. You knew it was never-ending."
Then came RHD—rabbit haemorrhagic disease—released in New Zealand deliberately, but il­legally, in 1997 as a bio-control and spread widely by farmers. "It changed our lives," Colin said simply. The disease is a quiet, efficient killer, making its appearance suddenly when rabbit numbers reach a certain level. "It's quite sinister how it works. You see a lot of rabbits in an area and then you come back in a few weeks and you don't see any. Just a few dead ones that the dogs picked up."
When RHD arrived, dogs and hawks wouldn't eat the carcasses. Now they do—and just as well. "At the beginning, hawks started killing newborn lambs because there was nothing else to eat. Their numbers had built up because of rabbits, and suddenly there were no rabbits."
In Colin's opinion, RHD fixed a lot more than the rabbit problem. "The high country was under siege from bureaucrats. You had people from DoC, from LINZ, from local government, from the regional council, telling us what we could do and should do and what would be best for the place. Where we could run our stock, how we should run our stock. They had far too much control. Be­cause RHD was introduced by farmers, it sparked the whole high country community to thinking that we could actually run our places better than these jerks."
Colin calls it "the best-managed piece of skulduggery" ever to happen in New Zealand.
[Chapter Break]
That night I slept in the old Bluff homestead, sensing the weight of history as much as the weight of cob in its thick walls. In the morning I took the "quick" way back to the coast: ford­ing the Clarence, driving eight km up the shingle bed of Herring Stream and then crossing the Seaward Kaikouras—a three-hour journey.
I stopped at the crest of the range and looked back on a rumpled landscape. It was as if a wave-tossed ocean had been cast in stone, then draped in green velvet. A freeze-frame of the plate-tectonic drama that has been shaping this region for the past 20 million years.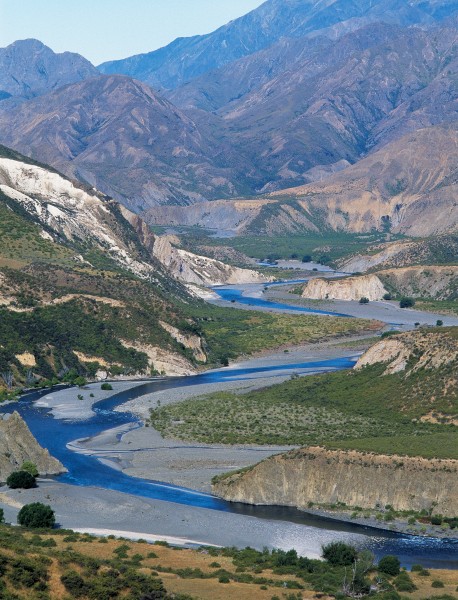 Over that time span a system of faults related to the great Alpine Fault has created trenches and ranges that run north-east from Marlborough through Welling­ton, the Wairarapa, Hawke's Bay and out into the Pacific. The region's two dominant ranges—the Seaward and Inland Kaikoura Ranges—result from the steady elevation of two parallel fault blocks bounded by the Hope–Kekerengu, Clarence and Awatere Faults. And still the mountains rise—the Inland Kaikouras by an average of 10 mm a year, making 2885 m Tapuae-o-Uenuku one of the mostly rapidly rising mountains in the world.
With its tectonically turbulent past the region is something of a Mecca for geologists. The rock strata at one particular site on Mead Stream, a tributary of the Clarence, provide what is re­garded as the best South Pacific record of oceanographic changes at the end of the Cretaceous era. Palaeoclimatologists believe the limestones and cherts of the Clarence have much to reveal about climate fluctuations more than 40 million years ago.
I went looking for the Mead Stream site with Sue Murray. Though the Mead lies on their property, neither she nor Chid had seen the exact spot that evokes such excitement in the geologists who make the pilgrimage here. I had maps and photographs from palaeontologist Chris Hollis, of the Institute of Geological and Nuclear Sciences, but what had seemed an obvious set of directions and landmarks in Chris's Lower Hutt office proved cryptic among the canyons and crags of the Mead.
We knew we were close when we saw a sequence of limestone strata that had been carefully num­bered, the numbers referring to how many million years ago they had been deposited on the sea floor. They looked like a tilted stack of pikelets.
Eventually, with much comparing of photographs and rock faces, we found what we were looking for: a nondescript series of strata which, according to the experts, mark the K/T boundary, the time zone that embraces the end of the Cretaceous era (K) and beginning of the Tertiary (though, just to confuse matters, the Tertiary is now called the Cenozoic). The line of demarcation between the two eras shows as a thin layer of dark clay among whitish, flinty limestone strata. The dark layer isn't just any clay: it contains dust from the meteorite impact in Yucatan, Mexico, 65 million years ago, that is thought to have wiped out the dinosaurs.
Mission accomplished, we walked back downstream, checking the river boulders for fossils. It is a wonderful thing to see the fronds of some ancient plant preserved in rock like a pressed flower in a book of poetry. Wonderful, too, to look at 1000 m-high limestone faces, such as those behind Mead Stream, and reflect that not only were they formed by the slow drizzle of marine organisms over the 100-odd million years that the Clarence area lay beneath the sea, but that they were elevated to such a prodigious height by the earth's restless crust.
[Chapter Break]
Two people who have a more than passing interest in Clarence limestone—though not for geological reasons—are Derrick and Jane Millton, owners of Waipapa, at the mouth of the Clarence. They have a limestone quarry on their property, producing agricultural lime for Marlborough farms and vineyards.
But as Derrick pointed out to me, limestone isn't the only mineral gift their property has received. The geologist's dream that is the Clarence valley is a mélange of minerals which get washed down the river towards the mouth, he said. "The fertility of our land is partly explained by the fact that we're on the south side of the river, and the north-west wind blows mineral-rich dust onto our land."
And then there is the gift of water. I walked across some of Waipapa's riverside pasture—lush and green under the ministration of rotating sprinklers, while the hill country behind was baked brown in the summer heat. "We've only had irrigation three or four years, but it's changed the way we farm," Derrick said. Instead of having to send their lambs away to greener pastures in summer for finishing, the Milltons now fatten them on the property, and buy in lambs from other dry areas in Marlborough for finishing. "With irrigation we can hold on to our lambs through the summer and autumn and sell them at significantly better prices than we would get at the peak of the killing season.
"All the properties in the lower Clarence that can be irrigated are being irrigated. You can produce about 9000 kg of dry matter per hectare on unirrigated land, but with irrigation you can do 14,000. You've got that extra potential. No one who starts irrigating ever goes back, because it creates an even flow of pasture for the animals to use. It's a bit more work, but it's worth it."
At least some of the water that spurts from the legion of sprin­klers, rotators and guns deployed on lower Clarence farmland has its genesis 200 km away, on the southern boundary of Nelson Lakes National Park. For it is here that the Clarence rises, in the foothills of the Spenser Mountains.
In November, after rafting the navigable part of the river, I had followed the path of the upper Clarence by road to Lake Tennyson. Here the Clarence forms the boundary between the great Moles-worth and St James Stations. From a vantage point high above the lake, amid mountain daisies, cushion plants and hebe, I traced the river—a silver thread in a dappled valley—winding upward from the lake towards snow-capped Belvedere Peak.
A mere rifle shot away, in the neighbouring valley, lay the headwa­ters of the Waiau River. Although so close at their sources, the two rivers take widely diverging paths to the sea. The Waiau reaches the coast near Cheviot, while the meandering Clarence, captured by the Marlborough fault system and forced to run north-eastward between the ranges, meets the sea 80 km away.
In Maori mythology the two rivers are characterised as lovers who drifted apart. When Waiau Uha (the Waiau) laments her sepa­ration from Waiau Toa (the Clarence), the warm rain of her tears melts the snow on the ranges and causes the rivers to flood.
Jane Millton, who grew up at Waipapa, has childhood memories of standing on the river-bank during a flood and "watching the land fall away before my eyes".
Some floods have been catastrophic. One in 1923 carried a 60 m section of the bridge at the mouth of the Clarence out to sea, disrupting traffic for two years. Crossings had to be made by cable car and punt. Thirty years later, another flood destroyed the northern approaches to the modified bridge, and traffic had to be diverted through Lewis Pass for several months. The present bridge­ an elegantly curved concrete affair—was opened in 1975 and has so far withstood all that the ram­bunctious river has thrown at it.
Before 1887 there was no bridge at all. A coach service ran from Blenheim to the Clarence River once a fortnight, and a ferry transported passengers across the "foaming soupy waters"—as one travel­ler described them. An accommodation house, established along with the ferry service in 1862, marked the beginnings of a settlement that came to be known as Clarence Bridge, and then just Clarence.
Although the accommodation house was built on the south bank, Clarence evolved on the north. The settlement's golden years were the 1960s and early 1970s. There was a new bridge to build and plenty of road and rail maintenance. Today, it's a blink-and-you'll-miss-it place, and most travellers on the "golden highway" between ecotourism boomtown Kaikoura and the wineries of Blenheim wouldn't give the place a second thought.
[Chapter Break]
From the road, all you see is a string of houses on a wedge of land between State Highway 1 and the South Island main trunk railway line. There is one side road, with a sign advertising a woodworkers' gallery—the only suggestion of a reason for the traveller to stop.
Go down that stretch of tarseal, all 50 metres of it, and you might find Ben Judge or his brother-in-law, Nigel Beardmore, in the workshop, chainsaw-sculpting a rustic garden seat or putting the finishing touches on a kitchen cabinet. Or not. Ben could be running a rafting trip or driving the school bus or helping Sandy with the two-and-a-half hectares of "savvy"—sauvignon blanc—she has planted beside their house in Seddon. ("Like everyone else in Marlborough," Ben jokes.)
If it's early morning, Nigel might be away pruning pine trees. If it's late afternoon, he might be at the river mouth casting a spinner for salmon. Once when I called in he was dehydrating a clothes-basketful of apricots he'd just picked from the tree outside his and Sarah's house, across the road from the workshop.
Perhaps it's in the nature of things that a vocational one-trick pony—a writer, say—should find such diversity appealing. Though as Nigel pointed out, having several irons in the fire is as much an economic necessity as a lifestyle choice. Nevertheless, when the two families decided to base them­selves in Clarence in 1994, lifestyle was very much on their minds. The combination of river, moun­tains and sea that Clarence affords is not to be found to such an impressive degree in many places in the country.
To locate the rest of Clarence (such as it is) you take a side road just before the bridge. There are a few more houses, plus a church (Christmas and Easter services only) and the community hub: a one-teacher primary school which started the 2005 year with a roll of nine. I called in during the school's show day to admire such creativity as a flower arrangement in a gumboot and a piece of prose (suitably illustrated) from Aravinda Hamilton explain­ing that an elephant is the best pet "because you can ride it to school and use its trunk as a swing" and "if your car breaks down the elephant could tow you".
A couple of houses along from the school I found Lynda Kitchingham and Dylan Simson. They bought the old store­keeper's house eight years ago and now grow organic lavender and are on the WWOOFing circuit—Willing Workers on Organic Farms, an international volunteer network through which travellers trade elbow grease for room and board.
Lynda has a counselling practice in Kaikoura. As well as that and the lavender oil, she does wool craft and teaches yoga, while Dylan (also a trained counsellor) drives a shuttle van to Hanmer Springs for Ben Judge's rafting trips.
"We have a steady stream of WWOOFers coming through," said Dylan. "Around 30 a year. Most stay for a week or 10 days. One liked it so much she stayed for 10 weeks."
Soon after the pair had shifted to Clarence, an envi­ronmental threat reared its head in the form of a resource application from TranzRail to take two million cubic metres of rock from the bed of the Clarence River and two of its tributaries for the proposed new interisland ferry terminal at Clifford Bay, near Blenheim. Lynda and Dylan became involved in fighting the proposal.
"My biggest concern was the flood risk," Dylan said. "If you take that much rock from a riverbed you're going to have some negatives downstream. Some of the boulders in the Wharekiri and the Miller are up to six tonnes. They're the river's armour in times of high flow."
Despite community opposition, TranzRail obtained its resource consent but did not proceed with the Clifford Bay development, so for now the "armour" remains intact.
Another development that stalled was the establishment of a Kaikoura ranges national park. Pro­posed by Forest and Bird in 2002, the 82,000 ha park would have encompassed most of the Seaward Kaikouras and selected sites in the Inland Kaikouras. The Clarence River would have formed one of the major boundaries. The park's proponents say it would have recognised and protected the region's diverse habitats, from rich coastal forests to alpine shrublands, and especially its drylands—a habitat type not found in any of New Zealand's existing national parks.
Biologically, the area is regarded as one of the main centres of species diversity in the country. A quarter of New Zealand's native plant species, including many rock and scree plants endemic to the Kaikoura ranges, are to be found within the proposed park boundaries. Among the faunal gems are 12 lizard species, three species of giant weta, and Hutton's shearwater, one of the last species of shearwater to still breed on mainland New Zealand. These doughty birds build their burrows on steep tussock-covered slopes near the tops of the Seaward Kaikoura Range, and often arrive to nest when there is still snow on the ground.
For all its perceived merit, the national park proposal did not attract the backing needed to move it towards legislation, so was downgraded to become a proposal for a conservation park—in which form it is still under consideration.
With or without a park, Lynda, chairwoman of the local Forest and Bird branch, says she thinks tourism will inevitably increase in the Clarence area, as Kaikoura's visitors look for more recreation­al options. Accordingly, she and Dylan plan to offer a homestay option—"an explore-the-valley sort of thing. I've had the white fluffy towels for three years, but something always comes up and I don't get it off the ground."
Johnny Reader, crayfisherman and local entrepreneur, already has his adventure-tourism enter­prise up and running. He invited me for a spin in one of his more novel vehicles, a genuine Florida airboat which he keeps on a farm up the Clarence valley. On the way there, I asked him how the fish­ing was.
Johnny has been pulling up crays along the Clarence coast for 25 years. These days he catches his 36 tonnes of quota between May and September, when the prices are highest (up to $45 a kg). But winter fishing has its risks: the gale-force south-easterlies for which this coast is notorious.
"I lost 160 pots in 1986, just as the season was getting under way," he said. "A month later another ferocious storm came through and I lost all my gear again." The loss of pots isn't the only impact. "Those big blows can smash up reefs and cover them with half a metre of gravel, killing the juve­niles. After 1986, it took seven or eight years for the crayfish to come back and grow to legal size on some of the shallow reefs."
The airboat hadn't been used for a while, so it took a few minutes to pull the birds' nests off the engine. Originally, Johnny said, he had planned to use the boat for harvesting seaweed in shallow estuaries. "The red seaweed, the edible job. But it was in the too-hard basket with the authorities." Now he's running airboat tours, whizzing guests down the lower river and out through the mouth­ another outdoor activity to put alongside the kayaking, crayfishing and mountain-biking his adven­ture-tourism company already offers.
"We're taking a softly-softly approach," he said. "We don't want to see tourism in the valley turn into a numbers game and encroach on our quality of life. We're also trying to get as many local peo­ple involved as possible—people who want to have an aspect of tourism as a sideline. The last thing we want is someone from Auckland turning up on our doorstep and creating a Disneyland here."
[Chapter Break]
As much as I revelled in the Clarence of the present—roaring around in Johnny Reader's air‑boat, riding the river's bucking waves in one of Ben Judge's rafts, striding about high country pastures under Tapuae-o-Uenuku's lofty gaze while the Murrays shouted "Wayleggo!" (the traditional high country command) at their cattle dogs—it was the past that kept drawing me back.
Scratch the surface anywhere around here and history seeps out—some of it bloody. Fierce bat­tles between Ngati Mamoe and Ngai Tahu occurred on this part of the coast. One encounter near present-day Clarence, in which the local Ngati Mamoe briefly turned the tables on their northern invaders, is remembered as Paoiroro, or "mashed brains". Sherrard writes, "So great was the slaugh­ter that seagulls and woodhens feasted for many days on the bodies of the slain."
At the southern approach to the Clarence road bridge a track leads to a small grassy plot. A bronze Historic Places Trust plaque affixed to a river boulder states that the Clarence accommodation house stood on this site "and the 1868 flood reached its foundations". I tried to guess how high the river would have to rise from its bed to reach this spot. At least 10 metres. At that height the Clarence must have been a fearsome force.
Even at normal flows it was a river that filled travellers with dread. In 1861, Edmund Hobhouse, the first bishop of Nelson, whose diocesan journeys by horseback would have required many cross­ings of the Clarence, wrote in a letter that the "Big River" (as it was known) was one "out of which one must always emerge with thankfulness". He observed to his correspondent that he had worn an "airbelt" for the first time, but feared "it would have done but little service had I found myself afloat, for the river is full of great boulders, and death from pounding would precede death from drowning".
I thought of Jane Millton's mother, Janet, growing up at Glen Alton, two stations upriver from Waipapa, where the only access was a cage on a wire rope across 120 m of river-bed. Janet showed me photographs of the contraption, and of other scenes of her life at Glen Alton and Waipapa, when I met her and her husband, David Middleton, at their home on the Kaikoura Peninsula. From their living room they can look up the coast towards the Clarence and see the clouds massing on the Sea­ward range. "It was our world," said Janet quietly, pouring the tea.
We flipped through the album, stopping here and there while David or Janet explained a picture. A shot of a big group of shearers posing in front of the woolshed prompted a comment about how much farming had changed. In their day, shearers lived on site for weeks at a time and were part of the life of the farm. Today they're all on contract, Janet said. "They come in the morning and leave at night. Jane will make them a batch of scones if they're lucky, and give them a bottle of milk, but it's all a bit impersonal now."
They told me about a rouseabout, Charlie Patterson. "For his annual holiday he used to go up into the Kaikouras. All he took was a cow, a few packets of Weetbix and a bottle of rennet. He was one of the old identities."
Before I left Kaikoura, Janet took me to meet her brother, David Todhunter, who managed Glen Alton for 23 years. David had just published a book of photographs recording some of the history of Glen Alton and Waiau-toa Stations, and of the river that runs past their boundaries.
We talked about wool and whaling and sowing grass-seed and the fickleness of the weather. I shared a line I'd read in Tales of a Tussock Jumper: "Farming is gambling with a stacked deck against you, but high country farming is Russian roulette."
David had to go out, so he left me reading on his verandah. A phrase on the last page of his book caught my eye: "I hope that those that follow get as much value and love from the place as we did­ given the chance I would do it all again." Over the page, tucked in behind the cover, was an adver­tisement clipped from the Kaikoura Star: "Glen Alton—forthcoming tender." The Todhunters' old place was being cut up into lifestyle blocks.
I felt the ghost of A.J. Murray, whose only dream was to "restore this country to the best of his ability," rise up in protest.
In the late afternoon I jolted my way down the track to the Clarence mouth for a last look at Tapuae-o-Uenuku, majestic above the lupins, bridge and Seaward mountains drenched in shadow. An old angler with a weathered face and a scruffy beard stepped out of his station-wagon to say hello. He was waiting for dusk, he said, when the darkening water would bring the salmon up. There was a glint in his eye. He had a good feeling: there would be salmon tonight.
One more dream inspired by a river.