A place to stand
Nō hea koe? Where are you from? In te ao Māori, it's the first and most important question to ask—because your place, and the place of your people, shapes who you are.
A 16-year-old with no great attachment to her hometown of Ngāruawāhia, but who feels at home screaming through the bends at Huntly Speedway on a Saturday night. A budding blacksmith raised on a remote island reserve showing teenagers around land their hapū has been excluded from for 120 years. A member of a famous Wellington academic family who's regularly asked, "Can I try to guess where you're from?"
Over the past year, nine teens have allowed our writers and photographers glimpses into the places and communities that shape their lives. From these, it's possible to glimpse something of the spirit of growing up in New Zealand today—and what it means to belong.
In 1990, revered scholar and te reo revivalist Tīmoti Kāretu (Tūhoe) wrote an elegant essay for this magazine on the concept of tūrangawaewae. In the old days, your tūrangawaewae was the whenua (earth) where your whenua (placenta) was buried, and where you maintained ahi kā, keeping the fires burning, contributing to that place, and thus gaining a 'right to stand'.
For urbanised Māori today, tūrangawaewae are the places where you claim allegiance through whakapapa, and where your face is seen and known. You contribute to the place and draw confidence and strength in return. Not being connected to, or not knowing, your tūrangawaewae can be a matter of indifference or of deep pain.
Outside te ao Māori, the question of where and how to belong is harder to frame. It could be where you grew up. For some, it's a felt spiritual connection to a place: in the bush, at the beach; for some, in a back-alley club at 3am.
Others belong to a place through service. Some feel at home in the glow of their TikTok feed. Some stand tall through being a good Treaty partner, or blending in, or staying connected to culture, or being loved. Some feel belonging is impossible, or under attack.
When you're a kid, feelings of belonging and alienation are hard to articulate. It's only once you reach your teens, and the world slams into view, that you start noticing the good, the awful, the specificity, the nuance, of where you grew up.
[Chapter Break]
Out on Te Hauturu-o-Toi, Little Barrier Island, there are 90 species of fern. The mountainous, cloud-capped island sanctuary teems with everything from kākā to kākāriki, miromiro to tūī. You'll find rare species like pōpokatea and tīeke flocking through the bush. Tuatara hang out on the island's only lawn. But the rarest species of all, down to a single individual, utterly isolated from its own kind, is the human teenager. Liam Walle, 18, is it.
It's late morning at the house Liam shares with his DOC-ranger dad and kākāpō-specialist mum. In his open-sided workshop, Liam's wearing steel caps and a leather apron over his clothes. The roar from his forge incinerates the birdsong outside. He heats a billet of Damascus steel like he's toasting a marshmallow, then lays the glowing lump on an anvil. Under precise sledgehammer blows, a dagger takes form.
Te Hauturu-o-Toi lies at the entrance to the Hauraki Gulf, 75km north-east of Auckland. It's closed to the public. Liam and his parents are the only permanent residents. His sister Mahina, "my only close friend for 15 years", left for Otago University three years ago. For outside company Liam's had just visiting scientists, volunteers, permit-approved family, and members of Ngāti Manuhiri, who co-govern the island. Which leaves a lot of open time.
With the day's home-schooling done, he can pursue his passions into the small hours. In response to an internet challenge, he recently made an elaborate dagger in a 45-hour bender—two days at the forge without sleep. Afterwards, he woke up on the toilet with no recollection of how he got there.
Supportive parents, perfectionism and ambition are paying off, though. His knives often sell for upwards of $1,000, and picked up awards at the Auckland Blade Show last year. He recently won a competition run by Kyle Royer, who Liam considers to be one of the best knife-makers in the world. Liam's also working on a fantasy novel. Unlike mainland teens who typically flee the house at this age, here, the only way to expand is by going inwards—or into the natural world.
Every few days, Liam ducks beneath the waves at Te Toki Point, partly to spear the day's fish, and partly because swimming through the undersea world is "like a dream of flying that's being realised". He's roamed the island from summit to coast, and contributed to most of the conservation projects going: digging out weeds, playing spotlight with New Zealand storm petrels, chasing errant kākāpō.
After a childhood spent here, the mainland can seem grim. "I appreciate landscape much more if it's in as natural a form as possible, without human interference. And the island, in terms of ecosystems, is pretty much perfect," he says. Whenever he arrives in Auckland, he jokes, "it's like, take us back, take us back to the island!"
Hauturu is home, and it defines what a home should be. But when Liam leaves to pursue his knife-making as a career, which he will soon, there'll come a time when it will be difficult for him to return.
[Chapter Break]
For mana whenua Ngāti Manuhiri, "Hauturu-o-Toi is the pinnacle of who we are as Ngātiwai, Ngāti Rehua, Ngāti Manuhiri," says Nicola MacDonald, the hapū's chief executive. "It rests within the stories of our tūpuna, and it is the DNA sequence of who we are."
Those hapū's physical connections to Hauturu were severed in 1896. To make way for the conservation reserve, the crown forcibly removed those who refused to sell their land.
"You can't keep ahi kā alive when you've been evicted," MacDonald says. The hapū has around 800 members today, and only a handful have set foot on Hauturu.
In 2011, the Crown and the hapū reached a Treaty settlement. As part of the redress, the island was returned to the hapū, who then gifted it to the people of New Zealand. They now co-manage it with DOC, and retain a tiny freehold section on the flats.
Given it's been over a century since Ngāti Manuhiri have been able to live on the island, Liam and his sister feel honoured to have introduced some of the hapū's young people to their once-and-future tūrangawaewae. A few years ago, MacDonald's son Kawa and another relation, James, came over as volunteers.
"We see this as a lovely exchange between mana whenua kaitiaki and our conservation stewards," MacDonald says.
Liam spent time with Kawa and James, including helping them design and make their own leaf-bladed daggers at the forge. He and his mum, Leigh, led them up and down the island's steep tracks, and up to the summit.
Thinking about the three teenagers standing atop Hauturu, wind in their hair, there's a strange harmony to the moment: Kawa and James, with whakapapa and a deep historical connection but without lived experience; and Liam, with deep lived experience, thanks to his parents' work contracts, which also mean he will inevitably leave. All wish to nurture the place, and none can quite call it home.
Half of Ngāti Manuhiri's members are under 30. The hapū is looking for ways for them to reconnect. Conservation careers offer an obvious pathway. MacDonald says a marae, to be built on their land near the DOC house, will be "a wonderful element in bringing our people home".
The time is coming when Ngāti Manuhiri rangatahi will again care for the place, roam the bush, swim the tide.
Liam's relationship to Hauturu is bittersweet. At first, he talks about how he's adaptable, and could make his home anywhere. He's also spent two-thirds of his life on the island. There are few places like it in the world. After much thought, he says, quietly, "Hauturu is probably the place I feel I belong the most." Yet one day his parents' contracts on the island will end. He will need a permit to visit, like everyone else.
But leaving was always the plan, and there are good things on the horizon. This year, he'll travel to the USA to meet several renowned knife-makers, and in 2024, he plans to sit his test with the American Bladesmith Society to become a qualified journeyman.
Liam says living on Hauturu has given him the patience and perseverance needed to make knives, and a desire to protect the beauty around us. He's grateful for the time on Hauturu he's had.
[Chapter Break]
It's different when your family own the land.
To reach Will Rollinson's family farm, you turn off at Ashburton and angle across the Canterbury Plains. Poplars bud alongside empty roads. The sinking sun casts the shadow of pivot irrigators across hedgerows and fields.
Despite the chill spring afternoon, 16-year-old Will's out feeding his animals in a woollen jersey and Stubbie shorts. There's a small flock of goats to attend to, two sheep (Rowdy and Rowdy Junior), a pack of orphaned lambs.
Larry the goat trots over to claim his hay. He came to Will suffering severe salmonella poisoning after being rescued from appalling conditions. It took Will two weeks of intensive care—multiple daily injections, antibiotics, vet checks—before Larry pulled through.
Will has rescued many of his animals in similar ways. Looking after them is the enjoyable last chore of a long day. "Obviously I've got a proper family," he says, "but this is sort of another family that I look after and care for."
His life is farm work, school, two paid jobs, and nine months of intensive hockey each year for the Ashburton College First XI. He plays a bit of piano—on a dusty old hulk in a shipping container by the sheep yards. Alongside his mum, Leonie, he also grows dahlias; his blooms recently picked up a couple of seconds at the nationals. It's an unusual hobby for a teenage boy, but a natural fit given how long he's had his hands in the soil. "I was the head gardener at my preschool," he jokes.
In the yard, there's machinery everywhere—six or seven huge sheds full. Will's lost count of how many tractors his father owns—26 or 27. "Dad's got Iron's Disease. He can't stop buying things made of metal."
A few paddocks away, his dad, Dave, and younger brother, Austin, are testing a new plough, hooked up to an enormous Case tractor. The rich, deep loam of the Canterbury Plains pours off the plough's blades in neat rows. They can grow pretty much any type of crop around here, Will says.
This is a far cry from the dustbowl days of Will's grandparents, who bought the property in the 60s and ran sheep on land few wanted back then. "They used to say if a mouse wanted to walk across this part of the plains, he'd have to pack a lunch," Leonie later says.
The irrigation schemes and artesian wells changed everything. The Rollinsons now run an intensive sheep and crop operation. Most of their grain goes to feed the 20,000 head of cattle at the nearby feedlot; then, once the harvest's in, they sow grass and graze young lambs to fatten them up for export.
Will, Austin and their sister Emma are the third generation of their family to farm here. "It's like, Grandad's worked that paddock, Dad's worked that paddock, and now we work that paddock, so we're all doing sort of the same thing," says Will. "Which is pretty cool."
That night in the farmhouse, the family remain seated for an hour after dinner, discussing their day. Austin's just had his first shift with a new tractor-driving job, and everyone is keen to hear how it went. It's clear where Will gets his self-confidence from. This is a family that listens to and respects one another. It feels like Will's free to be whoever he chooses to be, and given the support to do whatever he wants in life.
[Chapter Break]
The next day dawns heavy and grey, with a cold easterly coming in off the sea. Will's first job is rounding up sheep for vaccination. Sighting the herd, his new dog-in-training, Dot, barks hysterically and tears around the back of the truck. She's eight months old. Let loose, she takes off like a cruise missile gone haywire. The sheep scatter in fright.
Following in the Hilux, Will leans out the window to shout commands at Dot, switching briefly from softly spoken lad to cursing Kiwi stockman. The job done—largely by an older working dog Will has to rope in—Dot trots alongside looking immensely pleased with herself. "I'll probably keep training dogs for the rest of my life," Will says.
With his love of animals, Will would like to buy his own place nearby—ideally with more hill country and scope for running sheep and other stock, and some market gardening. He and Austin have already sketched out plans for how they could run a new farm and the original one as a partnership. But such a dream won't come cheap.
Later, speeding through fertile cropland, Will points out a staggering new piece of infrastructure beside the road: a vending machine for nitrogen fertiliser. You pay online, then pull your truck in to get it dispensed. Such convenience seems emblematic of the intensification of farming in this area. Will is keenly aware he lives atop some of the most valuable soil in New Zealand. Farms here can sell for upwards of $15 million, and many are now owned by large agribusinesses rather than farming families. "If I wanted to move up the road, it will be hard," he says.
For anyone, it's a momentous time to be farming the plains. The region helps feed cities and drive exports. Ashburton is flush with farming cash. Working at this scale and intensity leaves little downtime, and often means carrying large debt. Pressure is mounting over poisoned rivers, nitrate contamination in groundwater, climate emissions from farm animals. Government regulation of agriculture is a flashpoint here and in cities. It's a lot for a 16-year-old to contend with. Any of these factors could entice Will to stay or push him out.
Right now, though, Will can't imagine anything other than farming. He's keen to travel once school's done—to Scotland to see how sheep are farmed indoors in winter; maybe to America—but only to bring back knowledge and innovation to use right here.
Through a morning spent jabbing sheep, the cloud rolls back and the day warms. Mount Hutt gleams across the plains. The dogs pant in the yards.
"I couldn't see myself living anywhere else," Will says. "The Canterbury Plains will always be home."
[Chapter Break]
Vidthia Beaglehole was born in Wellington Hospital. She goes to Wellington High. The 17-year-old comes from a famous academic family synonymous with the city. But when she heads to university next year, she'll leave town.
"Anywhere but Wellington," she laughs. "I live near the uni, I've grown up with the uni, my father was a professor there, there's courtyards named after Beagleholes, it's like…" She throws up her hands, mock-overwhelmed.
Vidthia is also asked, on a regular basis, "Can I try to guess where you're from?"
The short answer is an airy, four-bedroom house in Kelburn where she lives with her mum, Bhagee Ramanathan, who's a policy advisor, and a rotating cast of impressive female flatmates from around the world—recently, a Chinese woman doing her PhD in Beijing and a Russian linguistics scholar based in Spain. The centrepiece of the home is an old round table surrounded by five battered wooden chairs. It's where ideas are advanced over meals, politics discussed, plans made to change the suburb, the city, the world.
Vidthia's father, physicist David Beaglehole, died when she was eight. Growing up nurtured and loved as the only child in a typically all-female household has given her a clear sense of her strength as a woman. You can hear it in her sunny, assured voice, which at times sounds a little like that of her hero, Jacinda Ardern.
She's interested in how health, gender and sexuality intersect. She's often out protesting on the streets of Wellington. From her seat on Wellington High's prefect council, she's helping push the school on sustainability and climate policy. She recently instigated a fundraiser for Ukraine. As part of the Cullen Breakfast programme, she has attended a breakfast meeting with the Prime Minister. There'll be another breakfast soon; the goal is to come up with projects to strengthen democracy.
Vidthia has been raised to stand and speak up for the places that formed her. But feeling a sense of belonging doesn't necessarily mean you'll always be accepted in that place.
When younger, Vidthia often sailed at the Evans Bay Yacht Club. She still volunteers to help at big regattas. A couple of years ago, she got buddied up on a support boat with two strangers, an older boy and his dad, a well-known businessman.
They assumed Vidthia was Māori. Out in the harbour, the pair started having a go about te reo being taught in schools. At first, she pushed back. Then it started feeling unsafe. "It's not like I could just hop off. They were being super, super racist and I felt so scared as well. Then I found myself agreeing with them, like, 'Oh yeah, I guess so.' And then they were like, 'Oh, okay, you're one of us now,' and stopped harassing me about it. But then I felt like, 'Oh my god, I've just gone against all my beliefs.' It wasn't about being Sri Lankan or Tamil. That was about being brown. That one stuck with me."
Vidthia's origins and sense of belonging are frequently questioned by new teachers, other students, random strangers. Her close friends are Māori, Colombian, Thai, one who's Māori and Chinese. They share Vidthia's experiences, though tend not to engage with politics or activism in the same way.
"One of the reasons why I find it easy to make change," Vidthia says, pausing, choosing her words, "[is] I don't want other people at my school to have the same experiences as me. I want to change it so that it doesn't happen again. So there are systems in place."
[Chapter Break]
It's a three-hour ferry ride from Wellington to Picton, then 10 loud minutes by water taxi across the Marlborough Sounds to Ōnahau Bay. Then it's a five-minute slog straight up the hill through the bush to the house, laden with food, beer, weed-matting, nīkau seedlings, table-tennis balls. Bhagee unlocks the door, and she and Vidthia step into another world.
Their Sounds house, which they refer to as "Bhagee's forever home", was designed by Wellington architect Geoff Fletcher. There's a big deck running across the top, and the whole front is glass. The widescreen view is of blue-green water, bush, sky, birds. There's no wifi or TV. Water comes from a spring. You can shower inside, or outside under the waterfall. Days are for fishing, kayaking or walking, or gorse-bashing and nīkau-planting if Bhagee has her way. This is where Vidthia comes for her summers, and to recharge.
It's also where she remembers her dad. The house is packed with stories and memories of him—other people's, as Vidthia was too young. But his ashes are scattered at a high point just off the Queen Charlotte Track, an hour's walk along the hills behind the house. She visits him every time they come.
Up there, Vidthia sits and loses herself in the view. She can see the forested inlets and bays of Kenepuru Sound on one side, and on the other, the little white comet-tails of the boats in Queen Charlotte channel, making their way to destinations unknown. She calms herself, centres herself.
"I take a few breaths. Sometimes in my head I'm like, 'Hey, Dad'."
[Chapter Break]
Seilala Muagututia stands, clutching the notes for the eulogy she's about to give. Everyone watches her walk to the front. She can't hold back her tears. She talks about her dad, how close they were, how much she misses him. Somehow she makes it through.
This isn't a funeral. She's in her Samoan language class at school. It's an exercise for an assessment: act like you're at a funeral, and give a speech about the person who's passed away. She gets an Excellence grade. Only, what she said is true: her dad has died, and she hasn't told anyone at school until now.
Lala, as her family call her, was at home in Manukau City, South Auckland, with her brother Tahim and sisters Joyce, Sunshine and Nie. Her dad was in the bathroom getting ready for work. Lala heard something fall, and ran into the bathroom. "At first, I laughed, because I thought he was joking." He'd suffered a heart attack. He was 59.
Lala's 18 now, but her mum affectionately calls her a tināmatua, a grandma. She laughs a lot, and has beautiful manners, and a serious, thoughtful nature beneath the jokes. She never swears. But on the phone to the ambulance operator, with the paramedics taking forever to arrive, she went off. She won't repeat what she said beyond: "Hurry up and blah blah blah!"
The family home flooded with love and grief. Her dad's family, visiting from Samoa, turned up along with friends, neighbours, the bishop from their church.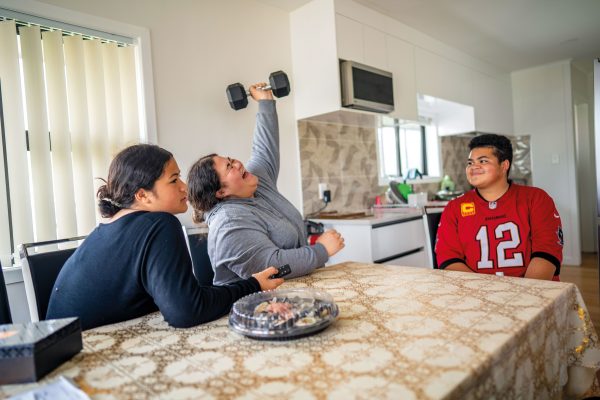 Lala's family are Mormon. She finds a strong sense of belonging at their church. But in the immediate aftermath of her father's death, she questioned everything. "My faith was just on the ground, you know, I was, like, 'No, what's happening, why us?'" she says. "But then I was like, it's all right, because in the church we believe that families can be together forever and we will meet again. And the talks from the bishop really helped at the time."
Samoan culture is another of Lala's navigational stars. Last year, she went to all the parades celebrating Toa Samoa during the rugby league World Cup. She never missed a Samoan language class at school. Recently, she went from dancing siva Samoa at the Polyfest schools festival to tutoring this year's students. Front and centre on stage, wielding a ceremonial nifo'oti knife, she glows.
Lala was born in New Zealand but visits Samoa occasionally. Over summer, she spent three weeks there, surrounded by cousins, grandparents, uncles and aunts, and the Samoan language. Best was the vai, the water: diving into a pool at her mum's village in Siumu every night, laughing and floating with her cousins, little fish darting around their feet. At a waterfall on Savai'i, her dad's family taught her to swim. When it came time to leave, she cried all the way back to New Zealand, for all the people she'd miss.
But missing Samoa doesn't make it home. "I wanted to feel like I belonged there, but everything's so different." Climate, dress, customs, what's expected of kids: it's all familiar, and all strange.
New Zealand and South Auckland don't necessarily feel like home, either. When asked where she feels she most belongs, there's a silence—a long one.  "I don't know, actually. We never… I never know about things like that."
Sometimes it only feels safe to imagine belonging in small ways: locally, within the walls of your house or your church. Sometimes belonging can come from the relationships that hold you up, though your feet may not be touching the ground.
[Chapter Break]
The first day of getting her malu, the pain was okay. But the second day was something else. Her mum jokes that she was a baby—but it's a big deal to get the traditional Samoan tattoo for women, from the upper thighs to below the knee. It's a sacred marker of responsibility and service. She got hers after her dad's death, when she was 15. She has the same motif as her mum: three descending lines at the back, and stars.
"The girl that gets it is the dad's taupou," Lala says. "The dad's oldest and the, you know, pure daughter." Traditionally, the role belonged to a high chief's eldest daughter. She hosted guests, supported the family, danced on behalf of family and chief.
Lala's dad was a village chief. He'd always wanted one of his daughters to be his taupou. But he was strong in his faith, and knew their church wouldn't approve of the malu. "But then when he passed away, Mum was like, 'You know what, let's do it. Let's do it,'" Lala laughs.
Lala's mum is the only daughter of a high chief herself, and was his taupou. For Lala, the role means supporting her mum and their family, making sure her younger brother and sisters are nurtured and safe.
At first, she was embarrassed that people might think she was flaunting the sacred tattoo. If she wore shorts, people noticed, "like, oh my gosh, why is she showing it off?" She's articulate about the impact missionaries had in Samoa, and how people used to proudly display their tatau. Now she covers up out of respect. But there is one place where she can wear it proudly: in the dance.
"Not dancing as in on a TikTok or anything, but traditional siva Samoa." As she's got older, she's stopped worrying about people staring at her malu. She was the one who lay there under the knife. "I'm my dad's taupou," she says forcefully.
"You're not going to look at me and judge me, because I know where I stand."
[Chapter Break]
It's a clear, breezy night in Huntly under a nearly full moon, and the babies, all of them, are wearing ear muffs.
The revving of engines rises from the earth until the roar consumes all thought. The Speedway creates a halo of light and noise in otherwise quiet paddocks. The parking lot is overflowing and the spectator banks are full. There are kids everywhere, pushchairs and picnic blankets, everyone drinking Coke and Sprite. The venue's alcohol-free. The track is wet and slippery.
Sixteen-year-old Ceejay Attenborough is on her feet cheering the first big stockcar crash of the night. "It's fun! That's what you're supposed to do."
Her mum, Tina, agrees. "We've only had it once where the car burst into flames." Ceejay's whole racing kit is flame-proof. "I love my flame-proof bra!" The car is taken straight to the ambulance, the driver still inside, seemingly knocked out.
Nana Patricia has come up from Tokoroa to watch and help out, bringing big Ziploc bags of home-made biscuits. Ceejay's fighting excitement and nerves ahead of her first race. She won't touch the baking. She hasn't eaten since lunchtime so there's no danger of puking in her helmet.
Before the green flag, it's a fight to control the adrenalin. "Once I'm in the car, I'm gone," says Ceejay's boyfriend, Rhys, who also races. "I get nervous, so I sit and do deep breaths. Then you just rev the tits out of it and you go."
Ceejay goes, hard. She's mid-pack, but gets tangled and dragged off the track in the first bend. Mixing in with other drivers can be bruising on her confidence. A driver from another club has twice put her into the wall.
"It was freaky. The flagman could hear me screaming—I didn't want to scream, but I was screaming. I broke the brake pedal, I was on it so hard."
And yet she loves it. Right here is where Ceejay feels at home: surrounded by family and friends, and wildly out of her comfort zone, lit up by floodlights, strapped into three-quarters of a tonne of steel, going full noise.
[Chapter Break]
"She's what you call a fairly quiet child," Tina says, back in the suburban family home in Ngāruawāhia. "We didn't have kids her age on the street, and because I don't drive I couldn't take you around to your mates, could I? I've never learned to drive; I'm one of those rare novelties."
Ceejay can't drive either, at least on the road. She doesn't have her licence yet. She and her mum spend a lot of time at home. So, too, do her dad, Phil, and brother, Ethan. They're tight-knit.
Phil and Tina have lived in Ngāruawāhia for 30 years. They don't expect ever to live anywhere else. Ceejay's lived in this house her whole life. Her sense of belonging comes from school, where she feels confident to stand and speak: she's a house leader and has twice been named dux of her year. Belonging also comes from sitting snug on the couch with her people, curtains pulled, speedway on TV, comfortable and content.
The importance of home comes through in Ceejay's love of design. She rushes off to her bedroom to bring back the meticulously drawn family house she's working on in design class.
"I'd like to be a house designer or a building designer," she says. "People are like, that's cool, I wanna build it and then you can put your own creative spark to it."
Ceejay's house designs exist independent of any particular place. Ngāruawāhia—the taniwha of the Waikato River below, the ridge of Hakarimata above, the famous marae, Tūrangawaewae, in between—doesn't exert any particular pull on her. She'd happily live elsewhere, hopefully starting with studying architecture when she finishes school.
What she will miss is her mum, and her cooking. "Mum, you're coming with me," she says—perhaps joking, and perhaps not.
[Chapter Break]
Mihiata Teepa is packed into a stuffy van, driving through Christchurch with her Manawatū teammates. The day's scorching, again. She stares out the window. There's something weird about the traffic here: there are no dented cars. They pile out at Ngā Puna Wai Sports Hub. The place is super flash. Ruatoki is a long way away.
It's the last day of the Touch NZ Youth Nationals. Semis first, then maybe a shot at the Mixed Touch U18 gold. Mihi's barely eaten, given her nerves. She's amped to play, though; stoked she's even allowed to after what happened yesterday. She still hasn't told her mum.
Under a fierce Canterbury sun, she'd played four games, and spent the breaks catching up with mates. A security guard spotted it: she was having trouble breathing. Fast-forward an hour and she was hooked up to a drip in hospital. Heat stroke. She wasn't scared; she just wanted to get back to her mates, and onto the field. It'd taken a lot to get here – years of training, leaving home, moving schools, hard-earned cash. I'm not wasting my money, she thought. I'm playing my last games.
And she does. Whistle, tap, go. The whole team are vibing. A lot of fast ball, quick hands, the structure locked in by now. It's easily their strongest game. They still get smoked. They'll go home with bronze. Next time. For now, stepping out onto the field is everything. "It just feels like a dream come true. That's always what I've wanted," Mihi says.
[Chapter Break]
At dawn, mist drifts above the small streams winding through the paddocks of Tataiwhetu organic dairy farm. Seated on a quad bike, Mihi putters behind the herd. The cows don't need much encouragement to head for the milking sheds. They know the drill. So does Mihi. She's helped with milking from the age of eight or nine.
This is rural Ruatoki, in Tūhoe country. Mihi and her eight siblings are Tūhoe, Ngāpuhi and Ngāti Mutunga. On a Sunday, the farmhouse hums with kids chatting or laughing or scrapping, the dings from many phones. After lunch, they might take their horse, Steel, for a ride. Or the whole gang might head to the river on quad bikes, where Mihi keeps an eye on the young ones. Or they'll build hīnaki, eel traps, in the creek with their dad, Whare. Living on and from Tūhoe land is central to their way of life.
Tūhoe were stripped of most of their estate in the century from 1865. What remained was mostly marginal land broken up into sections too small to farm. By 1960, most whānau had walked off their land to seek work elsewhere. Successive generations have tried to figure out how to bring the people back, and the land back to life.
In 1986, six whānau from the Ngāti Rongo hapū merged their sections into a workable block, managed by a trust. They brought in a sharemilker to run 600 cows.
A decade later, Whare and Mihi's mother, Desma, moved to Ruatoki—the first time for Desma (Ngāti Mutunga), but for Whare, a return to his tūrangawaewae. His whānau's land is part of the trust.
Desma started volunteering on the farm. Before long, she and Whare were managing it, despite having no experience. The farm started picking up awards for protecting biodiversity. They converted to organic, and won the Ahuwhenua Trophy for best Māori dairy farm in 2021. That brought $125,000 in prize money, serious media attention and a quiet swell of pride amongst a humble whānau.
Mihi is the oldest girl, with a wide smile and a quiet presence in the way of many Tūhoe people: the ability to say a lot with few words. Her nan likes to joke: "She's a spoiled brat!" But she says that about all her moko. "No, she's very loving, and very helpful. And to top it off, she's academic." Mihi also quietly nurtures big dreams.
After generations of her ancestors working to get people back onto the land, does she see herself farming here? "I see myself doing it as a backup," she says, "if my plan A doesn't work."
Mihi is reluctant to talk about her plan A. But with a bit of prompting, it comes out: "Black Ferns. Or Touch NZ."
Mihi has been hungry to play from a young age. "Mum, have I got practise tonight?  Where's the game this weekend?" Pretty much any time a coach sees Mihi play, they want her on their team.
As well as the Manawatū U18 Mixed Touch team, she plays league for Tūhoe and in the Coastline regional competition. She's twice been selected for the New Zealand touch squad in her age group. She's played sevens for Tonga, touch for Cook Islands. She's well on her way.
[Chapter Break]
At the breakfast table, across the paddocks at the original weatherboard farmhouse, Mihi unlocks her phone and holds it up. Her nan and koro, Carol and Sana-boy, lean in. She hits play. The tinny cheering of the crowd fills the room. Affection and pride fill her grandparents' faces.
Sana-boy and Carol, who's Ngāpuhi, have raised more than 20 whāngai kids here as well as their own. Generations of Teepa whānau have grown up under this roof. Their placentas are all buried in the garden. From there, you can see the timbered ridgeline across the paddock where Tūhoe Pōtiki had one of his pā. He's the ancestor Tūhoe take their name from. You couldn't get a stronger tūrangawaewae than this.
But for Mihi, after years spent travelling around the country for her sport, Ruatoki started to seem boring. In 2019, she asked if she could go to school outside the valley, where there were more opportunities to play. These days, she's at Tai Wānanga Tū Toa in Palmerston North, where there's a strong focus on sport.
Nanny Carol says she and Sana-boy are always saddened when a moko leaves the valley. "You know, they're our hearts." But she wants Mihi to become who she's going to become. "Whatever she chooses, we will go with it. We have dreams for them, but it's up to them to choose their path. We may be saddened, but that's their dreams."
Living on your tūrangawaewae and going out into the world: every generation feels this tension. But moving out can expand the places where you belong. Mihi is already starting to find her place in the wider world. And Ruatoki isn't going anywhere.
"I will probably come back and live there," Mihi says. "Everything's still the same there, and will always be the same."
[Chapter Break]
Hawaikii Bristow is in the red-light district. It's his first time overseas. Amsterdam roils around him: roaming packs of jowly Brits, the blurry thump of techno, pub clamour, pink neon in the canal, and all those tourists looking-but-not-looking at the shop mannequins that are actually real women in lingerie.
The winter air bites. They pass through cobbled streets. They stop for a drink or three, go to a couple of cafes with more than coffee on the menu. He's 18. It's all legal here. The whole place is out the gate. There's nothing like it back in Auckland. Not even close.
It's not really about the nightlife. Hawaikii's here with his older sister Jashana and her husband Ricardo and their kids. Ricardo's from here. They've had a couple of weeks with his whānau, and visited attractions for the younger kids, like giant bouncy castles or the caves of the Valkenburg Christmas Market. Hawaikii's taken with the history on display in the tunnels beneath Valkenburg, how they show their whakapapa, honour their tūpuna.
Now and then Hawaikii talks about not wanting to go home. He's just finished kura, he's a free man. Maybe he could stay here. But he's just testing out ideas. He's missing home in West Auckland. He misses his bros.
[Chapter Break]
Hawaikii was 10 when he showed up on his sister's doorstep. His mum had died when he was six, and he'd bounced between different whānau since then. Deep down, Jashana was expecting him. "When I got together with my tāne, I told him I've got a brother who might show up one day. I was like, 'Remember?'"
They took him in and raised him as their own. Jashana was 23, and had just given birth to twins; overnight, they went from having one kid to four. It was pretty intense, but it's normal in te ao Māori to whāngai children. Jashana is a whāngai daughter herself, raised by one of the founders of the kura kaupapa Māori at Hoani Waititi Marae.
Urbanisation has been corrosive to Māori communities. It's also built new ones. Hoani Waititi is the pan-tribal hub for urban Māori in West Auckland. It's where Jashana went to school. She transferred Hawaikii there straight away.
"I know how amazing it is to be wrapped in whānau, and to have such an amazing network of people. I'd say Hoani Waititi is the biggest Māori-speaking community possibly in the country. All of us, young and old, no matter where we see each other, we kōrero Māori i ngā wā katoa."
Hawaikii thrived there: last year, their kapa haka won the nationals, and he picked up a Prime Minister's Award for Vocational Excellence at the kura. He and the whānau live across the road. Their place is inundated with three or four generations of Hoani Waititi whānau. At other schools, a lot of students finish Year 13 and get ejected unceremoniously into the world. Hawaikii couldn't get away from his kura community if he tried.
[Chapter Break]
Out on the marae ātea in front of the whare at Hoani Waititi, a ripple goes through the ranks. Here he comes. Hawaikii and the other kaiwero,  who lead the ceremonial challenge at pōwhiri, grip their taiaha. There are TV cameras off to the left, but there's no time to think about that. The toa surge forward, yipping, shouting, eyes pūkana-wide. The rākau in Hawaikii's hands is a blur, all muscle-memory. He's been training since he was eight.
Hawaikii grew up around two of his mum's brothers, who are now pou waru in mau rākau, the equivalent of a karate black belt. He got his pou whā at 16. He's now teaching mau rākau, and is part of the marae's group of kaiwero. He gets a call whenever there's a hui or tangihanga on. But it's not every day you get to welcome one of the most famous indigenous people in the world: today it's Hollywood star Jason Momoa, here to shoot his new series about the colonisation of Hawai'i, Chief of War. It's a big deal.
Still, the pressure's nothing compared to his pop's tangi in Whirinaki in 2019.
Hawaikii and his Auckland whānau remain rooted in Whirinaki, half an hour out of Kaikohe. He spends his holidays there, at his grandparents' place. His nan was the main kaikaranga and kaiwaiata in Whirinaki, his pop the main kaikōrero.
"They'd be at every tangihanga, every hui mate, any big hui. That's one of the things I'm grateful for, 'cause that's what we got to see growing up, and that's what we're doing now."
His pop's tangi was huge. Te Whare Tū Taua o Aotearoa, the international school of Māori weaponry, came out in force. And Hawaikii ended up out front. "They turned on a massive-as wero for him. I was guiding them in. I wasn't sacking it, but yeah, there was heaps of them, eh. It was me and my two sisters by my side."
[Chapter Break]
Now Hawaikii's finished kura, the future's wide open. He's finishing his barber's apprenticeship, and could see himself having his own shop one day. He's also thinking about the armed forces, or heading to Brisbane. He and his bros are talking about getting their own place. And then there's the pull of his tūrangawaewae.
Despite the big community he's part of, leaving kura means quickly reaching the edges of te ao Māori. He learned the ropes barbering at Fade Station in Glen Eden, where the staff and customers all spoke in te reo. That recently closed; he's finishing his training in a Pākehā shop. He's also working for his brother-in-law's demolition company, cleaning up after the floods, and it's reo Pākehā all day, every day. If you're not teaching or studying the language, using it every day is tough. Which is why Whirinaki appeals.
"I definitely want to go back to where I'm from, to be still feeding off all my cousins and stuff, and my nan, she's really up there in her te ao Māori. I want to try and feed it to my cousins, too, 'cause there's, like, maybe eight in our family that can kōrero Māori fluently."
There's another big question: which kapa haka group to join? His whānau keep asking him. He grew up around Hoani Waititi's urban kapa, Te Rōpū Manutaki. But it's the legendary Ōpōtiki Mai Tāwhiti kapa he's got his eye on, because they're from where his mother's from, and where she is now.
"My heart's at Ōpōtiki," he says. "My mum's buried down there."