A God in Our Midst
They are among the most out-sized, extreme animals ever to have lived. They are also among the most socially interactive and ruthlessly exploited. For all their size and might, sperm whales' continued presence in the oceans remains contingent on the actions of their resource-hungry nemesis: us.
During 1963 and 1964, 248 sperm whales were killed by exploding harpoon from a fast whale chaser operating out of Tory Channel. They were the last of an estimated 5829 sperm whales taken in New Zealand waters since the first harpoon was thrown in 1791.
At the same time, American marine mammal scientist John C. Lilly and a coterie of cetacean devotees were attempting to make a different form of contact with the animal. They sought interspecies communi­cation. Wrote Lilly, "The sperm whales have brains six times the size of ours… Before they are annihilated by man, I would like to exchange ideas with [them]."
Here were two very different perspectives on an animal that has loomed large in human experience for at least 300 years. On one side of the world, whalers in the death flurries of a fading industry were bent on extracting the last drops of spermaceti from the last levia­thans of the South Pacific. On the other side, scientists in thrall to the superhuman poten­tialities of whale and dolphin intelligence were helping to bring about the dawning of a new age of cetaceans—two heady decades that would enshrine whales and dolphins as totems of peace, Earth love and higher consciousness. In his monumental new book, The Sounding of the Whale: Science and Cetaceans in the Twenti­eth Century, D. Graham Burnett writes that the sperm whale, possessing the largest brain of any animal that ever lived, was considered­ at least by Lilly—as "a god in our midst".
An audacious claim, perhaps, but one that befits this giant of the sea. Sperm whales are the largest of the toothed whales, only exceeded in size by a few of the great baleen whales. They make some of the deepest, longest dives of any marine mammal, reach­ing depths in excess of two kilometres and staying under water for up to 90 minutes.
They have the greatest sexual dimorphism of any cetacean: males grow up to 20 metres, twice the length of females, and weigh three times as much—up to 60 tonnes.
And they are mighty strange-looking animals. The blunt submarine prow, the narrow flaplike jaw, the puny flippers, the skin, as wrinkled and apparently ill-fitting as a rhi­noceros's. Physeter macrocephalus—literally the "blower with the big head"—is aptly named. The entire front end of a sperm whale—up to a third of the body length—is nose: two masses of oil-filled tissue, one above the other, separated by a cushion of air. The rest of the body is like a booster rocket pushing the nose along. The world's largest snout is not a battering ram, as once thought by overly imaginative mariners (though a sperm whale did sink the whaling ship Essex in 1820), nor a buoyancy organ, as speculated by some cetol­ogists. Rather, it is a supremely powerful and directional sonar device. With it, sperm whales scan the blackness of the deep sea, homing in on the squid that are their chief prey.
It is only recently that scientists have fath­omed the workings of this aquatic boom box. (I use the word "boom" advisedly: sperm whales emit the loudest sounds ever recorded in nature—up to 230 decibels, twice as loud as a lawnmower or circular saw. If you were underwater with a sperm whale at full volume, you would need very good ear muffs.) The sound—a variety of clicks, creaks and clangs—is thought to be produced by forcing air through a valve called the monkey's muzzle at the very front of the nose. The sound is prop­agated backwards. It reflects off the rear end of the spermaceti organ—the upper of the two nasal chambers—and is focused by acoustic lenses in the spongy lower half of the snout (which whalers called the "junk") and then broadcast into the ocean.
Sperm whales emit regular clicks at the rate of about one or two per second, but this can be increased to more than 200 per second to create a creaking sound that scientists think may be used for fine-scale investigation of a target at close range. Slightly slower click sequences seem to be used at the surface, when a whale is investigating an object such as a boat or swimmer.
Scientists estimate that a sperm whale may produce half a billion clicks during its lifetime, and that these sounds, ranging from 100 to 30,000 Hz, can, at the lower frequencies, be heard by other whales up to 60 km away. Indeed, they are used not just for echolocation but for communication. (However, not for stunning prey—another fanciful notion that appealed to imaginative minds.) Clicks are the basic cur­rency of sperm whales' social networking.
Acoustically, sperm whales are minimal­ists. No squeaks, whistles or songs for these cetaceans, just different patterns and speeds of the fundamental, universal click. In recent years, much effort and many hours of listen­ing through hydrophones has been expended in analysing click patterns among different sperm whale groups in an attempt to under­stand the big animals' social lives.
What researchers have found is that these nomads of the sea, traversing 35,000 km of ocean a year for 70 years or more, do so prima­rily as tightly knit groups. At least, the females do. Mothers and daughters stay together for their entire lives, while males leave the natal group between three and 15 years of age to form pods with other young males. As they age, males become increasingly solitary and expand their range to the edge of the Arctic and Antarctic ice sheets. Females, by contrast, rarely leave the warmth of tropical and subtropical waters.
The sperm whales encountered off Kaik­oura—the prize of today's whale watchers and last century's whale catchers—are a mix of mature and adolescent males. Most are solitary animals, though some form small bachelor pods. In ten years of observations by researchers, female groups were observed only twice.
This is not to say that pods of females and young don't visit New Zealand seas. They do, but generally frequent the warmer North Island waters. Sometimes the visits end in tragedy. Sperm whales are among the whales most likely to strand in New Zealand. In 1970, 59 died on Wainui Beach, near Gisborne. Dol­phinologist Frank Robson, a local champion of interspecies telepathic communication between dolphins and humans, had the grue­some task of euthanising them by severing their vital arteries, but not before several people had used axes and chainsaws to hack off teeth, jaws and other body parts, in some cases from animals that were still alive. That barbaric display was partly responsible for the passage of the Marine Mammals Protec­tion Act in 1978, which made it an offence to harm any marine mammal, living or dead.
The 1970s may have been a good decade for sperm-whale consciousness-raising, but they were a bad decade for strandings. In 1972, herds of 14 and 30 sperm whales died at Kaipara South Head and Great Barrier Island respec­tively, while two years later, 72 sperm whales stranded and died on Muriwai Beach. Group strandings were equally likely to involve bach­elor herds or nursery herds, but only in the Muriwai stranding was a single full-grown bull among the strandees, fitting the then-held theory that such pods are "harems". That notion has since been discredited. Like ele­phant herds, sperm-whale pods are invariably matriarchal (though of mixed maternal lines).
Mature males are only itinerant visitors to female herds. The largest bulls are wide-rang­ing, solitary animals which encounter female groups serendipitously as they ply the oceans.
When they meet up with females they are often treated as royal guests. Sperm whale researcher Jonathan Gordon reported one such encounter: "The male was the focus of intense attention from all group members, who crowded in on him, rolling themselves along his huge body. They just seemed delighted that he was there. For his part, the male was all calm serenity and gentleness. Even the calves were interested and on one occasion we saw a male gently carrying a calf in its mouth."
Other scientists—and the occasional griz­zled whaler before them—have left similarly touching accounts of the tenderness of all sperm-whale interactions: mother to calf, female to female—a seeming richness of shared encounters, and a far cry from the furious monster of nineteenth-century whale lore, all distended jaw and crashing fluke and whalemen's cries of, "Stern all, for your lives!"
The question of why such intense sociality has evolved among sperm whales has intrigued researchers for decades. Hal Whitehead, a pro­fessor of biology at Dalhousie University in Nova Scotia, has been studying sperm-whale social behaviour for 28 years. He believes that one of the strongest selection pressures for developing close communal bonds is also one of the least expected: predation.
It might be assumed from their mythic battles with giant squid that sperm whales are apex predators, unthreatened masters of the sea. They are not. Orca have top billing (not counting humans, the most devastating pred­ator of all). As wolves are to muskox, orca are to sperm whales—pack hunters capable of killing animals three to four times their weight.
Evidence of the encounters between these enemies is hard to come by; both species range across the entire planet, making them challenging subjects for researchers. Most evidence is post-event: tooth scars on sperm-whale hides and occasional chunks missing from flukes or fins.
Only once has an actual predation been observed by scientists. It occurred 130 km off the coast of California, in 1997. Shortly after dawn, the crew of a research vessel noticed a pod of perhaps 35 orca attacking a herd of nine sperm whales. The orca seemed to be adopt­ing a "wound and withdraw" strategy, repeat­edly charging in from several hundred metres away, in waves of four or five animals, often leaping high out of the water as they approached, then lunging at the whales, biting hard and shaking their heads from side to side, like sharks, or even rotating like a corkscrew to try to tear out a mouthful of flesh.
The sperm whales appeared largely help­less in the face of the frenzied attack. They adopted the classic sperm-whale defensive formation: the rosette, or "marguerite" (a European name for the common daisy), in which the whales arrange themselves like the petals of a daisy, heads in, flukes out. But they appeared not to use their flukes as weapons, only raising them listlessly, if at all. This seems puzzling, given the undoubted power of the whale's tail, in which, wrote Herman Melville in Moby-Dick, "the confluent meas­ureless force of the whole whale seems con­centrated to a point. Could annihilation occur to matter, this were the thing to do it."
Maybe to a whale boat—whales regularly smashed them to splinters—but not to a pack of determined orca. Perhaps sperm whales, aware of their opponents' superior force, rec­ognise the futility of their situation. Diving certainly can't help them.
Their foes, the orca, can easily track their echolocation clicks, either following them into the depths or biding their time until they surface once more. In the undifferentiated environment of the sea you can swim but you can't hide.
On a number of occasions during the Cal­ifornia attack, orca succeeded in pulling a whale out of the rosette. To the astonishment of the observers, each time this happened, one or more whales left the formation, expos­ing themselves to the full fury of the attacking orcas, and helped to bring their injured companion back to the group. Such altruistic attachment is characteristic of sperm whales, and was cunningly exploited by whalers. A harpooned whale would be left in the water so that its companions, "heaving-to" beside the wounded individual, could be picked off one by one, and thus an entire herd taken.
After four hours, the sperm whales were reaching exhaustion and showing horrific injuries. One had its intestines protruding, another had a broken jaw, all had chunks of flesh missing. In a final, immense display of power, a male orca took an injured sperm whale in its mouth and shook it violently, before dragging it away to eat it. The research­ers lost sight of the main group, but consid­ered that most if not all of the whales might have been killed.
Despite its fatal outcome, the incident shows that it's not easy for orca to take down a sperm whale, and it is probable that the rosette defence is the most effective strategy available. By forming groups, sperm whales undoubtedly maintain better vigilance against predators and achieve a strength in numbers that any solitary individual would lack.
Whitehead believes that another driver of social evolution has been care of the young. A mother would be taking a great risk leaving her calf at the surface while she made a long, deep dive on her own. A permanent set of companions would provide a babysitting service for all. And indeed, there is strong evidence for allosuckling—calves feeding from more than one lactating female. White­head cites the African proverb, "It takes a village to raise a child." Could it be that sperm whales also recognise this wisdom?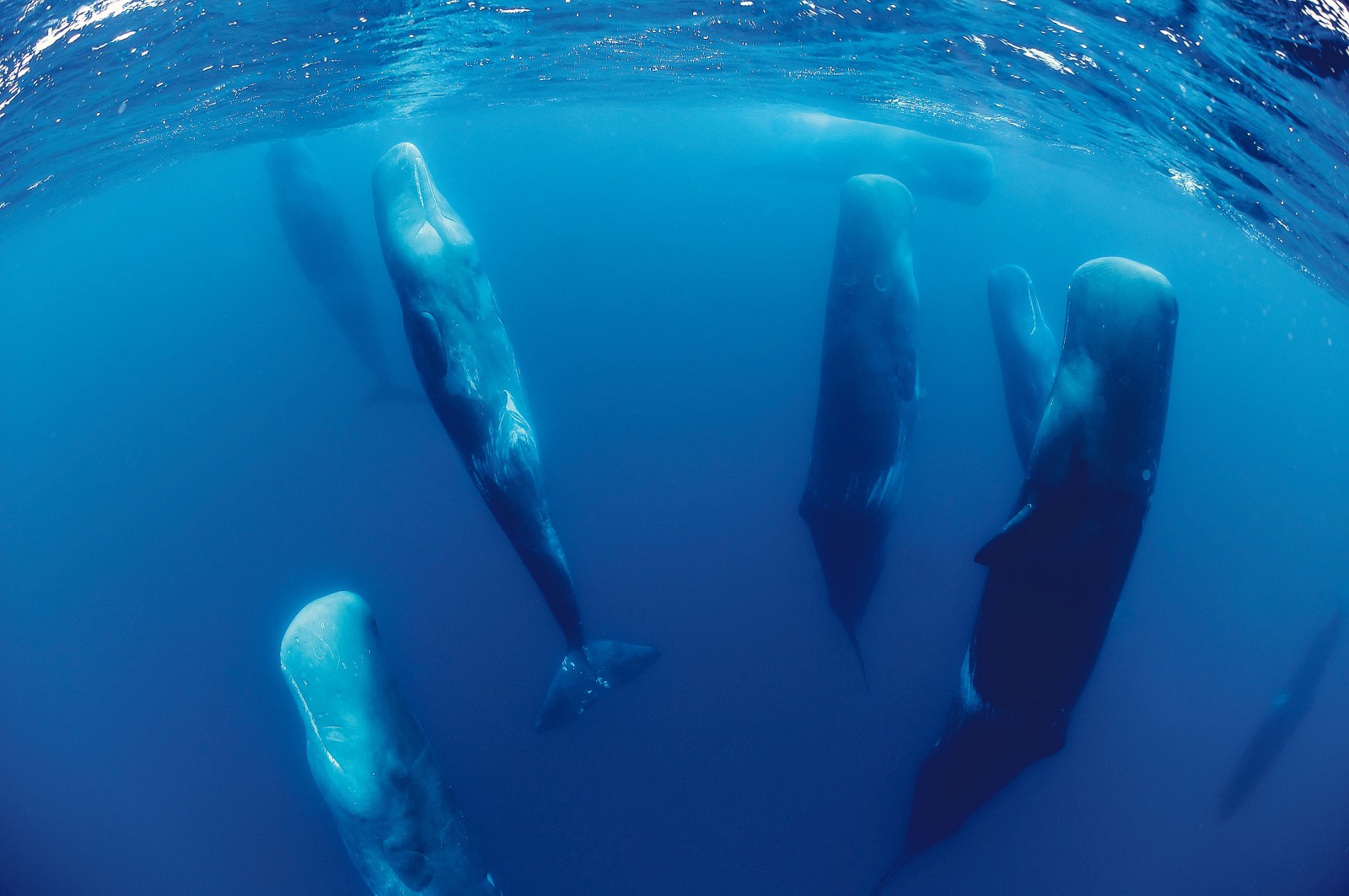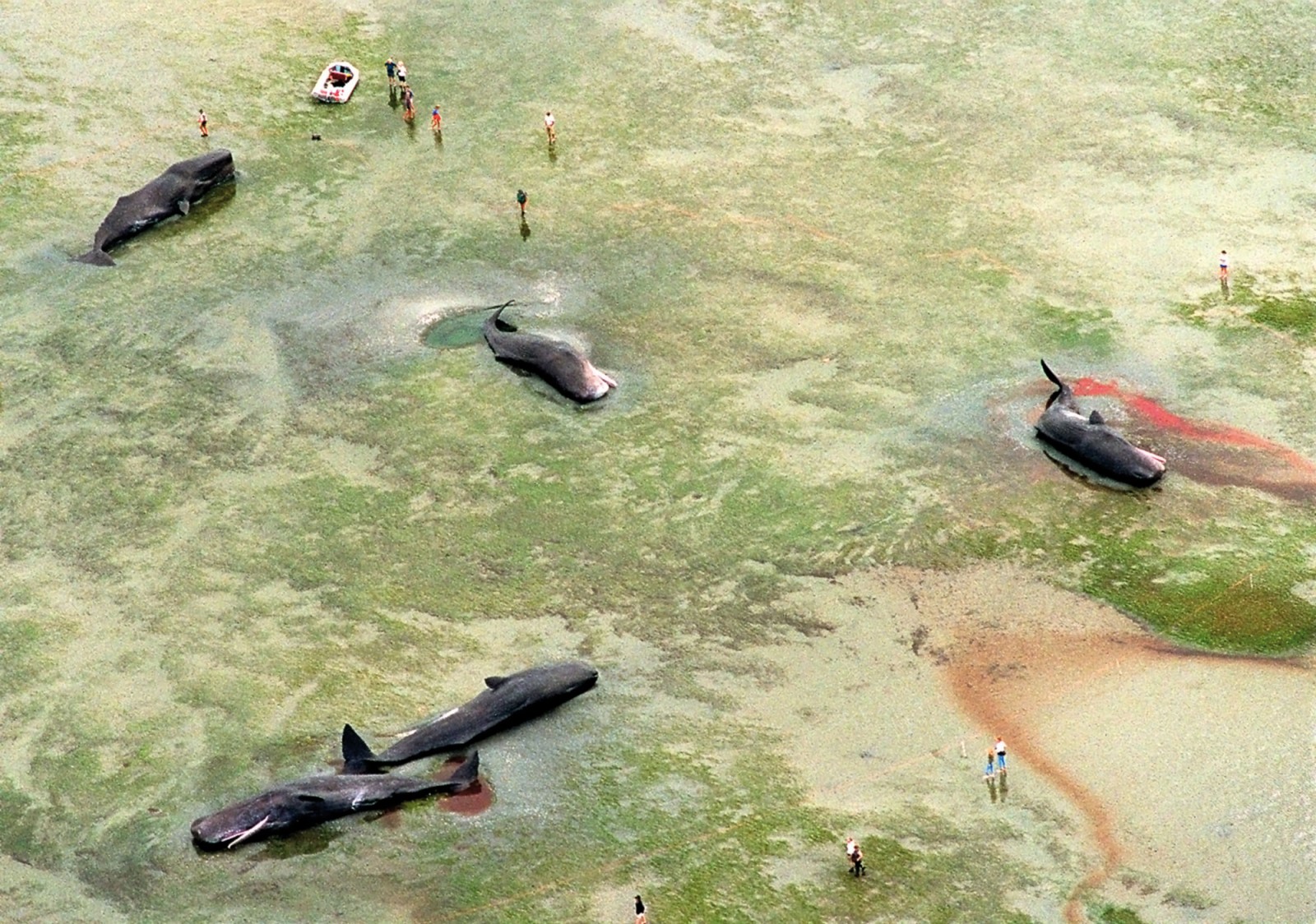 A third driver in sperm-whale sociality has likely been the challenge of locating food in an environment where resources are dis­tributed across vast distances. Forming a group increases the chances of individual members obtaining food, because each gains information from the behaviour, and perhaps communication, of others. Sperm whales typ­ically spend several minutes on the surface interacting with one another between dives. Just as honeybees dance at the hive entrance to indicate the whereabouts of nectar sources, perhaps whales discuss details about prey they encountered on their most recent dive.
Whitehead goes further, suggesting that sperm-whale social units might possess group knowledge of food resources and for­aging techniques that is transmitted from one generation to the next—in other words, sperm-whale cultures. In his book Sperm Whales: Social Evolution in the Ocean, he writes that communal memory might be used to direct the group towards areas of better feeding profitability as food availability changes. If so, "then it makes sense for animals to form long-term relationships with those 'sages' who have expertise in such matters", he writes.
Evidence for this sort of cultural transmis­sion comes from the extensive study White­head and others have made of sperm-whale vocalisations. The researchers have found that specific groups of whales have vocal reper­toires that remain stable over time and appear to be group property. Whitehead calls them "acoustic clans". "Membership in a clan has a connotation comparable to that of nationality in humans," he writes. "Like humans in mul­ticultural settings, sperm whales seem to show affinity for their own clan."
Is clan communication restricted to food availability and movement patterns, or could it encompass abstract concepts, perhaps even religion, Whitehead asks. Eight kilograms of grey matter is a lot of brain to be toting around. Surely they must be using it for some­thing more than clicking, diving and spout­ing—at least, that's the conjecture.
It is perhaps in our nature that modern humans, inchoately longing for a deeper sol­idarity with the non-human world from which Homo urbanus has become increasingly estranged, should wonder about the sperm whale's mental capacities. How can these toothy giants not stir our imagination? The thought of them roaming the bioluminescent depths of the ocean conjures images of space ships exploring galaxies far, far away. Their solicitous companionship—gently stroking one another with their flippers, or nuzzling a furrowed flank with a bulbous brow—must give even the most ardent reductionist pause. (Whitehead reports that socialising peaks in the afternoon. After enjoying cetacean "happy hour", groups often fluke up together and start a dive as the sun sets.)
Yet Whitehead warns that Physeter's future still hangs in the balance. There prob¬ably remain 360,000 sperm whales in the sea, but there are strong forces arrayed against them. Noise is one. Anyone who has scuba dived knows how frightening it is to hear a powerboat passing overhead. It is impossible to tell how close it is or which direction it is coming from. It is disorienting and unnerv­ing. For an animal as skittish as the sperm whale, the permanent noisescape generated by the world's naval and merchant fleets must be at the very least a bothersome distraction, at worst a menace.
As for extremely loud military sonar and the powerful pulses used by seismic vessels to search for fossil-fuel deposits, these could inflict real damage on sperm whales' audi­tory apparatus. Given their reliance on sound for sensing their environment and commu­nicating, anthropogenic noise could be dis­rupting social units, reducing feeding and mating success and contributing to collisions with ships.
A further potential threat is competition for food. Until recently, the sperm whale's hunting grounds in the deep ocean have been beyond the reach of humans. But as technol­ogy enables deeper deployment of fishing gear, perhaps there will come a time when humans and sperm whales compete directly for the cephalopod bonanza of the deep.
Cumulatively, it is thought that more than 700,000 sperm whales were rendered down for oil—two-thirds of the estimated original population. One might argue that humankind should leave the rest alone. We might even learn something from them, as Lilly believed.
For Herman Melville, the sperm whale was an indifferent engine of fate, inscrutable in its unapproachable otherness. But this now seems too stark a picture. If these sociable giants do indeed share a thoughtful culture with us, it becomes a good deal harder to ignore the impact of our society on theirs.
Lilly's contemporary, poet Lawrence Ferlinghetti, may have been closer to the mark when he wrote the words:
Dreamt of Moby Dick the Great White Whale Cruising about with a flag flying with an inscription on it 'I am what is left of Wild Nature.'