Photographer of the Year 2023 — Finalists
The finest images of 2023 have been announced. Now is your chance to vote on your favourites.

Noticing a pair of harvestman spiders on an evening walk, Tony Whitehead assumed they were having a territorial dispute. Closer inspection of his photographs revealed their connection was romantic rather than combative.
Sophie Hansen noticed a pied shag huddled on the beach at Mount Maunganui, and found the bird was tangled in discarded fishing line. It had swallowed a hook, another was stuck in its wing, and a sinker hung from one foot. Hansen and her family cut it free.
A New Zealand dotterel, or tūturiwhatu, dries its feathers after bathing in the freshwater stream that flows into the surf at Te Henga. Simon Runting is part of a local group that watches over these endangered birds in their nesting season.
A slipper lobster in its larval stage rides a mauve stinger jellyfish–free protection from predators as well as a free ride. Behind the pair, a school of trevally feeds. Photographer Irene Middleton specialises in finding unusual species in New Zealand's northeastern waters.
Waiting for a sight of yellow-eyed penguins at a Catlins beach, photographer Glenda Rees noticed a sleeping sea lion. When it awoke, so did the flies surrounding it, outlined in the late evening light.
Two kororā/little blue penguins preen each other after coming ashore after dark. Edin Whitehead was on a research trip to monitor the health of seabirds; to capture this image, she used the light of a colleague's head-torch.
A green sea turtle blows bubbles from her mouth, surprising Charlotte Piho, who had never seen anything like it before. Piho reckons the turtle, nicknamed Aria, is simply playing.
Andy MacDonald lowered his drone close to the water to capture a lone eagle ray hunting for shellfish at the Delaware Inlet–an area he's been photographing for several years.
Starlings crowd on Paratutu Road power lines as one tries to find a perch. Andy MacDonald has been documenting these starlings, which fly out to the Sugar Loaf Islands off the coast of Taranaki every year. Before departure, the birds mass on high-tension power lines.
Visiting the Auckland Art Gallery, Alex McVinnie Maidment spotted a life drawing class taking place in the mezzanine, illuminated by the sun. He quickly headed upstairs for a wider view to capture the scene as the model, Ashleigh Annereau, posed for the group.
Angus the Countdown Cat has a firm following of friends after spending the last eight years hanging around outside the local supermarket. As usual, he's oblivious to the hustle and bustle around him.
On Thursday, February 16, as Cyclone Gabrielle was finally departing, a group of young people in Wairoa went to clean out their kura. Access to the town was cut off, and the Wairoa River had burst its banks, flooding a portion of the town.
A young mourner rests a hand on the coffin of 18-year-old Ariki Rigby, who was killed in September 2023 during a holiday to Hawke's Bay. Rigby's murder remains unsolved.
Kathleen Ormsby needed a hospital bed, but instead was staying on her granddaughter's floor after being evacuated from her home during the Auckland floods in February. Her granddaughter lives just 200 metres from Middlemore Hospital, but it was at capacity.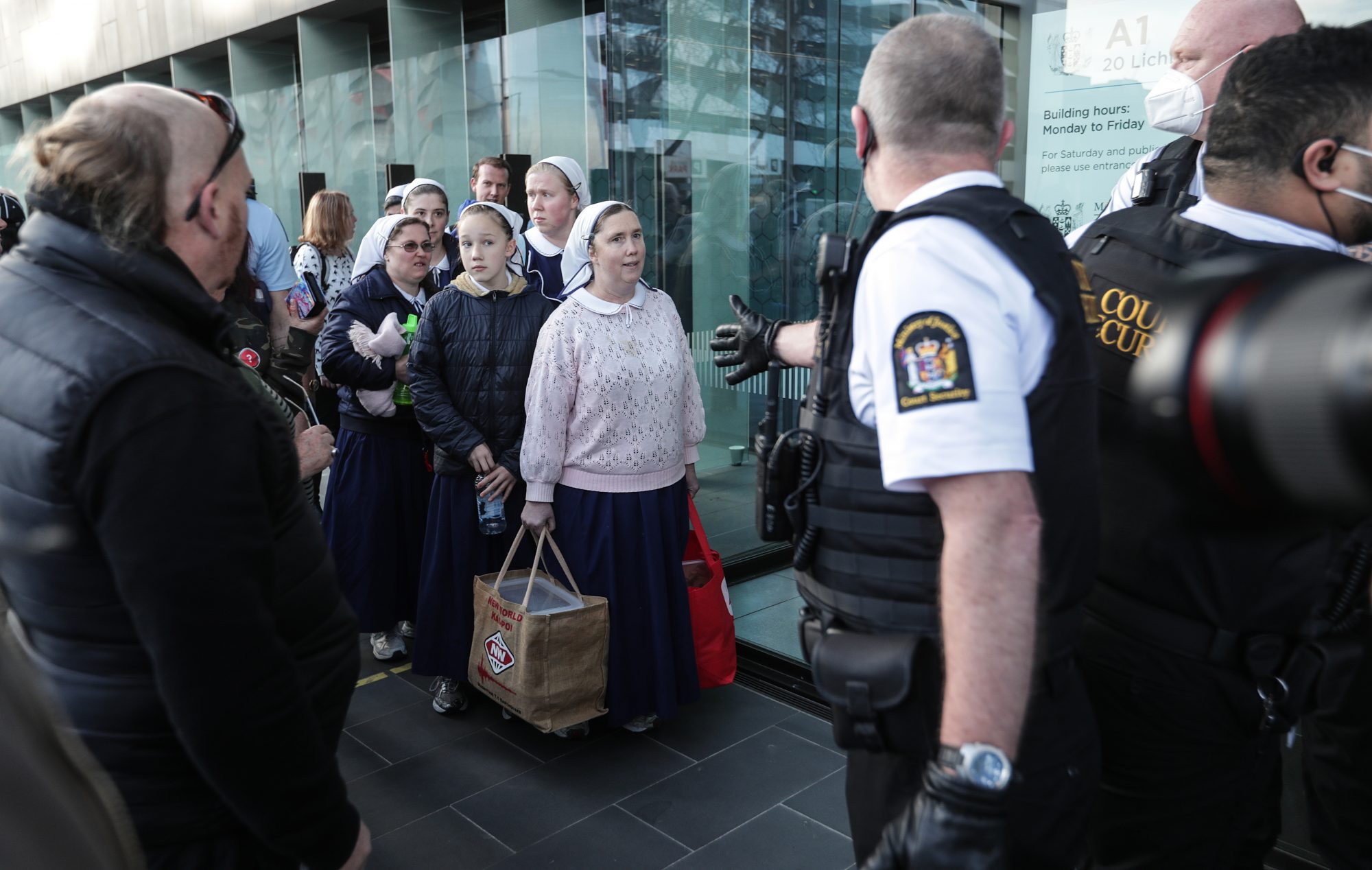 Members of the Gloriavale Christian Community attempting to enter an employment court hearing were caught up in a protest by supporters of far-right group Counterspin, whose founders had been charged with distributing video of the 2019 mosque terrorist attack.
Members of the Samoan community gather at Tahunanui to show support for their team in the Rugby League World Cup final in November 2022. They were disappointed–the match was won by Australia.
Students react to a try being scored during the 140th year of the annual Christchurch Boys High School vs Christs College 1st XV rugby match–one of the most anticipated school rugby matches of the year.
A cold front sweeping up the country meant that Anzac Day dawn ceremonies were unusually frigid in 2023. The New Plymouth service, with the Wind Wand bobbing in the background, was joined by personnel from the Royal New Zealand Navy's newest ship, the HMNZS Aotearoa.
This man was one of fifteen riders who saddled up to join Willie Apiata on a horseback journey to the former home of Moana-Nui-a-Kiwa Ngārimu, the only other Māori serviceman decorated with the Victoria Cross.
Andrew Jeffcoat won gold in the 50-metre backstroke at the 2022 Birmingham Commonwealth Games. This portrait is part of a series of underwater images Simon Watts is making of New Zealand athletes.
Aucklander Rafiqah Sulaiman Binti Abdullah is a transgender woman and an outspoken voice for social equity, improved health care, and the rights of queer and gender-diverse people.
Artisan fisher Scott McNeill pulls in an albacore tuna in choppy seas off the coast of Kāpiti. McNeill's family business, Awatoru, focuses on sustainable fishing practices.
Waikato Mongrel Mob Kingdom president Sonny Fatupaito attends an inter-gang hui led by Hikoi Nation, where members and invitees shared their childhood experiences of state care with the Abuse in Care Royal Commission of Inquiry.
Kaden Cook stands on a seesaw at Cairnmuir Motor Camp on a warm summer's night during the Christmas holidays–a moment spotted by Joe Harrison, who captured one frame before Cook moved and the picture was gone.
Milo and Otis have known each other since they were just weeks old. Photographer Jessie Casson commemorated their transition to teenagerhood with a picture that captured both childhood play and the journey before them.
Jessie Casson has been photographing Jashana, a friend and colleague, since 2017. "By combining our talents and insights we strive to break stereotypes, elevate the portrayal of women and empower diversity," says Casson.
The Chamberlain family has been farming on the edge of Lake Ellesmere for four generations, changing their practices from conventional to organic farming. Tim Chamberlain is standing in a field of organically grown fennel.
One of Chloe Porter's best friends agreed to model for a shoot involving colour powder. It was Porter's final photoshoot before leaving Taumarunui High School.
Kayla White spent the first 135 days of her life in hospital, and today has limited lung capacity. That hasn't stopped her taking part in cheerleading, kapa haka, cross country, a marching team, Girl Guides, competitive swimming, and a competitive maths team.
Burning off energy in between rain showers, Andrea James' sons play at Greville Reserve on a large concrete reservoir–a popular spot for skateboarding, rollerblading and learning to ride bikes.
Photographer Alden Williams dropped in on poet Brian Turner while shooting a story about the Manuherekia River, not far from Turner's home.
After developing a chronic illness, filmmaker Kezia Barnett took up art. She uses artificial intelligence tools to create fairytale images that illustrate her bed-bound life.
Tame Iti had just arrived home in Ruatoki from a day painting at his Whakatāne art studio when Abraham Mora asked him to stand for a few portraits in the last of the day's light.
Hauhake parāoa is the Māori custom of flensing and harvesting taonga, here conducted on a bull sperm whale that beached near Whitianga. Different parts of the process can be seen, from the initial karakia to the extraction of spermaceti oil from the head of the whale and the removal of the jaw.
The Riverhead Backyard ReLaps Ultra is a race without a finish line: contestants run a seven-kilometre loop every hour until only one person is left. The 2023 winner, Sam Harvey, ran a total of 221 kilometres–despite having broken two ribs four days before the race.
Wandering the 125th annual Golden Bay A&P Show and the 128th annual Nelson A&P Show, Braden Fastier looked for quirky moments and interesting people to capture.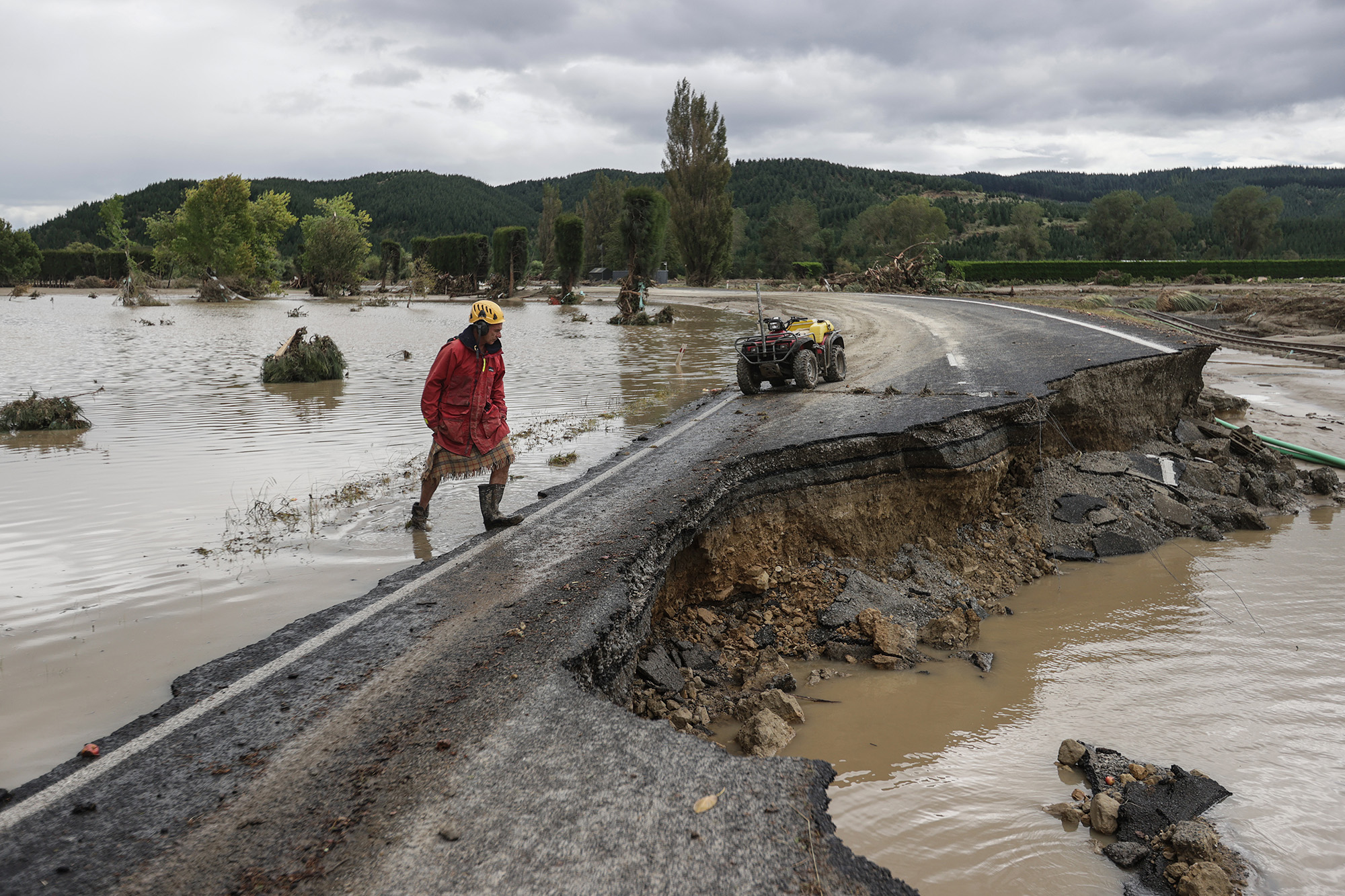 Cyclone Gabrielle caused widespread devastation to Napier and the surrounding region, and photographer Chris Skelton met many people who had lost everything. Even transmitting images out of the region to Stuff was a challenge, as electricity was off for days.
After heavy rain in February and March, some Aucklanders took to kayaks while residents of Karekare, on the city's west coast, escaped their homes moments before floodwaters hit. On the east coast of the North Island, forestry slash covered the Wairoa River mouth and silt buried a cemetery in Tolaga Bay.
For a project documenting the lives of New Zealand's teenagers, Becki Moss joined the Czepanski family: "Late nights with them playing boardgames, family dinners, swims in the bush, gaming on the computer, homeschooling and so much more."
One of the most dramatic features of the Paparoa Track is the Pike escarpment, an outcropping of sandstone along a ridge. Spencer Clubb shot this picture north over the escarpment at sunset, with subalpine shrubs and dracophyllum trees in the foreground.
Noticing a crop burnoff in progress, Roger Wandless stopped to compose a picture: fire, crop sprayer, birds escaping the flames, and mountains appearing through the smoke.
As the first of the morning sunlight began to make its appearance, Kayden Saywell jogged along the Roy's Peak Track while taking a photo with a 30-second exposure, leaving a trail of light in the frame. Below, an inversion layer of cloud blanketed Lake Wānaka.
Fungus gnats, also known as glowworms, shine like a galaxy in the cave system at Waipu, Northland. It made a beautiful picture, says Lin Jeng-Shiang, but what you don't see is the cold and mud of the cave.
The giant sand dunes near Northland's Ninety Mile Beach are a popular spot for sandboarding, but Jay Drew opted to explore with camera in hand. "I was trying to get away from the rule of thirds that is the traditional approach to a landscape image," says Drew.
As the morning fog dissipated, the summit of Mount Taranaki peeked through the clouds for just a few minutes. Jana Luo was en route to the Pouakai Tarns, wondering if there would be much of a view on arrival. It, too, was worth the wait.
Mist highlights rays of the sun as it filters through a canopy of moss-covered beech forest near Cone Ridge. Ian Harrison photographed this scene on a tramping trip to the Tararua Ranges.
Stirling Falls on a moody day looks a bit like a monster emerging from the rock of Milford Sound, reckons Danny Rood. It's always a challenging natural feature to photograph: "You only have so many seconds before the lens is awash with Milford mist," says Rood.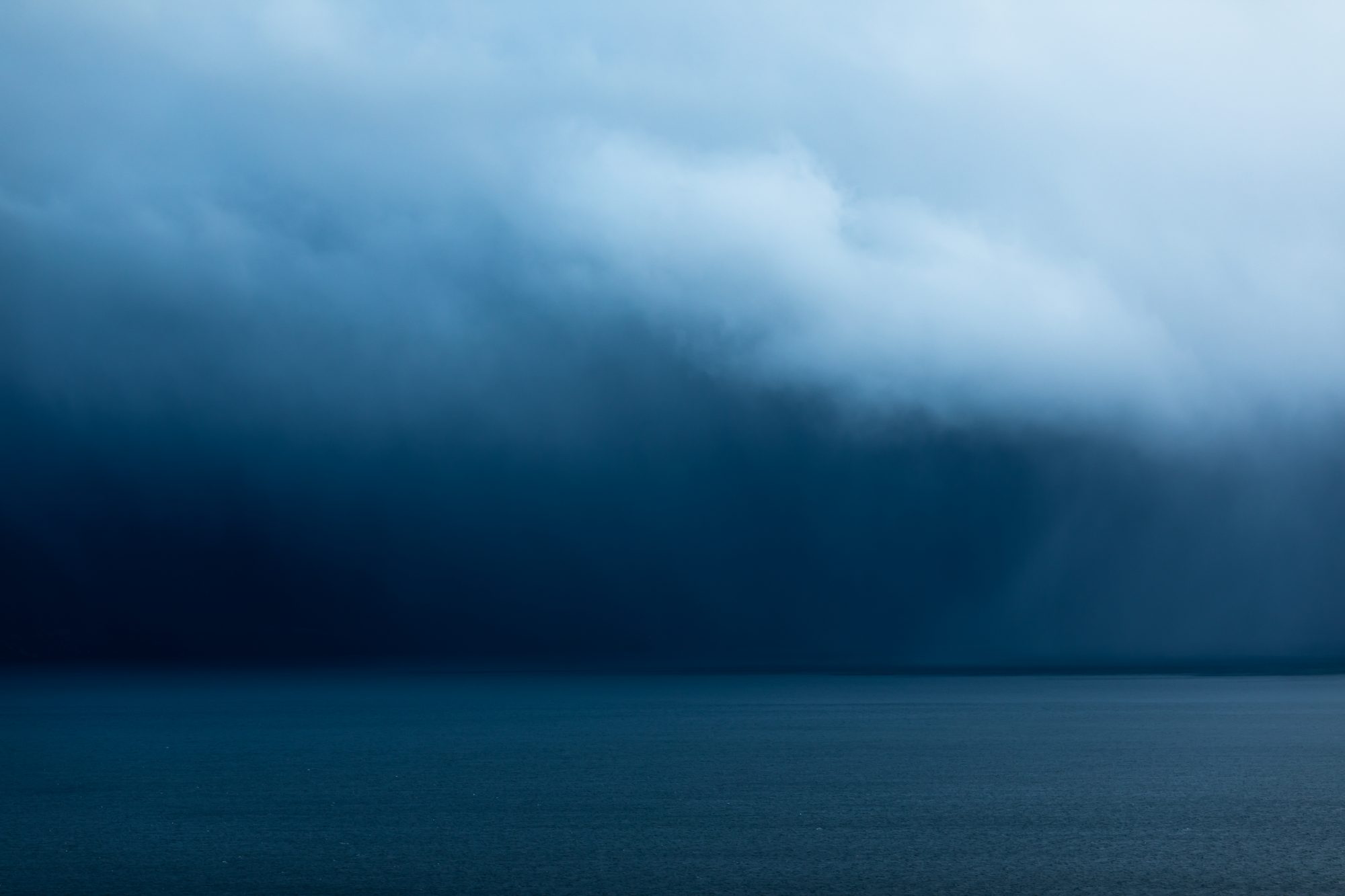 Shooting portraits in a hotel overlooking Lake Wakatipu, Alex McVinnie Maidment noticed dramatic clouds rolling in over the water. "I wanted to avoid having any of the landscape surrounding the lake visible as I didn't want the location to be immediately obvious," he says.
Getting close up to an art piece titled Kahu Matarau by Lonnie Hutchinson on the side of the Christchurch Justice Precinct reveals different textures and shapes. "As I am colour blind, I always enjoy shooting black and white to utilise tones instead of colour," says Samuel Gamble.
Early on a foggy morning in Auckland, Phil Irons headed up the slopes of Mangawhau/Mount Eden to capture the mist wreathing the city. It stayed in place for only a few minutes.
Forestry slash washing downstream from Cyclone Gabrielle finally came to a stop when it crashed into a farming crop. George Heard was reporting for the New Zealand Herald on towns cut off by landslips and damaged bridges north of Gisborne.
Fascinated by the form of a giant sculpture titled Jacob's Ladder by Gerry Judah, Erin Jacob took this photograph of its interior, looking upwards. It's one of many artworks at Gibbs Farm Sculpture Park north of Auckland.
From the Skyline Walkway, Brock Kilburn had a clear view over the Wellington suburbs of Ngaio and Wilton, each home representing a different life and story.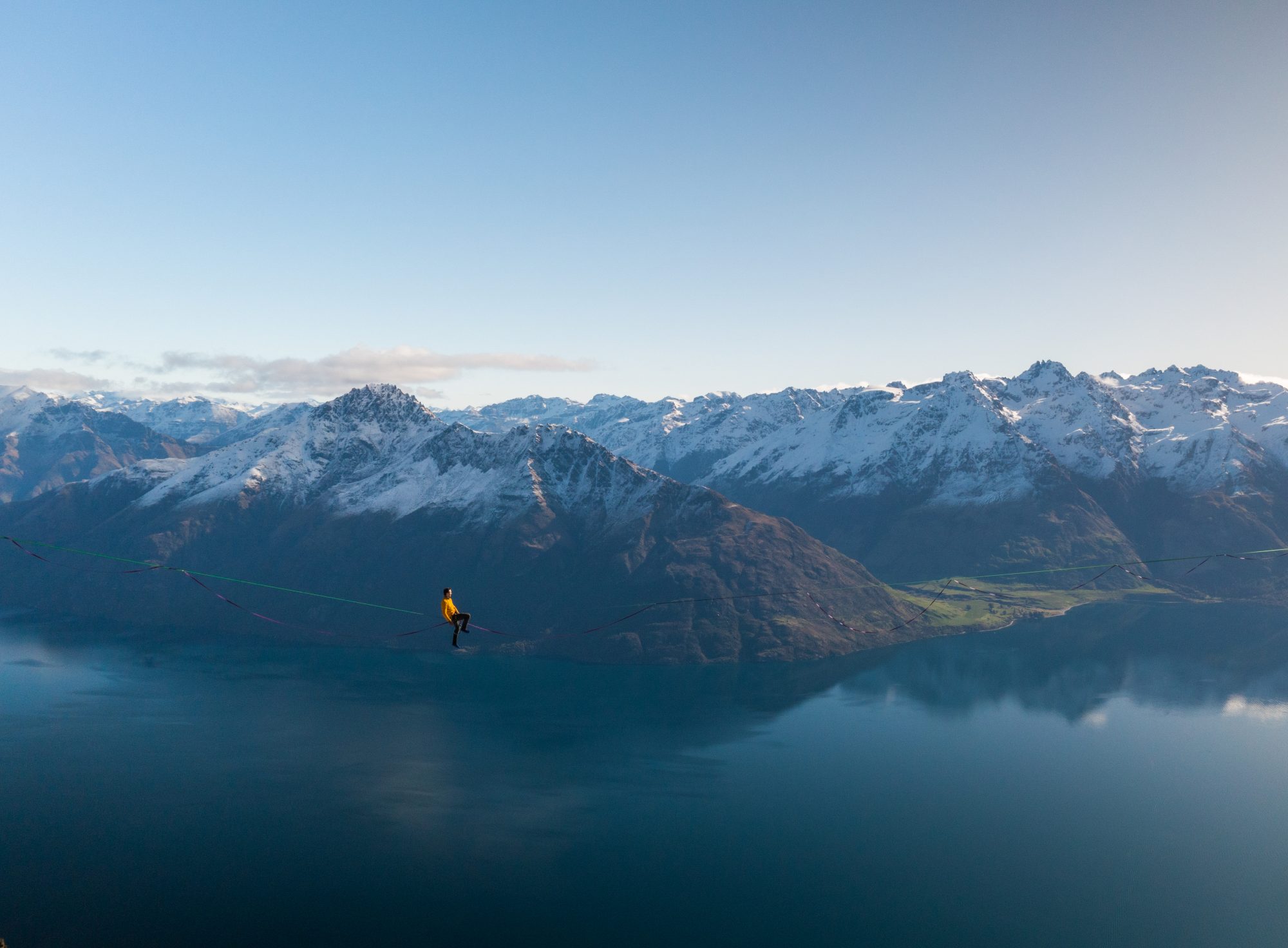 Highliner Gavin Alexander Lewis soaks up the views after a fresh spring snowfall on the Remarkables–while photographer Will Nelson, crouched in the snow on a small ledge at 1400 metres, captures the shot.
Paddlers on the Kaituna River travel in single file just above the seven-metre Tutea Falls. The Kaituna flows out of Lake Rotorua and Rotoiti, and it's a kayaking and rafting destination.
A network of roads crisscrosses the salt ponds at Lake Grassmere, allowing for the efficient harvest of salt and creating an intricate maze from above. The lake is a natural lagoon, separated from Cook Strait by a single row of sand dunes.
A sunrise aerial photo of the Clay Cliffs at Ōmarama looked "just like Mars", says Paul Wilson, making a familiar place seem totally new. "The cliffs turned red and orange in the morning light, looking like something from an alien landscape," he says.
An inflatable rescue boat makes it way through floodwaters near Awatoto, a suburb of Napier, to rescue people trapped on their roofs after Cyclone Gabrielle in Hawke's Bay.
A picking bin sits amongst kiwifruit vines at a Waiohiki farm, near Napier, which had been badly damaged by Cyclone Gabrielle.
A flock of seagulls take to the air at Oaonui Sand Dunes after being harassed by a falcon. Andy MacDonald had his drone in the air to photograph the waves, and was able to capture the seagulls' flight.
Glacier guide Cam Boyle climbs out of a 40-metre-deep crevasse on a trip up the Fox Glacier icefall. Spotting the shot, Will Turner quickly built an ice anchor and rappelled into the crevasse to capture Boyle'a ascent.
On a spur-of-the-moment trip to Auckland's Piha Beach after work one weekday, Tieshu Zhu was captivated by the stormy yet calm conditions. It was "like an alien world," says Zhu.
George Snook paddles the less-popular right side of Huka Falls for the Extreme Kayak World Championships. "George got absolutely smashed when he landed," says Rod Hill. But it paid off–Snook walked away with the title of vice world champion.
A few crucial elements needed to line up for this image: low tide, sunset, clear weather, a ute matching the speed of the horses. Hanging out the window, Lissa Reyden captured the idea she had in mind: "The ultimate feeling of freedom."
Pilot Nick Oakley from Ballooning Canterbury gets ready to launch at Glentunnel Domain. Kai Schwoerer had this image in mind in advance, and bribed a colleague at Stuff to swap shifts so he could cover the hot air ballooning.
After a long hike up with bikes over shoulders, Casey Brown, Conor Macfarlane and Robin Goomes descend a huge scree slope just as the sun sets. The group spent five days in the Canterbury backcountry scaling and descending the biggest scree slopes they could find.
A snow-covered Syme Hut on a winter tramping trip glows in the evening light. "It's not often that you get perfect weather around Mount Taranaki," says photographer Hiroaki Teraoka, "so we were very fortunate to capture this moment."
Seasonal workers from Vanuatu, keen fishers, gather to surfcast at the Wairau bar when the fish are running. The men are affectionately known as the Vannies, says Greg Wass. "The Vannies literally keep the Marlborough vineyards in operation," he says. "They do the hard yards."