Photographer of the Year 2022 — Winners
Judges sifted and sorted, ranked and graded, compared and contrasted until the winners emerged from 55 finalists in Photographer of the Year. These are they.

Maitai School in Nelson. Liam Durbin looking at bubbles in the sensory room.
Tahunanui. Riley Baker spends his weekends doing jumps at a custom built track by beach.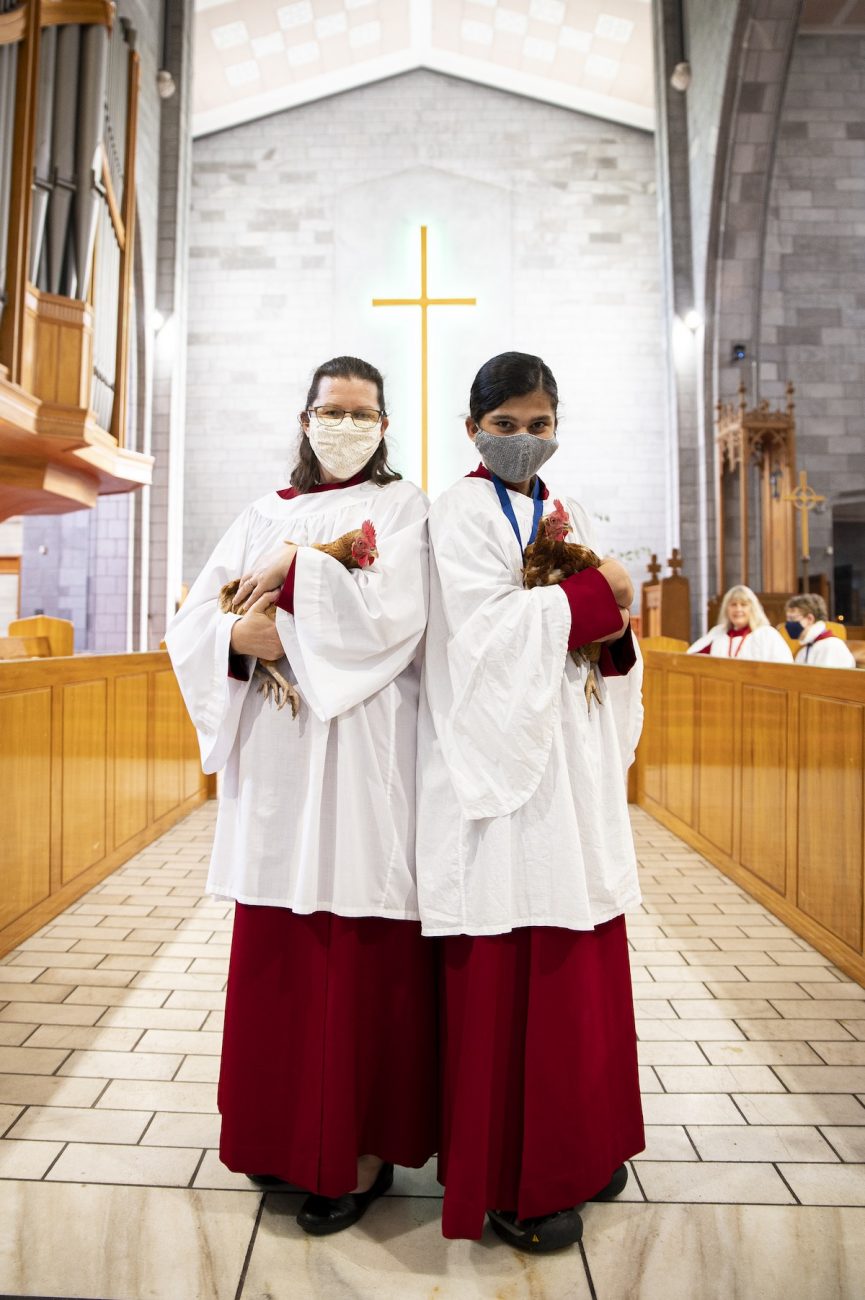 The annual pet blessing at Nelson Cathedral. Jo and Jacob Beekmeyer with their chickens Sparkie and Ada receiving a blessing.
"Flying a drone and directing kids at the same time is always a challenge," Andy MacDonald says. This photograph of local teen Kyle Best was taken at a soon-to-be-opened basketball court. MacDonald put the drone up after not getting quite the shot he wanted on the ground. The Stoke Youth Park is opening November 26 and according to NCC and Lee-ann O'Brien Whanake Youth Manager, the youth are looking forward to its official opening.
Manasa Cua prepares to shoot a video for TikTok—he took decades of abuse in Fiji for being gay, but feels comfortable using the social media platform to express his sexuality. Still, it took a lot of meetings and a few failed shoots until Cua was comfortable with behind-the-scenes shots.
Set up with a wide-angle lens to photograph the sunset, Douglas Thorne noticed a couple of rock wrens bouncing up the rocks towards him. He hid under boulders, glad of his grey puffer jacket which helped with camouflage. "I anticipated the rock wren would fly towards this pointy rock, as they like to land on tall rocky outposts. I only managed to get a few shots before it saw me and flew off."
Repeated blooms of the algae Nodularia spumigena have fouled Te Waihora, making the lake, which is surrounded by farmland, one of the most polluted in the country. The algae can produce toxins that are harmful to people and animals, especially dogs, and flourishes in warm weather—although this photograph of tangata whenua on the lake was taken in August.
Nick Farrelly had never seen a kiwi in the wild before last spring, when he went on a hunting trip with his father and brother. "My weapon of choice was my camera," he says—and his mission was to shoot a kiwi. He was up at sunrise to photograph this one. It was busy with breakfast and spent most of the time with its head down, sniffing and prodding for food.
"The main issue was getting a pukeko in full profile for a silhouette shot," says Simon Runting. "These birds never stay still!" There was much running and rolling around—on his part—to get the shot.
Gannets mate for life. Simon Runting watched for about an hour as this one pecked at and walked around its dead partner. "At times it was doing the dance that gannets do when they return to the nest from being away at sea feeding; lots of head shakes and wing flapping … The bird finally walked away a few metres and then flew off. I was pretty glad to see it leave."
Caluzzi, on Karangahape Road, is one of the longest-running drag queen cabarets in the world. Ricky Wilson photographed these performers getting ready for a dinner theatre show celebrating the cabaret's 25th anniversary; the low light was difficult to work with but the subjects were a dream he said.
The subject of Jocelyn Janon's portrait (who asked to remain anonymous) learned they had cancer at almost the same time they learned they were becoming a parent. "On this day I was also photographing their pregnant partner," says Janon. It was a very emotional shoot.
Local members of the worldwide Star Wars costuming group, the 501st Legion, await the arrival of six-year-old Jonty Clare for a special Make A Wish flight. Racing the setting sun, Peter Meecham set up four portable speed lights and asked the group to quickly get in formation. They were delighted to oblige.
"I love flying my drone in really wild conditions," Andy MacDonald says. "The drones are surprisingly capable and not many people are willing to risk theirs, so I get some fairly unique shots." The hardest aspect of nailing this shot was predicting where the waves were going to break in relation to the tiny surfer.
No drones for Emma Willetts. "I prefer to be up in the air in a small plane or helicopter. Typically with the doors off or window open!" On previous flights over the quarry the light wasn't quite right; this shot was taken in the early morning. "I wanted to showcase the human elements (trucks in motion) against the natural aggregates."
"Kindred cricket" is a slightly more organised form of social cricket and it's taking off around the country—this game was played on a humid February evening, just above the high-tide mark. Photojournalist John Cowpland shot it for Stuff, and says timing is always the tricky thing with drones: there's a slight delay after pushing the button.
Cruz Erdmann went for a dive in search of crayfish for dinner but found this spot was barren, "the only life being an eerie canopy of kelp". This patch of ecklonia kelp forest is growing in murky water with low light—which, he reckons, is probably why it was forced to grow so tall.
Driving home to Roxburgh from Cromwell, Patrick McLuskie was faced with this magnificent frontal system evolving towards both the Pisa and Hawkdun ranges. "When darkened the inkiness of the blues and the smokey hues of the sky above the mountains came to life."
Joshua McCormack got the call at the last minute: could he jump on board Haunui, a replica of a waka hourua (double-hulled voyaging canoe) to sail up the coast with Peter Burling, Blair Tuke and other members of Live Ocean? He could—but he was lucky to get his drone back on board in a challenging swell. "Boats and drones don't mix," he says.
Documenting Tūhoe families at the flaxroots level is part of an ongoing personal project for Tatsiana Chypsanava. Here, she photographs the whānau of John Teepa. Like many Tūhoe he spent a few decades in the city, living away from his ancestral land. Returning to his birthplace with his wife and six children, they adopted and raised more than 20 whāngai kids. "This is home," he says now, to his numerous children and grandchildren.
On day 23 of the anti-mandate protest at Parliament, protestors clashed with police as they removed tents and camping equipment. They didn't much like the media, either. Braden Fastier was on assignment for Stuff and recalls, "Getting targeted, beaten up, verbally and physically abused, projectiles being thrown in your direction, tear gas, pepper spray…"
Early morning light, a single motionless figure, a whorling flock of pigeons: Mike Scott was captivated. "It was only after several minutes of inhuman stillness by the lone figure that I remembered it was a cutout figure attached to the bridge."
Most of the time, the algae Dunaliella salina is green. But in high salt concentrations it abruptly turns pink. That's a constant at Lake Grassmere, near Blenheim, where sea salt is gleaned from a system of solar ponds. Milner was after an abstract image and drove multiple laps of the lake before deciding a drone was the way to go.
A bread bag kept Trevor Douglas's lens and camera dry during this very wet and slippery shoot. Left of the waterfall is the meat processing plant; at right is the defunct paper mill that has become a storage facility for toxic waste from the Tiwai Point aluminium smelter.
Zack Mutton, one of the best young kayakers in the world, has popped over the Huka Falls plenty of times in daylight and was 'stoked' on the idea of a night run. Graeme Murray knew he'd only be able to see the kayaker at the very last moment, and that he'd have literally one shot as his flash wouldn't recharge fast enough.
The first time Jean-Luc Lazet and his friends tried to rig a highline between the two peaks of Double Cone they were snowed out. On their next attempt, extreme wind made it impossible to get the line across. Third time lucky. "We believe this is one of the highest highlines rigged in the southern hemisphere at just over 2300 metres," Lazet says.
As the blue hour faded Paddy Edmondson begged a mate to do one last run. Racing the dark, they shot off up the mountain on a sled and Edmondson slammed his tripod into the snow, set the camera up and took the shot with little time to get settings right. "He flicked his head torch on and we both timed it perfectly, with a 30-second exposure and his perfect 30-second run… I've always envisaged an image like this."
In February the Wairarapa was hit by more than 200 millimetres of rain in a couple of days. Ideal conditions for a bit of mud sliding, figured Andrew Stewart's daughters.